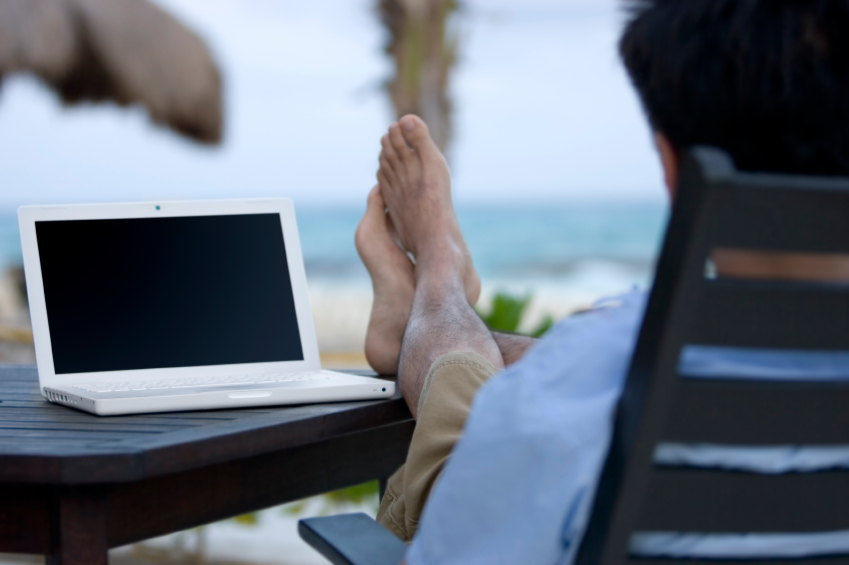 Some people hate working on the weekends but I love it, in fact, I look forward to it, here's why…
As a trader, I know it's critically important that I am as prepared as possible for the upcoming trading week, and I have learned over my 15+ years in the market that the best time to do my market analysis and make trading decisions, is when the markets are closed.
Of course, what I just described is the opposite of what most traders do; frantically checking the charts throughout the day during the week, hoping or praying and ultimately making terrible choices about when to enter and exit the market. Whereas, if they would just learn how to do their market analysis on the weekends and take the rest of the week off, they would not have to hope or pray because they would be strategically preempting their decisions and actions in the market with logic and objectivity.
Now, I may be exaggerating slightly with "take the rest of the week off", but what I mean is, most of your time spent in front of the charts should be on the weekend. During the week, I will monitor the market lightly each day, maybe 10 to 15 minutes at the start and end of the day. If there is something to do that meshes with my weekend-analysis, I will place the orders and walk the hell away from the charts until tomorrow. I DO NOT want to be consumed by the market or constantly staring at charts, instead, I want to be out enjoying the fruits of my craft (because being a trader rocks). By the way, being out and enjoying your life will have the unintended benefit of helping you improve your trading results, because as I've discussed in-depth in an article on why you shouldn't watch your trades, the less involved you are with your trades, the better your trading performance is likely to be.
What is weekend market analysis?
So, what does my weekend analysis look like? What do I ACTUALLY do, you might be wondering. I am going to explain it to you then show you on the charts later on…
First off, 95% of my market analysis is done on the weekend and takes place on the weekly and daily chart time frame (I will explain more on this later). It's no big secret, what I am doing is basically looking for key chart levels of support and resistance, swing highs and lows, event areas and daily chart price action signals (See linked terms if you are unsure what any of these things are).
Essentially, what I am doing is reading the story on the chart and mapping the market from left to right. I am reading what has happened, what is happening and making a final decision of what I think might happen next (the upcoming week). I want to have all my key levels drawn in, my bias (bullish or bearish) written out along with the chart condition (uptrend, downtrend, large sideways range or tight / choppy consolidation) as well as taking note of any imminent trade setups that I am looking at.
WHY you should do your trading analysis on the weekends:
Before I get into the step-by-step breakdown of how I analyze the markets on the weekend, I want to make sure you know why this concept is so powerful so you that you start putting it into practice and reaping the benefits of it as soon as possible:
First off, end of week and end of day analysis obviously saves a lot of time compared to day trading, allowing us to truly enjoy the fruits of our craft, but this is not the main reason I do my analysis this way, not by a long-shot…
You see, the end of the week means something in the market. In fact, it's very important because it shows an entire 5 days or 1 week of trading in the market, showing who won the battle between bulls and bears that week. The market will have shown part of its hand at week's close and there is far more weight behind where the market closes on a Friday compared to any other day of the week.
Note: This doesn't mean "weekly chart trading", it means END OF THE WEEK analysis; identifying the key levels and trend and if any trade signals formed over the previous week. In other words, using the weekly and daily chart to get the complete picture and then develop your approach from that.
Another big reason why this end-of-week analysis approach works so well is that it contributes to a low frequency trading approach, something I have written about quite extensively in various lessons over the years.
When you trade less, it improves your trading performance over the long-run, and there are many studies that show this. This is partially why the data shows that women make better traders than men; because they trade less frequently than men do as I explained in my recent article What is the weakest link in your trading?
The market is slower than we think, meaning good trades take time to play out, and over time you will agree. You look back at trades you were in and think, "I should have held that longer". This hindsight regret should teach you to hold trades longer and have some faith in your analysis. The end of week analysis will help you, and the end of day entries will further boost your performance and clarity, here is how I do my analysis….
Here is a summary version of my trading routine 
My weekly and daily trading routine is a lot less complicated than you probably think. First off, as I've written about in a recent article on the power of trading routines, the most important thing to remember here is that all of this has become a HABIT for me. The routine of writing my weekly market commentary, which I started back in 2008, still helps me after all these years.
You must develop the proper trading habits if you want to become a successful trader, as in any other profession.
The discussion that follows is basically a step-by-step explanation of how I create my weekly members market outlook, which, coincidentally, was something I was doing BEFORE I ever had any students. It should go without saying that this is something you should be doing too; creating your own weekly market outlook will provide you with a 'road map' to the market each week that will help guide you in making trade decisions in the 'heat of the moment'. Just as a general in war preempts his strategy, so you must preempt your trading strategy so that you are not making impulsive decisions in the middle of a heated market move. Therefore, you often see me write in my market commentaries something like, "We will do this if this happens this week, or bullish above this level, wait for this to do that and to monitor XYZ level, etc"…I am laying out a road map so that you can preempt your trading week rather than making decisions in the 'heat of battle'…
Step 1.
The very first thing you should know is that I don't look at every Forex pair, not even close. I have a select number of my favorite Forex currency pairs that I follow and these are the ones I have open on my MetaTrader 4 trading platform and I really don't look at any other ones. I do, of course, trade other markets, like Gold, Oil and several Stock Indices, but I am not trying to analyze and follow 30 different markets each week as many traders do, so keep that in mind.
The first thing I do is open my charts and look at the weekly time frame to plot the key levels and to get a good bird's eye view of the long-term market trend. In the chart example below, I have drawn in the key support and resistance levels and I've marked on the chart the obvious overall trend of the market, so you can see what I am thinking when I look at it. It's important to know what the current long-term market condition is (trending up or down, sideways etc.), in this case the long-term trend is up, as we can see below. This fact, along with the key levels you plotted, will work to guide your trading decisions throughout the upcoming week, as we will see later…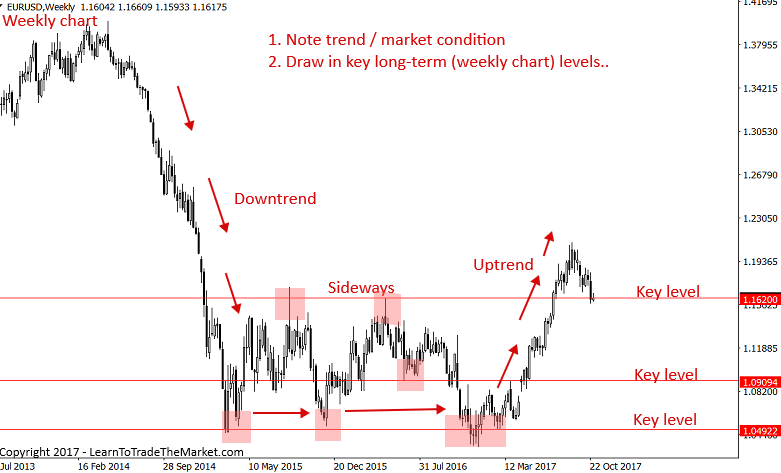 Here's another example…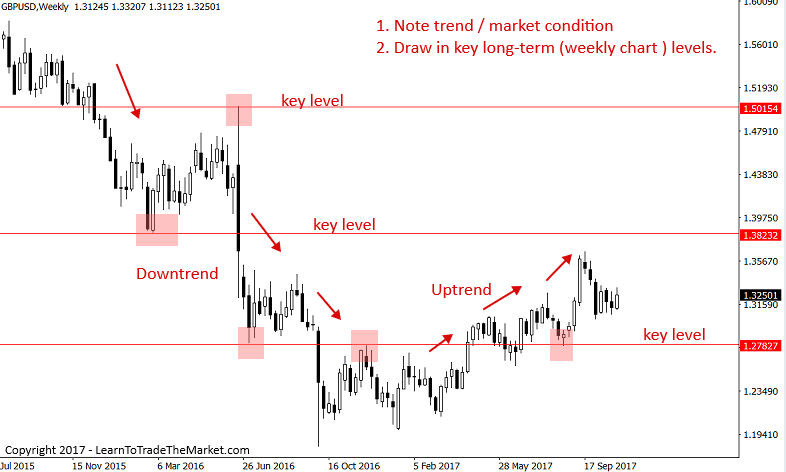 Step 2.
The next thing I do after having analyzed the weekly chart as discussed in Step 1, is to drill-down to the daily chart time frame, where we will do a few different things…
We are drawing in any obvious support or resistance levels that perhaps were not obvious on the weekly chart.
We are identifying the near-term daily chart trend, so we can decide which direction we will look to trade for the upcoming week (this can be different than the weekly trend).
Scan for any obvious price action signals for potential trade entries.
Here's how it looks on the daily chart of the same EURUSD weekly chart in the first image above…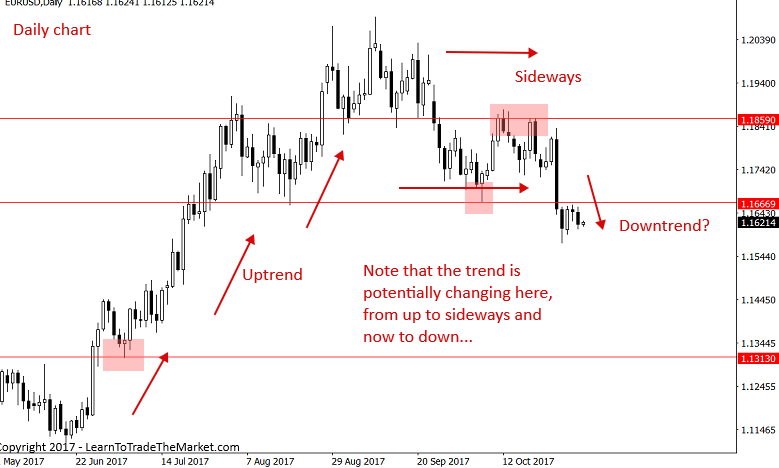 Note: If the daily chart is sideways, always refer up to the weekly chart for which direction you should look to trade in. So, if the daily chart is sideways or range-bound, but the weekly chart is in a long-term uptrend, then look to trade long. In the chart above, the trend was recently sideways but now is showing signs of switching to a downtrend following the recent close under support near 1.1660 – 1.1620.
Here is the GBPUSD daily chart that follows the GBPUSD weekly chart view from Step 1. Notice, we have drawn in a near-term support zone that wasn't visible on the weekly and we have marked a potential pin bar signal trade which we discussed in our recent weekly trade outlook.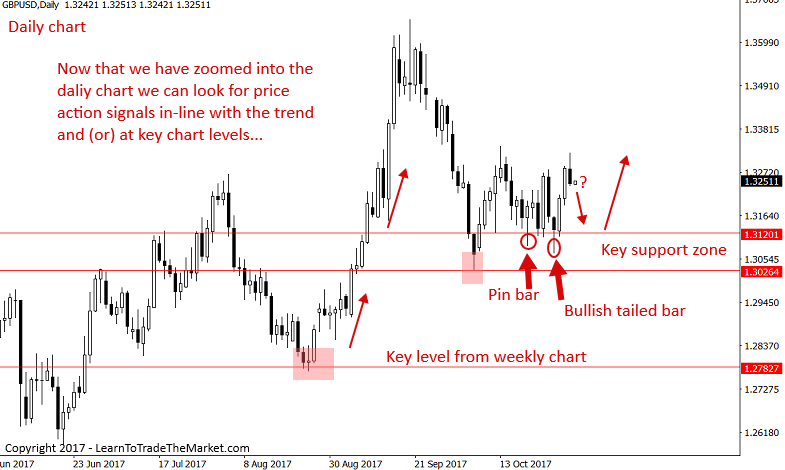 Note: If there are daily / weekly signals there from the Friday's close, then we plan a trade for the Monday of the next week, and if there isn't just yet then we WAIT for the daily chart to show us something that following week. Also, the entries are all triggered by end of day on the daily chart, we aren't taking weekly chart signals. But, if a weekly chart price action signal did form the previous week, that WOULD CERTAINLY influence our approach and decisions on the daily and even 4 hour or 1 hour chart for that next week.
Conclusion
This article has given you a glimpse into how I do my weekly market analysis on the weekends. I hope now you can see that market analysis is actually not all that difficult, you really just need to make it into a routine so that routine develops into a habit.
As I mentioned above, my weekly market commentary has become a habit for me, even if I had no students I would still be marking up the charts and making my weekly analysis on the weekend, because I know how important it is to my trading performance. Staying in-tune and in-touch with the market is critical to your trading success. You must understand the 'story' the chart is telling you and the best way to do that is to do what I have outlined in this lesson.
Therefore, my members trade setups commentary is a great tool for you to learn from. You are essentially 'in the trenches' with me as I walk through the charts and do my weekly analysis. My weekend market overview, as well as my members daily trade setups analysis will allow you to 'look over my shoulders' and see what I am seeing as the price action unfolds throughout the week. Most of the time I won't do anything, because I prefer to not trade just any signal since I am waiting for the best setups. So, get used to being patient and make patience your best friend if you want to learn my trading approach.
You see, I want to increase my probability of winning and that is why patience is something anybody that learns my style of trading must master. The act of trading only takes a small amount of time, so there is a lot of down-time that we can use to further our knowledge by reading, studying, and working to master our craft. I can't spoon-feed you, but I can show you how I'm seeing things in the market via my trading course and members trade setups commentary. My hope is that by taking advantage of these tools to 'look over my shoulder' as I carry out my chart analysis and plan trades, you will learn something and start putting all the pieces together so that one day you will be able to replicate the same or similar trading routine and achieve consistent trading success.
LEAVE A COMMENT BELOW & TELL ME WHAT YOU THINK …
Any questions or feedback? Contact me here.
BLACK FRIDAY SPECIAL:

Save 70% Off Nial Fuller's Pro Trading Course (Ends Nov 30th) - Learn More Here