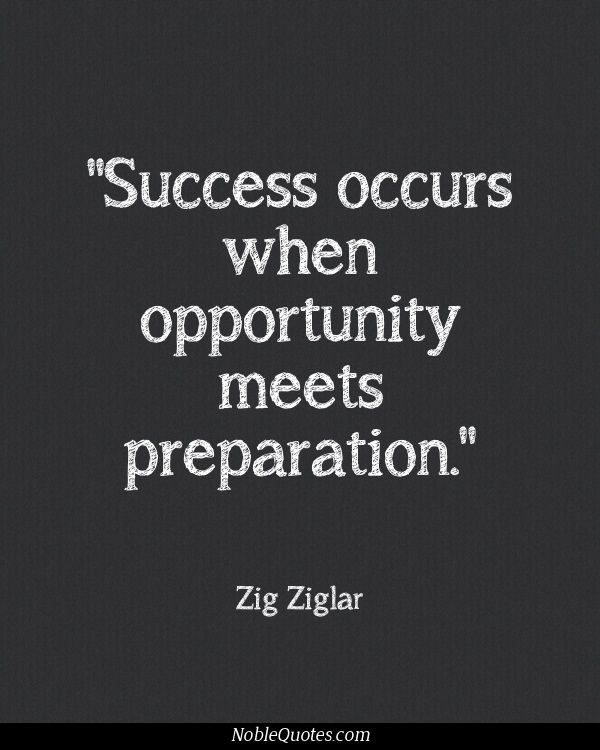 There's an old saying that goes something like "Success happens when opportunity meets preparation". Hopefully, by the end of today's lesson, you will understand just how applicable that saying is to trading success and why it's so important to be an anticipatory trader instead of a reactive one.
If you take a close look at any successful trader or business person in any industry, you will find they did not achieve success by being reactionary and acting without a plan. Every success story, whether in business, trading, professional sports or anything else, always is based in planning, in anticipating what needs to happen now to attain success in the future.
As traders, we are facing a never-ending stream of constantly-changing variables when we look at the market. The only way to effectively trade and make money from those variables is to develop the ability to anticipate high-probability trades before they happen, otherwise you will always be reacting, usually emotionally to the market.
We need to plan, anticipate and then pull the trigger once market conditions meet our anticipated criteria…
Map the market in advance
The first step to anticipating trades rather than reacting emotionally to the market, is learning how to map the market in advance. By "map the market", I am talking about understanding what the market is doing, where the key levels are, what the trend is, if any, etc. You want to make this into a trading routine that you do at the start of each week.
When you know what a market has been up to and you understand the trend and key levels, when a price action signal forms, you will instantly know if it makes sense in the context it is forming in. Once you get good at this, you will truly be focused in on key levels and value areas you anticipate a trade forming at. Then, when (if) a signal does form at that area, you are ready to go with no hesitation or fear.
So, to put this a little different way; you shouldn't be waking up every day looking for something totally new in the market, you should already know in advance what the market is doing and where you're waiting for a signal at. Also, by a 'signal', I mean a price action signal or even just a retrace to a key level and a blind entry at that level. If you are anticipating a retrace to a key level and your entry is simply at the level, that is also anticipating a trade and is just fine. Remember, don't just react to what's happening today; you should have already been anticipating it well in advance based off your map of the market.
In the example chart below, we can see that we have mapped out the obvious / key horizontal level and identified the dominant / overall trend of this market. Note, as the market swings, you will need to adjust your key levels to reflect those new swing points, this can typically be done on the weekend, before the new week begins…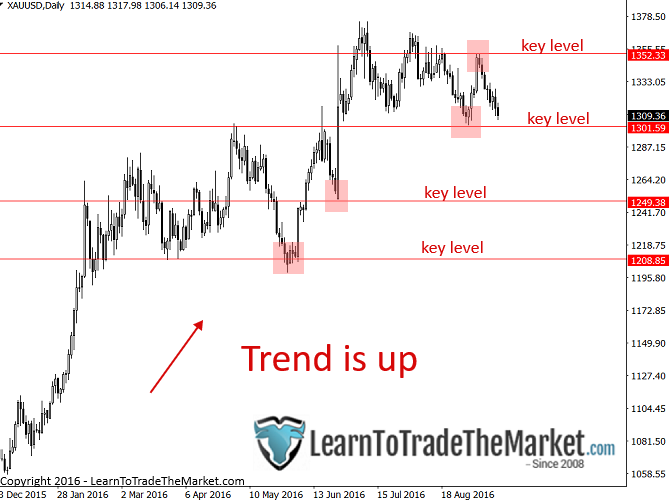 Identify 'hot' areas in the market…
The point of anticipating trades is that you have a plan of action for how you will react if XYZ happens…this is a much more professional way to conduct yourself in the market than simply "running and gunning" with no logic or method behind your trades. Remember, you should trade like a sniper not a machine gunner ;).
The importance of performing weekly and daily market analysis in a structured and methodical manner can be emphasized enough. Doing so will help you to get "in-tune" with the overall market structure and dynamics and learn to anticipate high-probability trading scenarios…this is how you trade like a sniper or trade like a crocodile, pick your metaphor.
When you sit down at your computer to analyze the market, you should already have a good idea of where you are looking for signals and what markets are "hot" right now…you should be anticipating signals in confluent areas and levels in the market based on previous analysis you've already done. For example, in the Gold chart used above, we had been watching the key support level at 1300.00 – 1310.00 for many weeks in our commentary because we knew that price had previously bounced very aggressively from that level. So, 1300.00 – 1310.00 was a 'hot' or confluent area to watch and to anticipate a trade at…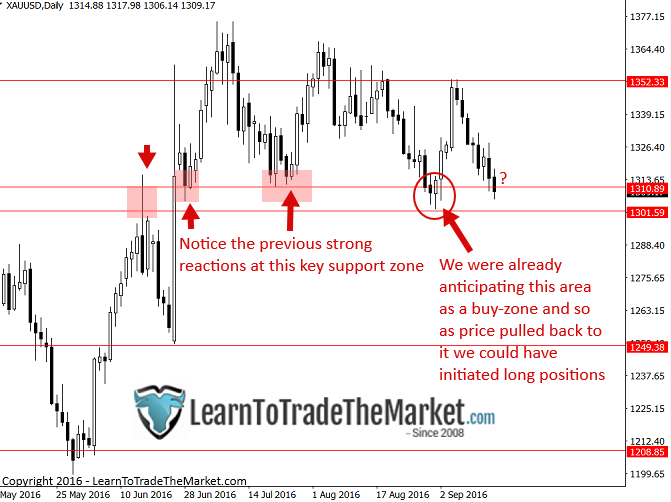 Conclusion
As we wrap this lesson up, I want to make sure you understand the difference between anticipation and reaction in regards to trading the market.
Anticipation and planning for future events is an ability that is unique to humans, at least to the degree we can plan and anticipate. We have the ability to understand what has happened, what is happening and what might happen as a result of those two things. Other animals simply do not have this advanced cognitive ability.
Reactions are something every living thing has. Any animal or insect can react to their environment. Indeed, almost everything an animal or insect does is an instinct or a reaction they don't have to think much about.
Now, stop and ask yourself, do you want to trade like a reactionary animal or insect? Or do you want to trade like an intelligent human being?? Well, I am sure that 100% of you answered that you want to trade like a human. However, I am not sure that even 90% of you are trading that way.
Most struggling traders are so busy reacting to the market that they hardly even have time to stop and think about what they're doing, let alone to map the market, make a plan and anticipate their trades. It might sound a bit harsh, but I prefer honesty over sweet-talk, and I am going to be honest with you now. If you are only reacting to the market with no planning or anticipating, you are basically trading like an animal, certainly not a high-functioning human. Remember this point: Professional traders plan and anticipate their trades; they control themselves rather than allowing the market to control them.
The market will not ALWAYS do what you want it to or what you anticipate it might do. It won't always move into the high-probability / confluent zones that you highlight on your charts…but sometimes it will, and when it does you need to be ready and confident, and that is the point of today's lesson. To make sure you're totally prepared to anticipate your trades rather than reacting to the market like a scared gazelle being stalked by a lion, check out my trading course and members' area for more help.
PLEASE LEAVE A COMMENT BELOW – I WOULD LIKE TO HEAR YOUR FEEDBACK :)
QUESTIONS ? – CONTACT ME HERE
SEPTEMBER SPECIAL:

Save 70% Off Nial Fuller's Pro Trading Course (Ends Sep 30th) - Learn More Here