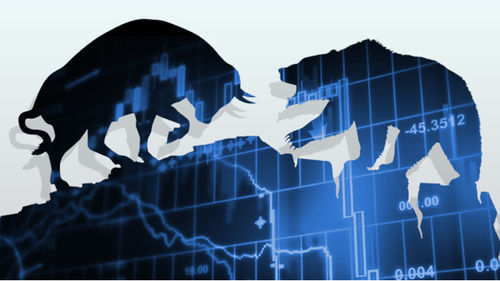 In today's lesson, I'm going to share with you a very powerful trading 'tip' that will significantly improve your understanding of price dynamics as well as how to read a 'naked' price chart.
The 'tip' is somewhat simple on the surface, but a bit more involved when we dive down a bit, and that's the part I'm going to help you with today. What I'm talking about is the tendency of a market to never 'forget' where a major move started.
How many times have you seen a market retrace back to a level or area where a recent major move started from, only to respect that level almost exactly before making another strong directional move? It happens often enough to be something that you need to understand and know how to make proper use of, because these scenarios can often yield very high-probability / high reward to risk trades.
Let's hit the charts for an explanation of this powerful trading technique

Before we proceed, it's important to note that what I'm about to discuss with you is not a 'perfect science', but it's an occurrence in the market that is critical to understand, and a tool to have at your disposal when you're analyzing charts.
The first point you need to understand is: A market will often 'remember' and respect where a major move started. That is to say, if a market retraces back to the level or area a major move started from, many times (not every time) it will again bounce or fall away from that same level / area. As a price action trader, this is a HUGE clue for us and we can use it to develop several high-probability entry techniques:
In the example chart below, we can see a few important things taking place.
1) A key resistance level was established near 9735.00 – 9700.00 in the DAX30 market (German Stock Index). This key resistance level and the big move lower from it established an 'event area'.
2) The first major test of this key level / event area a little over a month later, resulted in a bearish pin bar sell signal that led to another large decline.
An event-area is something I teach more in-depth in my course and members area. For our purposes here today, you should know that an event area is a level or a small area / zone on the chart where a big price move started from. A price action signal by itself can start an event area, it doesn't have to be at an existing support or resistance level. However, if a big move starts from a price action signal in conjunction with a key level of support or resistance, this is an even stronger event area.
3) The next important thing to note on the chart below was that as the market tested the event area when the pin bar sell signal formed, it reversed yet again, because the market didn't 'forget' about that event area…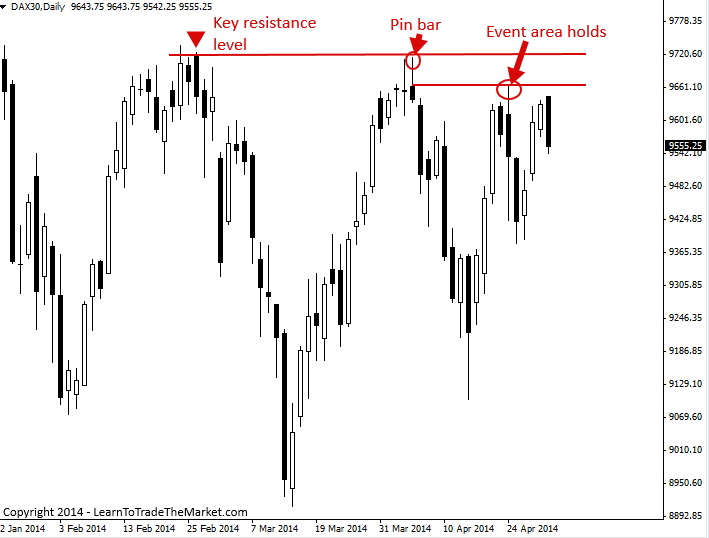 In the above chart, not only could have we traded the pin bar sell signal from the key resistance level / event area, but on the subsequent test of that event area, we could have taken what I call a 'blind entry' at the event area. The entry would have basically been a limit sell entry somewhere in the range of where the pin bar formed, with a stop loss set just above the resistance near 9714.00 / pin bar high. This is called an 'anticipatory' blind entry at an event area on a retrace, or sometimes I will call it a 'second-chance' entry.
Note: A price action signal at a key level or event area is a bit 'safer' of an entry technique than a 'blind entry' because it gives us some 'confirmation' for an entry, but as price action traders it's important to be able to read a chart and understand the dynamics of event areas, because we won't always get the price action signal when we want one. Thus, as you gain experience you can try to enter 'blindly' at one of these tests of an event area, I also sometimes call event areas 'hot points' in the market as they are important 'hot' areas where a significant price action event occurred recently.
Let's look at some more examples:
In the chart example below, we can see a good example of how to use an event area both with and without a price action signal as the entry trigger.
Note the first pin bar on the left of the chart, this initially formed the event area because of the strong down move that followed. So, we knew this level / area near the pin bar would be important on subsequent tests in the future. Sure enough, price has respected this event area on each subsequent re-test.
The pin bar buy signal from February 27th would have been a very obvious trade since it was rejecting and false-breaking down through the event area and price had bullish momentum behind it at that point. Note the nice up move that followed.
Next, when the market retraced all the way back down to the event area on April 4th, we could have successfully entered long on a 'blind' limit buy entry near the event area, note the powerful up-move that followed over the next four days.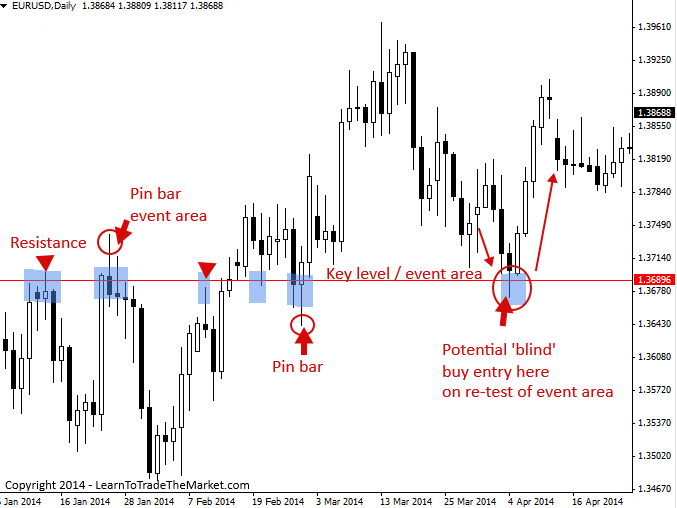 Now, let's look at another example of how a recent event area clued us into a potential 'blind' or price action signal entry.
Note, the key level near 1.6670 area on the GBPUSD and the big move lower that started from that level on January 24th, this big move told us that this was a level the market might not 'forget' (event area). A long-tailed pin bar sell signal formed here on March 13th, this price action signal and the move lower from it further solidified this level as an event area. Note, how the market then fell away from that level as price sold lower from the pin. We then had another re-test of the event area that led to a modest move lower before the market surged up above the event area. Now, as the market retraced back down to the event area, you would have already known this level was important and an event area (now you know for future reference).
You could have entered a blind buy limit near 1.6700 – 1.6670 area, or you could have waited to see if a buy signal would form. In this case, a very nice long-tailed pin bar buy signal did indeed form and price is still moving higher from it as of this writing. I also made a video of this buy signal when it formed, you can check it out here.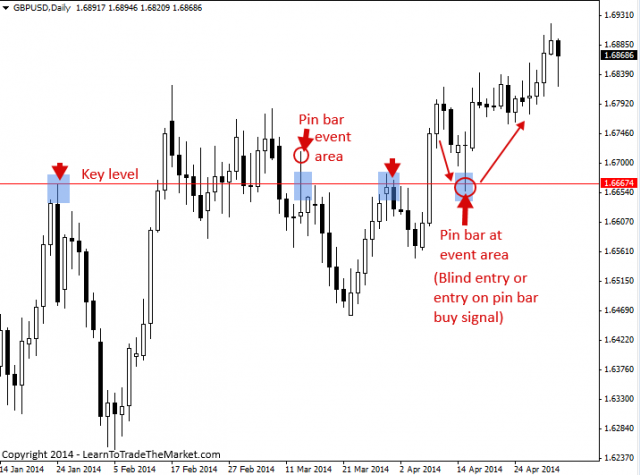 Hopefully by now you're starting to see how the market 'never forgets' about key chart levels and event areas. Once you get more experience and familiarity with these levels, your eyes will begin to instantly be drawn to them on a daily price chart, and you'll start to feel more confident in your ability to analyze and trade with just raw price action and levels.
This next example was a pretty easy one to identify and one that we first discussed in our January 14th commentary. In November of 2013 we had two pin bars in the NZDUSD carve out an event area up near 0.8410. As price retraced back to this area in mid-January of 2014, we would have already had this key resistance / event area drawn in on our charts and our attention would have been focused on it as price drew closer. Not only would a blind sell entry have worked as price hit that 0.8410 event area, but we also got a nice pin bar sell signal for further confirmation that a move lower was probable.
We can see the market fell all the way down to the key support near 0.8080 after breaking down below that event area pin bar from January 14th. Note, how well price respected that key support and that the market 'didn't forget' about that level either. I'm telling you guys, this stuff is POWERFUL!…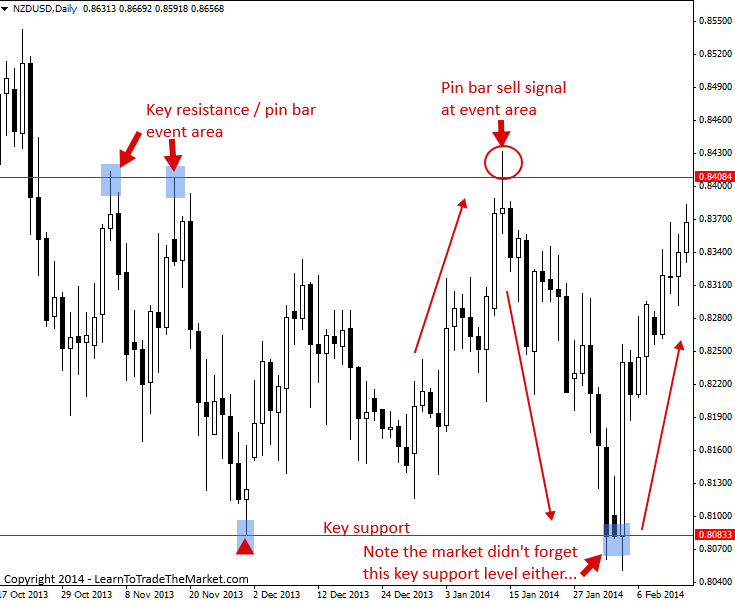 Let's take a look at some more examples so the idea crystallizes in your mind…
The daily charts below both show the spot Gold market, one of my favorites to trade. You will notice in the first chart below, a key level / event area formed through about $1277.00. Note the small pin bar on August 7th of 2013, the pin bar and subsequent powerful bullish move from it told us that this $1277.00 level was an event area to keep our eyes on if price re-tested it in the future.
We can see price did re-test it on October 2nd of 2013, and a blind buy entry would have worked well here with a tight stop loss just below $1277.00. However, had you missed that entry or been waiting for a price action signal to 'confirm' your entry, a clear fakey buy signal formed on October 15th, just a couple weeks later. This fakey signal at the event area led to a nice push higher.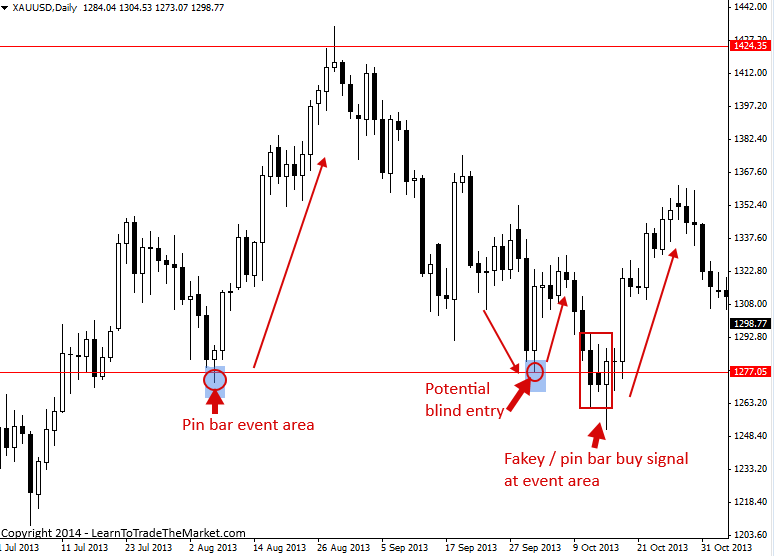 Now, here's where things get even more interesting…
The chart below is also of Gold, and we are looking at the exact same event area from the chart above, just more recently. This $1277.00 level has been an important level and event area all the way back from that pin bar on August 7th we discussed in the chart above.
Now we are looking at about the most recent 3.5 months of daily chart data in Gold, and we can see this $1277.00 event area is still in-play and working quite well.
Note that since the start of this year price has tested this event area 4 times and each time the level held, at least initially. Most recently we had a fakey buy signal from this event area which formed April 24th and that we discussed in our April 24th commentary. Just today (May 2nd), the market tested this event area at $1277.00 yet again and it held yet again…we will wait to see how this fakey signal from April 24th plays out, but the power and effectiveness of event areas and key chart levels cannot be disputed as you can see by today's lesson!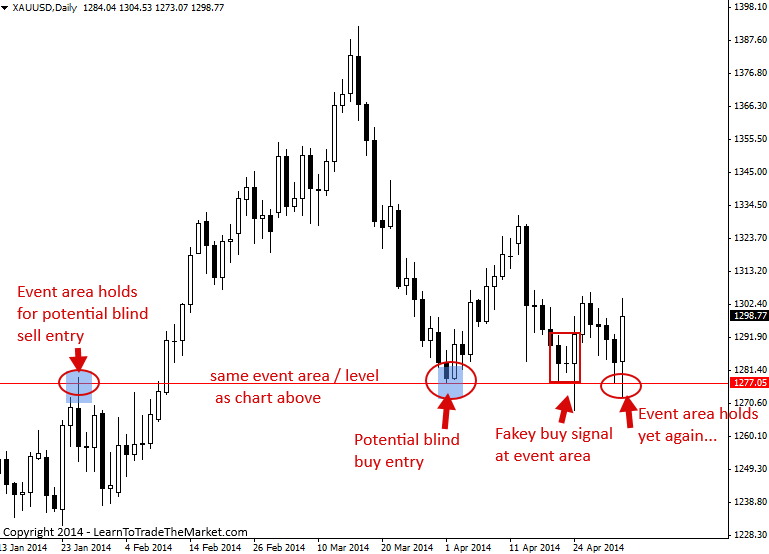 I hope you've enjoyed this brief lesson on key levels and event areas. It's clear upon observing and analyzing the raw price charts of a market that the market truly 'never forgets' where major moves started. By learning to spot these key levels and event areas, we can mark them on our charts and when the market starts approaching them on a retrace in the future, we have a high risk/reward scenario setting up to pay close attention to.
I suggest you first learn to trade these second-chance entries at key levels and event areas with a price action signal as a 'confirmation' / entry trigger, then as you gain experience you can try the 'blind' second-chance entry we discussed here today. For more information and training on key levels, event areas and my proprietary price action trading techniques, checkout my members' courses and trading community for more information.
BLACK FRIDAY SPECIAL:

Save 70% Off Nial Fuller's Pro Trading Course (Ends Nov 30th) - Learn More Here