Note On Charts: It's imperative to your trading success that you are trading with a broker that offers 'New York Close Forex Charts', (a true 5 day chart that aligns with the New York Close).
Chart Commentary Disclaimer: Nial's views on the Charts is not advice or a recommendation to trade or invest, it is educational and general information only. Don't blindly buy and sell the markets/products discussed in this newsletter, do your own research and be aware of the risks and rewards.
S&P 500 – Major Support Levels Approaching At Both 2800 and 2730
Trend: Neutral
Relevant Key Levels: Support at 2860-90, 2800, 2690-2730. Resistance at 3030, 3000, 2960 and 2910.
Price Action: The potential fakey mentioned in our prior members update didn't trigger as prices collapsed back towards major support levels. Inside bar forms late last week right under a major resistance level (next direction is uncertain ). Large Pin Bar Signal with tail touching the low 2800-25 support area had triggered a move higher mid last week (not a short term event area).  Price broke down aggressively from a large bearish Pin Bar that formed at 3030 resistance several weeks ago.
Current Notes:  The short term trend has shifted to neutral after the recent crash lower, however prices tested and held the 2800 major support area and bounced, thus the long term bias remains bullish.
Potential Trade Idea: We will consider buying on a clear price action buy signal (ideally a pin bar on the daily chart) around the 2805-2825  OR  2730 support area.
NOTE – You can trade S & P 500 via the preferred trading platform we use HERE.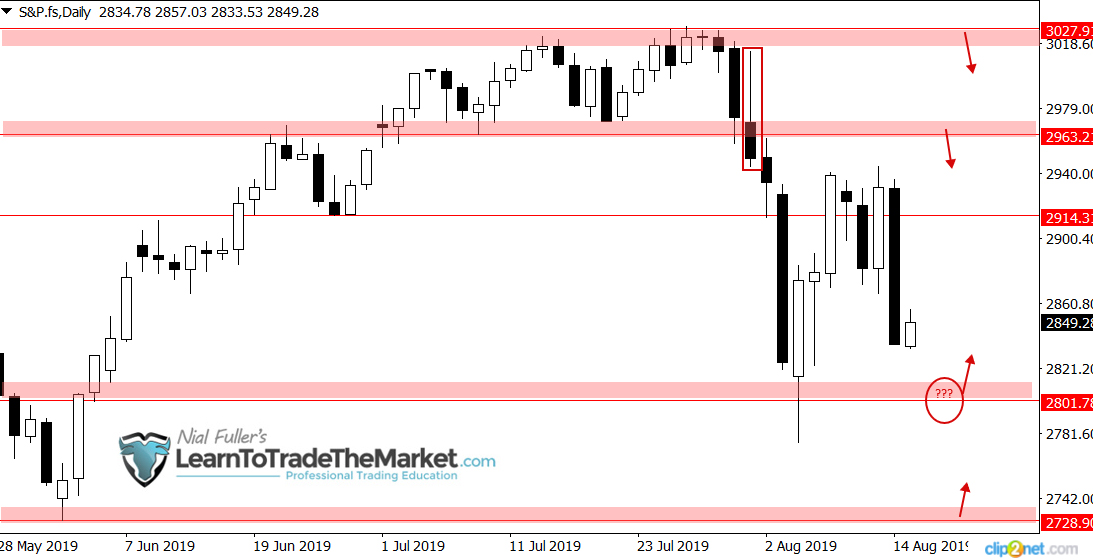 GBPUSD – Multiple Inside Bar Pattern Likely To Break Down, Resuming Recent Decline
Trend: Bearish
Relevant Key Levels: Resistance at 1.2820-70, 1.2770, 1.2580, 1.2380 to 1.2430. Support at 1.1990.
Price Action: Multiple tight Inside Bar forms (Will be bearish setup if prices break down). (discussed in prior update) Bearish Fakey Pattern triggers late last week. A bearish pin bar formed several weeks ago just above current prices.
Current Notes: The bias remains very bearish whilst prices remain below the 1.2400 to 1.2560 resistance area.
Potential Trade Idea: We will continue looking to sell short on a price action sell signal (ie: current inside bar setup) whilst prices remain below the 1.2400 to 1.2560 resistance zone, targeting further declines towards 1.1990 area (and further if we break and close below this key level)
NOTE – You can trade GBPUSD via the preferred trading platform we use HERE.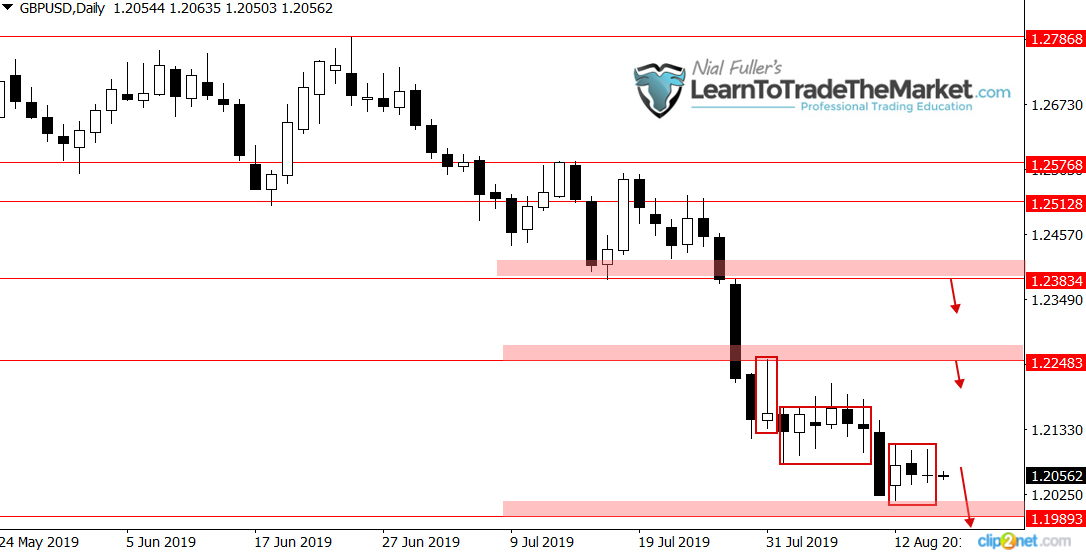 Members Get Daily Trade Ideas & Chart Analysis From Nial Fuller Every Day …
All Members of Nial Fuller's trading courses & members area get access to Nial's daily trade setups ideas newsletter. You will get potential trade ideas and technical chart analysis on Currency Pairs, Commodities, Stock Indices and more. For More Info Visit the Course Membership Page Here.
Note: –  Download a Free Trial of the Broker & Charting Platform We Use HERE.
Please Leave A Comment Below 


Until July 31st, Get 40% Off

Nial Fuller's Price Action Forex Trading Course, Daily Trade Ideas Newsletter & Live Trade Setups Forum - Click Here For More Info.