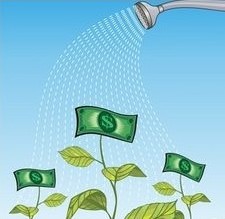 Today's article is very important; it is a very different article from anything I've written and anything you've probably read. Due to the controversial nature of the concepts discussed in today's lesson, I need you to hang with me until the very end…
Before we get into today's article, let's discuss the angle. This article is meant for shorter-term term traders who generally only take 1-3 positions at a time. Thus, it does not apply to diversified stock portfolios or hedge funds with many different assets under management for very long periods of time.
Not everyone will agree with the concepts I discuss in this article, but this is how I track trading performance and how many other successful retail and prop traders track their performance. This is what I do and it's what I suggest…
Most forums and blogs discuss percentage and pip returns on traders' accounts. However, in reality, measuring returns in percentages or pips is not the most effective way to track your trading performance. Every trader is different, and every trader brings with them a different set of mental variables and funds to trade with. Since this is the case, you should track your performance in terms of dollars risked vs. dollars gained (risk reward), which can ultimately be reflected in the number "R", instead of percentages or pips. Now, let's discuss WHY measure trading performance in terms of dollars risked vs. dollars gained, or R, is the best way to track your returns in the Forex market.
• What is "R"?
"R", as I define it, is a value that reflects the profit factor of a fixed risk Forex money management strategy. Now, for those of you who don't know what "profit factor" is, it is simply a value that reflects the profit of winning trades divided by the losses from losing trades. For example, if you gained $100,000 in one year of trading, but lost $50,000, your profit factor or "R" would be 2 or simply "2R". (100,000 / 50,000 =2)
Thus, R is a measure of your overall risk to reward across all your trades, by knowing what our R value is for a series of trades we get a very quick and relevant view of our effectiveness as a trader. Think of it like this, if you have a 2R track record over a large series of trades, you can expect to make $2.00 for every $1.00 you lose in the market, a 3R track record would mean you can expect to make $3.00 for every $1.00 lost, etc. This is clearly the most useful and relevant way to track your progress as a trader, anyone who is considering funding you will want to see a long track record that shows a solid R value; the higher the R value the better.
• Percent risk vs. fixed dollar risk
The percent risk model deserves some special attention since it is probably the most popular risk-management model out there. I won't go into a long drawn-out analysis of this because I have already written an article that you can read on this Forex trading money management topic. However, I would like to briefly explain why the percent risk model is not the way I manage my trading account…
Risking say 2% of your account on each position you trade might be a good idea for diversified stock portfolios or for large hedge funds due to the large number of assets they have under management at any one time, but for the private prop or retail trader who typically only trades 1 or 2 positions at a time, this percent risk rule is simply not the best way to manage your trading account.
Think about it like this, if you make $300 on a $300 trading account, that's a 100% gain, but is a 100% gain really that relevant if it's only $300? It's a lot easier to make a 100% return on a $1,000 trading account than it is to make $100,000 on a $50,000 trading account. Are you starting to see why percentage-based returns are not nearly as relevant as dollar-based returns? I hope so.
• Account balances can be deceiving
It's important to note that a trader doesn't have to have a lot of money in their account to trade a large position size. Due to leverage, a trader with a $1,000 account can trade a position size similar to a trader with a $20,000 account. You would never put all your trading capital in one Forex account; I personally trade large size, but I don't ever keep more than $50,000 in my trading account, because I simply don't need more money than that in my account due to leverage.
So, the reason why account balances aren't really a good baseline to determine your risk per trade from is because you can control a large position size with a relatively small deposit of money, so you simply don't need to and shouldn't keep all your trading funds in your trading account. You see, large and small accounts can trade similar position sizes, so what matters more is your personal tolerance and comfort level for risk and making sure that this in agreement with the knowledge that you could lose on any one trade you take.
• Avoid tying up trading capital in one account
A trader who is a millionaire does not want or need all their trading money in their trading account. Why? As we alluded to previously, due to leverage, you can control a large amount of money with a small amount. I have the ability to put a million dollars in my trading account, but I don't. I don't need to since I can trade the position size I want with only $50,000 on deposit. Therefore, traders don't need to tie up all their trading capital in one account; they can leave most of it in a more conservative interest-earning account or put it some other asset. I withdraw money each month from my trading account to make sure it stays at my pre-determined base level of $50,000.
This is yet another reason why the dollar amount risked per trade is more important than the percentage of account risked; simply put, account size is more or less irrelevant due to leverage. So, we measure our returns in "R", not in percent or pips.
• Risk tolerance varies between traders
A highly skilled and successful Forex trader, who knows how to follow his or her trading edge with rigid discipline, will naturally be more confident with their trading ability and risk tolerance than a beginner. Position sizes can vary greatly between traders, as each trader will have a different comfort level in regards to the amount of money they risk on any one trade. Risk tolerance is highly personal and discretionary, and this is yet one more reason why measuring performance in terms of dollars risked vs. dollars gained is the most relevant and effective way to track your returns. Think about it like this, a trader who is highly skilled and proven to be consistently profitable will probably have a higher risk tolerance than a complete beginner. Therefore, since risk tolerance varies greatly between the two traders, and indeed between all traders, measuring returns in terms of risk: reward and determining your "R" factor, makes the most sense.
• An example of how to calculate your overall R number:
In the table below we see a scenario of 20 total trades. We assume a fixed risk for each trade. Risk tolerance is different for every trader so we left it undefined. It could be $200 per trade or $2,000 per trade; it really depends on your financial situation and personal tolerance for risk. What's important is that your risk is fixed so that you can calculate your overall R number in terms of risk: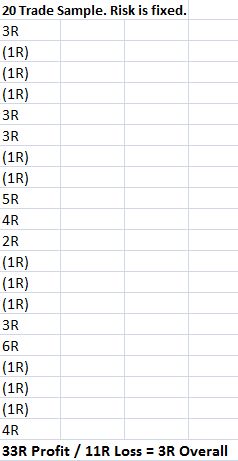 So, as we can see in the chart above we gained 33R but lost 11R, this means our R factor is 3. So, essentially, for every dollar risked in the market, over a series of trades, we can expect to make three dollars. In other words, our overall risk to reward ratio for this series of trade is 1:3. You should also notice that 11 of the trades were losers, or 55% of the 20, and only 9 were winners, or 45%. This also goes to show that if you understand and implement proper risk reward strategies you could make money even while losing the majority of your trades.
• Mini case study: The Prop trader
I have managed private funds and worked with enough prop traders to know that in the "pros", what really matters is return on risk…not percentages or pips.
Example:
A trader working on a London prop trading desk operates in a debit / credit system; their account is either or positive or negative at the end of the trading period. The bosses will take a look at the trader's account value at the end of each month and they are mainly concerned with return on risk. They will calculate the risk taken for the month and compare it to the return. A prop trader is only paid if their R value is greater than 1, because an R value less than 1 means they lost more money than they made. Proprietary trading firms are looking at the return their traders bring relative to the risk, in dollar amounts…I can assure you that at the end of the month or year, all prop firms, banks, hedge funds etc. are primarily looking at risk vs. return in dollar amounts; because as we have already established, percentages and pips are essentially irrelevant.
• This isn't a free ticket to risk more per trade…
I would like to make one more important point to close. Please do not walk away from this article thinking it's a "free ticket" to start risking whatever you want per trade. In the end, risk tolerance is discretionary and personal, and I mention this frequently. You have to decide before you enter any real-money trades exactly what you are comfortable with losing on ANY trade, because you never know which trades will win and which trades will lose, even if you are using a
high-probability trading strategy like price action. A good general rule of thumb to determine risk tolerance is if your trades are keeping you awake at night you are probably risking too much.
As you can see by today's lesson, we are different at learn to trade the market; you aren't going to find "status-quo" Forex trading training material. The free and members' materials are all derived from my years as a successful trader and things I have learned from other successful traders who mentored me in my early days. I know that not everyone will agree with me, and that's fine by me, I've never been one of the "herd", my concepts and strategies on this website are the way that I trade and they are what I teach in my community.
Good trading, Nial Fuller
I WOULD LOVE TO HEAR YOUR THOUGHTS, PLEASE LEAVE A COMMENT BELOW :)
Any questions or feedback? Contact me here.
SEPTEMBER SPECIAL:

Save 70% Off Nial Fuller's Pro Trading Course (Ends Sep 30th) - Learn More Here