Daily Forex Market Commentary:
The U.S. dollar traded mostly higher today as both Gold and Crude Oil fell. Crude Oil closed down 0.4% at $81.17 a barrel after spiking up to hit a high of $83.12 a barrel, the highest price since early January.
The greenback gained modestly on the euro, franc, pound, yen and kiwi dollar, while losing modestly to the Canadian dollar and Australian dollar.
Looking ahead, economic reports will likely influence the currency markets over the next 48 hours. Tomorrow we will see U.S. Trade Balance and weekly Unemployment Claims while Friday brings us U.S. Retail Sales and Consumer Sentiment.

Stocks:
On Wall Street today stocks closed modesty higher on the back of hopes that renewed business demand will boost corporate profits. Bank and technology shares led the way with the Nasdaq closing up 18.27 points or 0.8 percent, the S&P was up 5.16 or 0.5 percent, and the Dow was only up 2.95 points or less than 0.1 percent.
Volume has been light this week as there has not been much economic data to fuel the market. Reports on weekly unemployment claims, retail sales, and consumer sentiment will come out over the next two trading days and should provide some sense of clarity about the strength of the economy.
Currency pair in focus: NZD/USD
Today we are taking a look at the daily chart of NZDUSD. A well defined bearish pin bar has formed showing clear rejection of the very strong resistance zone between 0.7050-0.7100.
This price action setup is meeting all the characteristics for a well formed pin bar setup. It is also showing clear rejection of a confluent level which gives this setup added significance.
We like to see these types of price action setups here at LTTTM, we hope that you enjoy our simple yet highly effective take on price action trading, for more education, setups, and commentary check out the member's forum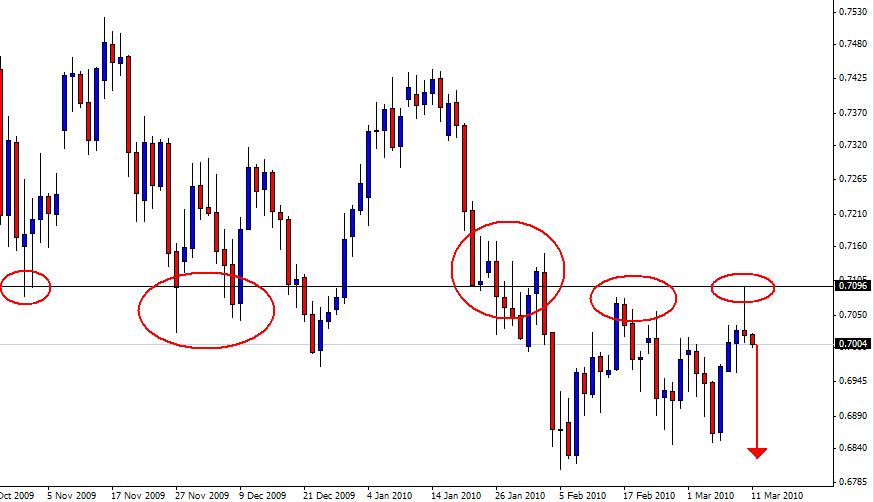 For a more in-depth analysis of the major FX pairs as well as trading strategies, please check out my price action forex trading course.