Daily Market Commentary: 11-17-2009
On wall street today stocks rose to a fresh 13-month high as upbeat broker views on improving prospects for two Dow components offset disappointing holiday spending outlooks from Target and Home Depot. The Dow closed up 30.46 points, or .29 percent, to end at 10,437.42. The Dow was down about 45 points at the morning low in New York. Oil prices rebounded from a morning sell-off to post a slight gain.
Gold futures squeezed in some small gains by the close of trading Tuesday, with the front-month contract ending at a record high, supported by a purchase of gold by the central bank of Mauritius and as mixed U.S. economic data failed to give much of a lift to the dollar.
The dollar gained on most major currencies over night in London, however by the New York close much of these gains were lost as major support and resistance levels held strong. The dollar is currently hovering near 15-month lows.
We can see EUR/USD bounced off the 1.4820 level here on the 4hr chart. A possible run at 1.5050 is possible in the near term.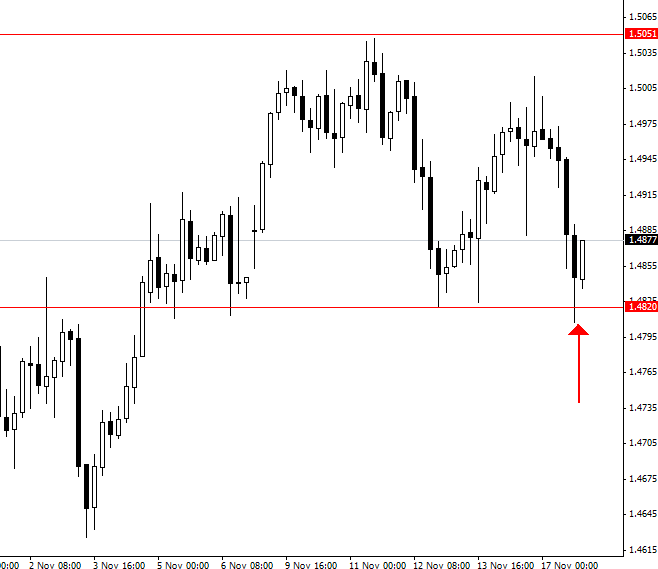 Tomorrow's important economic events:
Wednesday's relevant forex events include a speech by ECB president Trichet at 3:40 am EST which could give some insight into up coming euro-zone interest rate movements.
At 4:30 am EST we have the Bank of England MPC (monetary policy committee) minutes coming out. This report can sometimes move the currency markets based on its insight into interest rate policy.
At 7:00 am EST we have core CPI coming out of Canada. The consumer price index measures the change in the price of goods and services purchased by consumers. This report tells us a lot about overall inflation in the economy. Rising prices tend to lead the central bank to raise interest rates out of respect for their inflation containment mandate.
At 8:30 am EST we have building permits coming out of the U.S. . This report is a good gauge of future construction activity because obtaining a building permit is among the first steps in building a new structure.
Also at 8:30 am EST we have core CPI coming out of the U.S.
Good Trading
Nial Fuller


Until July 31st, Get 40% Off

Nial Fuller's Price Action Forex Trading Course, Daily Trade Ideas Newsletter & Live Trade Setups Forum - Click Here For More Info.