Daily Commentary:
Monday saw the dollar lose more ground to all major currencies. Retail sales in the U.S. rebounded in October; this led to a jump on Wall Street as investors reacted to the positive news. Retail sales is an important economic indicator because the U.S. consumer is vital to the overall health of the world economy.
Fed chairmen Bernanke reaffirmed in a speech today that the central bank would hold interest rates at record-low levels for an "extended period", giving a further boost to stocks and weakening the dollar. Gold hit a new record high on the back of a sinking dollar, oil and other commodities were higher as well. All of the major dollar pairs are nearing significant support or resistance levels. Given the overall economic picture leaning towards a continuing weak dollar, current forex trends are expected to continue.
The euro has been in an uptrend against the dollar for quite sometime, given the current economic forecast this uptrend is expected to continue, however a decisive close above 1.5050 would be necessary to confirm this.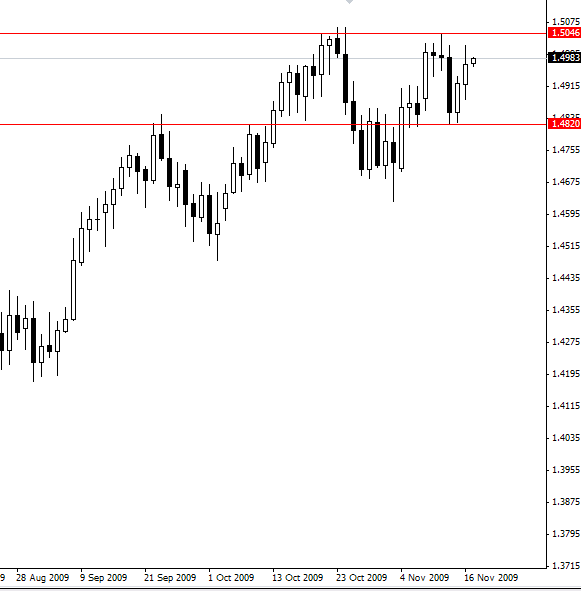 Tomorrow's important economic events are as follows:
Swiss retail sales: This report is the primary gauge of consumer spending which accounts for a majority of overall economic activity. It comes out at 3:15 am EST
British CPI: Consumer price index is an important measure of inflation as it accounts for the majority of overall inflation. It comes out at 4:30 am EST
U.S. PPI: The producer price index report is leading indicator for consumer inflation; higher producer prices are usually passed on to the consumer. It comes out at 8:30 am EST
U.S. TIC long-term purchases: Demand for domestic securities and currency demand are directly linked because foreigners must buy the domestic currency to purchase the nation's securities. This report represents the balance of domestic and foreign investment. It comes out at 9:00 am EST
Good Trading
Nial Fuller – Learn To Trade The Market

Until May 31st, Save 45% Off

Nial Fuller's Price Action Forex Trading Course, Daily Trade Ideas Newsletter & Live Trade Setups Forum - Click Here For More Info.