Easter Life-Time Membership Special: Until April 30th, Save 35% Off
Nial Fuller's Professional Forex Trading Course, Daily Trade Setups Newsletter & Live Trading Forum - 
Click Here.
Note: We Use 'New York Close Charts' – Get Our Preferred Charts & Trading Platform Here
EURUSD – Euro/dollar pulls back to near-term support
The EURUSD pulled back to support near 1.0830 last week and bounced up from there into Friday's close. We have been watching this pair for a pull back like this to get long, as we discussed in our weekly commentary last week. Traders can continue to look for buying opportunities this week on any weakness / further rotations to the downside, ideally followed by price action buy signals to get long from support and trade in-line with the current uptrend in this market.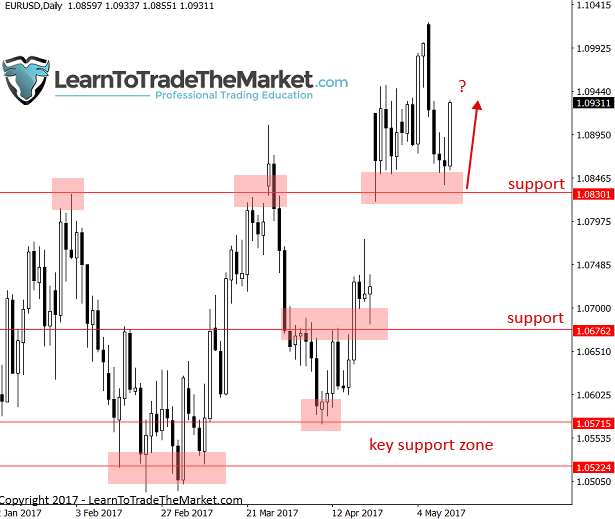 AUDUSD – Aussie/dollar fakey pattern may lead to more losses this week
The AUDUSD consolidated last week until Friday when it tried to pop higher but bears came in and pushed the price back down into the close. We can see a fakey pattern formed from this reversal on Friday and that could provide the catalyst for prices to resume their downward track this week. Whilst under 0.7555 – 0.7611 key resistance zone we remain short-biased. Watch for selling opportunities up near 0.7470 as well, should price continue to retrace higher this week.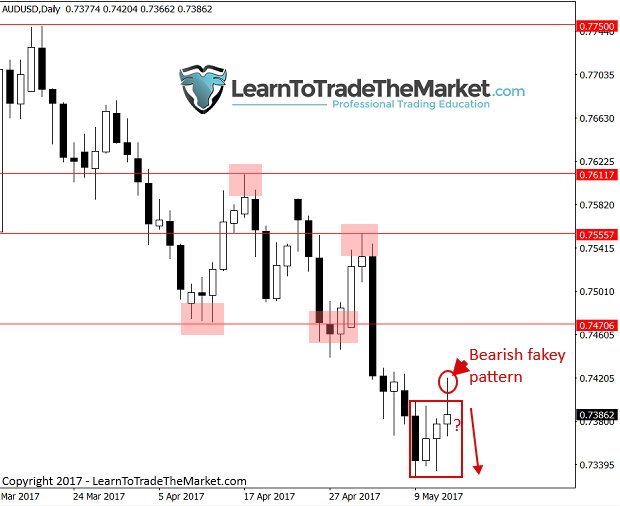 GBPUSD – Sterling/dollar pulls back to support area
The GBPUSD rotated modestly lower last week, ending the week just above near-term support at 1.2828. As we have discussed recently, traders not already long can still watch for pull backs ideally followed by a price action buy signal on the 1 hr, 4 hr or daily charts to get long. We are watching 1.2828 to 1.2755 zone near-term support to look to buy from on a rotation lower. Follow our members daily market commentaries for updates on the GBPUSD this week.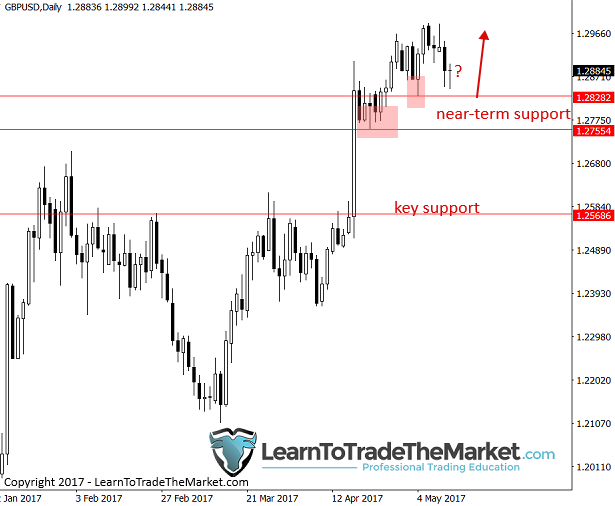 Crude – Crude Oil rallies, but can it sustain the upward track?
Crude Oil moved higher last week but appears to be hesitating at current prices, just under 48.80 near-term resistance. There was a lot of selling preceding this recent upside reversal and plenty of resistance coming in overhead, so we wouldn't be surprised to see price rotate lower in the coming days and weeks. We are looking for price action sell signals in the resistance range just overhead, coming in between 48.80 and 51.20.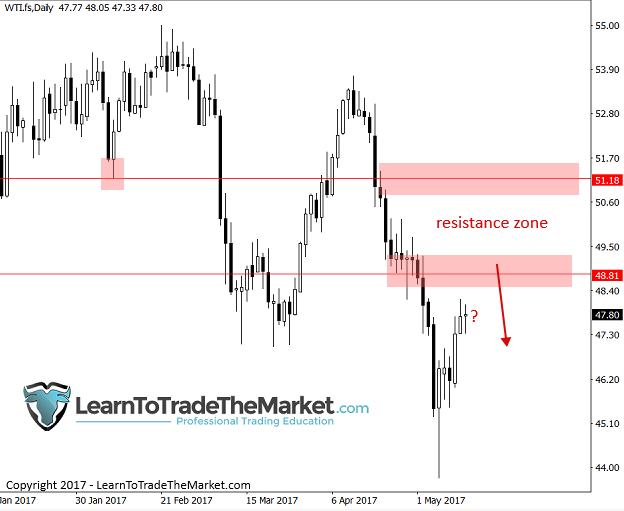 Gold – Gold pulls back but approaching key support levels
Gold held just above 1220.00 support last week after briefly dipping below it early on in the week. Given the recent bearish momentum in this market, the price could still continue to track lower this week, however, with major support levels approaching, we would ideally prefer to be buyers of this market. We remain bullish whilst price is above 1200.00 key support level and are watching closely for obvious 1 hour, 4 hour or daily chart buy signals. Be sure to check our members daily trade setups newsletter for updates on this market as the price action unfolds.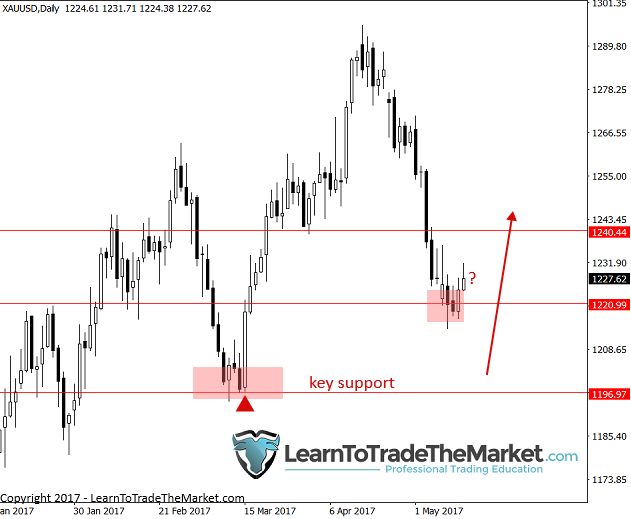 Want More Trade Setups Ideas & Analysis? In the members' daily trade setups newsletter, we discuss potential trade setups and provide detailed chart analysis on Currency Pairs, Commodities, Stock Indices and more. For more information click here.
Easter Life-Time Membership Special: Until April 30th, Save 35% Off
Nial Fuller's Professional Forex Trading Course, Daily Trade Setups Newsletter & Live Trading Forum - 
Click Here.