Easter Life-Time Membership Special: Until April 30th, Save 35% Off
Nial Fuller's Professional Forex Trading Course, Daily Trade Setups Newsletter & Live Trading Forum - 
Click Here.
Note: We Use 'New York Close Charts' – Get Our Preferred Charts & Trading Platform Here
EURUSD – Euro/dollar sells off after false-break of resistance
Last week, the EURUSD sold-off from 1.0875 key resistance after the false break there at the start of the week, and moved lower into the week's close. With price having fallen quite significantly last week, we can't see any real chance of being able to sell near current levels. But, we can consider selling on strength early this week by watching for a pull back to the upside followed by a 1hr, 4hr or daily chart sell signal. We can also watch key support down near 1.0520 for buy signals if price tests that level this week, as that is the key support of the trading range this pair is in right now.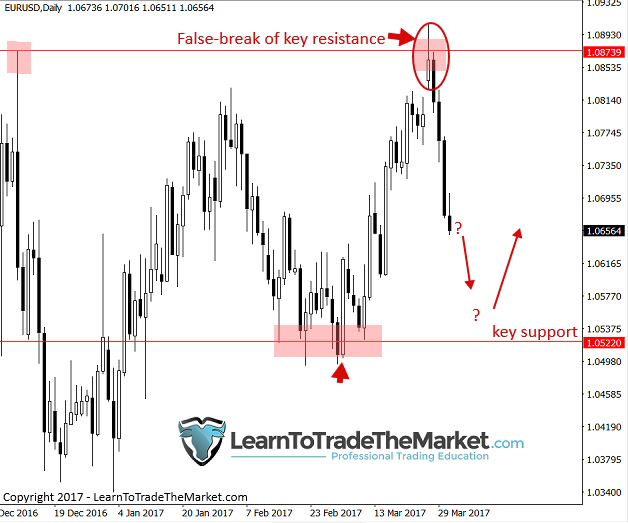 GBPUSD – Sterling/dollar bounces at near-term support
The GBPUSD bounced up from support near 1.2400 last week, a level we recently suggested traders look to buy on a pull back. We see the potential for prices to re-test 1.2620 – 1.2700 resistance area in the coming days. Whilst prices are above 1.2350 – 1.2400 we can look to buy on pull backs, ideally on a 1hr, 4hr or daily chart buy signal after the pullback.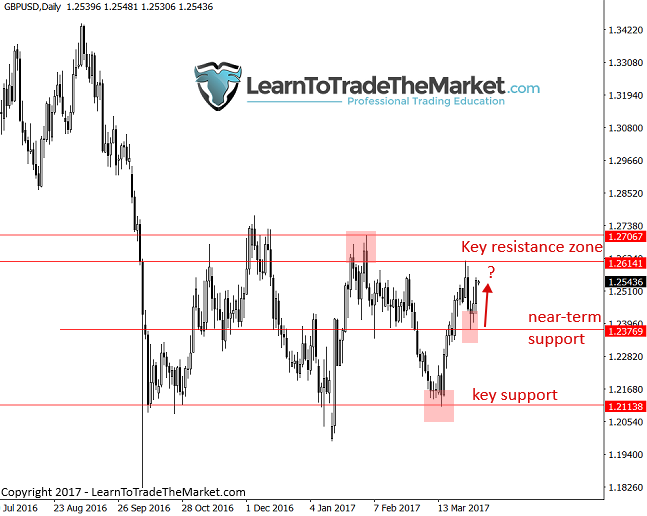 AUDUSD – Aussie/dollar remains buoyant, waiting for price to approach key support
Following a strong bounce higher from key support near 0.7500 two weeks ago, price has since pulled back modestly, but is still trading above that key support. Our recent views of looking to buy on a pull back to support remain. We are watching 0.7550 – 0.7500 area as a strong potential buy zone either on a signal or blind entry.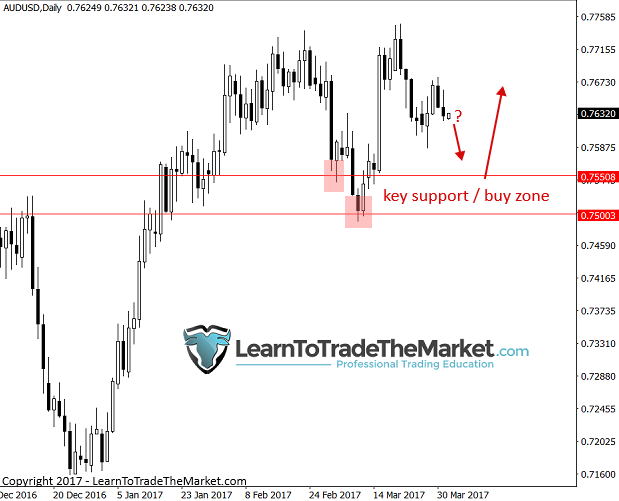 S&P500 – S&P500 uptrend continues from pin bar buy signal
The S&P500 uptrend continued last week, moving higher following a bullish pin bar buy signal that formed near 2330.00 support, which we discussed in our members trade setups commentary last week on the day it formed. Traders not already long, can continue to look for buy signals at near-term support now seen from 2330.00 to the pin bar low from last week.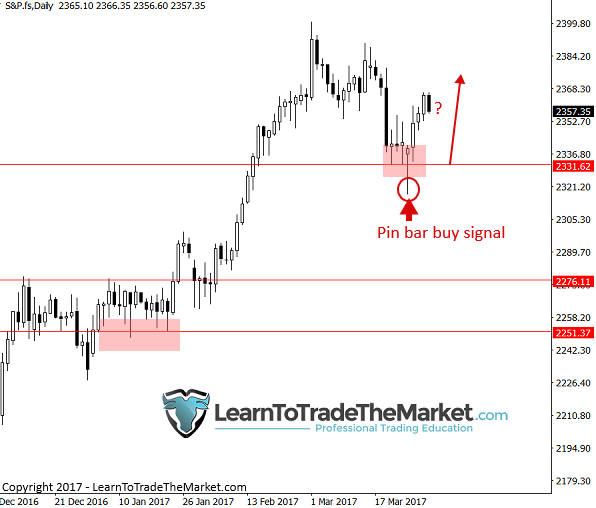 Gold – Gold remains buoyant, watching key support for buying opportunity
Gold has undergone a very strong surge higher since it bounced at $1200.00 key support; a level we had been watching for buying opportunities as we discussed back in our February 14th commentary. Our views remain similar; we see support at $1220.00 – $1200.00 as a key buy zone and 'line in the sand' for buyers / bulls, so we will wait and look to buy on a pull back to that support zone, either on a price action buy signal or a blind entry.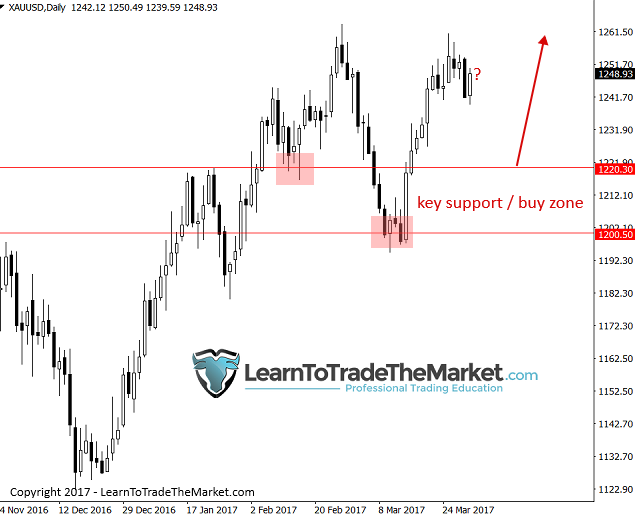 Want More Trade Setups Analysis ? In the members' daily trade setups newsletter we discuss potential trade setups and provide detailed chart analysis on Currency Pairs, Commodities, Stock Indices and more. For more information click here.
Easter Life-Time Membership Special: Until April 30th, Save 35% Off
Nial Fuller's Professional Forex Trading Course, Daily Trade Setups Newsletter & Live Trading Forum - 
Click Here.