Easter Life-Time Membership Special: Until April 30th, Save 35% Off
Nial Fuller's Professional Forex Trading Course, Daily Trade Setups Newsletter & Live Trading Forum - 
Click Here.
Note: We Use 'New York Close Charts' – Get Our Preferred Charts & Trading Platform Here
EURUSD – Euro/dollar remains buoyant, more upside possible this week
The EURUSD remained buoyant last week even after a bearish reversal pin bar formed on Thursday. Price held it's ground on Friday and formed an opposing bullish pin bar just above 1.0675 near-term support, indicating that bulls are still clearly in control here. We are looking to trade in-line with the recent bullish momentum in this pair this week and could see it re-test the key resistance zone up near 1.0830 – 1.0905 area.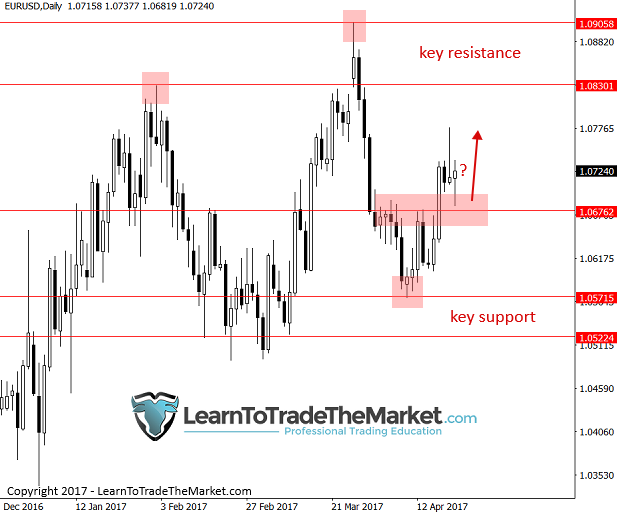 GBPUSD – Sterling/dollar explodes higher
The GBPUSD exploded higher last week as price broke above 1.2570 resistance as well as other nearby resistance levels and closed well above them all. This is obviously a very bullish development and we can look for minor pull backs to the downside to get long and trade in-line with the bullish momentum. Watch the key near-term support zone between 1.2680 – 1.2570 as the primary buy-area this week.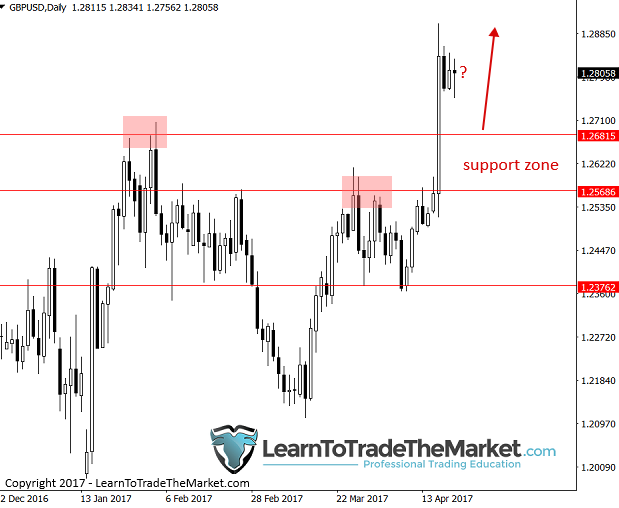 AUDUSD – Aussie/dollar testing key support level
The AUDUSD has rotated down to key support near 0.7490 in recent weeks and is sitting right above that level. We see this support as the 'line in the sand' for bulls and if price closes below here we see an increased chance of a larger sell-off. However, if price can hold above this level we could see price push higher again. Let's wait and see what develops at this key level this week and be sure to check our members' trade setups commentary for updates on the AUDUSD as the price action develops.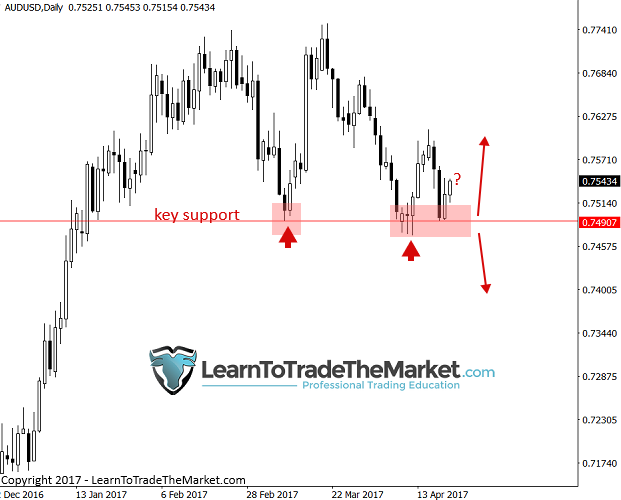 Gold – Gold consolidates, remains buoyant in uptrend
Gold is remaining buoyant and is still in the midst of a solid uptrend that has been in place for months. As we have discussed in all our recent commentaries, we are looking to be buyers of Gold on any pull backs to support / value areas, in order to trade in-line with the uptrend. This week, traders can watch 1260.00 – 1240.00 support zone as a potential buy-area should price rotate lower.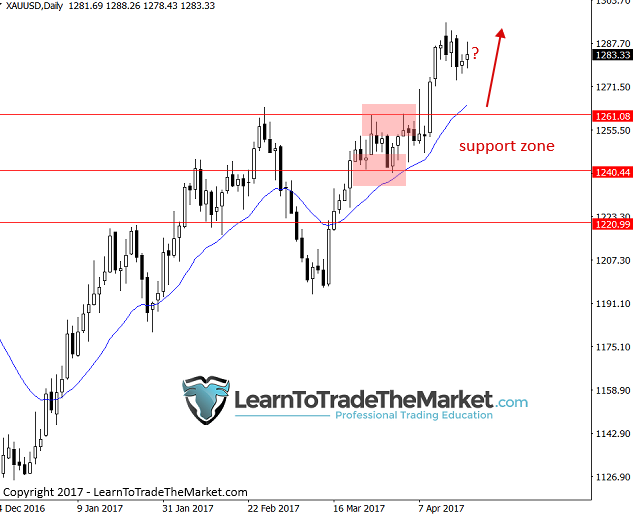 S&P500 – S&P500 grinding sideways above key support level
The S&P500 has managed to remain above key support near 2317.00 in recent weeks and did manage to gain modest ground last week. We remain bullish biased on this market and looking to buy, in-line with the overall uptrend. Watch for a clear 1 hour, 4 hour or daily chart price action buy signal this week from current levels down to 2317.00 key support.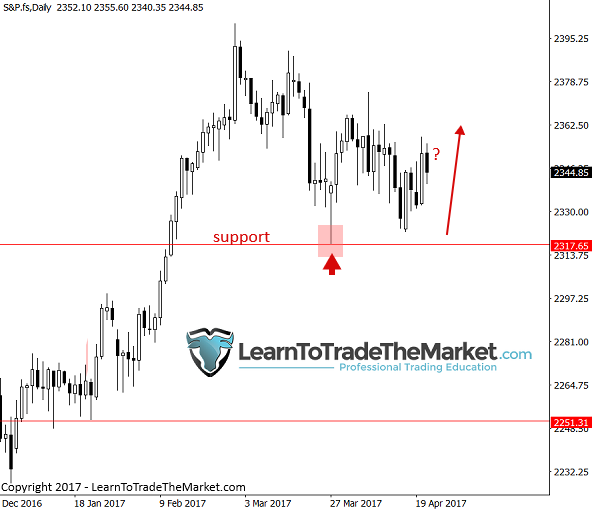 Want More Trade Setups Analysis? In the members' daily trade setups newsletter, we discuss potential trade setups and provide detailed chart analysis on Currency Pairs, Commodities, Stock Indices and more. For more information click here.
Easter Life-Time Membership Special: Until April 30th, Save 35% Off
Nial Fuller's Professional Forex Trading Course, Daily Trade Setups Newsletter & Live Trading Forum - 
Click Here.