Trading Setups / Chart in Focus:

GBPUSD
The GBPUSD surged higher again today to end an impressive week and four consecutive days of gains. Today, the market blew right past the long-term resistance level through 1.6165 and plowed higher to close at 1.6219.
We would note that there have been two obvious and high-probability daily chart entries into this recent move higher. The first was the pin bar setup that formed back on August 28th just after the market broke out from key 1.5770 resistance and then came down to re-test it, forming the pin bar rejection of that level. Then, on September 10th an inside bar strategy formed in the middle of this recent thrust higher. We discussed this inside bar setup in our members' commentary and the potential for price to move higher off of it. We can see price has move higher off this setup and provided anyone who traded it with at least a potential 1:2 risk reward ratio.
Next week, we will be looking to buy this market on retraces down into support, pending price action confirmation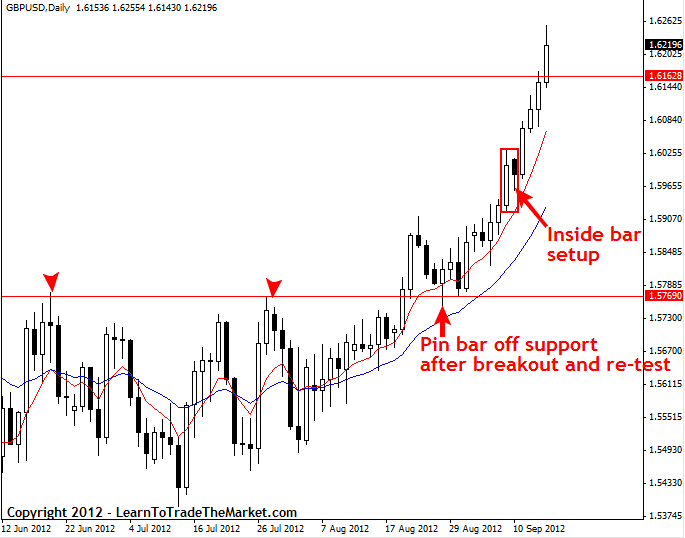 Check out my latest trading lesson: How To NOT Blow Up Your Trading Account
————————————————————————————————————————————————————————–
September Special Promotion- This month I'm offering a Special Discount on Lifetime membership to my Forex Course, Live Trade Setups Forum, Daily Trade Setups Newsletter, Email support line, and more. For more info visit the Forex Course Page Here.
————————————————————————————————————————————————————————–
Forex Commentary:
In the currency markets today, the U.S. dollar lost ground to most of the other majors today, moving to a four-month low against the euro as optimism over the Federal Reserve's new round of economic stimulus continued.
Also, increasing confidence about the euro-zone debt crisis on the back of European Central Bank action worked to further boost the euro to a 2.4% gain versus the U.S. dollar this week.
The U.S. dollar exploded higher against the Japanese yen as speculators think Japan might intervene in the currency markets soon to limit the yen's recent gains against the greenback.
Other Markets:
In the U.S. markets today, stocks moved higher again to mark two weeks of gains after the Federal Reserve's new round of economic stimulus worked to end this week on a high note.
The Dow added 53.51 points, or 0.40%, the S&P 500 gained 5.78 points, or 0.40%, and the Nasdaq added 28.12 points, or 0.9%.
Upcoming important economic announcements (New York time): 09/17/2012
9:30pm EST: Australia – Monetary Policy Meeting Minutes