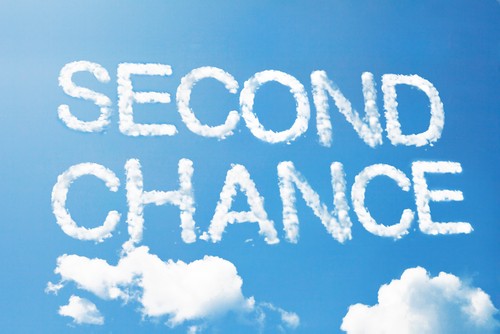 How many times have you seen a signal or potential trade setup in the market and for whatever reason you didn't take it, only to wake up the next morning and see the market has taken off without you on board? This has happened to all of us at some point, and I know it can be very frustrating, to say the least. But, what if I told you that very often there are second-chance opportunities to get on board trades you missed?
The idea behind today's article is to show you how to get on board a trade or move in the market you may have initially missed. However, you don't want to 'chase' the market, so you have to learn how to do this properly so that you still can get in at an optimum area to get a good risk / reward ratio on the trade. Here are some of the techniques that I employ to get on board trading opportunities that I may have initially missed…
A trade is valid until it's not…
It's important that we understand the concept that the price action signals we teach are actually valid until they're invalidated, or a move in the market is underway until it's not, which means, when the dynamics of the chart change, this will neutralize the previous signal that had formed (the trigger). But, until those dynamics change and neutralize a signal or move, that signal or move is still valid and trade-able.
What we want to do now, is show you how to get in whilst the initial trade trigger or signal is still active, because usually there's a second-change to get in. So, next time you see a signal that you missed on a chart, don't panic, come back and re-read this article as your guide on how to re-enter that trade.
How to find second-chance trading opportunities:
1. The first example I want to discuss is that of a price action signal that fires off without you on board. Let's take a pin bar signal for example, suppose it starts moving without you on board right after it closes out, you look at it and think you missed it. There is a much better option than jumping in late and chasing the market or not trading at all…
Wait for a pullback. Wait for price to pull back or rotate to a moving average or horizontal level of support or resistance in the market, then look to enter there. So, if we had a bullish pin bar signal for example, as long as price is above the low of the pin bar, it's still valid and so any retraces back towards that pin bar can be viewed as potential entry opportunities. We especially want to look for pull backs to levels, such as moving averages or a support level in the case of a bullish pin bar.
Let's look at an example…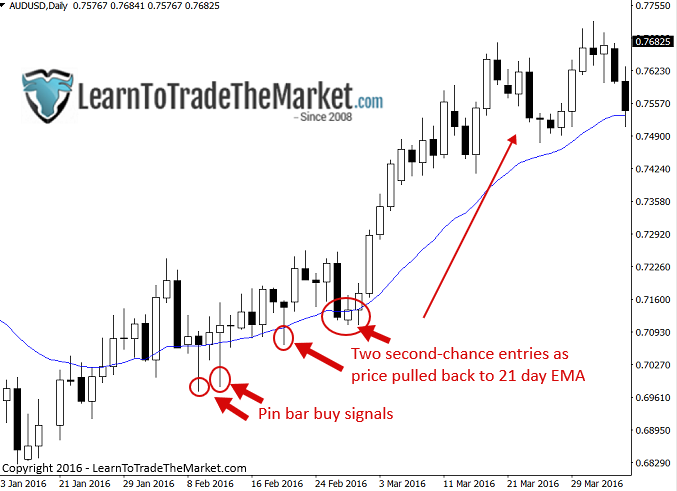 2. The next example of getting on board a move you may have missed is that of moves that start at key support and resistance levels. If a market has found a level and started to bounce and you missed the initial bounce, don't freak out, the market will pullback, use that pullback to get in, preferably with a signal but there doesn't always have to be a signal, checkout my article on blind entries to learn more. A strong move in the market that started near a key level is still valid until price closes back on the other side of that level.
Let's look at an example…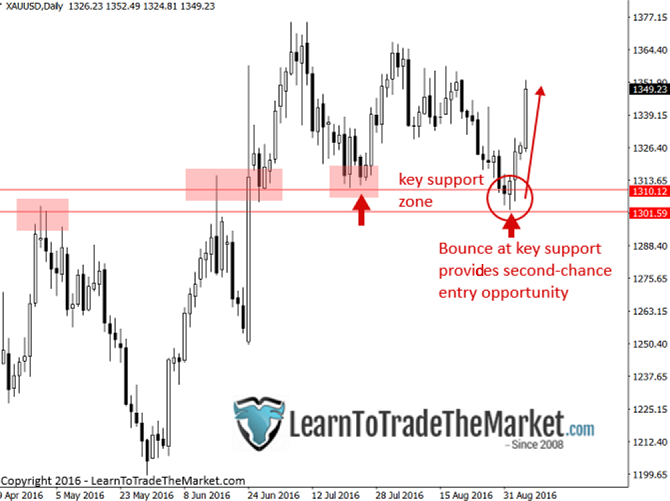 3. The last and perhaps not so common scenario of getting on board a trade you missed, is that of a runaway trend that might have been established weeks or even months prior to you observing the chart.
There's a variety of ways to get in, but the concept is, if it looks like a really obvious sustained trend that is rotating back to short-term moving averages and bouncing every time and (or) the chart has broken to new highs or lows, the path of least resistance is obvious. You know the trends I am talking about here, the ones you look at and say "I missed it", but it just keeps going and going without you.
Now, the idea to re-enter here is to wait for a pullback to the moving averages or a short-term level (value areas) and just hop on the move there. You might see a price action signal at the value area, you might not, but the idea is to enter at value.
Let's look at an example…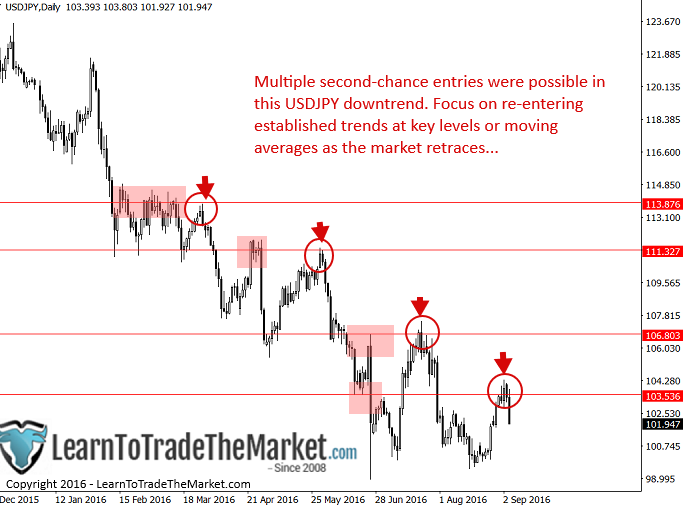 One thing you might be thinking is, how do I define my risk reward with these second-chance entry techniques? Well, it won't be as easy as if you entered the trade from the initial entry trigger, but a good idea would be to refer to your current average moves on a daily basis (ATR) and your stop loss should be above or below a logical nearby level, moving average or second signal that formed. There's going to have to be a little 'massaging' involved, but that's the price you pay to get on board a good signal if you missed it, but it's better to be on board than not. The stop loss placement on these second-chance entries might be slightly more arbitrary than the initial risk reward on the first entry, but you have to make the best with the structure you have and you should be able to find another logical level or signal to put your stop loss behind. As a type of fail-safe, refer to the average daily volatility of the market for stop distance.
Conclusion
I hope this lesson has shed some light on how you can re-join trades and strong moves in the market that you may have initially missed. When you miss a good trade setup, don't panic and jump right in the market at a bad price. Instead, be calm, be patient and wait for one of the second-chance entry opportunities I showed you above, because more often than not, one will form. Just remember the techniques discussed above and come back to this article if you need a refresher on this topic.
For more information on my price action trading strategies and trading philosophies, be sure to check out my price action trading course.
BLACK FRIDAY SPECIAL:

Save 70% Off Nial Fuller's Pro Trading Course (Ends Nov 30th) - Learn More Here