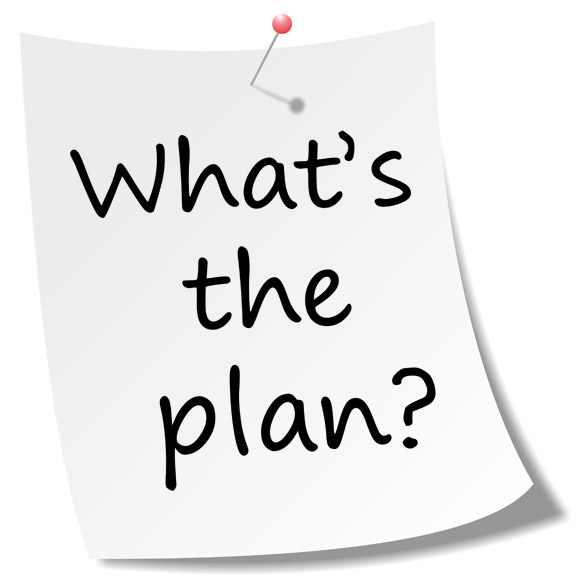 How do you plan your trades? What is your daily routine for analyzing the market, setting up and executing your trades? What do you do after that? How do you manage your trades once they are live? What is your plan?
I thought you would like a quick overview of how I plan my trades and what my daily trading routine typically looks like.
Whilst it has been many years since I was a beginning trader, I remember very clearly how it felt. You can easily feel overwhelmed and confused, even lost. Today's lesson will hopefully give you some guidance by helping you to see what I do when I am planning a trade. You will probably realize that you have been making it far harder than it actually needs to be…
Here's how I plan my trades…
Shortly after waking up and drinking a big glass of water, I will typically check and answer emails from my students and I will also have a quick look at what happened overnight in some of the major markets I follow. Since I typically wake up right around when the USA session is closing, it is a perfect time for me to look at the daily charts and the end of day price data to see if any good price action trades are setting up. I will make a mental note of any obvious trades that I see or any potential trades I see at this time.
Now, whether a trade is setting up or not, I will close up my laptop and go eat breakfast and probably make a trip to the coffee shop and get a coffee with my wife.
After that, I typically will have another brief look at the charts, depending on if I saw a trade setting up from when I looked at the charts around the USA / New York close. If I did see something setting up at that time, I will definitely have a look at the charts after my breakfast and coffee, this is when I have a closer to look to see if I want to take the trade, or not. If I didn't see anything setting up then I am probably not even looking at the markets right now, instead, I am doing something else; family stuff, etc. Bottom line is, I do not sit around trying to 'find' trades that aren't there. If something doesn't pop out to me right away when I look at the charts in the morning, I don't pay much attention to the markets for another 8 to 12 hours.
What I have just described to you is what I would consider an end of day trading approach, and it it is how I recommend you trade. We are focused on the end-of-day data, and not on all the little hiccups that take place on the intraday charts. Now, I am not saying you should never look at intraday charts, because as you may know, I do like the 4-hour chart and I even teach the 1-hour chart in my trading course.
However, what I am saying is that you should only look at those intraday charts I discussed above when you are analyzing the daily charts at your regularly scheduled morning and evening market analysis times. Basically, I recommend you spend no more than 20 to 30 minutes two times a day, about 8 to 12 hours apart, looking at the charts / markets. The goal here is two things:
If no trades are popping out at you in the morning, meaning there is nothing obvious setting up, there is probably nothing worth risking your money on.
The longer you sit there looking at the charts, and the more times you do it throughout the day or night, the more likely you are to enter a stupid trade and give in to the temptation to over-trade. This is how you lose money. Get used to not being in a trade, embrace it, enjoy it, because this is how you preserve your trading capital which means it will be there when a good trade does come along, which in turn, means you will have more money to trade a larger position size if you want.
The analysis and trade setup…
OK, let's assume that I DID indeed see a trade setup that I liked early in the morning when I first checked the charts that day. IF that is the case, here is what I do next:
I would then perform a more in-depth analysis on the chart to see if the setup I spotted earlier that day is worth taking or not.
I am looking for things like: Trend – What is the daily chart trend of this market, if any? Key chart levels – Are there any key chart levels nearby? Is the signal I like in-line with the daily chart trend and / or at a key chart level?
What is the realistic potential risk / reward on this trade? Can I get a 1:2 risk reward or better before the next key horizontal level comes into play?
Remember, as I have discussed in this article, I want to see at least 2 out of 3 of the T.L.S. (Trend, Level, Signal) factors lining up in order for me see the trade as worth taking.
Look at the chart below, the pin bar buy signal was a good trade to take because it was an obvious signal (well-defined and protruding from nearby price action), it also had the near-term / recent upward momentum behind it and plenty of room to run to the upside before the next key level came into play.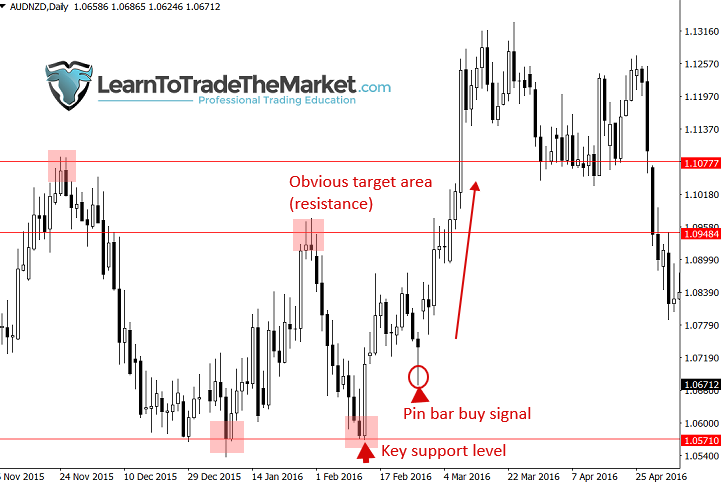 Next, I will decide how I want to enter the trade: at market, stop or limit entry. I will also decide on stop loss placement as well as target placement / exit plan.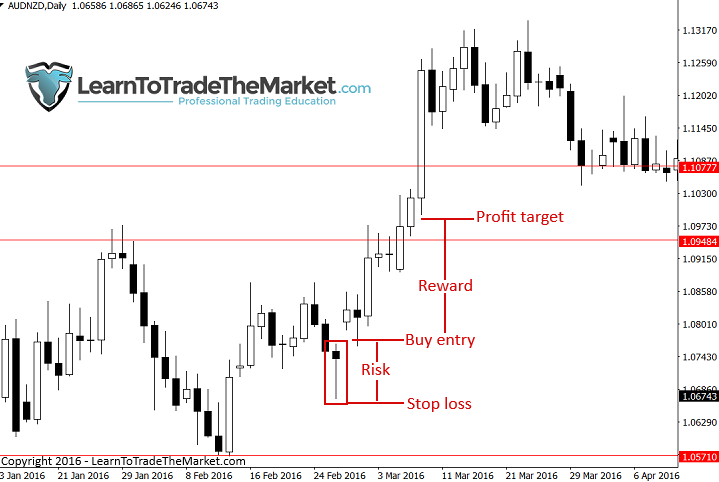 After the trade is setup, I will not sit there staring at it, please don't do this. Leave it alone and go do something else. I will typically check the trade before going to bed, but not all the time. It just depends on how busy I am that evening. The point is, I don't freak-out worrying about my trades. I have done the planning beforehand and I am always OK with the amount I have risked, so I have no problem waiting 24 hours to check on it again. Accept the loss beforehand and then anything other than that is a pleasant surprise. Whatever you do, don't expect that you will win on any given trade. As Mark Douglas says, expecting to win on a trade is a recipe for emotional trading to begin.

Conclusion
This article was a brief overview of how I plan my trades and it could help you develop the basis of your own trading plan and trading approach. However, keep in mind, the point I am trying to convey is that my trading routine and plan is really more about my mindset and overall approach to trade management, than a specific plan that I read everyday. It is good to start out with a trading plan when you are new and learning to trade, but eventually, that plan will just become like a habit and you will develop your gut feel from it. A trading plan is necessary for training and to make sure you are staying on track, every trader should learn to build one and use it until they really know what they're doing. I give a detailed example on how to build your own trading plan as well as a trading plan template in my advanced price action trading course.
BLACK FRIDAY SPECIAL:

Save 70% Off Nial Fuller's Pro Trading Course (Ends Nov 30th) - Learn More Here