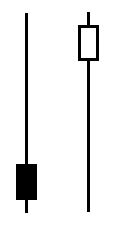 Tailed bars are the most important bars on a price chart. Plain and simple. The reason they are so important is because they often give us a very strong clue as to what price might do next, more so than any other type of price bar.
Today's lesson is a summary of my favorite tailed-bar candlestick patterns. These are the same patterns that I look for when I analyze the charts and that I trade regularly. You will learn what these patterns look like and how to identify them as well as what they mean. This will be a great introduction into different tailed bar candlestick strategies for beginners, but also, it's an excellent refresher for those that already have a basic idea of how I trade and what I look for on the charts daily.
This lesson does rely on you knowing the basics of candlestick charts and candlesticks however, so if you aren't too familiar with this topic then please checkout my candlestick chart tutorial for more information. I am not going to go into detail on specific entry and exits using the patterns discussed today because that is a whole topic unto itself, but I do expand on this in great detail in other articles and in my price action trading courses.
Now, let's get started in learning about some of the best tailed bar candlestick trading patterns…
What are tailed bars?
A tailed bar is somewhat subjective in nature, but what I mean when I refer to "tailed bars" is a bar with a tail that is noticeably longer than the body or real body (area between the open and closing price).
The tails of price bars, sometimes called shadows or wicks, are important to decipher because of what they show and what they imply. They show rejection of a level or price area and either a small, medium or large reversal that happened quite quickly. This shows us that there was exhaustion at that area the tail formed, which has big implications. When we see an area price is becoming exhausted at, it means there is something happening that we need to take note of. That tail is showing us that either buyers really wanted to buy there, or sellers really wanted to sell, why doesn't really matter, we only care about the what and the how.
A tail on a bar implies that price MIGHT move in the opposite direction, and soon. This is obviously a huge piece of data for a price action trader, and you can honestly base your entire trading approach around tailed bars if you want. Daily chart bars are, in my opinion, the most important bars and as a result, daily chart tailed bars are the most important bars of all. If you are unfamiliar with why daily charts are so important, please read my daily chart trading tutorial before moving on.
Even if we don't have an extremely clear tailed price action signal like (my favorite) a pin bar pattern or perhaps a fakey pin bar combo signal, we can still gather a tremendous amount of information from simple tailed bars, which we will go over shortly.
In short, tailed price bars are your friend, perhaps your BEST FRIEND in the market, and I suggest you get as close to them as possible, you need to 'fall in love' with them and I suggest you make them the one thing you master to succeed at trading.  
Examples of tailed bar candlestick patterns:
---
The Classic Pin Bar Candlestick Pattern
The pin bar candlestick pattern is a tailed bar that shows a sharp reversal in price across the time period of the chart. So, a daily chart pin bar is showing a sharp price reversal during that day period, whereas a 1-hour pin bar shows a reversal in price across a 1-hour period. The higher the time frame, the more 'weight' a signal carries, or the more important it is.
The pin bar typically has a much longer tail than the body, the body is the distance between the open and close. The tail on a pin bar should be at least 2/3 the length of the total bar, ideally 3/4. Sometimes, there is little or no body, as in the second pin bars depicted below. Here are examples of a couple of different looking pin bars that both have the same meaning; a reversal in price has occurred, represented by the long tail. The implication is that price may move the other direction, opposite the tail…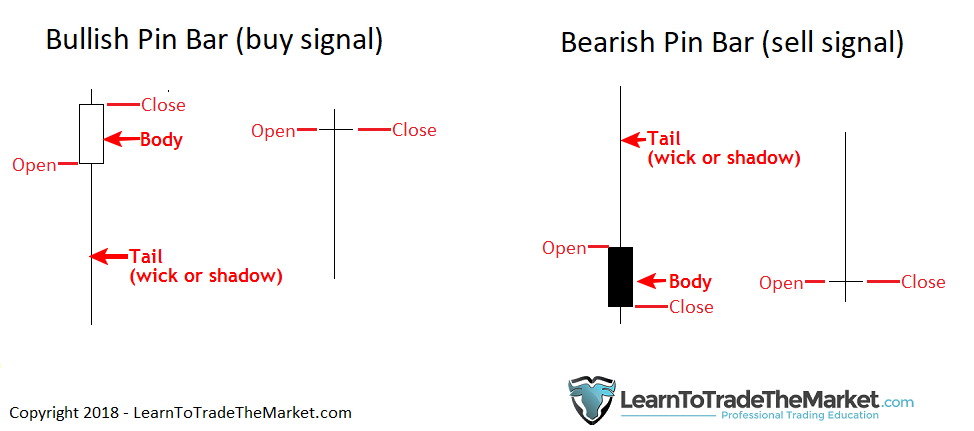 Here's a real-world example of the classic pin bar candlestick pattern: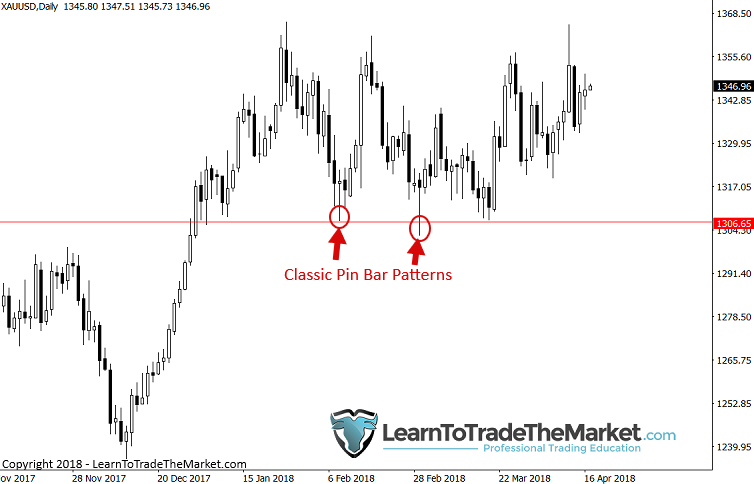 The Long-tailed Pin Bar Candlestick Pattern
A long-tailed pin bar pattern is exactly what its name implies; a pin with an unusually long tail on it. These are perhaps the most important bars in all of trading, and they are rare as well. When you see a long-tailed pin bar, stop and take notice because it's a huge clue that price is going to swing in the other direction. Long-tailed pins often mark major directional changes in the market and even major trend changes.
Long-tailed pin bars typically have a smaller real body than a classic pin bar. Their tails are always significantly longer than any nearby bars and as such, they are impossible to miss. They are sometimes good candidates for entering on a 50% retrace per my trade entry trick strategy. Here are a couple of examples of ideal looking long-tailed pin bars. For those of you who are new: Bullish means it's a potential buy signal and bearish means a potential sell signal…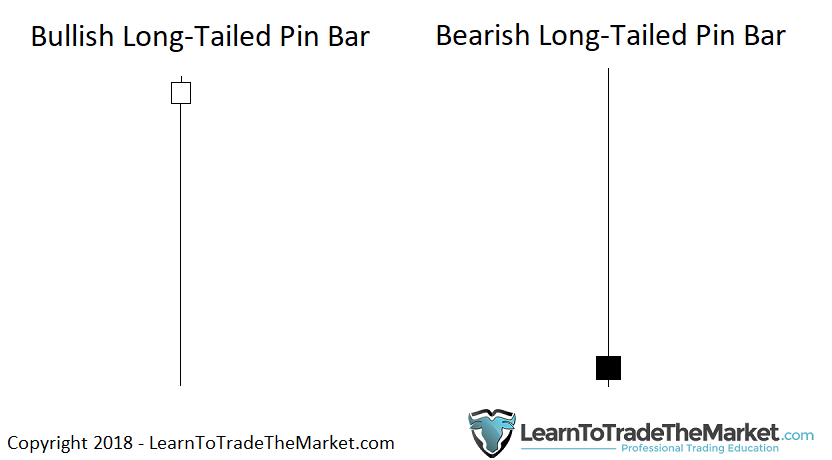 Here's a real-world example of a long-tailed pin bar candlestick pattern: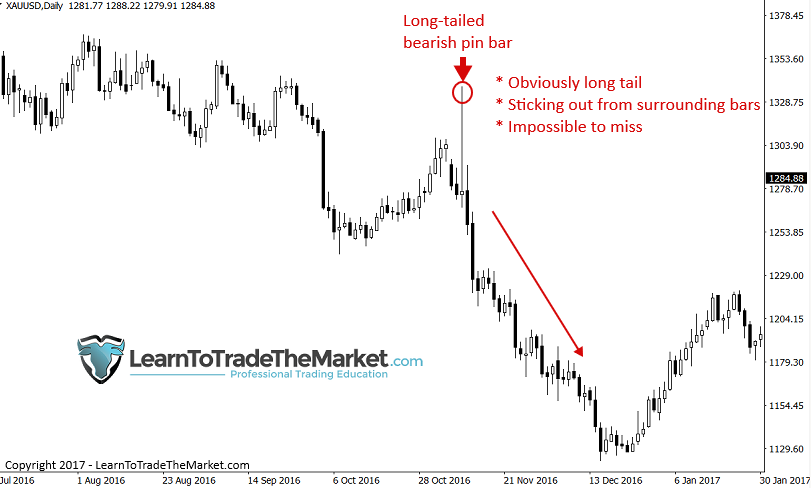 Another example of a classic long-tailed pin bar candlestick pattern: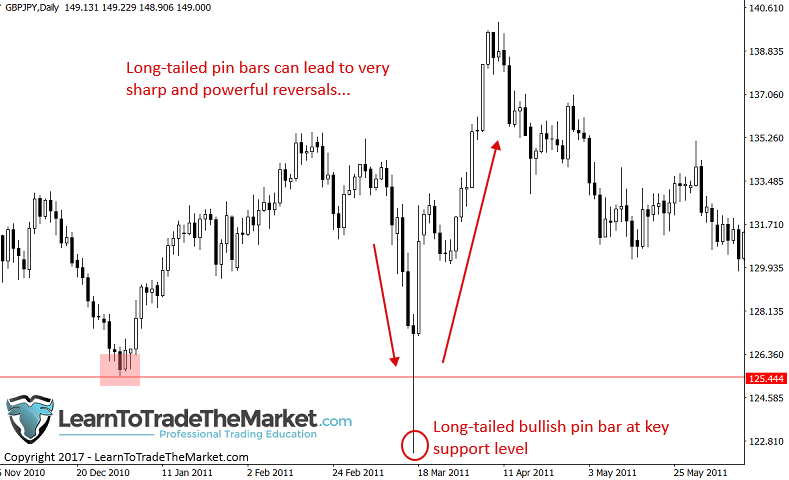 Double Pin Bar Candlestick Pattern
It's not uncommon to see consecutive pin bars form in a market, often at key chart support and resistance levels as the market is 'testing' these areas to see which party is going to win between the bulls and bears (buyers and sellers). You will more commonly see double pin bars or two pin bars back-to-back, but I have even seen three in a row before, but that is rare. Double-pins are something to take very strong notice of because formed within the proper market context and with confluence, they can be an obvious warning signal that price is about to surge the other direction. Here is what they look like…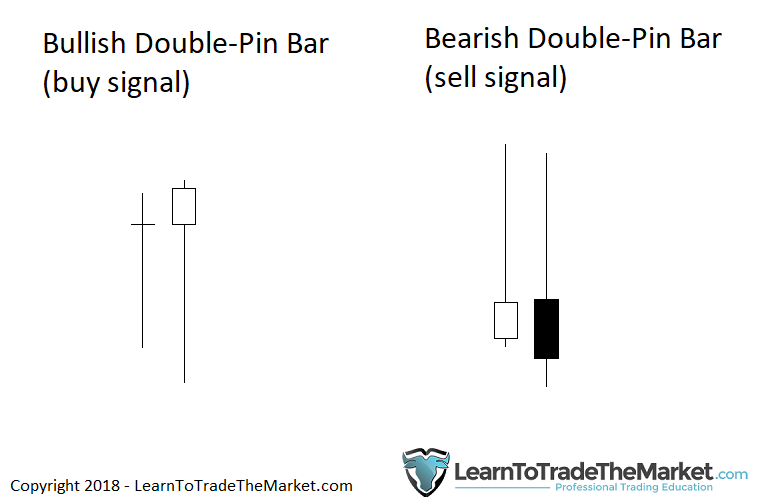 Here's a real-world example of a double pin bar candlestick pattern:
Note: You may notice price just barely violated the lows of the double-pin bar pattern pictured. This happens sometimes and it's why you need to thoroughly understand proper stop loss placement on your trades before you start trading live. The proper stop loss, a wide-enough one, would have kept you from getting stopped out before the trade went on to be a huge winner…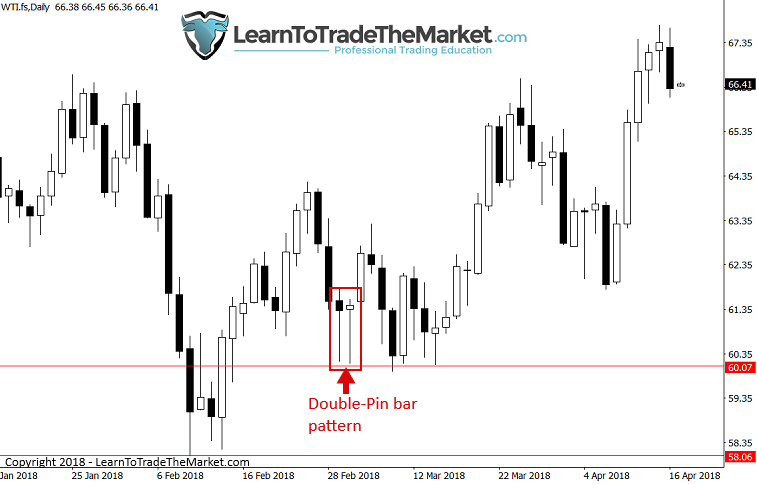 Small tailed bars and Long tailed bars (not pin bars)
The following diagram shows what I simply refer to as "tailed bars". These are bars with significant tails but that are not perfect enough to be considered a "pin bar signal". As I said in the opening; tails are often significant, so we need to look at any tailed bar as potentially having an impact on near-term market direction, even if they aren't perfect pin bar signals. I have dedicated an entire new chapter in my course to this tailed bar "phenomenon".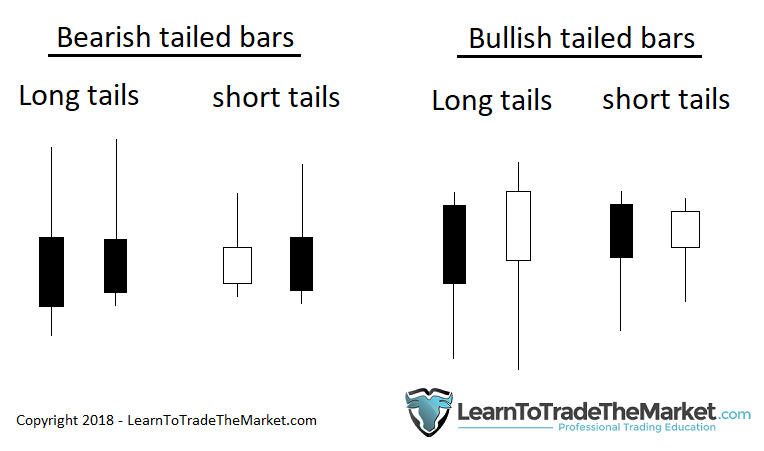 The chart below shows a fairly 'classic' tailed bar. This was a bullish tailed bar that formed at a support level within an overall up-trending market; we can see it lead to a strong push higher. Note, it was not a bullish pin bar because the lower tail wasn't quite long enough in relation to the body and its upper tail was a bit too long. But, still, the lower tail was long enough to classify it has a "bullish tailed bar" …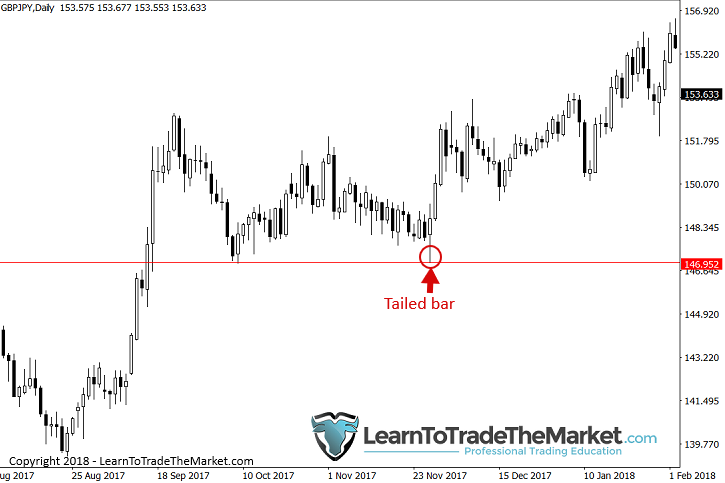 In the next image, you can see the differences between a long and small tailed bar as well as classic pin bar patterns…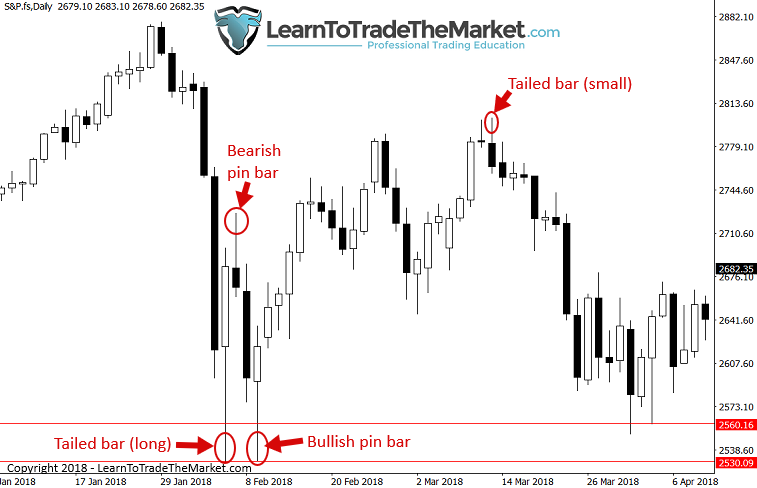 Other tailed bar candlestick patterns
There are other tailed bar patterns that I get into more in-depth in my course, but for now, let's look at some of the more common ones briefly.
Below, you will see a pin bar inside bar combo pattern, this is where an inside bar pattern forms after a pin bar and within the pin's structure. Next, you will see an inside-pin bar pattern, now don't get confused, this is not the same as the previous combo pattern, this is where you have a pin bar that is ALSO an inside bar, so it's an inside bar pattern where the inside bar is a pin, essentially it's treated just like an inside bar pattern with a little added 'weight' since you have that pin bar as an extra piece of confluence. Lastly, we have a fakey pin bar combo setup where the fakey or false-break part of the fakey pattern is also a pin bar.

Below, we can see a real-world example of a bearish pin bar inside bar combo pattern. This led to a large decline as the pattern implied. Also, notice the bearish tailed bar that followed, another nice sell signal in that downtrend…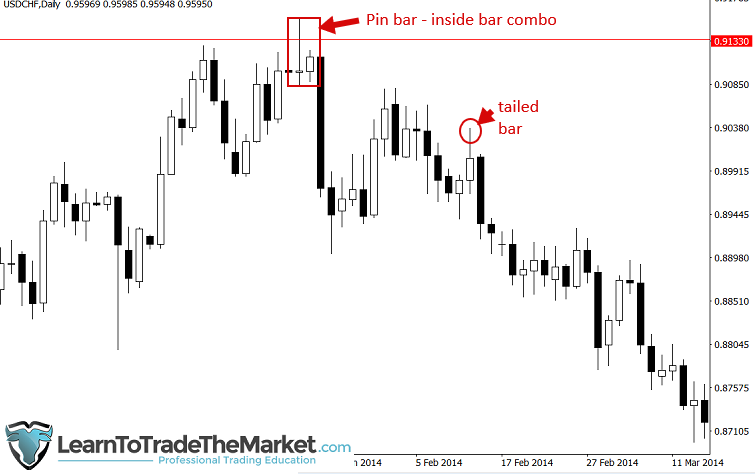 Here's a real-world example of an inside-pin bar combo candlestick pattern: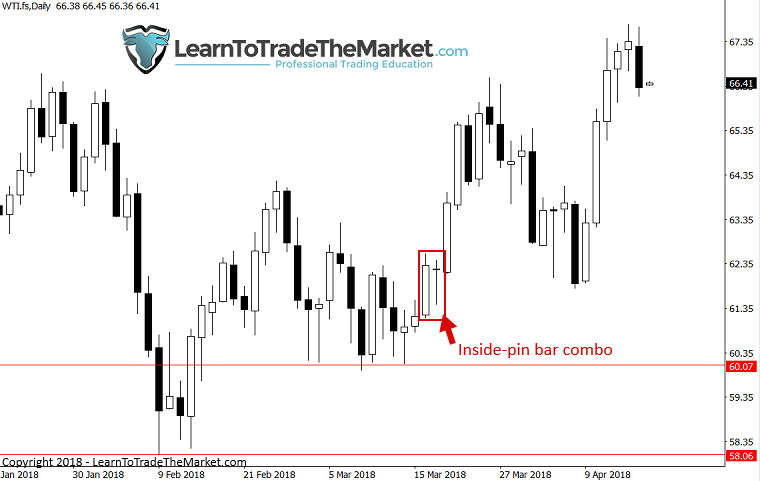 Here's a real-world example of a fakey-pin bar combo candlestick pattern: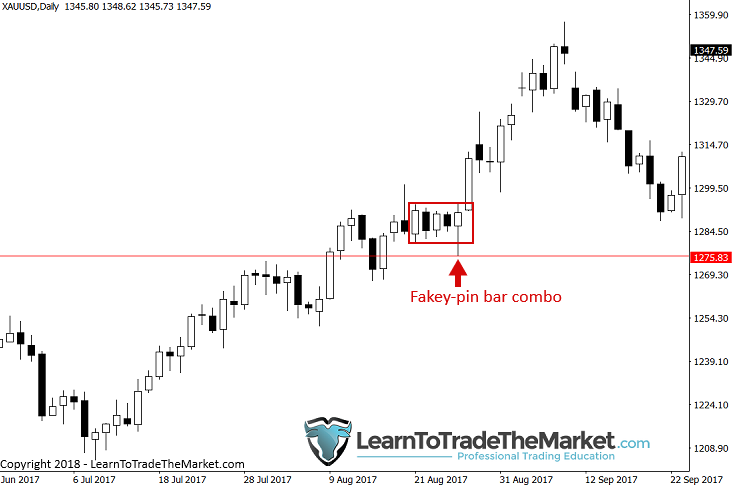 Conclusion
I hope you have enjoyed this tutorial on tailed bar candlestick patterns and what they mean. It was a brief introduction to these patterns, but you should have learned enough to start identifying them on the charts and practicing them on your demo account.
I get into these patterns and a lot more in much greater detail in my comprehensive price action trading mastery course. We go in-depth on how to enter trades using these patterns, identifying the proper chart context in which to enter them and 'confirm' our entry, as well as understanding how to filter the signals in different market conditions. Effectively, I teach you to read the charts from left to right, much like you read a book, which is a key element in profitable trading.
What did you think of this lesson? Please share it with us in the comments below!
BLACK FRIDAY SPECIAL:

Save 70% Off Nial Fuller's Pro Trading Course (Ends Nov 30th) - Learn More Here