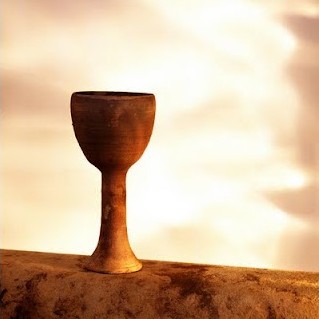 Let's face it, 95% of you reading this are probably not consistently successful traders, in fact, you've probably blown out a trading account or three by now. You probably enter a trade and then sit at your computer watching the market tick away or reading economic news for the next two hours, unable to think about anything but what "could" happen to your trade. Maybe you can't even sleep at night because you are so addicted to the 5 minute chart and to watching every pip of price movement that all you can think about is the market. If any of this sounds all too familiar to you, it's obviously time for a change; it's time to start concentrating your trading efforts on the daily chart time frame.
You know how that old cliché goes about 'getting what you've always gotten from doing what you've always done'…well now is the time to make the change…the one lesson that I learned early on in my trading career that helped me the most, was that the noise and false-signals of a 5 or 15 minute chart (lower time frames) were simply not worth spending my time on or risking my money on. I believe that daily chart trading can be your "Holy Grail" in the markets, here's why…
Trading the 5 minute chart (and other lower time frames) decreases your chances of success and is widely considered gambling:
I am going to tell you guys something right now that you may not have thought about before…you only need 1 big winning trade a month to be a successful Forex trader. Yup, that's correct, 1 big winning trade a month.
How is that possible you might ask? Well, I'll bet if you go look at your trading account history right now you might just find the answer yourself. You see, most of you are losing money because you are trading too often, and you are trading too often because you are fixated on over-analyzing the market, Forex news variables, and lower time frame charts (I consider any chart under the 1 hour to be "lower time frame").
Some of you probably even know that this over-involvement with the market is why you are losing money regularly or struggling to keep your head above water. Yet, even though you know it's keeping you from achieving success in the markets, you cannot break your addiction to trading lower time frame charts and over-analyzing the markets. But, the cold hard truth of the matter is that you will likely never be a successful trader until you first break this addiction…
Now, here is why I firmly believe that trading lower time frame charts is a waste of time and money.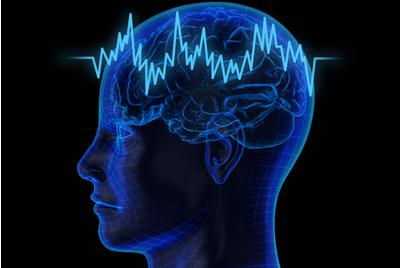 Trading a 5 minute chart stimulates the reward centers of your brain…it gives you instant gratification. Having patience and discipline to focus ONLY on the daily charts takes more effort from your more highly-evolved brain areas. So, what it really comes down to is that traders who are addicted to the lower time frames cannot break free from the instant stimulation they get when they enter a trade…even if it usually results in them losing money, because each time they enter the market, their brains are flooded with endorphins from the "thrill" of potentially making a lot of money really fast. So, the point here is that traders who are addicted to trading a 15 minute chart are actually addicted to the feeling they get from entering the market, and this means they are unable to use their more advanced planning and long-term brain areas effectively. It does not mean they are incapable of using them, it just means that they either don't know they are addicted to trading lower time frames, or they don't know how to stop it.
I have personally only met a few day-traders who make money consistently, and they almost all seem really frazzled and strung-out, like a junky who cannot stop thinking or talking about their drugs (the market). Sure, it's possible to make money from sitting in front of your computer 8 hours a day staring at each tick, but why in the world would you want to? Let's face it, watching the market tick away is not really that fun, NOR is it productive…at all.
Now, let's get back to my main point that trading lower time frames is decreasing your chances of winning and destroying your trading account. To focus on daily chart trading you need patience and mental fortitude, this takes intelligence and forward-thinking, it takes checking your ego at the door, and it takes a realistic attitude. Anyone can go to a casino and get lucky a few times at the poker table, but why do you think it's possible for some people to win at poker again and again and again, to the point where they make a living from it? It's because they have taken a longer-term view and they realize that their success is not defined by any one hand of cards, just like your trading success is not defined by any one trade. So, if you want to turn your trading around, it's time to swallow your need to "control" the market and for instant gratification, and begin taking a longer-term view of the markets by focusing on the daily chart time frame.

Nial, I don't have enough money to trade the daily charts…
I get this email almost every day: "Nial, how can I trade the daily charts when I need to have wider stop losses and I don't have a lot of money in my account, I can only afford to trade the 15 minute chart for now, then when I build up my account I will trade longer time frames"…
Many traders think this way, and it's usually just because they don't know enough about Forex trading position sizing or because they think by trading bigger position sizes on the lower time frame charts they are going to somehow make money faster.
So let me set this straight for you guys right now: Through position sizing, you can trade the daily charts just fine on a small trading account…you just have to trade a smaller position size. But, let's face it, if you have a small trading account you should not be trading large position sizes anyways! You need to get rid of this attitude of "getting rich quick" and thinking that trading a 15 minute chart is somehow going to provide you with more opportunities to profit.
Here's the deal…Yes, there are MORE trades on a 15 minute chart, however, there are also more false-signals and there is more random market noise, so you are just going to end up taking more losing trades and stressing yourself out more. This all contributes to a poor trading mindset and ultimately to you losing more and more money.
Look at this chart below of the daily spot Gold market. There was an obvious pin bar strategy from February 16th that we discussed first in the members' forum as well as in the members' commentary. This trade setup was clearly with the existing up trend, it was well defined, and formed near two areas of support….a 'no-brainer' for savvy price action traders like my members. The point is this…if you wait patiently and hit one big winner like this a month, you are doing very very well. My main trading philosophy is to trade Forex like a sniper, and this is a prime example of how that's done: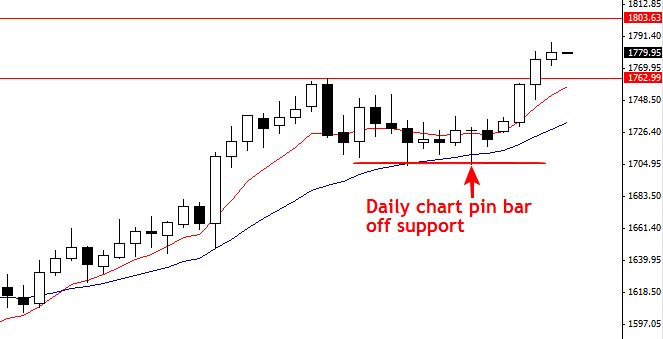 Why you need to make the daily time frame your primary chart starting today…
• Daily charts provide more clarity
As I stated before, lower time frames are full of random market "noise" and false-signals, you will eliminate most of this noise by simply focusing on the daily charts. Focusing on the daily charts will also give you a clearer view of the overall market picture and will naturally improve your ability to read the market's direction both near and long term.
• Daily charts help you develop a more effective and accurate market bias
Understanding the overall daily time frame bias of the market is very important for trading the daily charts and the 4hr or 1hr charts too. I do teach 4hr and 1hr time frame trading, but it's crucial to master daily chart trading first so that you get a feeling of the underlying market sentiment. This goes along with developing your discretionary price action trading skill; you have to learn to "read" the market and get in touch with its ebbs and flows…it sounds a little cheesy maybe, but the market talks via price action, and if you "listen" closely enough to what it is saying you can understand where it is most likely to go next.
• Higher risk : reward
While the amount of money you risk per trade is a highly personal decision that depends on your individual financial situation, trading the daily charts can allow you to risk a bit more per trade than trading the lower time frames. Take note: I am NOT saying you should risk more per trade, I am saying that when you only TRADE 3 TIMES A MONTH (or thereabouts), you clearly can risk more money on one trade than if you are trading 30 times a month. So, this is an answer to the question "Nial, I can't make as much money trading the daily charts as I can on the lower time frames"…yes you can because when you trade like a sniper you inherently enter far fewer trades each month than if you trade like a machine gunner, so this allows you to trade more lots per trade. However, keep in mind, this obviously only works if you can remain disciplined enough to not jump back into the market on revenge after you have a losing trade.
• Daily charts reduce the frequency with which you trade – slow and steady wins the race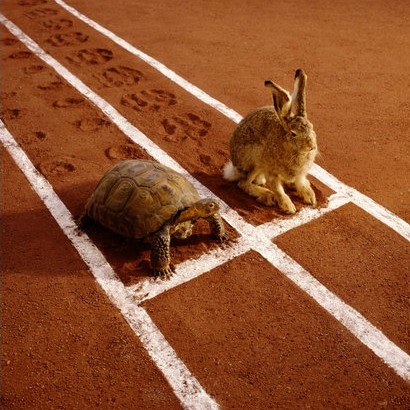 One thing I firmly believe in is that Forex trading success is largely a result of the quality of the trades you take…not the quantity of trades you take. By simply reducing the frequency with which you trade, you will simultaneously improve your odds of succeeding over the long-term. You need to understand and accept the fact that 2 or 3 quality trades a month is going to put you much further ahead than 20 or 30 emotion-fueled impulse trades a month…no matter how good it makes you feel to take them. Remember, the tortoise won the fabled race because he was slow and consistent, instead of fast and full of emotion like the hare…
Shift your thinking (Take this stuff seriously)

Trading success is a direct result of the way you think about the markets. So, if you view the markets as a game of chance that you just like to "play around with" and you think you will make money by getting lucky every now and then…your trading account will quickly shrink in size.
Professional traders view the market as an arena to spot high-probability setups, setups that virtually "jump" off the chart at them; they then trade these setups and risk only an amount of money that they are 100% comfortable with losing. They also view the markets as a reflection of their own ability to control their emotions and actions in an arena of constant temptation…most people cannot do this consistently, and that's why many people are bad at trading. It takes consistent control of your emotions and actions in the market to produce consistent trading results.
To shift the way you think about trading, you need to start getting excited about patience and about NOT trading…understand that the way you are thinking now is the way most traders think about the market…and most traders lose money…so if you can learn to do what most traders don't do and think opposite from them…it goes to reason that you will greatly improve your chances of making money…
Making the transition into 'daily chart' price action trading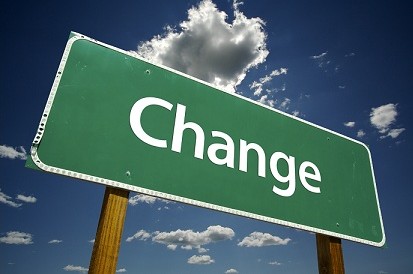 Now that you understand why trading a 5 minute or other lower time frame chart is counter-productive to achieving long-term success in the markets, it's time to make the transition to daily time frame trading. There is no sure-fire way to eliminate the temptation of the lower time frame charts, but if you re-read this article and some of my other Forex articles, you will reinforce the reasons why taking a slower and longer-term view on the market is the quickest way to making money as a trader.
The daily chart time frame is at the heart of how I trade and how I teach; my price action trading strategies and my overall trading philosophy revolve around taking a calm and stress-free approach to the markets. I know what I am looking for on the charts, if it shows up, I enter the trade, if not, I walk away from my computer.
The underlying point that you should take away from today's lesson is that the more you push and "try" to make money in the markets by burning your eyeballs out staring at lower time frame charts, the more the money you so badly desire will elude you. Trading is an art, and like any art, it takes practice to become good at, but trading is a different beast because to excel at trading you need to take a largely "hands-off" approach, meaning you have to look at and study the markets a lot while actually "doing" relatively little (meaning not trading). Indeed, trading is the ultimate test of self-discipline and will power, and the more you develop these abilities, the more you will find that the profits you seek from the markets are not so elusive after all. If you enjoyed today's lesson and want to learn more about developing a calm and stress-free approach to your Forex trading, check out my price action Forex trading course.
SEPTEMBER SPECIAL:

Save 70% Off Nial Fuller's Pro Trading Course (Ends Sep 30th) - Learn More Here