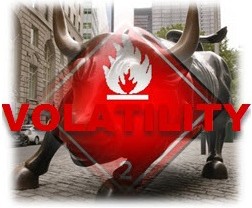 Volatility is a scary word to some, but to price action traders it is something to look forward to because price action leaves its most obvious "footprints" during volatile market conditions like we've seen recently.
Due to the recent volatility in the markets, I wanted to take the time in today's lesson to highlight some of the recent valid price action setups that have worked out for nice gains, some that didn't work out, and explain why they were valid setups. Before we get started, keep in mind that all the examples in today's article are from daily charts, I recommend all traders focus on daily charts as their core "anchor" chart, and beginning traders should exclusively focus on the dailies until they have gained a firm grasp of my price action trading strategies.
Please Share it – When your done reading today's lessons please leave a comment below. Then click the twitter & facebook buttons to share it & pay it forward.
Recent Price Action Trading Examples:
EURUSD – long-tailed pin bar with 50% entry and inside bar
On September 6th a long-tailed pin bar formed in the EURUSD. This pin bar trading strategy had a number of things going for it which I will highlight here:
• The daily 8 / 21 EMAs had recently crossed lower prior to the pin bar forming on September 6th after price rejected the top of the trading range it had been in for nearly 3 months.
• The pin bar itself was long-tailed, this means the tail showed a very "forceful" rejection of higher prices and it was also in-line with the fresh bearish momentum.
• The close of the pin bar was lower than the open and near the bottom of the pin bar, another indication of a "forceful" and meaningful rejection of higher prices.
• As we often see with long-tailed pin bars like this one, a 50% entry opportunity presented itself the following day as an inside bar formed. This allowed many of our forum members' to get a very tight stop and large risk reward ratio. I personally made a reward of 3 times my risk on this setup.
• On September 16th another inside bar formed after a counter-trend rally into the 8 day EMA. This inside bar could have been used to re-join the downtrend again.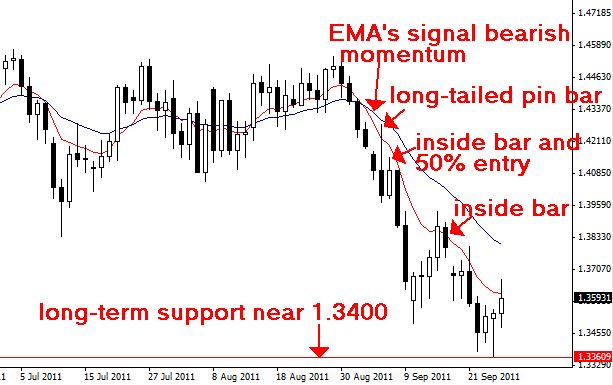 GBPUSD – pin bar and inside bars
On September 8th a pin bar formed in the GBPUSD, and on September 16th and 20th we had inside bars form. All of these setups were with the recent daily bearish momentum and worked out quite nicely for savvy price action traders. Let's dissect them a bit more:
• The trend was already down when the pin bar formed on September 8th, as we can see in the chart below the 8 / 21 EMAs were already crossed lower, so this setup was with the near-term daily chart momentum.
• The pin bar itself was obvious and had an obvious upper wick or tail, which showed clear rejection of the 8 day EMA dynamic resistance level. The market sold off nicely after the pin bar formed and provided the potential for a large reward potential relative to risk.
• Next, we had two inside bar setups form near the core level of 1.5775 on September 16th and 20th.
• These inside bar strategies were with the dominant bearish momentum on the daily chart and provided excellent risk reward ratios to re-join the downtrend. As we can see they both paid off quite handsomely. Inside bars are best with obvious trending markets, like the two seen below.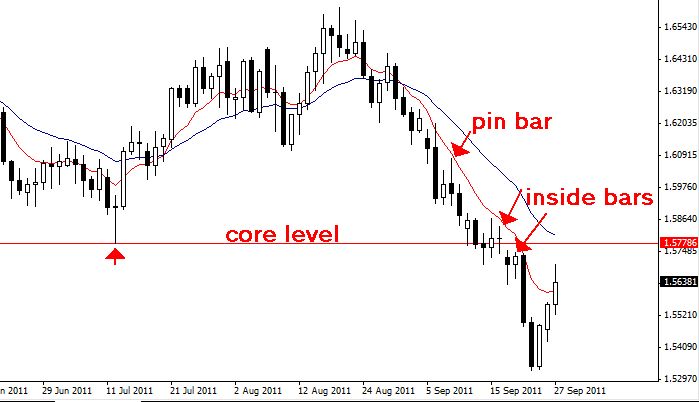 USDCHF – pin bar
On September 2nd, the USDCHF formed an obvious daily pin bar setup that has since given rise to dramatically higher prices. It's worth noting that prior to the formation of this pin bar, the weekly chart had also formed a very large and obvious bullish pin bar reversal, so we had both time frames in agreement, this is not always necessary but it does add confluence to a setup. Let's look more in-depth at this setup:
• The pin bar formed on September 2nd was with the near-term daily chart momentum. We can see it formed after a down-side retrace but was still in-line with the recently crossed higher 8 / 21 day EMAs. We always want to try and trade with the near-term daily momentum like this.
• The pin bar itself was obvious and well-defined; it had a long lower tail that showed clear rejection of price below the 8 / 21 day EMA support layer. We would have liked to see a bullish close on this setup but given that the tail was long and obvious, and the setup was with the near-term momentum, we don't always NEED the close in our favor, it's just an extra point of confluence.
• Note that after the pin bar formed, and inside bar formed within its range. This is a particularly potent price action "combo" setup that I've notice again and again in the markets. Often when an inside bar forms after a pin bar, price will break out forcefully in the direction implied by the pin bar reversal. In this case, we can see a huge rally took place and a dramatic shift in momentum after this pin bar came off.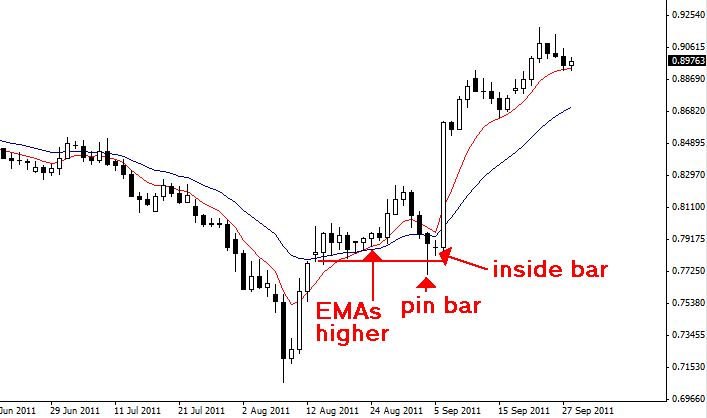 AUDUSD – fakey with pin bars
On September 14th and 15th, two consecutive pin bars formed in the AUDUSD that also formed a pin bar fakey strategy as well. This setup was counter-trend but it was still valid due to its clear formation and location off 1.0175 -1.0200 support area, which if you look back was a long-term support. Let's look closer at this setup:
• The first pin bar on the 14th completed the fakey formation, and the second pin bar would have given us an even stronger reason to consider a counter-trend position due to its solid definition and the fact that we had 2 pin bars in a row and a fakey.
• We can see that price popped marginally higher into the 8 day EMA before falling lower in-line with the dominant trend again.
• This setup likely would have resulted in a loss for anyone who traded it because it did not move into profit very much before falling lower. Not every valid price action strategy works out and this is a clear example of that. This is why we must always practice proper Forex money management and control our emotions as we trade.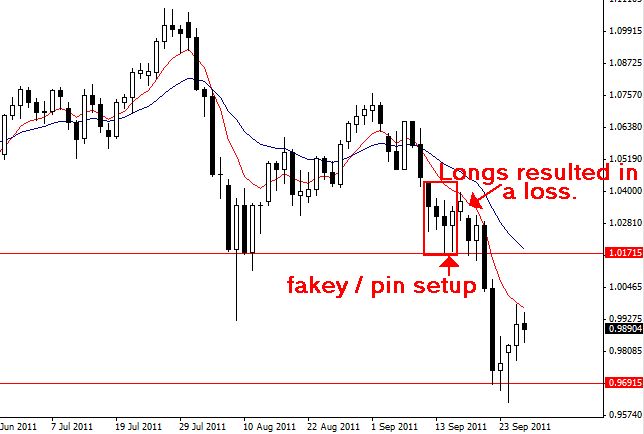 Silver – minor fakey
On September 21st, a minor fakey setup formed in the spot silver market. The recent volatile down-move was "signaled" by this setup and some of the savvy price action traders in my members' forum caught this move for a substantial gain. Let's discuss it more:
• The minor fakey as outlined in my members' area article, is only valid on the daily charts and consists of a false-break bar that only breaks the inside bar high or low, but not the mother bar high or low.
• We can see when this minor fakey formed, price had been grinding lower before hand and the 8 / 21 day EMA's were already crossed lower, so the setup was in-line with the recent daily downward track of the market.
• Price then made a nearly unprecedented down move as the mother bar low of the minor fakey gave way, we can see a drop of over $12 an ounce occurred in the course of three trading days.
• Once you learn to spot simple high-probability price action setups, you can begin putting the odds in your favor to catch powerful moves like this one in silver.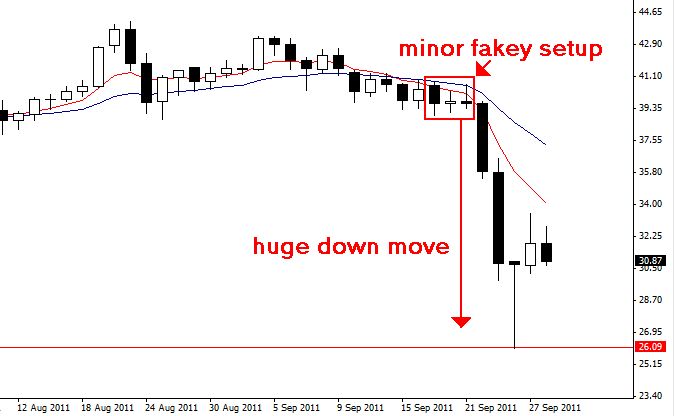 AUDJPY – inside bar setup
On September 20th, an inside bar setup formed in the AUDJPY in the course of a down-trending market. This setup came off to the downside last week, providing traders with an easy 1:2 risk reward potential. Let's look at it closer:
• The daily 8 / 21 EMAs were crossed lower and the market was clearly losing momentum at the time this inside bar setup formed. Thus, the setup was in-line with the dominant near-term daily momentum.
• Price broke down past the inside bar and mother bar low and continued to fall substantially lower over the next two trading days.
• We can see this inside bar setup provided another excellent risk reward scenario in the midst of these recent volatile / trending markets. These are the times to make money in the markets and hopefully today's lesson has given you some insight into the types of price action trading strategies to watch for.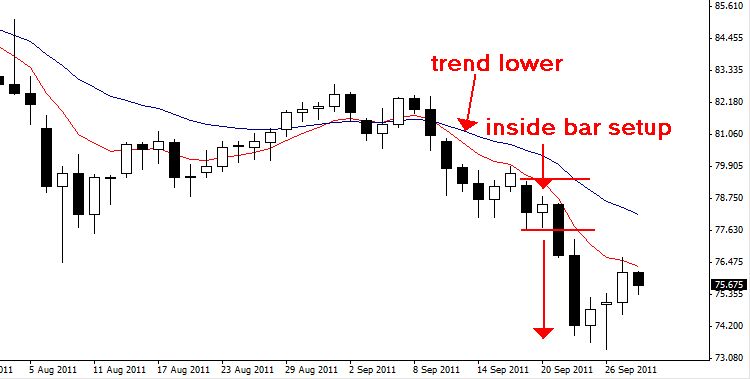 You may ALSO be interested in the following lessons …
BLACK FRIDAY SPECIAL:

Save 70% Off Nial Fuller's Pro Trading Course (Ends Nov 30th) - Learn More Here