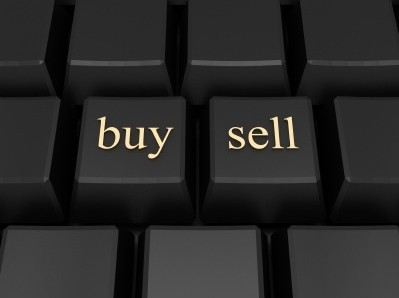 What goes on inside the mind of a successful Forex price action trader as they enter a trade? What is the process they use to succeed?
This article will demonstrate five trades that were valid price action trading setups over the last two months. I will walk you through them one by one and explain to you the reasons for taking them, what the proper entry and exit parameters would have been, and why. You should use this article as a reference tool and also to learn how an experienced price action trader thinks about and trades the Forex market…
GBPUSD – Fakey with Pin Bar Setup – 18th April 2011:
This price action trading setup was a fakey with a pin bar. We can see the momentum was higher, as evidence from the 8 and 21 day EMA's suggests. Price showed clear rejection of the horizontal level near 1.6150 on the day the pin bar formed. So, we had confluence with the existing bullish momentum, the horizontal level rejection, and a very well-defined fakey with pin bar trading strategy.
This setup had two potential entries. The first entry would have been a limit buy entry near the 50% retrace level of the pin bar. This 50% entry is an option on fakey's with long-tailed pin bars like the one in the example below. The other entry option would have been a break of the high if the inside bar. Since the inside bar and mother bar high were so close in this example, you could have entered at the inside bar high. Normally the fakey is not triggered until the mother bar high breaks though. Stop placement would have been below the low of the pin bar if you had entered at the 50% retrace. If you had entered on a break of the inside bar high you could have placed your stop near the 50% level of the pin bar.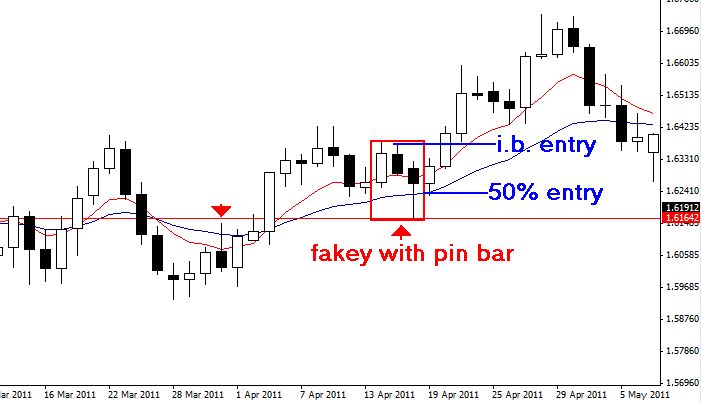 Achievable rewards on this setup were at least a 3 times risk winner if you entered at the 50% retrace, and at least a 2 times risk winner if you entered near the inside bar high breakout. We can see after giving us a 2 or 3 times risk win potential the market reversed sharply, this is an example of why it's good to take a profit of 2 or 3 times risk when it presents itself, or at least lock it in by trailing your stop loss up.
This was a solid price action setup that had multiple factors of confluence supporting it, and it was very obvious; there was no guessing or hoping with this setup. We clearly identify our edge and trade it. If there is a lot of doubt or confusion, there is probably no setup worth risking your money on.
GBPJPY – Fakey with Pin Bar Setup – 11th May 2011:
On May 11th a large pin bar / false break occurred in the GBPJPY. Three inside bars preceded this false break, and the momentum was clearly lower as the 8 and 21 day EMA's show us in the chart below. Furthermore, the pin bar showed clear rejection of the horizontal resistance near 134.00. So, we had confluence with the bearish momentum, the rejection of resistance, and an obvious price action setup.
This setup could have been entered near the 50% retrace of the pin bar, just like the setup discussed above. It also could have been sold on a break of the inside bars as price came back the other way, or the mother bar.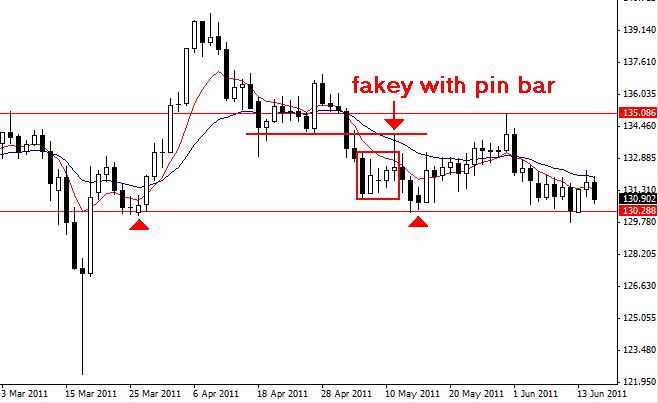 Now, the obvious problem with this setup was the significant support level near 130.00, which price would need to break through for this trade to have any chance at providing a decent risk reward potential. However, in the previous trade example above, the GBPUSD was facing stiff resistance near 1.6400 as well, and that trade worked out nicely. The point here is that we never really know for sure which trades will work and which will not, and while we generally do not want to sell into support or buy into resistance, sometimes if there is a very obvious price action setup with the trend, you have to take a stab since your edge is present.
Now, let's assume this trade was a loss of 1 times risk because as we can see the market did not follow through to the downside; we are still ahead because in the GBPUSD trade above we made 2 or 3 times or risk. This is an example of risk reward in Forex trading.
EURUSD – Inside bars after false break – 24th / 25th May 2011:
On May 23rd the EURUSD created a false break "bear trap" at support near 1.4000. Over the next two days the market consolidated and formed consecutive inside bars just above this support.
We can see in the chart below that the market then exploded higher as price broke above the mother bar high on May 26th. Now, this setup was definitely more advanced because it was against the recent bearish momentum, however, given the obvious false break and the consecutive inside bars that followed, forming above support, it was a valid price action setup worth taking. There was a strong potential for a rotation higher back into value. As we can see price shot significantly higher, moving past the 8 and 21 EMA's before stalling just below 1.4700.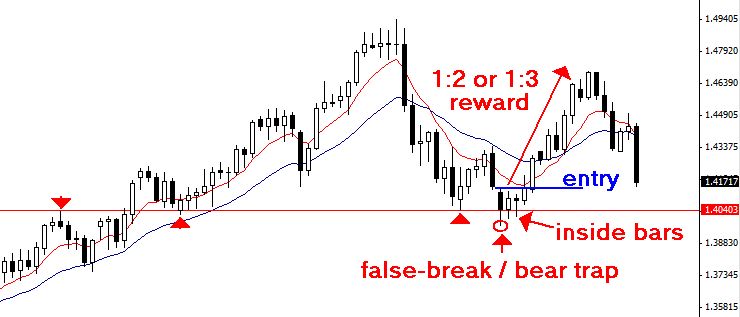 This trade gave us the potential for at least a 1:2 or 1:3 winner. The stop loss would be placed just below the mother bar low and entry would need to be the high of the mother bar. This is the typical stop loss and entry placement for the inside bar setup. Once again, this trade is another find example of why taking 1:2 or 1:3 winners as they present themselves is usually the best thing to do, or at least lock in that profit; look how sharply the market reversed after offering you 1:3.
NZDUSD – Pin Bar / Inside Bar Combo Setup – 25th May 2011:
On May 25th the NZDUSD formed an inside pin bar combo setup. This is one of my favorite setups to trade as it is generally very accurate and can allow for a tight stop and large reward potential.
This particular inside pin bar came after price had rejected a strong weekly support level near 0.7750 and the 8 and 21 day EMA's had recently crossed higher; indicating more bullish momentum was possible.
We can see as price broke up through the mother bar high it had a lot of momentum behind it which propelled it substantially higher before consolidating for a few days and then forming another pin bar before re-testing the highs near 0.8250.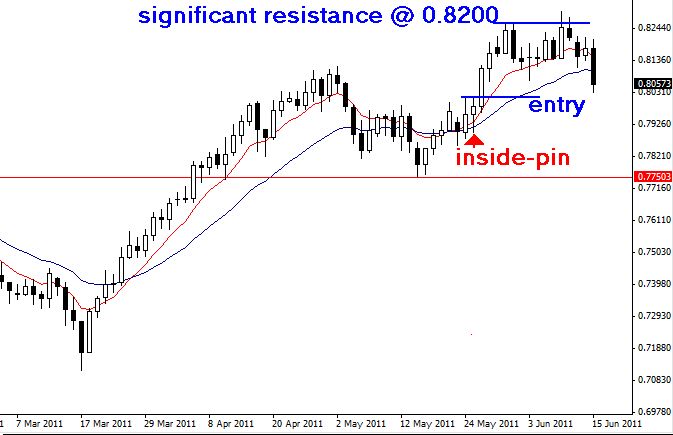 This setup provided a reward of at least 2 times risk. We can see a very significant resistance level that came in near 0.8200 – 0.8250. If you zoom out and look at the monthly chart you can see this level was clearly significant, and so if you were long from the inside pin bar on May 25th, you would have considered taking your 1:2 profit near this resistance.
GBPUSD – Pin Bar Setup – 3rd June 2011:
On June 3rd a bullish pin bar setup formed in the GBPUSD that showed rejection of a significant support through 1.6300 and was in-line with the recently crossed higher 8 and 21 day EMA's.
While this setup seemed pretty solid due to its rejection of support and confluence with the ascending EMA's, it formed in the midst of a market that had just failed to make a new high. We can see the market failed to re-test the high at 1.6750; this indicated momentum may be transitioning from bullish to bearish or from bullish to sideways.
So, whilst this pin bar setup did have enough definition and confluence to consider taking it long, it lacked the support of a clear / directional market. Setups like these sometimes work and sometimes do not, its part of the game. As long as you are taking valid setups with supporting reasons of confluence and effectively managing your risk, you are executing your edge and should not become emotional as a result of losing a trade.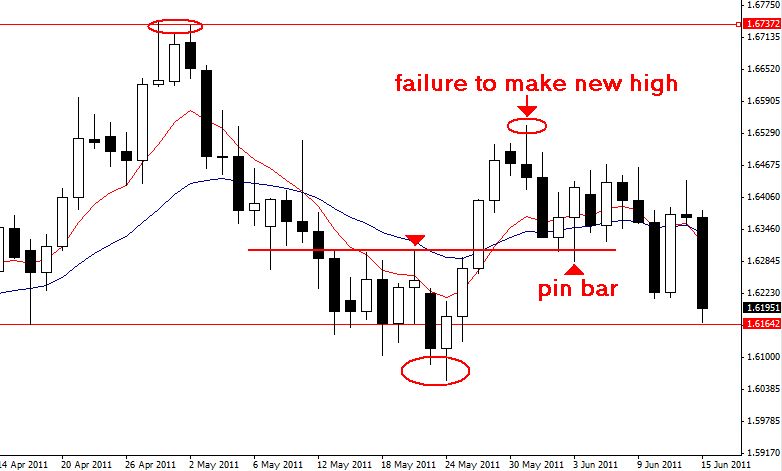 GBPUSD – Pin Bar Setup – 14th June 2011:
Finally, the last setup we will look at was a bearish pin bar that formed on Tuesday of this week (June 14th). This is a great example of how pin bars from key levels can be very high-probability trading strategies.
Note the two previous pin bars that had worked out nicely which formed at the same approximate resistance level around 1.6500 – 1.6450. This meant when the third pin bar formed we had a very high-probability setup because it formed off a previous event area and had confluence with a very significant resistance level. Even though this market is ranging and not really in a trending state, we can still use significant levels combined with well-defined price action setups to trade with. This is part of the beauty of trading with price action; it works in all market conditions.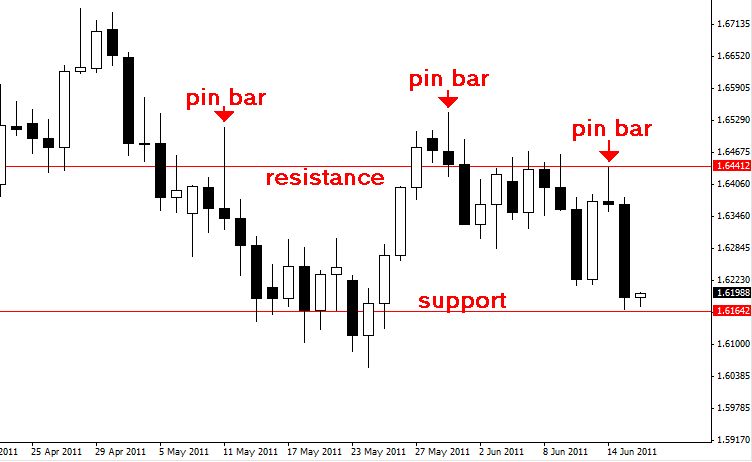 Due to the smaller size of this pin bar you had the potential for a quick profit of 2 to 3 times risk since the stop loss required was relatively small. The support near 1.6200 made an obvious target area.
Conclusion:
All of these trades above are examples of valid price action setups that I would have traded, and I did actually trade and profit off of some of these setups. The point here is that as long as you are executing your edge flawlessly, you are doing nothing wrong.
Now, flawless execution of your edge means you have mastered price action trading, you have a concrete and practical Forex trading plan, you are tracking your progress in your Forex trading journal, and you effectively manage your risk on every single trade you take. The examples above include losing trades that were pretty decent setups. This goes to show you that even good price action setups will lose sometimes. Because you never know WHICH particular setup will be a loser, you HAVE to manage your risk diligently on EVERY single trade you enter. Even the best looking price action setup can fail, so don't bet the farm just because you convince yourself you are "right". To learn more about how I trade with simple price action setups check out my price action trading course.
BLACK FRIDAY SPECIAL:

Save 70% Off Nial Fuller's Pro Trading Course (Ends Nov 30th) - Learn More Here