Trading Pin Bar Signals with Support and Resistance Confirmation, is perhaps one of the most effective ways to trade forex, if not thee most effective way to trade. This article will show some examples of trading pin bars from key levels. Follow along closely because this is likely to be one of the most powerful Forex trading strategies you will ever learn.

Pin bars are one of the most valuable tools that price action traders have in their Forex trading arsenal. They often form at major market turning points, correction levels, or within a trend as continuation signals. When combined with a strong support or resistance level, pin bars can be one of the most accurate trading signals available. The best pin bar setups occur near confluent levels of previous price action as the market moves in one direction and then regresses back to re-test a previous support or resistance level. We can see in this daily chart of EUR/USD two successive pin bars testing a previous support and resistance level and then resuming downward movement
Pin bars occur in all market conditions; up trends, down trends, and range bound. The beauty of price action analysis is that it teaches you how to analyze market movement based on inherently generated data; namely price data. Reversal bars taken at confluent levels can act as a map to long-term profits in the forex market. Trader's can design a highly profitable trading method entirely around pin bars if they so desire. The more confluence added to a pin bar formation the more accurate it becomes. We can see in this daily chart of GBP/USD below a beautiful pin far formed at a previous support/resistance level with the up trend and also at a Fibonacci 61.8 retrace level. The more confluence you can combine with a pin bar signal the higher its accuracy becomes.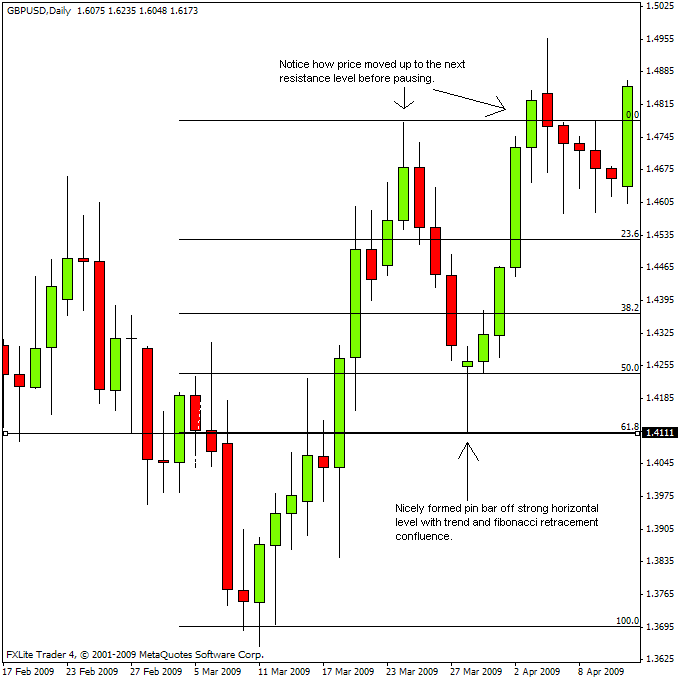 Pin bars are adaptable to ever-changing forex market conditions and can be very profitable even in ranging markets. They can be very accurate if the formation is clear and obvious and combined with solid support or resistance confirmation. We can see in the daily chart of EUR/JPY below two very well formed counter-trend pin bars that formed off support in a range bound market that netted some serious gains for traders with a keen eye for price action analysis. Pin bars of this clarity and magnitude can be entered after the close on a market order.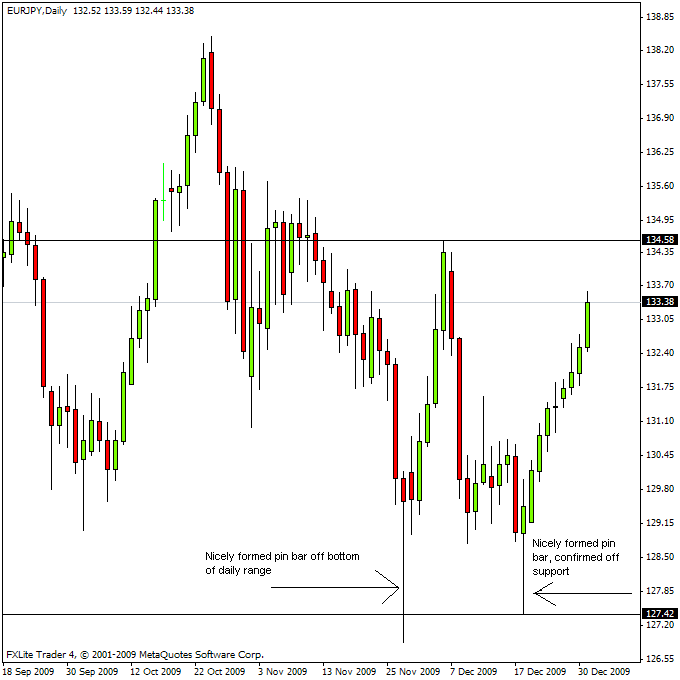 Pin bars can be taken at major market turning points counter-trend if they are very well formed. Often times long-term trend changes are set off by large pin bars that can result in some serious gains for traders aware of the potential. The daily USD/JPY chart below demonstrates how a large, well formed pin bar can tip off traders to longer-term changes in trend direction. Often times trend changes will occur rapidly and form what is called a "V" bottom with the bottom bar being a pin bar.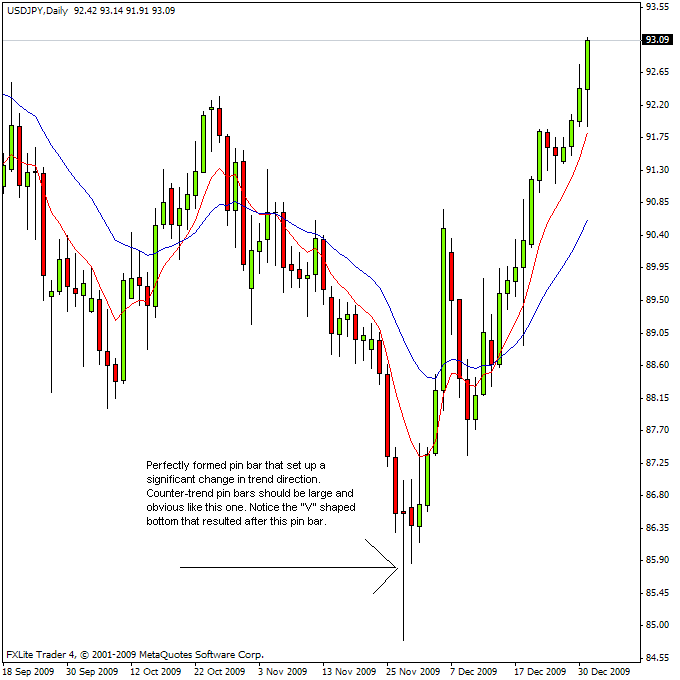 When pin bars form at the top or bottom of a consolidating market that is taking a breather after a large directional movement they can often signal trend resumption is near. In the daily chart of USD/CAD below we can see multiple pin bars formed at the top of a range bound market that was most recently in a large down trend. The last pin bar on the right side of the chart set off a very powerful move that resulted in a breakout of the range and subsequent downward trend resumption.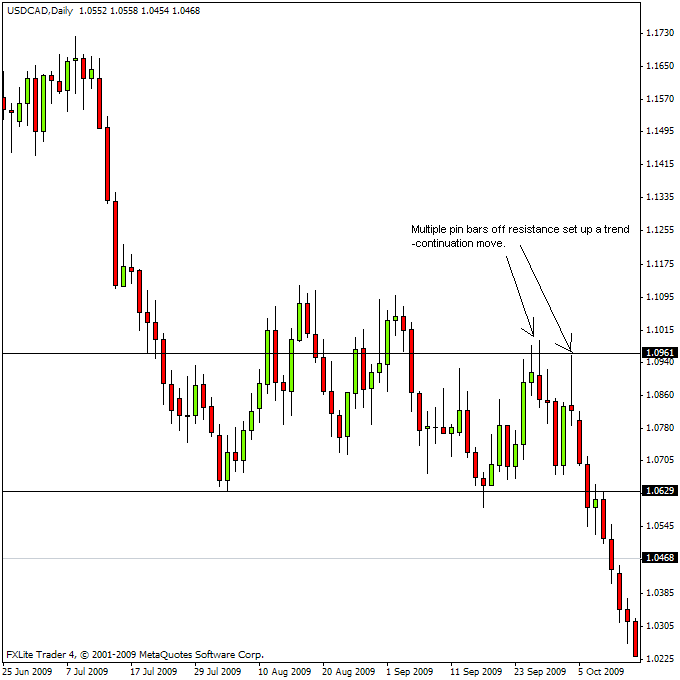 In conclusion, pin bar reversals are a great price action tool that forex traders can use in all market conditions. They are best played at confluent levels with strong support and resistance confirmation. Pin bars taken with the dominant daily trend are generally more accurate than counter trend pins. However, counter trend pins can set off long-term directional bias changes that can mean serious cash for traders with a trained eye. Pin bars work great at the tops and bottoms of range-bound markets and provide very accurate setups in these conditions. For further explanation and on-going market analysis on pin bar setups please check out my forex price action trading course and live member's forum.
You may ALSO be interested in the following lessons …
BLACK FRIDAY SPECIAL:

Save 70% Off Nial Fuller's Pro Trading Course (Ends Nov 30th) - Learn More Here