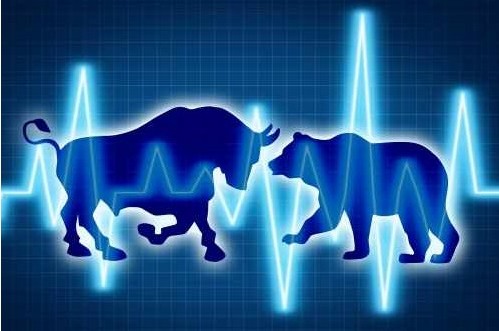 Price action is the behavior of price of a specific currency, commodity, stock or other trading instrument over a specified period of time. Price action analysis is the study of specific price patterns that we see reoccurring in the markets. By learning what these price patterns, or price action strategies, look like and exactly how to trade them, we can develop a complete Forex trading strategy around them.
Price action analysis allows you to see exactly what is happening in any given market simply by studying the behavior of price over time. Price action is the visual trail of the supply and demand situation of a market and it reflects the expectations and beliefs of all market players; the bigger more informed players obviously leave a more noticeable trail, so by analyzing the behavior of price over a specified period of time we can make an educated guess as to what those "in the know" are doing in the markets.
As retail Forex traders, our goal is to jump aboard the price moves created by bigger players who have the power to move the market. By building our trading method around a handful of time-tested and repetitive price action setups, we give ourselves the best shot at riding the momentum of the market to consistent profits. There are certain price action 'events' that happen over and over in the markets, and if you can learn to identify and trade these events you can build a high-probability trading strategy around them.
Price action trading is CLEAN, SIMPLE AND EFFECTIVE

Price action provides you with a simple, straight forward, and most of all, effective trading method that allows you to focus your energy and time on actually trading instead of trying to figure out what numerous indicators or a piece of trading software is trying to tell you. There is simply no reason to add unnecessary variables to your trading like indicators or trading software when price action gives us the best trading strategy possible, without any mess or confusion.
Here is an example of a clean price action only chart vs. a messy chart full of overly-complicated indicators: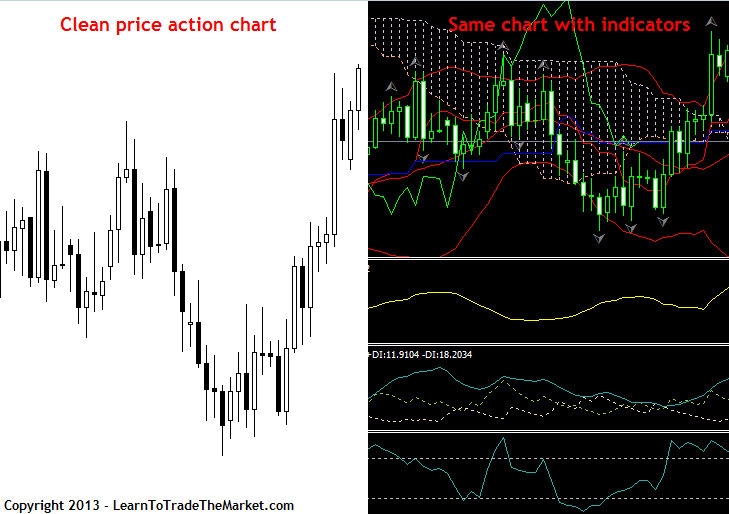 Looking at the two charts above, which one would you rather trade off of? Believe it or not, many trader's charts look like the one on the right; full of messy indicators that they somehow think are going to give them high-probability entry signals. Simply put, trading is not technically complicated, and it's not hard to learn to trade price action on a clean price chart like the one on the left. The hard part of trading is controlling your emotions and remaining disciplined, not reading a price chart. Yet, most traders make reading a price chart difficult, so they are simply adding more difficulty and complication to the process of trading. The sooner you realize that trying to trade with all these indicators is a complete waste of time, the better off you will be.
What is a Price Action Trading Setup?

A price action "setup" is a price pattern that provides a trader with a high-probability entry into the market.
Here is an example of pure price action trading in the GBPUSD with some of my favorite price action setups: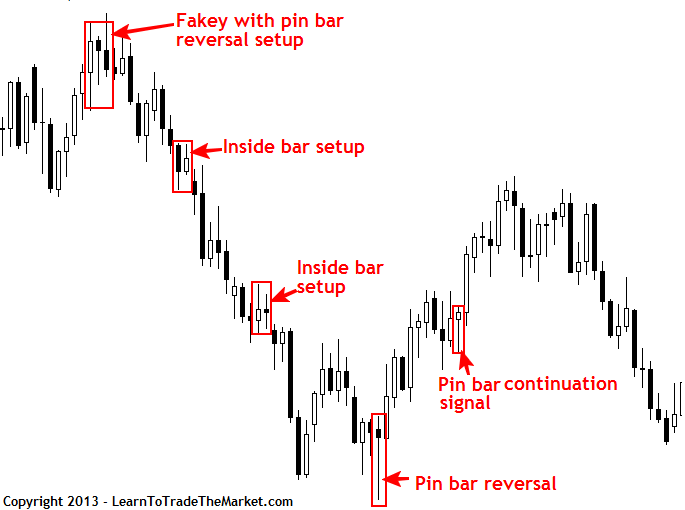 In the chart above, you can see three of my favorite setups, follow the links below to see a video of how to trade each:
1) How to trade the pin bar Forex trading strategy
2) How to trade the inside bar Forex trading strategy
3) How to trade the fakey Forex trading strategy
In order to master the markets we need to root our trading methods in consistency. In fact, all of our trading activities need to be consistent if we want to be consistently profitable traders. Price action analysis gives you the know-how to recognize specific price patterns that happen over and over in the market. This gives you the key to consistency that so many traders desire yet so few ever attain.
Excellence in any profession is most often accompanied by great training and mentoring. To learn consistently profitable price action trading strategies you should learn from someone who trades with the exact same methods they teach. So get yourself a sold education in price action trading strategies and I promise that you will be well on the path to trading consistently.
Checkout this related price action trading tutorial:
BLACK FRIDAY SPECIAL:

Save 70% Off Nial Fuller's Pro Trading Course (Ends Nov 30th) - Learn More Here