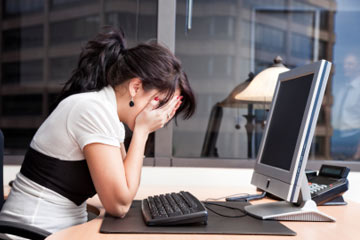 In light of the current market conditions which consist of some very strong 'one-way' trends in the U.S. dollar pairs, I wanted to write a lesson not just about the advantages of trend-trading, but also about how trading against the trend can and will destroy your trading account, if you let it.
Simply put, the easiest way to make money as a trader or investor, is trading with the dominant daily chart trend. However, during my time teaching people how to trade, I have found that it almost seems to be human nature to want to trade against the trend, at least in the early-stages of one's trading journey. So, I hope today's lesson will help you avoid making this gigantic mistake that so many beginning traders make, by showing you tangible proof of why the trend is definitely your friend and why you should not trade against it most of the time.
Don't fight the path of least resistance…
When markets are trending, they want to move in the direction of the trend because that's the path of least resistance. As I teach more in-depth in my course and members area, when a market is trending it will make a strong move in the direction of the trend and then it will typically pullback or 'revert to the mean'. That basically just means price will rotate back to its recent 'average' price, also sometimes called the 'value price'.
Knowing this, we can look to trade from value in trending markets, because at the point of value in a market, the trend has the biggest chance of resuming. By looking for price action entry opportunities that have the confluence of the trend and the 'value area' behind them, we can significantly improve our chances of trading success. Let's take a look at some examples of recent trades where we could have traded from value within a trend and how we would have lost money trading against the trend:
In the AUDUSD daily chart below, we can see that the path of least resistance was clearly down. Note, the red and blue lines are the 8 and 21 day exponential moving averages (EMAs), remember above when I discussed the 'average price'? These moving averages show the recent average prices going back 8 and 21 periods respectively, this provides us with a 'value area' to look for price action selling opportunities to re-join the downtrend: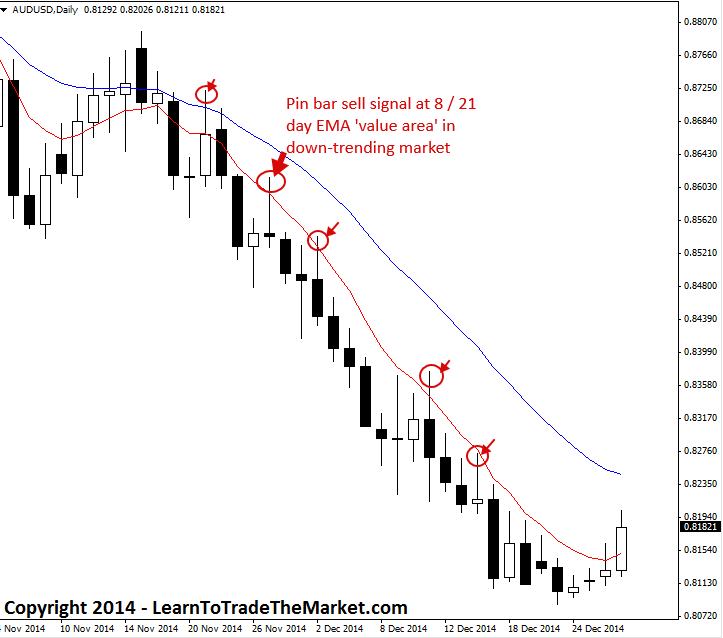 Notice there was one good pin bar sell signal in the chart above as well as multiple other opportunities to sell at the moving averages as price rotated higher. Price won't always respect the moving averages this well, but in strong-trends like the current AUDUSD chart above, we do often see it doing just that.
The point of the above example is this: in strong trends, you need to only look to trade with the path of least resistance, i.e., WITH the dominant daily chart trend. Let's look at the same chart above from the viewpoint of a trader trying to trade against it…
In the same AUDUSD chart that we looked at above, we can see what the experience might have been like for the 'bottom picker' trying to trade against the strong downtrend. Clearly, he or she would have lost money on any one of the three pin bars shown below. Some people get so obsessed with trying to pick the bottom (or top) in a market like this that they would have taken all three of these counter-trend buy signals. You can easily see now why counter-trend trading will destroy your trading account!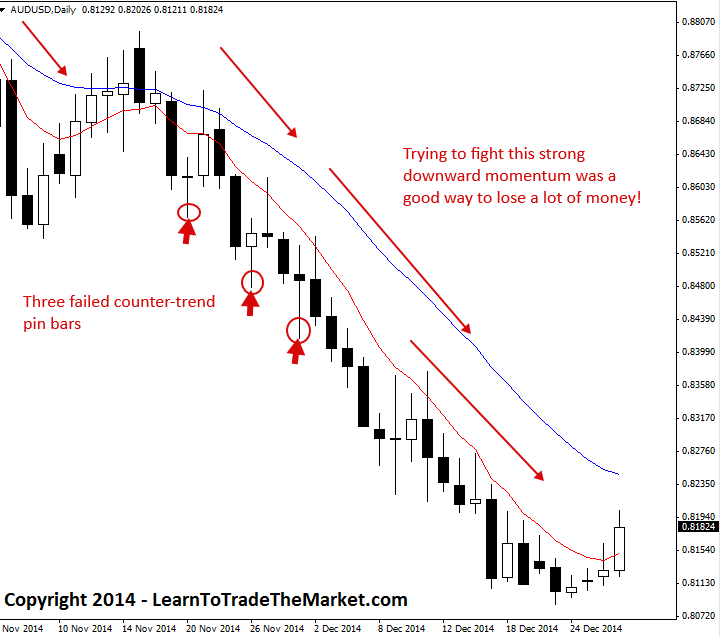 In the USDCAD chart below, we see a clear uptrend has been in place in this market since about the beginning of August 2014. The blue line is the 21 day EMA and it shows us the trend direction as well as a value area that we can look to buy from in order to trade in-line with the uptrend from value.
Note, there have been multiple price action buying opportunities from value near the 21 day EMA in the form of pin bars and inside bars over the course of this uptrend. We can clearly see that the path of least resistance has been to the upside in this market and so looking for buy signals was the obvious choice over the last five months…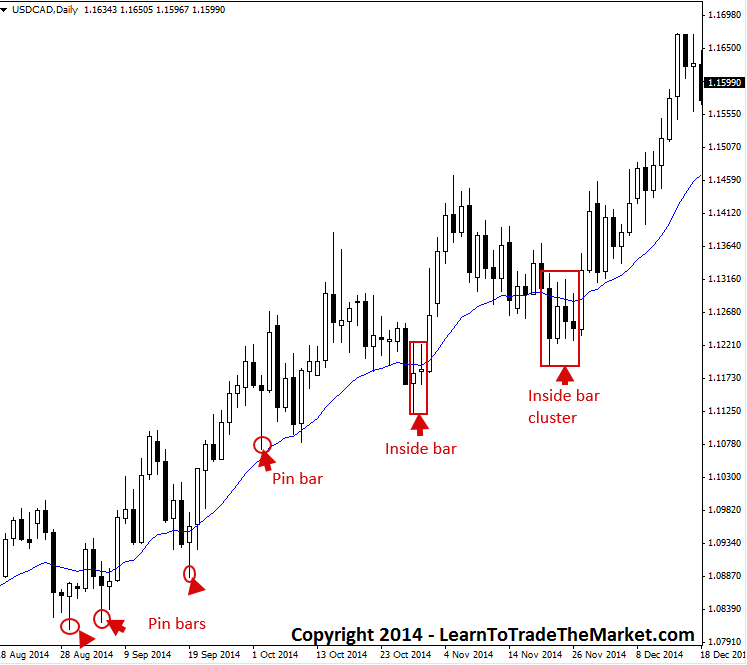 In the same USDCAD chart we looked at above, we can see that the experience would have been totally different if you were trying to 'pick the top' of this market by looking for a counter-trend sell signal. Even a long-tailed bearish double pin bar setup like we see below probably would have been a loss or breakeven at best, as we can see in the chart below. When there's a clear path of least resistance in a market, don't fight it!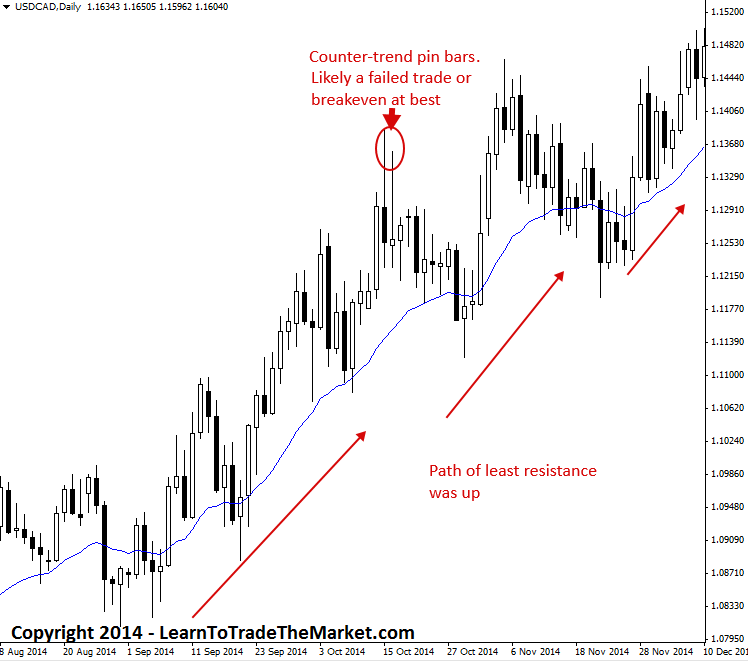 In the next chart below, we can see the daily spot Gold market earlier this year. There was a nice downtrend in place and so the path of least resistance was clearly down. Therefore, we were looking for price action sell signals on retraces back to value / resistance in order to trade in-line with the downtrend. We can see a nice pin bar sell signal a coiling inside bar strategy that formed following retraces higher within this falling market, both setups led to the resumption of the downtrend and big down moves…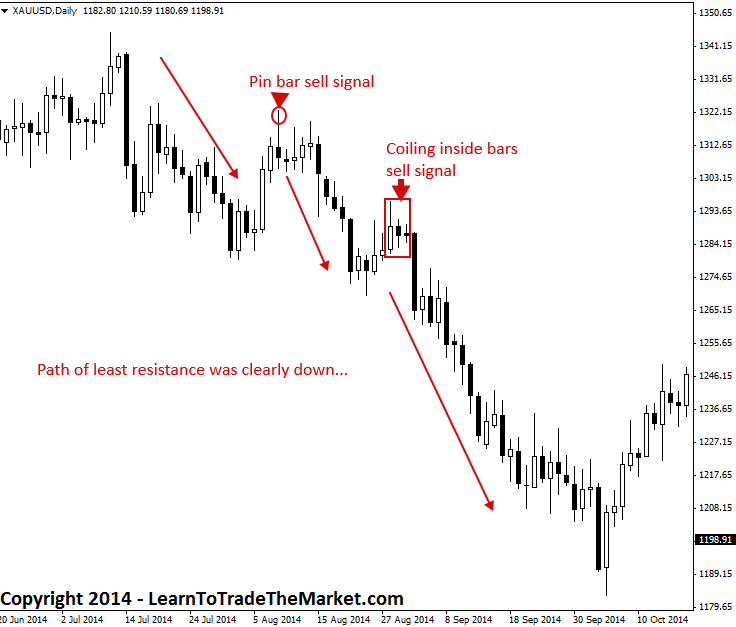 Finally, we are looking at the same spot Gold chart as above, except this time we are looking at it from the viewpoint of an unfortunately lost trader who is trying to trade against the trend. Note, in the chart below we can see multiple failed counter-trend pin bars that would have resulted in losses if a trader took them against the trend.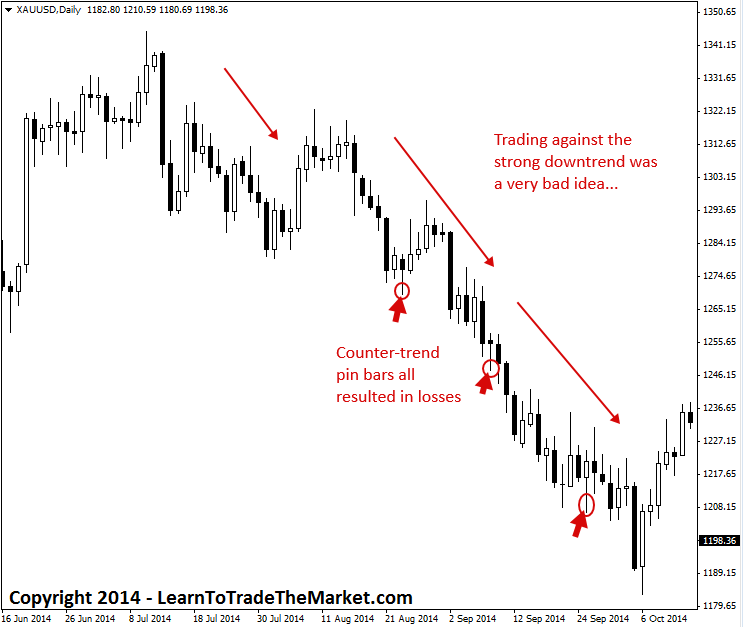 Conclusion
I hope it's becoming more obvious to you just how dangerous trading against the trend is. Traders also tend to try and trade both sides of a trend, both with it and against it, and in doing so they typically give back most or all of the profits they made on the trades with the trend. This is one of the biggest mistakes I see traders make that prevents them from achieving real success in the market. During your career, you should make it one of your biggest trading goals to stick with the dominant market trends and avoid trading against them at all costs. Your trading account will thank you later. To learn more about trading with the trend, checkout my all new updated price action trading mastery course and members area.
PLEASE LEAVE A COMMENT BELOW – I WOULD LIKE TO HEAR YOUR FEEDBACK :)
QUESTIONS ? – CONTACT ME HERE
MAY SPECIAL:

Save 60% Off Nial Fuller's Pro Trading Course (Ends May 31st) - Learn More Here