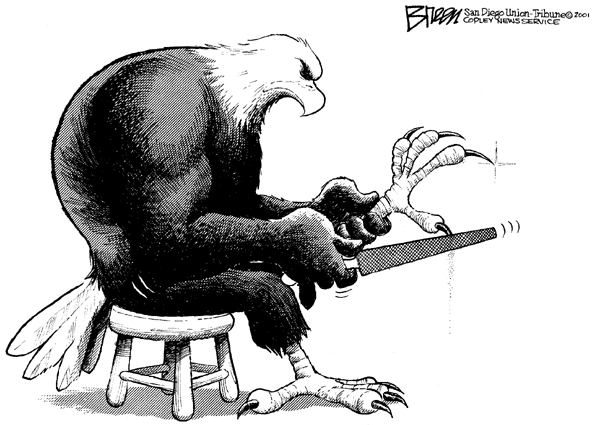 If you feel that you are getting defeated by the market, it very well could be because you haven't tried hard enough to tilt the scales of trading success in your favor. It is not the market that is 'defeating' you, it is you who is defeating you, and if you really want to have a solid crack at making consistent money in the market, doesn't it make sense to do everything within your power to make that happen? Are you doing everything you can do to put the probabilities in your favor as you trade the market? I think the honest answer for most of you reading this is "no". If you're not consciously making an effort to do everything within your power to put the probabilities of trading success in your favor, it will be very difficult for you to make money trading.
If you're the trader who has great money management skills but constantly over-trades, you're going to lose money over the long-run. If you are patient and pick quality setups but you risk too much of your account all the time, you'll also lose money over time. Similarly, if you have not really mastered an effective trading method and every trade is basically a "hunch", you're probably also going to lose. You see, every aspect of your trading needs to be in tip-top condition so that you have put the probabilities of success in your favor as much as possible.
You cannot control what the market does, so you need to focus on controlling yourself and all the variables you can control. If you don't put the proper time into mastering the components of trading that you can control, the market's volatility and constantly changing conditions will end up controlling you. So, what are some of the most important aspects of trading that you can control to put the odds of success more heavily in your favor?
Have a 'battle plan' before you go to 'war'
I get a lot of emails. Many of them are from traders who clearly have no strategy and no real consistent trading routine, they are just randomly entering the market from any reason they can justify to themselves. If you have a hodge-podge of indicators on your charts and you're trying to combine bits and pieces of different trading methods and systems into something you like to think of as a "hybrid" trading strategy….you're really just gambling.
This is how you need to think about trading: The more you do to prepare and plan before you start entering live trades, the better you will do in the long-run. Imagine just jumping into a battlefield without knowing what your objective is or having any type of plan of what you should do…you would unfortunately get killed very fast. Or, let's say you did have a battle plan but you deviated from it as soon as the war started…all your preparation would be wasted. When we make a plan of action for anything in life, we need to stick to it, otherwise what's the point? At least stick to it long enough to see if it works or not…give it a chance.
Emotional decisions are the enemy of any trader, thus, your primary goal as a trader is to do everything you can to avoid making these types of decisions. If you haven't truly mastered an effective trading strategy that you can easily explain to someone who doesn't know anything about trading, you probably don't have a solid strategy or trading routine worth mentioning. Your trading plan, daily trading routine, guide or whatever you want to call it, is essentially where every component of your trading is aggregated into a cohesive, comprehensive, yet concise and practical plan of action that should be thought of as the first defense layer against emotional trading mistakes. It also is a critical component to making sure you've done everything to put the probabilities in your favor as you trade because it gives you structure and consistency in your trading approach, and this is key to not becoming just another losing trader who is gambling his or her money away in the market.
Avoid the noise of short time frames
In last week's lesson on end-of-day trading for people with jobs, I discussed the importance of making the most out of the time that you have available to trade the markets each day. If you're like most of my readers, you probably don't have all day to sit staring at your charts, and even if you did have all day to that, you shouldn't. Sticking to higher time frame charts will help you put the probabilities of success in your favor as you trade.
Focusing on higher time frames is something you should be doing if you want to increase your chances of making consistent money in the market. I am a huge proponent of daily chart time frame trading as well as 4 hour chart time frames, if you've read my lessons in the past you probably already know these are my two favorite time frames. But how exactly do they help us tilt the scales of trading success in our favor even more?
There are two primary ways higher time frames help us achieve trading success:
1) They give us a clearer, more relevant and significant view of the market
2) Because of number 1 above, higher time frames naturally give us higher-probability price action trade setups.
Focusing on the higher time frames is probably the easiest thing you can do to immediately increase the probability of making money in the market as you trade. If you can't dig up the self-discipline to stop looking at those 5 minute charts and eliminate them from your mind, then you probably don't have the discipline it takes to manage your risk effectively and stick to a trading plan either. You should make focusing on higher time frames your first step to proving that you can remain disciplined as you trade.
Don't shoot yourself in the foot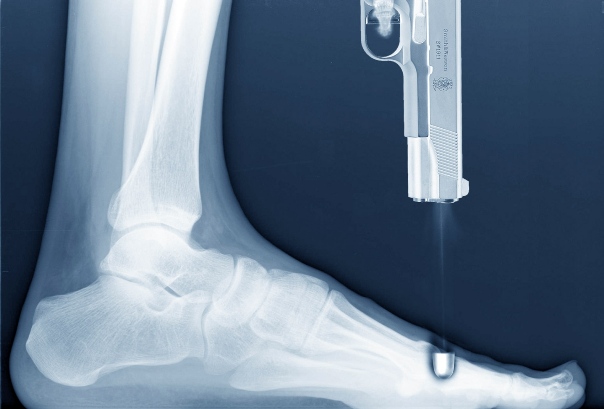 One thing that you need to be very careful with as you trade, is to not let your previous good efforts at remaining disciplined and patient go out the window when market conditions change. Very often, a trader will do well when a market is trending, but then when the market stops trending and starts consolidating and getting choppier, they lose all the money they made while it was trending.
A big part of knowing when to trade and when not to trade is knowing how to read and interpret the price action in market. I get a lot of emails from traders asking me about how to know when a market stops or starts trending or how to tell when a market is choppy. The truth is that, the only way to confidently tell when market conditions are changing is to have a solid command of how to analyze and interpret the price action in the market, there's no indicator that can help you determine market conditions as well as price action can.
Giving back trading profits is probably the most frustrating and also the most common mistake that traders make. The story typically goes something like this: A trader does well for a while, sticking to his plan and hitting some nice winners, now his perception of risk in the market has decreased because his confidence has increased, so gradually he starts entering lower and lower probability trades. It doesn't take long before a low-probability trade leads to a 'revenge' trade where you try in vain to force the market to give you back your lost money. It's a very slippery slope to blowing out your trading account once you start letting your guard down by deviating from your trading routine and risk management strategy that was working for you before. Don't let over-confidence and cockiness get the better of you, remember the old saying "Bulls make money, bears make money but pigs get slaughtered", it's quite true.
Avoid rushed trading
With the prevalence of smart phones these days, many traders now have mobile trading apps that they regularly use to stay in touch with the market when they are away from their computers. For the most part, I am not a fan of mobile trading and I feel that it's really counter-productive for most traders.
For one thing, you are looking at a much smaller screen on your cell phone than on your computer, and I've found that the view of the charts on a cell phone can be misleading and very limited compared to that of a regular laptop or desktop computer.
Next, the very fact that you have a mobile trading app is probably going to induce over-trading. It's like having a little slot machine in your pocket for most traders, just itching you to play with it. Mobile trading sort of makes traders feel like "now I will never miss any opportunities", when really all it does is cause a trading addiction for most of them. The truth is, the best trading opportunities are typically on the 4 hour and daily charts as I discussed above, and you really do not need a mobile trading app to trade those higher time frames.
All mobile trading apps really do is cause traders to look more closely at the intra-day price movement as well as influence a frantic trading mindset of feeling like you "always need to be in the market", and so I feel, especially for beginning and struggling traders, mobile trading is something to be avoided if you want to increase the probabilities of making consistent money in the market.
Understand risk management and demo trade first
I get a lot of emails from people asking me how much they should risk if they have XYZ amount of money in their trading account, but who are also clearly not ready to be trading live…
If you are in a situation where you aren't even sure how much money you should risk per trade or how to calculate position sizes and properly manage your risk in the market, you have no business trading a live account yet, period. There is a very good use for demo accounts; figuring out the ins and outs of your trading method as well as figuring out position sizing and risk management.
Before you start trading a live account, you should be at the point on your demo account where you have no more questions about what to do, and you should have just had at least two or three profitable months of trading the same exact strategy that you plan on trading with your live account. If you email me asking anything about lot sizes or trading strategies or basically anything else, and you also tell me you're already trading a live account, I am probably going to refer you to this article. You are not putting the probabilities of trading success in your favor by starting to trade live before you are truly ready.
Simplicity significantly increases the probability of trading success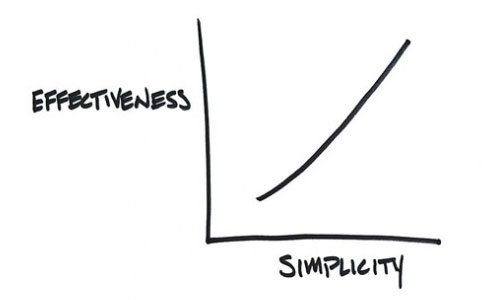 If there is one dominant factor to increasing the probability of making money consistently in the market, it would be to simplify every aspect of your trading as much as possible. You're probably already familiar with this concept if you've been reading my blog for a while, but it is nevertheless a very critical one to discuss again. Trading, perhaps more so than any other field, causes people to over-complicate it. People do all kinds of crazy things when they start trading with their hard-earned money, and really if they just slowed down and took a minimalist approach to trading, they would be much better off, both financially and mentally.
The biggest part of simplifying your trading approach and perhaps the easiest part, is having a simple trading strategy like price action. It always amazes me how so many traders tend to look at every trading method and trading system under the sun and it's only later, after perhaps years of lost money and frustration that they finally 'wake up' and see the proverbial forest for the trees and realize that the raw price action on the charts has been the best and simplest way to trade all along.
Conclusion
Our most potent weapon in the market, is simply being prepared as much as possible before we place a trade. The market is uncontrollable and unforgiving, it doesn't discriminate between traders with $1,000 or with $1,000,000, and the more prepared you are, the better you will do, no matter how much trading capital you have. Trading can really be thought of as a type of "war" between you, yourself and the market, and the less prepared you are and the less you've tried to put the probabilities in your favor before you enter the market, the more likely you are to be defeated. The truth is, you have within your own mind, everything you need to succeed in the market, but like most traders you're probably defeating yourself by trying do to too much after you enter a trade, and too little beforehand.
The first step to increasing the probabilities of trading success, is doing the things discussed in today's lesson. If you need help getting started and you want more structure and support in being properly prepared before you enter a trade, my trading course and members' community can help you put the probabilities in your favor.
SEPTEMBER SPECIAL:

Save 70% Off Nial Fuller's Pro Trading Course (Ends Sep 30th) - Learn More Here