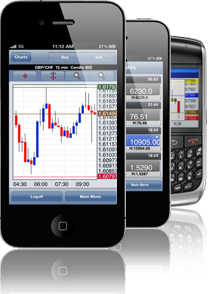 You can do almost anything on a smartphone these days, including placing and managing trades. Having this 24-hour finger-tip access to the market brings with it some significant advantages and disadvantages.
Whilst I'm all for smartphones and the conveniences of checking email on-the-go and having access to what is for the most part, life-enhancing technology, there is definitely a danger for traders having 24-hour instant access to the market. Having market access essentially glued to your body around the clock via a smartphone can very easily create an addiction. Even if you don't feel like it's an addiction…being able to satisfy your urge to check the market whenever and wherever you want is something that entices many traders to over-trade.
Aside from obvious health risks like trying to place a trade while driving down the freeway or while trying to mow your lawn (joking, although I'm sure some people do this), mobile trading brings with it a whole set of other more serious issues, mainly emotional ones, which traders didn't have to deal with in the past.
In today's lesson, we are talking about the emotional implications of mobile trading. We are not dissing mobile trading apps, in fact, you should use them and take advantage of the technology, but anything in excess is bad for you, and sadly, most traders who use mobile trading apps abuse them or use them to excess.
An addiction in disguise
For many traders, downloading a mobile app from their broker seems like an obvious thing to do. For example, a guy (or girl) gets an iPhone, goes to the app store and gets his broker's trading app. Now he thinks, "Yay! cool, I can take this to the barbecue and show my mates, even take it the toilet if I have to…I'll never miss a trading opportunity now!" However, little does he know he's in for a wild ride. Just like a gambler at a casino he will probably give his money to the market without really being aware of what he's getting sucked into: flashing numbers and indirect emotional manipulation. For those who wake up quickly, this is avoidable, for many of you it might already be too late. But you can break the addiction if you try.
For many traders, having a mobile trading app is like gluing a cigarette to their hand or like having their hand glued to a slot machine; because it's right in front of their face and so easy to access…it takes more self-control than most people have to ignore the temptation.
Reasons people are drawn to mobile trading
People are drawn to mobile trading for a multitude of reasons. I am of the belief that most retail traders abuse mobile trading apps and don't use them right. Having a mobile trading app on your phone is like walking around with a wad of cash in your pocket all the time; eventually you're going to spend some money on something you otherwise probably wouldn't have had you not had that cash in your pocket.
Some of the more common reasons that traders get drawn to mobile trading apps are the following:
• It's cool to think you're "trading like pro" with a mobile trading platform – In fact, most pro traders place little to no trades from their mobile apps. Pro traders know that if they are too busy to sit down in their usual trading office or work from their usual trading computer, they probably don't have the correct trading mindset to fully focus on trading. Thus, it's better not to trade if you are too busy to be fully focused on the market. Pro traders use mobile trading apps as more of a monitoring tool than anything else. They know that there is too much at stake to lose money simply because they were rushed and didn't properly analyze the charts from their most effective state of mind.
• It's cool to show your friends your fancy trading app and say "Hey look I'm a trader" – You might think it looks cool to be trading on your smartphone while waiting in-line somewhere to get food or while out with your friends. However, most people think it's a little rude to be glued to your phone all the time at a social outing or other event. Who cares about looking cool anyways? Making money in trading is what matters, not how you look while doing it.
• It's cool to take your phone to bed like Gordon Gecko and lay there checking the charts – Losing sleep because you can't stop looking at or thinking about the markets is a classic hallmark of an over-trader and a trading addict. The smartphone has offered a very easy way for traders to lie in bed looking at charts or analyzing other trading variables. When you go to sleep…go to sleep! Losing sleep is only going to hurt your overall trading performance as well as other areas of your life.
Ease of access is not always a good thing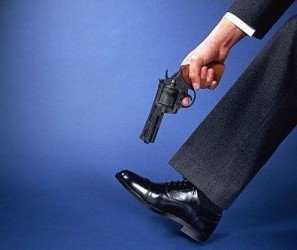 Here's a reality check: mobile trading is great for a certain breed of professional, but for the everyday retail trader it can do more harm than good. Essentially, when you trade from a mobile phone you are starting to enter the same world that the online casinos lure people into, which is addiction created by the easy availability of the markets on the run. Since it's there in front of you at your fingertips or in your pocket…a smartphone tempts and encourages you to watch the market any free minute you get.
I've got news for you: traders controlling millions or billions of dollars aren't trading hundreds of times a day or week on their mobile phones. At most, they are checking the market if they are traveling or otherwise don't have access to their regular trading computer.
A lot of traders have a false-sense of what a mobile trading app should be used for: it's there for a monitoring tool, it's not there to engage a lot of trading activity. You DON'T HAVE TO DO ANYTHING with it…just use it to monitor. Remember, that the LTTTM method is not a high-frequency model of day-trading, therefore, the lure of being able to trade from your phone all day could interfere because you'll be watching the live prices tick up and down from work, airport, or even the bathroom and you'll be panicking on every red and green flash.
Use mobile trading apps as the tool they were designed for but be aware of the emotional pitfalls and subconscious manipulation that occurs when you have a cell phone with a mobile trading app attached to you all day.
How to use your mobile trading app properly
Mobile trading apps are a great tool if used correctly. Here are some of the uses that mobile trading apps are good for:
• Exiting a position – Occasionally, you might see a valid reason to exit a trade while monitoring with your mobile trading app. You have to be really careful with this though, and it's not something you should try doing until you're already experienced and know what you're looking for. But, a mobile trading app can give you the ability to exit a trade at a better price since you have more access to the market, just be sure you don't abuse it by exiting for an emotional reason rather than a logic-based one.
• Monitoring a trade that you're in several times for the day but not to excess…Doing basic quote checking.
• If you are traveling and don't have access to your ultra-book or laptop, a mobile trading app certainly could play a role in your analysis, but if you are traveling it's probably best not to trade because you're focus is not as sharp.
In essence, a mobile trading app is good for monitoring trades and possibly exiting them, but that's really about it. You have to be very careful in entering a trade from a mobile trading app. Most of the time, it's not the best idea because you will either be entering in a rushed state of mind or you will just be over-trading. Take time and relax and only enter a trade when you're in the right mindset and you have time to determine with confidence whether or not a worth-while trade setup is truly present.
In closing…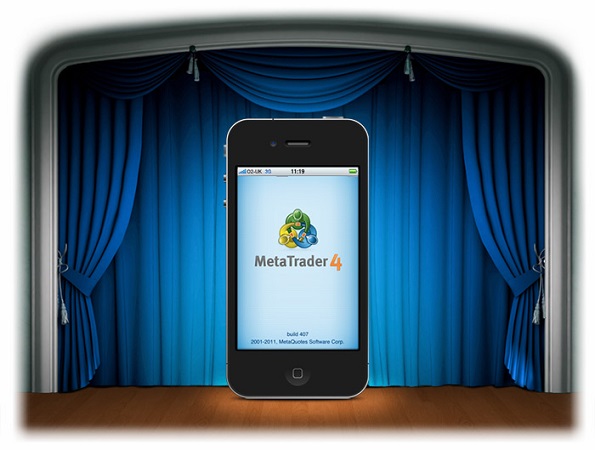 Other than the radiation risks of carrying a cellphone in your pocket (joking), mobile trading apps are cool to use and cool to look at…but they can also be a highway to addiction and emotional trading decisions. It's easy to become drawn to these apps, almost like an obsession, but you really need to learn to keep them in-check if you want to benefit from them rather than getting hurt by them.
Mobile trading apps should be thought of as more of a supplement than a primary trading device. Meaning, if you have a trade on and you have to be away from your normal laptop or trading office for a day or two, then it makes sense to use your mobile trading app to monitor your trade and possibly adjust stops or exit according to what the price action is showing you. However, for most traders entering trades via their smartphone mobile trading app is a bad idea and is something they should avoid. The whole idea behind the method I teach in my trading course and members' community is to not watch the market all day and to not over-trade, but to trade like a sniper instead. If you feel like you're having trouble controlling yourself with your mobile trading app, then maybe try going without it for a while and see if you're trading improves, then later on you can start using it again … but try only using it to occasionally monitor open positions or manage a trade as necessary.
BLACK FRIDAY SPECIAL:

Save 70% Off Nial Fuller's Pro Trading Course (Ends Nov 30th) - Learn More Here