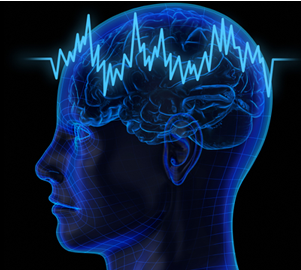 As traders, it can often seem as if we are in a constant fight against an invisible enemy who always seems to have the upper hand on our next move in the market. It can seem as if there's a "thief" stealing our treasure every time we are sooo close to securing it. In the end, we know that we have no one to blame for our trading failures but ourselves. However, it can be hard to understand why you seem to consistently defeat yourself in the market…it can feel like you are shooting yourself in the foot again and again, with an invisible gun.
In today's lesson, we are going to try and get to the root of why traders tend to sabotage their own efforts in the market and what they can do to stop it. After all, if you don't understand a problem you have no chance of fixing it; so the first step to improving your poor trading performance is to understand what's causing you to fail in the first place. Then, you can devise a plan to counteract the reasons you are failing so that you can get on the road to successful Forex trading.
Two sides of the same brain
As Jason Zweig discusses in his book Your Money & Your Brain: How the new science of neuroeconomics can help make you rich, our brains can basically be classified into two main sections; the "reflexive system" and the "reflective system". As Zweig points out, our reflexive brain system is the one that controls our feelings and emotions, and it tends to be attracted to what feels good while avoiding what feels bad, whereas the reflective brain system is more analytical and used more for complex thinking and planning. For thousands of years our reflexive brain system served us very well; helping us to avoid conflict with large predators and seek food and reproductive partners. However, as humans and societies have evolved, the ability to invest and trade money developed…and in this new setting these older reflexive brain systems tend to cause a lot of problems.
As traders, we are constantly making decisions in our minds that are influenced by both emotion and logical reasoning. Being too emotional is obviously bad for a trader because it can cause him or her to take on too much risk, trade too frequently, become angry, sad, over-confident, frustrated, revengeful and more. However, being too analytical and rigid in our market analysis and trading can also be detrimental to our progress in the markets. What is needed is the right combination of both "gut" trading feel (emotion/intuition) and objective decision making and analysis…
Most traders fall into two categories; they are either too analytical and rigid or they are too intuitive and emotional. Professional traders have found a balance between their "gut" trading instincts and their more rigid / analytical brain areas; and this is why they are pros.
Your brain is like a muscle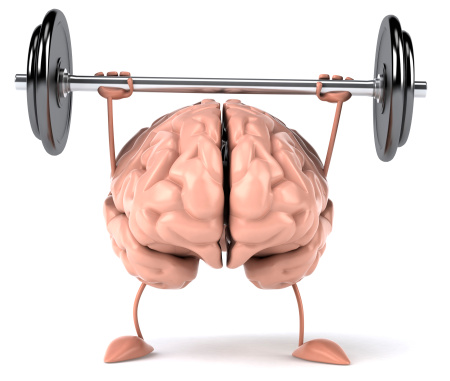 The brain is like a muscle; the more it does something the better it gets at it. Studies show that when you use the same brain pathways over and over, as in playing an instrument or learning some other skill, those neurological pathways and connections become stronger and more efficient. Whilst that's great for learning something positive and constructive, it's also true that our brains get better at doing negative and destructive things if we continue to do them. For example, if you constantly think about being afraid to fly in airplanes and watch videos of plane crashes, you are training your brain to be more fearful of flying than you otherwise would be. Everyone knows driving is statistically a lot more dangerous than flying, but because most of us associate flying more with "danger"…we feel as though flying is more dangerous.
The point is this: the more you do something; anything, the more efficient your brain gets at it and you become more habitual at it. For trading, this means, if you are stuck in a cycle of over trading and risking too much or of being afraid of the market, you are going to continue to do those things more and more until you somehow break free from them.
Traders can dig themselves very deep psychological holes if they start trading without an effective trading strategy or trading plan and with poor risk management skills. What happens to many traders is that they start out trading poorly like this and then they get lucky and maybe hit a few big winners, then their account goes positive and they've just begun a very dangerous process of reinforcing poor trading habits in their brain. Once you get a few random rewards (large winning trades) in the market, your brain tries to get you to recreate whatever you did to get those rewards; whether they came from positive or negative trading behavior. Unfortunately, if a trader is behaving like a gambler in the market and hits a few big winners, he or she has just started down a very slippery slope because this gambling behavior gets entrenched into their neurological pathways deeper and deeper each day they trade like this.
Your brain is often "in the way"
When are "reflexive and reflective" brain systems are not in balance in the market, we tend to make mistakes like continually trying to pick the top of an uptrend, the bottom of a downtrend, or entering just as the market is about to reverse…these are emotional trading mistakes. The reason people do things like this in the markets is primarily because they are using too much "gut feel" in their trading, or rather, they are letting the movement of the market influence their emotion too much.
Conversely, traders who use their "reflective" brains too much might over-analyze the markets too much, think too much and become fearful about trading, causing them to miss out on perfectly good trade setups. Again, we need to find a balance between these opposing forces in our brain…
When you start to feel excited about the prospect of picking an exact turning point in a trending market or about entering into a runaway "sure-thing" trending market after it's extended….you need to slow down and let your "reflective" brain system kick in and do some objective analysis to see if what you are feeling stacks up against objective logical reasoning. Similarly, if you find yourself reading the Wall Street Journal, watching CNBC and looking at every chart time frame available on your charts, you need to stop thinking and analyzing so much and simply try to get "in-tune" more with the ebb and flow of the price action on the chart. Then, after using both the "reflexive" and "reflective" areas of your brain you should be able to make the best decision.
Chart examples:
The reality of trading is that losing and struggling traders are typically late on trends and early on trend changes. Meaning, they enter when a trend is already extended because that's when it looks and "feels" safe, and they try to pick the exact turning point based on gut feel alone, rather than waiting for a price action trading strategy to align with their gut feel.
Picking tops (or bottoms): In the image below, we see the current uptrend in the EURJPY. Even though there was no logic or price action-based reason to sell into this strong trend, many traders no doubt tried anyways…because they kept thinking things like "it can't possibly go much higher…", etc: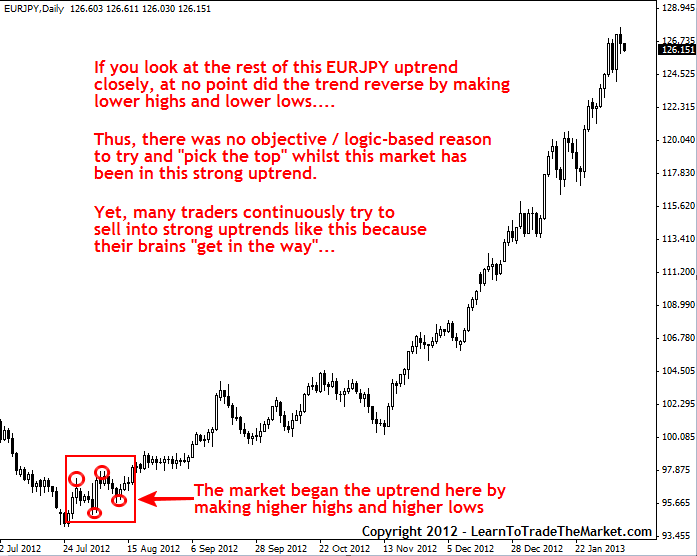 As markets trend, they ebb and flow, this just means that after they push forward or lower, they will then rotate back to "value" (value means support and resistance areas). Many beginning and struggling traders tend to buy near the highs in an uptrend and sell near the lows in a downtrend. In other words, they are buying an uptrend (or selling a downtrend) only because it feels "safe", not because there's a price action-based reason to enter.
Entering a trend too late: In the image below, we can see the current EURUSD chart and an example of how traders buy at the top of moves, just because it feels good or "safe":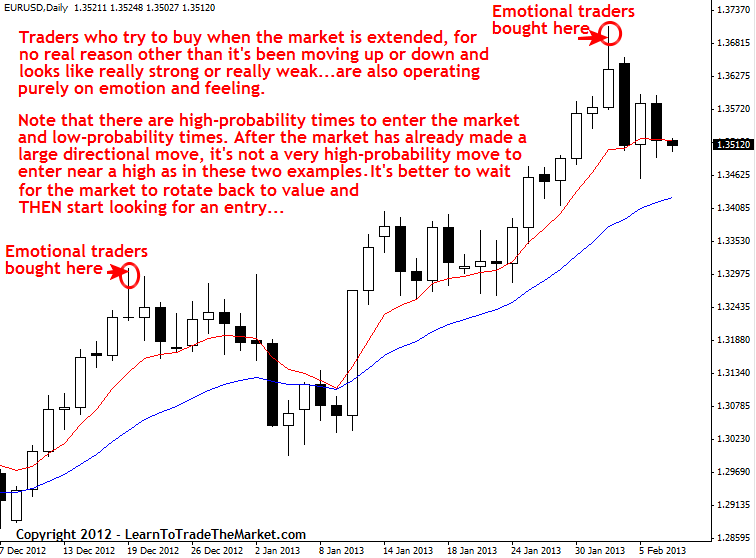 Unfortunately, in trading, we often have to do the opposite of what "feels" right…we need to sell when the market is high and buy when the market is low…this seems simple enough but in reality it's difficult for most people to ignore the urge to buy only because the market is screaming higher or sell only because it's falling lower…instead, we need to wait for a price action signal to "confirm" our entry.
Our natural tendency is to think the market will keep going if it looks really strong or weak, but in reality when the market looks and "feels" its strongest or weakest, it's usually about ready to rotate back to value. So, it's the price action signals from or near "value" that we want to look for, that is if we are trading with the trend. Counter-trend trading can be done from extremes when the market is extended, but it's riskier and should only be tried after you're experienced trading with the trend.
In the image below, we are looking at an example of using your brain "properly" to trade the market. We wait until the market rotates back to a high-probability level or area and then forms a price action entry trigger to "confirm" our entry: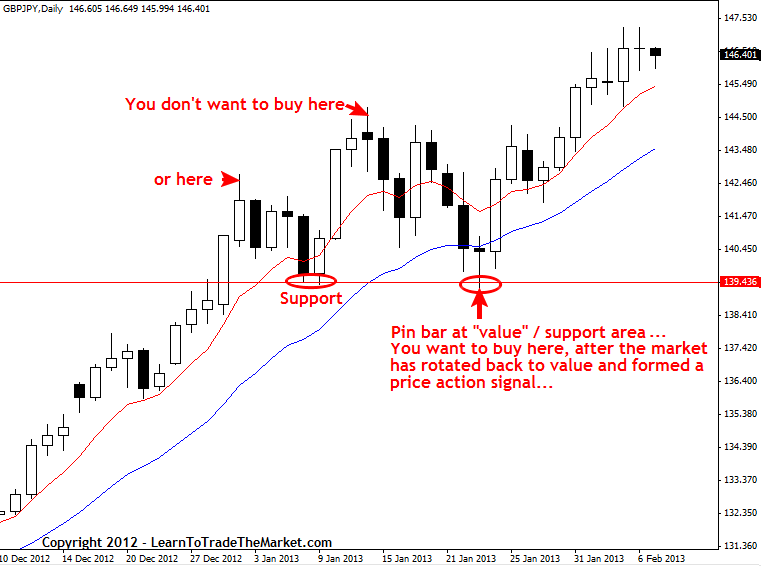 How to get your brain "out of the way"
Whilst there is no pill you can swallow that will optimize your brain for trading success, you can use what you know about how the brain works to your advantage. For example, we discussed earlier how the brain is like a muscle and will get better and more efficient at anything it does repetitively. Thus, you need to first figure out HOW you should be trading if you don't already know, and then start trading that way in order to make it a habit. Many traders know how they should trade but they simply don't do it because being disciplined is harder than not being disciplined. Similarly, most people know how to eat healthy and exercise…but because it feels better to eat a Big Mac now rather than a healthy salad…most people rationalize to themselves something like "I will eat healthy later, but now I want this". Unfortunately, "later" tends to never come and most people continually give in to their short-term temptations at the sacrifice of a much greater longer-term benefit that seems out of touch or distant when they are "in the moment".
Essentially, what is needed to "overcome your own brain" in the markets, is the discipline to adhere to a an effective trading strategy and trading plan over a long enough period of time so that you start to see positive results. These positive results will then reinforce the positive trading habits that it took to produce them…and before you know it you are a trader with positive habits rather than one with negative account-destroying habits.
There are basically two situations that traders finds themselves in on any given day in the market; they are either in a trade or about to be in one / looking and waiting for one to form.
What you need to understand is that in both of these scenarios, there is plenty of room for your brain to "get in the way" and sabotage your trading. If you're already in a trade, your brain will probably over-analyze the market conditions by coming up with a thousand different things that "could happen". If you're flat the market and looking for a trade, you have to be very careful against entering ONLY because you feel a certain way from what the market is doing. Gut trading feel and intuition is important and it plays a big role in price action trading and in how I personally trade….but you have to keep it in-check. You cannot trade purely off gut feel or purely off rigid analytical thinking, you've got to balance out your thinking with a healthy combination of both.
Finding and maintaining the right combination of intuition or "gut" trading feel and objective market analysis & decision making, is essentially how you become a successful trader. Learning the trading strategies and techniques that I teach in my price action trading course will help you develop both your "gut" trading feel as well as your analytical thinking about the markets.
Good trading – Nial Fuller
Sources: http://www.amazon.com/Your-Money-Brain-Science-Neuroeconomics/dp/074327668X
SEPTEMBER SPECIAL:

Save 70% Off Nial Fuller's Pro Trading Course (Ends Sep 30th) - Learn More Here