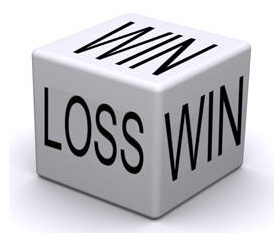 Losing is part of winning. As a Forex trader you are going to have losing trades, that's the truth. Learn to embrace the losses as the cost of doing business as a trader. There is simply no way around losing; no trader ever wins all their trades.
So, since you KNOW you are going to lose you have to ACCEPT IT. You have to REALLY ACCEPT IT. Those traders who really accept losing are the ones who win long-term. It seems a bit counter-intuitive at first, but if you want to win as a Forex trader you have to learn how to lose effectively.
The problem most traders face is that they simply do not understand or accept the fact that ANY trade can lose. You can have a high-probability trading edge like price action, but it too will lose a certain percent of the time. For example, even if your edge is 80% profitable, you NEVER KNOW when the 20% of trades you will lose on are coming. Therefore YOU HAVE to manage risk effectively on every single trade you take. You should never "load up" because you simply cannot predict the future and you never know when a loser is coming.
Trading success is about seeing your edge play out over a long series of trades. You will not be able to see your edge play out if you try to "guess" which trade will be a winner and which will be a loser and as a result over-leverage your trading account.
The simple fact of the matter is that you have to learn effective Forex trade management techniques; otherwise you will simply never achieve the level of success you desire in the markets. One of the most effective ways to manage your trades is simply to set them and forget them. I have written a great article on the set and forget Forex trading method, you really should check it out and watch the video about set and forget trading that you can find hyperlinked to within the article.
One of the biggest reasons most traders lose money in the markets is because they do not know how to take a loss. Instead of just taking a loss they try to do all kinds of crazy things like moving their stop loss further from their entry point, entering multiple positions as the market moves against their initial position, and other silly-emotional trading mistakes.
You cannot avoid losses in the Forex market, its part of the game, get used to it early on. You need to understand that if you properly implement risk reward ratios and Forex money management techniques, you can make money on a regular basis even if you lose the majority of your trades. That's right. Think about it, if you are making 3 times your risk on all your winning trades, you only need to win a little over 25% of your trades to make money. If you make a risk reward of 1:3 on all your trades, and you win just 50% of the time, you can make a killing. Most traders don't understand this though. Just remember, the power of price action trading and proper money management in Forex should not be ignored.
Remember To Click the Facebook Like Button Below, Make a Comment Below and Post it To Twitter. Thanks :)

A Special Note – I am running a Special Discount on Lifetime Membership to My Forex Course. To Find out More Click here.
Good trading as always – Nial Fuller
You may ALSO be interested in the following recent forex lessons …

BLACK FRIDAY SPECIAL:

Save 70% Off Nial Fuller's Pro Trading Course (Ends Nov 30th) - Learn More Here