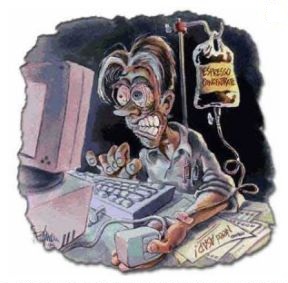 This article is going to challenge some of your beliefs about trading, especially the beliefs you hold about how often you should trade and the consequences that your trading frequency can have on your forex trading account. Hopefully after reading it you will gain some powerful insight that will help you stop over-trading or prevent you from turning into an over-trader like the guy in this picture on the right.

One of the biggest obstacles standing in the way of amateur traders becoming professionals is their lack of recognition and(or) acceptance of the fact that trading less frequently almost always produces more consistent and more profitable long-term market performance than over-trading and interacting with the market too often (ie: Day trader market junkies).
Professional traders view each interaction with the market through a realistic lens that does not filter out the risk involved with every potential setup, whereas amateur traders tend to think less about the risk involved and more about how much money they can make if XYZ happens. This is an important point to take into consideration before you enter your next trade.
• The extremely slippery slope of over-trading
If you have had any experience trading real money in the markets you very likely have experienced first-hand just how slippery the "slope" becomes once you start over-trading. Most traders do not even recognize they are guilty of over-trading until they have lost so much money that they are forced to take a break from the market, it is then that they typically realize what they have done; entered numerous trades with no sound logic or rational behind them.
Professional traders are always aware of the dangers of trading too frequently, they know that it is a very short stretch from entering one too many trades to full-scale addiction to the forex market and to chart watching. In essence, amateur traders that get caught up in a fit of over-trading in the forex market are simply gambling; continually entering the market randomly while hoping for a windfall profit. The professional trader is not a gambler; he or she is a risk manager who simply seeks to flawlessly execute their edge in the market only when it is present.
This typically means that most professional traders are not day trading or scalping, instead they are focused on multi-day positions and look to take a good slice of the action that takes place in the market each week or month. This typically means taking multi-day positions in trending markets, because it is easier to take larger chunks of price action out of a trending market by holding multi-day positions than it is to constantly jump in and out trying to scalp the market each day.
Trading less frequently like this also makes you more immune to the slippery slope of over-trading. Even if you are following an effective day-trading or scalping edge, when you trade with the high frequency demanded by day-trading and scalping strategies, you drastically increase the odds that you will give in to the ever-present temptation to jump into the market when your edge is not truly present.
• You can't get hurt from the sidelines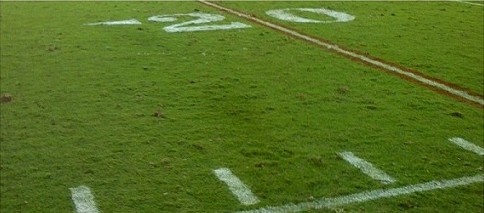 The value of simply NOT BEING IN THE MARKET cannot be overstated. Many amateur traders don't even consider that being flat the market can actually be a very lucrative position, not to mention it is the SAFEST position you can take in the market.
To understand why not being in the market is actually a lucrative position you have to look at it from a different perspective. Let's say point A is being flat the market, and point B is where you trading account stands relative to point A after a losing trade, you obviously had more money at point A than at point B, thus point A (being flat the market) is actually a lucrative (profitable) position compared to point B since you have more money in your trading account at point A than you would have had if you had lost that money in the market and went to point B.
The fact that most amateur traders simply do not even consider the fact that being flat the market is valuable is directly related to the fact that they simply do not believe the market is as risky as it actually is, or they simply ignore this reality. Professional traders are fully aware of the risk involved in the market, therefore they inherently understand the value in being flat the market, and thus they trade less frequently than amateurs.
• How does trade frequency relate to long-term trading performance and a trader's mindset?
Once you identify exactly what your trading edge is, and the market conditions that are best to trade it in, you can begin to trade with patience and precision because you now know EXACTLY what you are looking for in the market. In essence, you have to master one forex trading strategy at a time, so that you can almost instantly look at any price chart and tell if your edge is present or not. Once you obtain this level of trading mastery and skill, over-trading or entering a position when your edge is not present will seem silly to you and just down- right stupid (because it is!). To put it more succinctly, you are more aware of whether or not you are over-trading when you are completely aware of what your forex trading strategy is.
Due to the fact that professional traders have mastered their forex trading strategy, they trade less frequently than amateur traders because the pros are looking for a very specific event to occur in the market, rather than throwing darts in the dark like so many amateurs do. So, it almost goes without saying that once you totally mastered your trading edge, entering trades when your pre-defined edge is not present will have a negative effective on your long-term profitability. So, trading with precision and patience inherently means trading less often, but it also means greater profits in the long-run, which is the whole point of trading.
Traders who follow their trading strategy to the T actually enjoy the patience and the down time in between trades, it becomes routine and comfortable over time. They do not feel a "need" to trade when there is no setup that fits their criteria. Operating from this confident yet carefree state of mind while interacting with the market is the way you reinforce positive forex trading habits, like patience and discipline, because when you wait patiently for your edge to appear and then execute it with effective risk management, you will see positive results after doing this for a series of trades, these results will reinforce the positive trading habits that produced them.
Amateur traders tend to reinforce negative trading habits like over-trading and over-leveraging by getting lucky a few times while committing one or both of these trading errors, it really only takes one big lucky winner while over-trading or over-leveraging to condition your brain to constantly over-trade and(or) risk too much.
• So, how often DOES  a professional trader trade?
There is obviously no set answer for the number of trades that professional traders make each month, as every trader is different. However, if you are currently losing money in the markets you can safely assume that professional traders are trading less frequently than you are. If you are currently stuck in a rut of over-trading, one thing you can do if you are not already, is switch to strictly trading off the daily charts. Higher time frames lead to less trades but more precision and accuracy of the trades that you do take, you can also employ "set and forget forex trading" on the daily charts that requires only minor tweaking and minimal involvement beyond identifying your edge and setting the trade up.
In conclusion, if you take nothing else away from this article, just remember that professional traders are on average trading less frequently than you are simply because they fully accept and understand the risk involved with any one trade, so this tells you that you need to reduce the frequency that you trade or that you interact with the market. Let's say that price action trading is going to be your trading strategy, once you master this trading strategy and you know exactly what you are looking for, there is no reason to sit at your computer all day staring at your charts. Set up a routine each day that you follow; you check for your edge, and if it isn't there you come back the next day, or the next 4 hours or whatever your routine is. But, you don't ever need to sit there and burn your eyes out watching the charts if you know what you are looking for. If you don't know what you are looking for and you want to learn a very simple yet effective trading strategy that can give you a solid edge in the market, you should check out my price action trading course and online member's trading community.
SEPTEMBER SPECIAL:

Save 70% Off Nial Fuller's Pro Trading Course (Ends Sep 30th) - Learn More Here