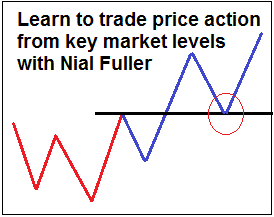 Today's Forex trading lesson contains trading strategies that you can put to use immediately in the markets. We are going to discuss how to trade price action from key levels in the Forex market. Key levels occur in a variety of market scenarios, and we can combine these key market levels with simple price action strategies to obtain a high-probability trading strategy.
Key market levels are the core foundation of all technical analysis and price action trading. By focusing on the raw price dynamics and key levels in a market, we can remove the clutter and confusion that so many trading systems and strategies are full of, and instead trade from a clear and objective mindset. I cover all the concepts discussed in today's article in greater detail in my trading course, as well as a plethora of other simple yet highly effective trading strategies.
Note: All charts in this lesson reflect the daily time frame.
Trading from support and resistance in trending markets
Trading with the dominant daily trend is the primary technique I use to trade the markets. Much of my course is dedicated to trend analysis and teaching traders to trade simple price action strategies in the context of a trending market. We can look for price action signals forming near levels of support and resistance that develop as a result of the natural ebb and flow of a trending market.
In the example chart below we have the daily GBPUSD showing about the last 4 months of data. What I have done here is simply drawn in the obvious key support and resistance levels and then highlighted the valid price action trade setups that formed near these levels. No magic or "robots" here, just simple common-sense trading using the natural dynamics and levels in the market: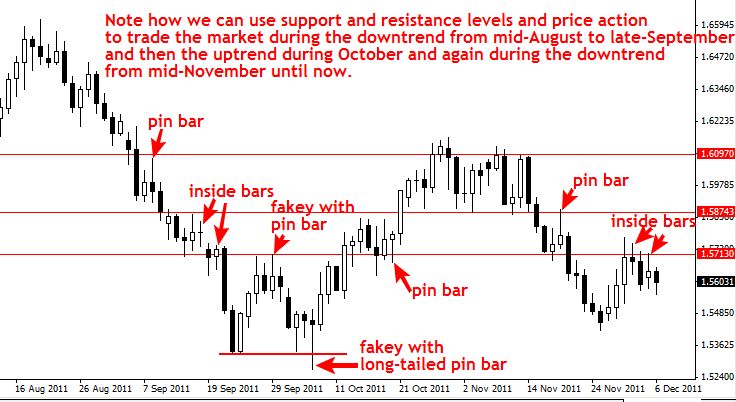 Trading from support and resistance in range-bound markets
Unfortunately, the market is not always trending, in fact it's often said that markets spend more time consolidating and moving sideways than they do in trending conditions. Fortunately, with knowledge of how to trade simple price action setups from key levels, we can effectively trade range-bound markets as well.
In the example chart below we see the daily EURUSD from about the end of May to mid September of this year. We can see an obvious trading range that developed in this period of time and some price action setups that formed off the support of the range. Note that just before the trading range finally broke out lower, a long-tailed pin bar formed that showed rejection of the interior of the range, once the low of this pin bar broke we saw a significant move lower. Trading ranges can be a bit erratic but if you watch the boundaries of them closely you will often see some solid price action signals form at the key support or resistance of the range.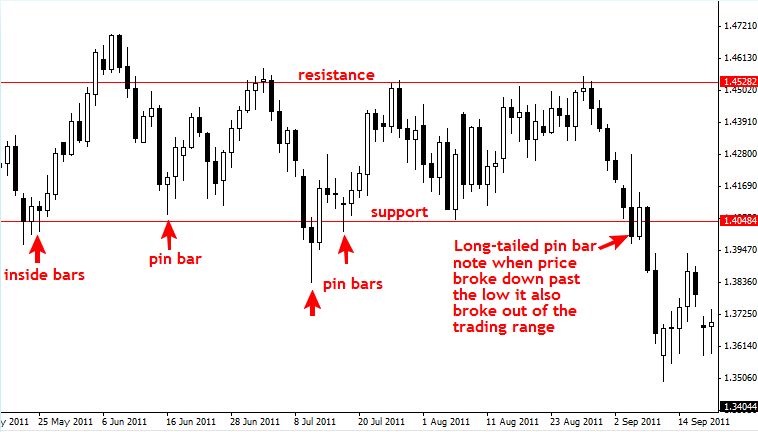 Trading from swing points in trending markets
As a market makes new highs or lows it forms what I call "swing points" in the market, these are very important levels to watch because they essentially create new support or resistance. As such, a swing point does not need to be "confirmed" by multiple rejections of price in order to be considered a valid support or resistance level, rather the actual swing in the opposite direction itself creates a new level of support or resistance.
When we see price approaching a recent swing point we can be on alert for price action setups forming near it. A recent swing high will often act as support in an uptrend, and a recent swing low will often work as resistance in a downtrend. Let's look at a chart to see this more clearly.
In the example chart below we see the daily EURUSD from about mid-August until now. We can see that price came down and found support near 1.3600 in mid-September. This swing point then became very important for the subsequent price action forming near it, acting both as support and resistance.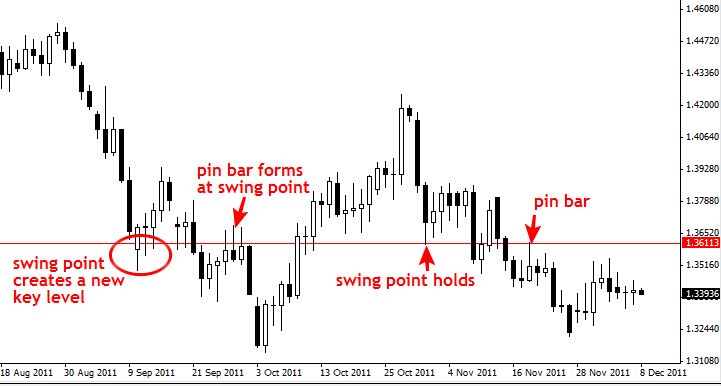 Trading from dynamic EMA support and resistance in trending markets
I use exponential moving averages (EMAs) on the daily charts to help with trend analysis and identification of dynamic support and resistance levels. For today's lesson I am going to discuss how I use the daily 8 and 21 EMAs to highlight key levels in the market to trade price action from.
In the example chart below we have the daily EURUSD showing about the last 4 months of data. I have applied the daily 8 and 21 period EMA's (applied to close) and then I simply watch for price action setups forming at the EMA levels or in between them, in the EMA "layer", when the market is trending. When the EMA's are crossed lower and diverging, we have downward momentum, and when they are crossed higher and diverging we have positive momentum. By simply looking for price action setups forming on the EMA levels or within their support or resistance layer, we can easily identify high-probability key levels to trade from.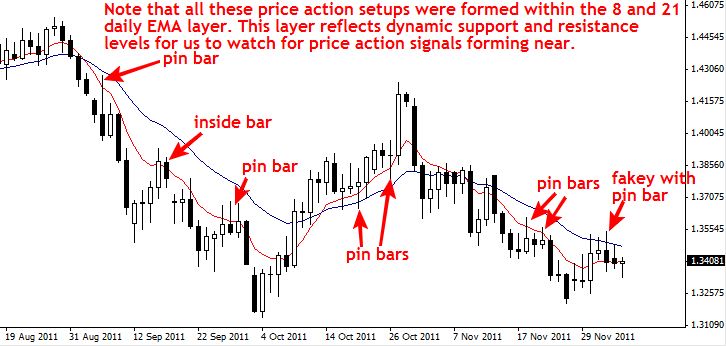 Trading from event-area support and resistance levels
An event-area is a price level or zone that saw a price action signal form and then a large directional move or "event" occurs. These levels are obviously very significant and I discuss different ways to trade them in my price action trading course. But, for today's lesson I am going to show you how to trade price action setups from event areas.
In the example chart below we have the daily XAUUSD (spot gold) chart showing about the last 4 months of data. We can see a good example here of an obvious event-area that formed through $1700.00 as price rejected this level multiple times forming well-defined pin bar strategies that subsequently set off significant directional moves. When you see an obvious price action signal that sets off a large move, you can then watch the level the price action signal formed at for future entries if price approaches it again, as these levels are obviously quite significant.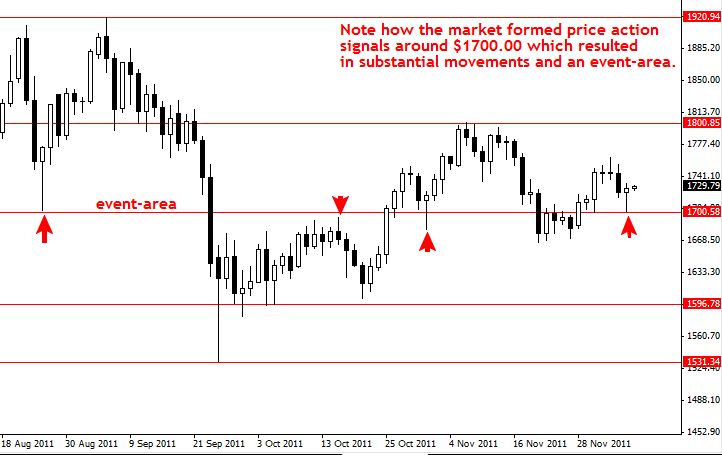 As you can see from the examples above, trading does not have to be complicated; you can learn to analyze the market and trade effectively by simply gaining knowledge of how to identify key market levels and price action setups. When we combine these two components we get a very high-probability and simple trading strategy that is also flexible enough to be applied to the ever-changing conditions we see in the Forex market each week.
We cover all the key market levels in the major Forex pairs in our daily members' commentary each day. These 'key levels' are essentially the foundation to what I teach my students in my Forex trading course and members' materials. I believe price action trade setups have a much higher probability of working out in our favor when we look for them at these confluent key levels in the market.
September Forex Course Special:
This Month I'm Offering A Special Discount On Life-Time Access To My Forex Trading Courses, Live Trade Setups Newsletter, Live Trading Forum & Email Support Line – For More Info Click Here.
SIGN UP FOR FREE!
Get Free Trade Setups & Videos