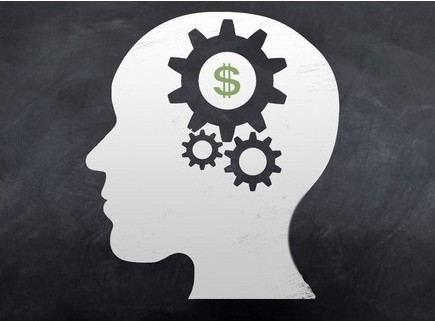 There's an abundant amount of trading opportunities each month in the market, but we don't always have the time or desire to sit around staring at our charts waiting for the market to hit our pre-determined entry level. Also, I should mention that sitting around waiting for the market to trigger an entry is an unnecessary waste of time and can tempt us into entering a trade prematurely or to enter a trade that we otherwise might not. Fortunately, with the knowledge of how to use 'on-stop' entry orders, we can eliminate the need to sit in front of our computers waiting for the market to trigger a trade entry.
I get a lot of emails from traders asking me about different trade entry order types and how to use their Meta Trader 4 (MT4) trading platform. Thus, in today's lesson I thought I would answer both of these questions by discussing how to use 'on-stop' entries properly and some of the advantages they provide.
Advantages of 'on-stop' entries
Let's discuss some of the ways that 'on-stop' entry orders can improve your trading and the major advantages they provide:
• Momentum confirmation – When you enter the market on a stop entry, the market moves into your order on momentum that is in-line with the direction you want to trade. This has the added advantage that price is already moving in the direction that you are trading at the time of entry and often results in your trade moving into profit quickly. If you were to use the other two popular entry orders; a market or limit entry, you do not necessarily have this advantage.
For example, if you are entering on a 'buy stop', it means you are buying the market and in order for your buy stop to get filled the market has to be moving higher and move up into your buy stop entry, and that means it has bullish momentum behind it. Conversely, if you enter on a 'sell stop' entry, the market will need to be moving lower, down into your sell order. It doesn't "guarantee" that the trade will continue in your favor, but at least at the time of entry the market is moving in your favor.
• You don't have to be at your computer – Many of you have read my set and forget trading lesson, but what I don't get into in that lesson is that the stop entry order allows you to set up your trade and 'forget' about it (stop entries allow you to 'set and forget'). Also, unlike a limit entry, with a stop entry order you have the added peace of mind of knowing that if your trade does get filled after you set and forget it, you will get filled with 'momentum confirmation' as we discussed above.
Many of us (myself included), don't have all day to sit around waiting for the market to move to our desired entry level. If you use an on-stop entry, you do not need to sit there watching and waiting; once you spot a price action trade setup you can simply enter your stop entry order, stop loss and target, and then walk away for a while.
• Eliminate trade 'obsession' – If you are trading an inside bar setup for example, you do not need to sit there waiting for the market to break past the mother bar high or low to enter. Instead, you can simply place a buy stop or sell stop just above the high or low of the inside bar and then go do something else. Traders who obsess over trades and are glued to their screens tend to lose money, you need to be interested and passionate about trading but not "in love" with it, I discussed this in last week's article in which I talked about the differences between amateur and professional traders.
• Reinforce discipline – If you set an on-stop entry order and then walk away and let the trade play out, you are trading with discipline. There is something to be said for "letting the market come to you" as opposed to just jumping in with 'at-market' orders all the time. A stop entry allows you to set the exact level you want to enter at; if the market breaks past a certain level you will get filled, if it doesn't, then you won't. Many traders get into trades too early, before they really start moving, and this causes all kinds of psychological problems for them like second-guessing their entry, over-analyzing and closing out trades prematurely; if you enter with a stop order as the market moves into your desired entry level, it can help you avoid these mistakes.
Also, by setting your order and then going and doing something else, letting the market 'do the work', you are getting into the habit of not 'forcing' trades and of trading in a relaxed manner, instead of over-trading and (or) getting in prematurely. Once you start to see success trading in this manner it will begin to reinforce the discipline you had to put forth to set your order up and walk away.
Examples of effective use of 'on-stop' trade entry orders
Using stop entries to enter the market in-line with fresh market momentum is an excellent way to take advantage of this entry type. The idea here is, after a surge of momentum opposite to a recent trend, a stop entry on a price action signal can help "confirm" that the fresh momentum will continue at least for a while after filling your entry order.
In the chart image below, we see a EURUSD pin bar sell signal that formed shortly after a down move in the market that followed a strong up trend. The most logical entry order on this pin bar sell signal was a sell stop, because this gives us some more "confirmation" (not 100%) that more bearish momentum might be in store. In this case, the pin bar signal actually kicked off a very large move lower and formed very early in the new downtrend.
Using on-stop entry orders can help get you into new trends early. By taking you into the market in-line with the near-term momentum, you get a little extra "confirmation" that the move you are entering on is more than just a temporary counter-trend retrace: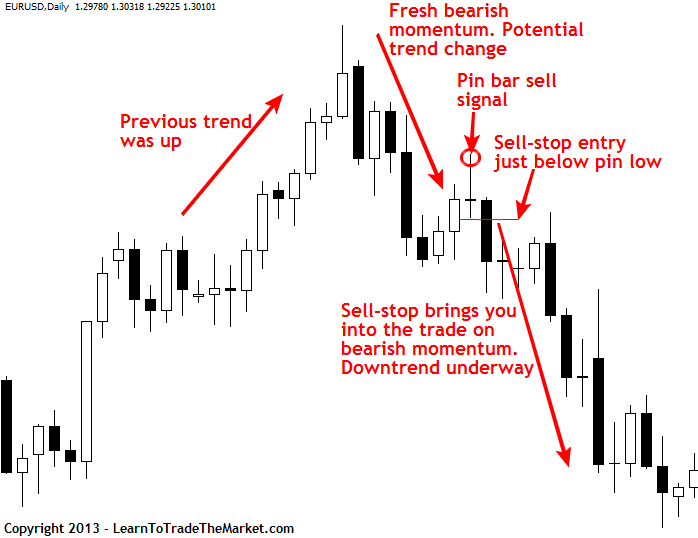 The on-stop entry is the only entry type to use for an inside bar trading strategy. An inside setup is a 'breakout' play by definition, so you need to enter in-line with momentum by waiting for price to break either above or below the mother bar high or low.
In the chart image below, we can see an inside bar setup in the AUDUSD that we discussed in our June 27th commentary. Note that using the sell-stop entry allowed us to have a little extra "confirmation" that the downtrend might continue by bringing us into the trade as bearish momentum pushed price down into our stop entry which would be placed just (typically 1 pip below) below the mother bar low of the inside bar setup: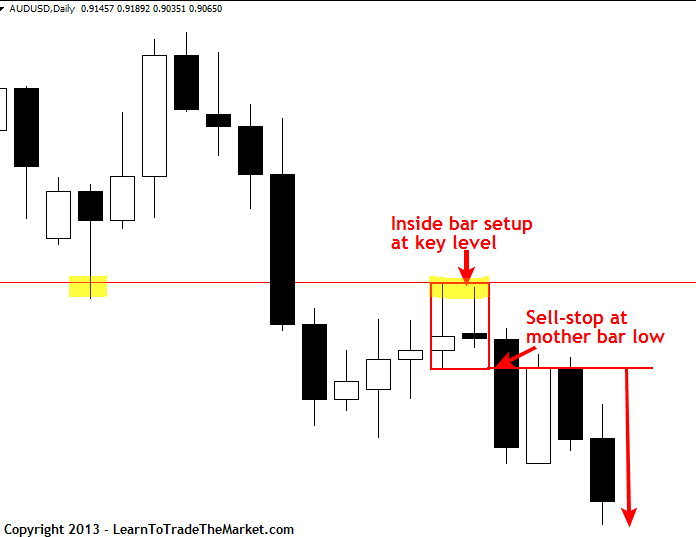 The recent sell-off in the spot Gold market has been widely discussed on our site and if you knew how to use sell-stop entry orders properly you did not have to waste time waiting for the big moves to trigger. You could have simply placed a sell stop entry order below the lows of two recent price action sell signals on the daily spot Gold chart and then literally walked away, and you would still (at the time of this writing) be up a very large profit. This truly shows the power of using on-stop entry orders in trending markets.
In the chart image below, we can see two recent price action sell signals in the Gold market that you could have entered on sell-stop orders. The first one was a fakey sell signal that formed back on May 3rd, note how the market consolidated and 'chopped' sideways for four days after the signal formed. If you had placed a sell stop just below the fakey's mother bar low, you would not have gotten filled until price finally broke lower, triggering the fakey sell entry on May 10th. Had you entered "at market" or on a limit retrace entry before price broke the mother bar low, you would have had to endure 4 days of price chopping sideways, including one big up day against your position. Many traders struggle with the emotions that get stirred up when they enter a trade early like this and have to wait for it to come off, and they end up closing trades out prematurely for no real reason as a result, then the trade comes off without then on board; this can mostly be avoided by using on-stop entry orders as we see below: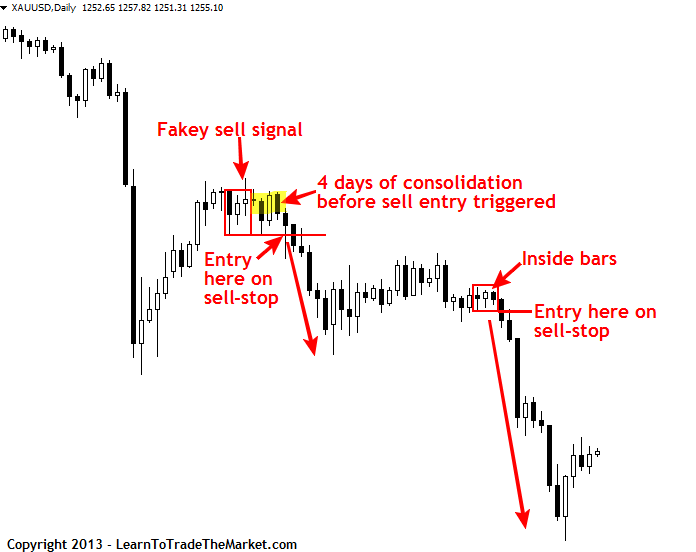 Note: On the three examples above, whilst they are all sell-stop entries, buy-stop entries work just as well and everything above applies for buy-stop entries too.
How to place an 'on-stop' entry order…
What good is knowing the advantages of on-stop entry orders if you don't know HOW to place them?
Let's do a quick walk-through of how to place pending on-stop entry orders on the Meta Trader 4 trading platform:
Step 1. There are three easy ways to open the order entry screen in MT4. The first one is to simply right click on the chart of the market you want to trade and then slide your mouse over "trading" and then "new order", click on it and then you should see this box appear: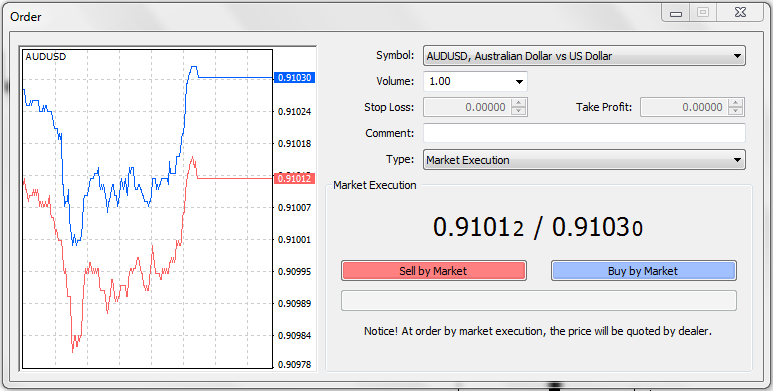 An even easier way to make the order window appear is to simply push the 'F9' button on your computer when you have the MT4 platform open, doing so will also open up the above order entry window.
The third way to get the order entry window open is to go to "Tools" at the top of the platform and then select "new order". These are the three main ways to open up the order entry window in MT4.
Step 2. The next step is to select "Pending Order" from the order "Type" drop down menu. Then, you will select Buy Stop or Sell Stop, depending of course on which direction you are trading (Buy Stop for buy entry, Sell Stop for sell entry).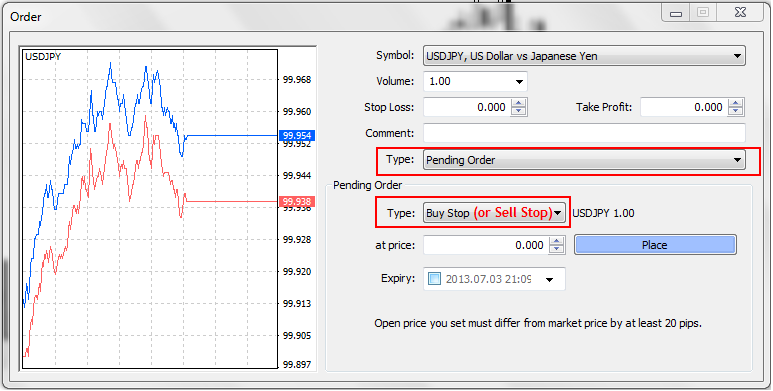 Step 3. Next, you need to select the price you want to enter the market at and the expiry date of the entry order; the expiry date means if the market hasn't filled your order by that date, the order will automatically be cancelled. You also need to decide the volume you will trade (lot size) and put in your stop loss level and profit target, for more on this, checkout this article on how to place stop losses and targets.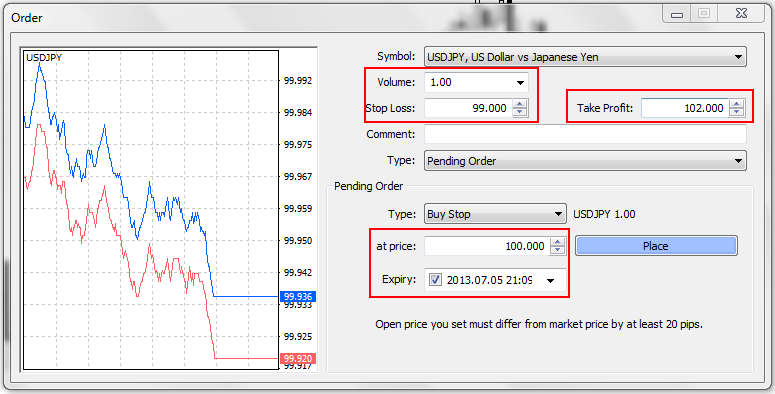 After you place your stop entry order you can see it in the "Terminal" window at the bottom of the MT4 platform. Be sure to either set an "expiry" as explained above, or cancel your pending stop entry order if it doesn't get filled by the day you want. Forgetting about a pending order with no expiry can cause you to enter the market when you aren't expecting to or don't want to, this obviously can result in an unplanned loss.
In closing
Finally, I trust that you've learned some of the advantages of using 'on-stop' entry orders and some new concepts about the MT4 trading platform in today's lesson. All of the 'order-strategies' discussed above are possible on our preferred forex broker's trading platform. This powerful yet simple technology is something that you should take advantage of and hopefully after reading today's lesson you have a better idea of how to do that.
If it's not already clear, you can save time, learn to trade with discipline and take advantage of trading in-line with the current market momentum all just by knowing how to use 'on-stop' entry orders. For more information on how to trade my price action strategies, including using 'on-stop' entry orders and other order types, checkout my trading course and members community.
Related Articles:
SEPTEMBER SPECIAL:

Save 70% Off Nial Fuller's Pro Trading Course (Ends Sep 30th) - Learn More Here