Price Action Trend Trading with Gold
Summary: This article covers some important lessons and information about trading gold with price action as well as a good background on gold and what's currently going on in that market. It will then explore the price action setups and patterns which have been forming on the daily chart and how profitable these setups have been for traders. Not all traders look at gold, but it is certainly time for you to start looking given the positive expectancy of the price action setups unfolding  in the recent past, we are in a "hot winning streak" so to speak, with plenty of setups producing significant gains on the upside. Enjoy the article..and please remember to comment after reading.
Gold is the universal currency. In our current times of global economic uncertainty, savvy investors are bidding gold higher and higher, looking at a weekly gold chart it is readily apparent that this most precious of metals has been in a bull trend since around the middle of 2009, if not earlier. Many investors around the world are losing faith in governments that take on more debt than they can possibly repay within a reasonable period of time. The safe haven of the U.S. dollar is not as safe as it once was and the Euro is experiencing many troubles of its own with the continuing Euro-zone debt saga.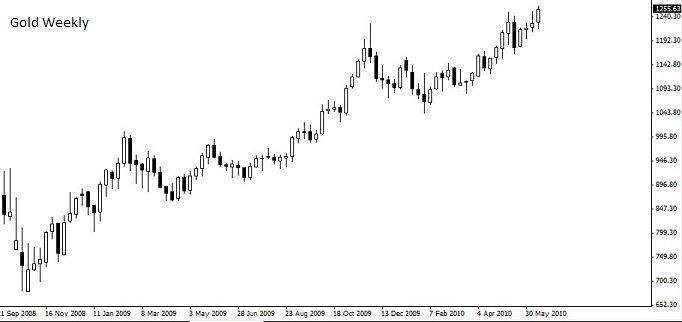 "Given that gold is an international store of value, its price in dollars should be inversely related to the value of the Dollar," says Nic Brown's analysis team at Natixis. "So conditions must be extreme to push the correlation so far into positive territory."
One week before the G-20 group of leading economies meets in Toronto, "Economic policy around the world has taken a major wrong turn, and the odds of a prolonged slump are rising by the day," says Nobel prize-winner, Princeton economist and New York Times columnist Paul Krugman.
The current financial environment of volatility and see-sawing market conditions carries with it a double – impact of bullish fundamental forces on the price of gold. On the one hand, when we get big sell-offs in equities as we have seen recently it injects fear into financial markets and sends people flocking to gold due to its reputation as a safe alternative to almost any other investment vehicle during these times of risk aversion. On the other hand, when we see the strong bear-market counter trend rallies that we have also seen lately, it works to weaken the U.S. dollar and this also bolsters the price of gold. Essentially what we are seeing right now is the very desirable conditions of both the fundamental and technical pictures for gold lining up nicely to allow a very strong up trend to develop.
One of the simplest ways for traders or investors to take part of this intense gold up trend is to let price action be their guide. In taking a look at the daily chart of gold, we can see numerous price action strategies that occurred in the context of this trending market that nearly all worked out as great entry points. Notice in this chart below how accurate price action can be and the frequency with which it provides high probability entry signals. By no means are we suggesting traders should have or could have taken all of these entries. But when you combine such high probability entry strategies with a sound money management plan, including a profit taking strategy, it would be very hard too not profit consistently in strongly trending markets like we are currently seeing in gold.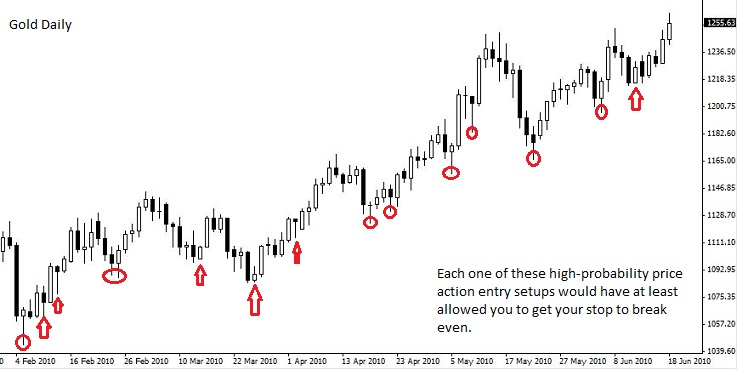 Notice how there is no messy indicators on the above chart. If you had been trading an indicator based method with oscillators like stochastics or RSI, you would have seen numerous sell signals throughout the course of this recent gold uptrend. The problem with such methods as well as software trading "robots" is that they cannot really discriminate between varying market conditions. This is where the human factor comes into play, you need to use your human discretion and chart reading skill to identify trending markets from sideways markets, and volatile markets from calm.
The fact that price action setups allow you to make sense of and trade off a raw or "naked" price chart means that you don't have to endure any of the confusion of trying to interpret numerous lagging indicators. People get stuck in the habit of blindly taking every buy or sell signal that their indicator based system or trading robot gives them. This is simply not conducive to successful long term trading because of the fact that a certain amount of discretion is necessary to filter out the good setups from the bad.
Trading off of price action setups is a great way to obtain high probability entries into trending OR consolidating market conditions. The best part about using price action is there is no "lag" as with indicator based methods. When you see a pin bar, inside bar, or other price action setup you simply take the setup in the direction of the dominant market momentum and then sit back, set it and forget it, and let the market do the rest of the work. Too many traders take the opposite approach; they end up over analyzing their charts and various economic indicators to the point of exhaustion and mess around with their stops and targets while their trade is underway. This is the exact opposite approach to successful long-term trading. You will find the clarifying power of price action trading to be the breath of fresh air you have been looking for in the markets. The truth of trading that no one ever wants to admit is that there simply is no easy path to becoming consistently profitable. The most efficient and effective route is learning to trade off of a completely raw price chart by identifying simple price action setups like those in the daily gold chart above.
Let's look at one more example of some of the price action that has occurred on the recent daily gold chart, this time examining risk reward scenarios that you could have taken advantage of.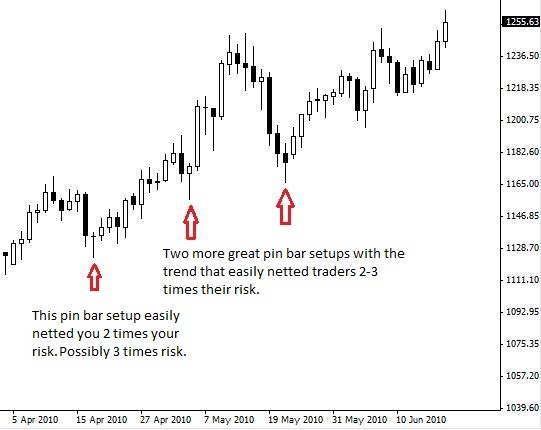 And some Very Recent Examples :
The current chart showing 2 pin bars in a row , with the second pin bar retracing the first to provide an entry and then prices rallying strongly into the close.There is still a good chance for a move to the upside given the recent success of similar signals. Sure I could be wrong, but if history repeats, we should see some upward movement of some form in the near future.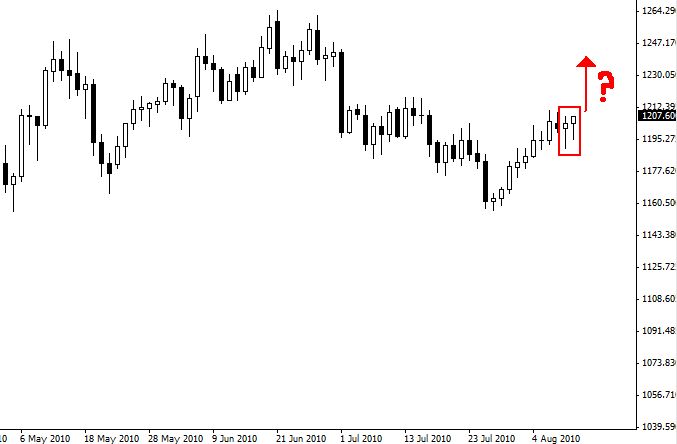 Lessons to learn from this price action educational article:
• Gold is a bull force to be reckoned with right now, when a market is in a strong trend there will naturally be many great entry points. Price action setups can provide a plethora of accurate and non-lagging entries into such trends.
• Human discretion plays a big role in trading success, despite what internet marketers want you to believe, rigid trading "robot" and lagging indicator systems will never make you a consistently profitable trader. You need to get an education in price dynamics and "naked" price chart reading to develop your discretionary trading skills.
• There is simply no need to cloud up your charts with lagging indicators when mastering a few simple price action setups is much more accurate, effective, efficient, and stress free.
• When fundamental AND technical forces are in alignment, as with the current situation in gold, price action traders have an extremely valuable opportunity because trading with price action allows for much more accurate entries than other methods as well as providing traders with a "set and forget" style of trading when used in combination with simple risk to reward scenarios.
Nial Fuller is considered a leading 'Authority' on Price Action Forex trading strategies. If you want to learn more about harnessing the power and simplicity of Price Action Trading Strategies please visit Nial Fuller's Forex Trading Course & Traders Community Page Here. Nial's Students get lifetime access to all of his advanced price action Forex Courses, video lessons, webinar tutorials, daily trade setups newsletter, live trade setups discussion forum, traders support line & free ongoing course updates. For more information visit the Forex Course page here.
BLACK FRIDAY SPECIAL:

Save 70% Off Nial Fuller's Pro Trading Course (Ends Nov 30th) - Learn More Here