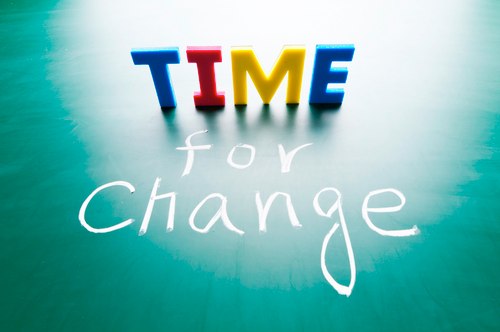 Today's article is going to be a little different. I'm going to get 'personal' with you guys today and help you honestly decide if your current trading method is actually working for you OR…if it's well and truly time for you to reconsider your trading approach and change your current beliefs. For some of you, this lesson could be the turning point in your trading career. It's my goal to help you avoid mental and financial destruction.
I've been running Learn To Trade The Market for over 5 years now, and sometimes it's easy for me to forget that many traders who read this blog are not necessarily 'sold' on our way of thinking , nor are they even following the strategies and philosophies taught here. Some of you are new to trading and some of you haven't traded on a live account yet, whereas some of you have been trading for a while and are still quite lost on your trading journey.
My trading methods are for people who are really passionate about trading and who will still be here in 10 years…we can't help everyone, especially those with unrealistic expectations of what trading can provide for them. However, if what you're doing now is not working for you after genuine research, study and commitment, and it's just confusing you, frustrating you and doesn't really seem logical, then I would like take this opportunity to ask you to potentially change your way of thinking and convert yourself into a different kind of trader…
Commitment can work for or against you

You might be reading this blog regularly, but you might also feel committed to another trading strategy or idea or sold into a different way of thinking about the market, and I guess not all of you are going to take my word for it that price action trading and the simplified trading approach that we believe in, can work for you.
Some of the most ridiculous methods that you might have been exposed to in your trading career so far include, Elliot wave, Fibonacci, Indicators that just move up and down with price (really what's the point?!), Harmonics, Fractals, Stochastics, and many more. You don't have to take my word about the ineffectiveness of these haphazard trading methods, but come back to me in five years when you're still 'bleeding chips' and let me know how you're doing.
I know that experimenting with different trading methods and learning which you like and don't like is a natural part of learning to trade, indeed, even I tried my fair share of other methods before I discovered the simplicity and effectiveness of price action. However, what I want you to understand is that you may be at a point where changing your trading method is the best thing you can do for your trading. We are creatures of habit, and it can be hard to break our habitual trading routines and our commitment to a particular trading method. But you have to sit down and turn off your computer for a moment and really consider if your trading strategy or system might indeed be part of (or most of) the reason you are not making consistent money in the market.
The definition of insanity…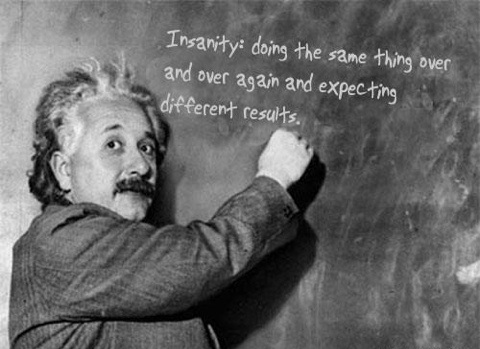 Albert Einstein is famously quoted as saying "Insanity is doing the same thing over and over again and expecting different results."
I am not here to get you to buy anything, and this is not just 'another' trading article…I am trying to get you to think today, long and hard about what it is you are doing in the market and whether or not it is working for you.
Consistency in executing your trading strategy, practice and belief in your method are very important things that are a requirement to trading success, but if you've gotten to a point where you're hitting the proverbial 'brick wall' in your trading…walking in circles or chasing your tail in the market…it clearly means you haven't found the method you should be trading.
The point is this, if you what you're doing is not working then you need to change it. I have been trading price action for 12 years and it works very well for me and thousands of my members. I cannot guarantee that it will work for you (due to differences in each trader's trading mindset) and I'm not saying it's the "Holy Grail" of trading strategies, but I can guarantee that price action trading is simpler and much more logical than any other trading method or system out there.
I'm challenging you…
Today, I am setting up a challenge to any of you reading this. The challenge is simple: Give price action trading two weeks and see if it doesn't make more sense than how you're trading now. Prove me wrong. Read my free trade setups commentary for 2 weeks and then come back to this article and leave me a comment. I want you to prove to me that it's not simpler than Elliot Wave, Stochastics or whatever other "hocus-pocus" method you might have the unfortunate feeling of commitment to right now. Read my free commentary each day, followed by at least one of my trading videos and at least one of my trading articles, then after two weeks of this leave me a comment on this article or send me an email with your thoughts.
Price action trading
Here's a quick list of some of the main reasons why price action trading just makes sense and why you should try it:
1) It's easy to understand and it's simple. Anyone who follows my blog knows that I believe in a minimalist trading approach and that less is more in trading. Price action is the best way to trade in a simple and minimalist manner, there's no mess on your charts, no confusing and contradicting indicators, just raw price action, as natural and organic as trading can be.
2) It works on all time frames. You can use price action on any time frame. I recommend higher time frames like the 4 hour and daily charts, but it can be used on your favorite time frame of choice.
3) It works in all markets. Price action is universal to all markets, I recommend major Forex pairs and the more liquid stock indices and commodities, but you can use price action to trade the markets of your choice.
4) It's the most stress-free way to analyze the charts, and maintaining your composure in the market is a critical component to long-term trading success. If you are constantly frazzled and stressed because you can't easily interpret the trading strategy you are using, this is obviously going to contribute to emotional trading mistakes which are easily avoided by un-complicating your trading method and mindset by using price action.
5) No more trying to line up multiple indicators and figure out what they are saying, once you master price action trading you will know if there's a setup worth trading or not.
6) Price action trading reflects all news reports and fundamental variables that affect a market. Everything that moves a market can be analyzed and made sense of simply by learning to read a market's price action.
7) Price action trading has literally been used since the 1700's when Munehisa Homma first started using candlestick charts to predict rice prices. Many methods and systems have come since then, but price action trading is the only one to have withstood the test of time and still be in use today, there obviously is a reason for this….because it is simple and it works.
8) Even if you don't make price action your primary trading method, you still need to understand what it is and how to use it. Markets at their very core are modes of determining "fair value" for a currency exchange rate, commodity, stock, etc…thus if you do not understand how to read the price changes in a market, you are skipping out on the very foundation of technical analysis and indeed of trading in general. I only trade with price action, but even if you choose not to make it your only trading method, you will need to understand it in order to make whatever method or system you do end up using, better.
I know that not all of you are ready to take it the "next level" and really dig your heels in and learn my advanced price action trading strategies, this is fine. If you feel like you're in this category, then I ask you to keep studying my lessons and get yourself more familiar with the basics of price action trading.
For of those of you who are ready to take action and commit to something new, it's time for you to seriously consider becoming part of our 12,000+ strong members only price action trading community and study the simple yet powerful strategies I teach in my forex trading course.
BLACK FRIDAY SPECIAL:

Save 70% Off Nial Fuller's Pro Trading Course (Ends Nov 30th) - Learn More Here