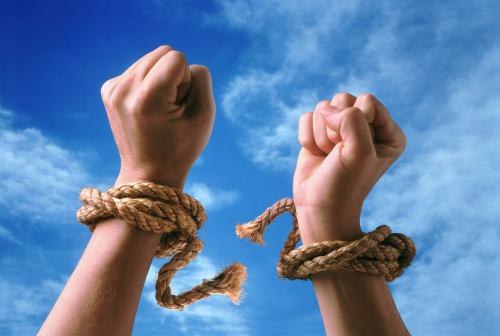 Our beliefs heavily influence how we feel and think about everything in life, and in trading, our beliefs are quite literally what determines our success or failure. Indeed, what we believe about anything, determines how we act and react to it. For example, if you believe flying is "scary" and "unsafe", then you're going to be sweating and clenching your fists while you're flying, even though statistically it is much safer than driving.
In today's lesson, I am going to outline 6 of the most common 'trading account destroying beliefs' that I read regularly on the email support line from traders. These are beliefs that are very limiting and self-destructive and you probably believe at least one or even all of them right now. If you want to move forward in your trading, you're going to have to eliminate these account-destroying trading beliefs, so let's get to work…
1) "Trading is my last hope, I am desperate to make this work"
If you currently believe something along the lines of "trading is my only option for success or happiness in life", then you are probably never going to make any serious money as a trader. A person with a 'desperate' trading mindset, who believes that trading is their last hope for financial success or attainting their dreams, is starting off with the wrong attitude and outlook.
Whilst it might seem a little bit 'unfair' and perhaps frustrating to some, it is almost impossible to become a successful trader if you have a lot of internal anxiety and anticipation to make money in the market. People who are relaxed and who do not feel any "need" to make money in the markets are rewarded by this type of disposition. If you do not naturally have this type of disposition then you will probably have to do a little more 'work' to develop it, but do not fear, because you can do it.
The most important thing to understand about this belief is that trading is not your 'last hope' and you are not 'desperate', if you feel this way then you need to do something to fix it. Put your time into your job, even if you don't like it, make yourself financially secure, because the less you feel like you "need" trading to work out for you, the easier it will become to make money at it. It sounds like a paradox, because it is, but it's one you have to deal with and conquer if you want to become successful trader.
2) "I need to win THIS TRADE"
From the emails I get and the traders that I help on a regular basis, I know that one of the most prevalent beliefs that holds traders back is believing that every trade should or needs to be a winner. Traders put FAR too much emphasis on any one trade they take, forgetting or being unaware of the FACT that their trading edge has a random distribution of winners and losers and thus ANY one trade has basically an equal chance of being a winner or a loser. Don't mistake this for meaning that your trading strategy is only a gamble. The difference is that your trading edge takes a SERIES of trades to play out, but no individual trade can really be said to have a 60% win percentage for example, even if your overall trading edge does.
If you can detach yourself from the feeling of needing to win on every trade, it will help you unlock your true trading potential. Some professional traders might have more losers than winners, but the key is that they might have a lot of little losing trades complemented by some much larger winning trades that more than offset their losers. They are able to take more losing trades than winners because they do not get attached to any one position, if a trade is not doing what they think it should be doing, based on their finely tuned discretionary trading sense, they have no problem closing it out for a 1R or less, loss. They know that it's only a matter of time before their trading edge hits upon a nice winner that will make them some serious coin for the month. In other words, they are using logic and knowledge to overcome the temptation to become emotional about any one trade that they take, they have no emotional attachment to their trades.
To clarify, I am not saying you should enter a lot of trades or that pro trader always enters a lot of trades. However, it is not uncommon for a professional trader to lose a higher percentage of trades than he or she wins, but it does not matter because they keep their losers small and they are totally fine with swallowing losses as they wait for a winner to hit.
3) "Trading will fix all my financial problems"
Many traders come into the market with a ton of debt, a job they are trying to escape from and a dream of making millions in the market in what is an unrealistic amount of time. In other words, they think trading is going to fix all their financial problems, and this is yet another erroneous and self-limiting belief you will need to eradicate before you move forward in your trading.
As mentioned in point 1 above; you need to already be financially secure before you start trading a live account. That doesn't mean you have to be rich or even "well-off", it just means that if you are drowning in debt and you have $1,000 to your name, then you should clearly not be risking any money in the market. People in this type of situation can still learn how to trade and practice on demo, but you have to gauge your current personal financial situation and be realistic about when you should start trading live. You cannot put all your eggs in the trading basket and hope to get lucky, because luck runs out very fast in the market. You cannot rely on "luck" to make you a professional trader.
I get emails from people almost every day who clearly should NOT be trading live, but they do anyways. They think if they can "just" build their account up a little bit then they will be safe. They think "I'll build my account up a little and THEN I'll start managing my risk better and following a trading plan", etc etc. All of these things result from starting to trade live when you are not financially secure enough to do so. So, don't believe trading is a "fix-all" for your finances, because it is not. Think of it more as a complement to your current job and a tool to use to supplement your income and then later, potentially replace it. However, you need to already be at a certain baseline starting point to have a chance at really propelling yourself up and into a consistently profitable trader.
4) "I need to build my trading account really fast"
No you don't, you need to learn how to trade properly first. It could take you 5 years to build your account up to a level that you are happy with, but if you try to rush it, you will only push yourself further back from your goal. Traders who try to "rush" the account-building process by trading too frequently and risking too much per trade, inevitably end up losing significant amounts of money and thus putting themselves much further behind.
A quote from professional trader Marty Schwartz in my Market Wizards article sums it up best, "Also, don't increase your position size until you have doubled or tripled your capital. Most people make the mistake of increasing their bets as soon as they start making money. That is a quick way to get wiped out."
5) "I'll start trading with discipline and patience AFTER I build up my trading account"
I know that many beginning and struggling traders think they will "skip" the hard parts of trading, like being disciplined and patient, and then LATER come back to them after they've made XYZ amount of money. Unfortunately, this is just hope and greed getting the best of you and this type of thinking only ever leads to one thing; losing money.
It's similar to working out and eating healthy, in that the longer you put it off, the harder it becomes. People who say they will do something "later" or when "XYZ" happens, often never do it. Just do it NOW if you know what needs to be done. There are no "short-cuts" in trading, just like most other things in life. The more you "suck it up" and do the hard work now, the easier it will become and will continue to be as your trading career progresses. You have to ignore the near-term temptation to over-trade and risk more than you know you should for the longer-term reward of consistently profitable trading.
6) "More trades means more opportunities to make money"
Another extremely dangerous belief that I know many traders hold, is that they will somehow make more money if they trade more frequently. I've realized over the years that over-trading is the most widespread mistake amongst traders, and it's also the most "in-disguise" mistake that traders make. What I mean by "in-disguise" is that very often a trader is over-trading and isn't even aware that they are doing it. This is because many traders become convinced that more trades equals more opportunities, however, what they forget about is that not all trading opportunities are created equal.
The way that I trade and the way I teach my members to trade is essentially to look for high-quality / high-probability price action trade setups and to sit on your hands when none are present, in other words, quality over quantity. I have personally been trading this way most of my trading career and it has worked very well for me and for other successful traders that I know.
There are essentially two paths that people go down as they learn how to trade; they can either work to become a skilled trader with a finely tuned discretionary trading sense, or they can decide to just gamble their money away by constantly being in the market and over-trading. The market is like a blank slate that provides equal opportunities for any participant, it is your job to spot opportunities (trades) worth betting your hard-earned money on and sitting on the sidelines for those that are lower-quality. You need to lose the belief that more opportunities equals more profits, because in trading this is not the case. The word "opportunity" often gets misused by traders, just because you CAN enter the market on a 30 minute trade setup for example, does not necessarily mean that you SHOULD, and although you might consider such a setup an "opportunity", there will be far better trading opportunities on the higher time frames or on a different day, you just to have patience.
If you'd like to learn more about how to develop constructive trading beliefs and how to find high-probability trading opportunities, checkout my forex trading course for more information.
BLACK FRIDAY SPECIAL:

Save 70% Off Nial Fuller's Pro Trading Course (Ends Nov 30th) - Learn More Here