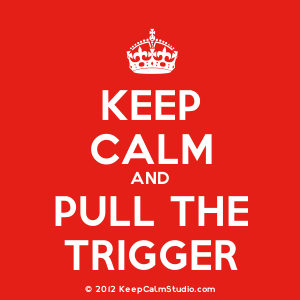 Does the following trading scenario sound familiar to you?…
A market has broken up through a level and starts trending aggressively, starting to gain a lot of momentum. Then all of a sudden, you see the market rotate back to a good solid level and then a nice price action signal forms at that level and in-line with trend. However, rather than taking quick action and setting up the trade, you just stare at it blankly, like a 'deer caught in the headlights', unable to take action. You think to yourself something like: "I'll let the market run its course because I don't think it can possibly keep going with how far it's already moved, I'm not going to get in here" etc.
Not long after this 'deer in the headlights' moment, the market continues on its way without you on board. You feel anger, frustration and generally like you want to punch your computer screen into a thousand pieces.
Let me tell you, the above scenario is something many traders experience and today I want to talk about some similar scenarios you might find yourself in and give you the solution to avoid them in the future…
The 'deer in headlights' trading problem…
Many beginning and even some experienced traders are sometimes faced with fear of pulling the trigger on trades. What can you do to overcome this fear and move forward in your trading?
First, let's discuss what tends to happen to traders who face this problem…
Trading can be difficult because each trade and market scenario is going to be unique. Indeed, as the late great Mark Douglas said in Trading in the Zone: "No two moments in the market are ever exactly the same". As a result, traders often hesitate or are confused as to whether or not "this signal" is one worth trading or not.
We tend to think ourselves right out of perfectly good trades sometimes…
How often have you seen a dead obvious trade signal and you just stared at it instead of entering it and then it comes off in your favor as you continue to stare in disbelief that you didn't enter it??
Trending markets are often so blatantly obvious that we can't believe the market will continue. Indeed, one of the biggest problems people have is they think something like "Oh this market has fallen (or risen) so far in this short space of time it can't possibly go any further", I have even been guilty of thinking like this in the past. Essentially, we are presented with beautiful evidence that it can go further, in the form of a strong trending move, but we convince ourselves that it can't. This is classic over-thinking / over-analysis / analysis-paralysis, call it what you want.
I have even recently been noticing that in aggressively moving markets, pullbacks / retraces tend to not be very deep or significant. When the market is moving, we need to find an entry point to take advantage of those big market moves, we don't want to be constantly waiting for a pullback that never comes.  Of course, this involves developing your trading skill and gut feel so that you can know when a market is trending aggressively and when it's not.
Another common scenario of the 'deer in headlights' syndrome is when we see a level holding firmly as price tests it but we begin believing it won't hold when we are about to trade. We think "Oh watch, now it won't hold for my trade" etc. So, we sit out and then of course the market turns on a dime at that level we planned to trade at, without us on board again. Frustrating, to say the least.
It's after going through these various scenarios that the hindsight trade mentality then takes over. We get confident based on these trades we analyzed but didn't take and then the next time around we do take a similar trade but if it's a trade that loses, we then destroy ourselves mentally. You can see how this becomes a vicious mental circle where you see a trade work out that you hesitated on, then take a similar trade and it fails, then you start getting mad / over-trading etc.
The key here is that if we had traded both setups (the one we hesitated on that would have been a winner and the next one that failed), we would now be in the money if we had a 2 to 1 winner and then the one loser.
Here's a classic example of a recent move that many traders probably hesitated on…
Notice in the AUDUSD daily chart below that the market had been in an uptrend before reversing and pulling back nearly 300 pips at the end of April. People didn't want to believe that the trend had turned, they thought "oh it can't fall any further, it's fallen 300 pips in a pretty short time…". Then, what happened? The market promptly fell another 300 pips, with none of those people on board…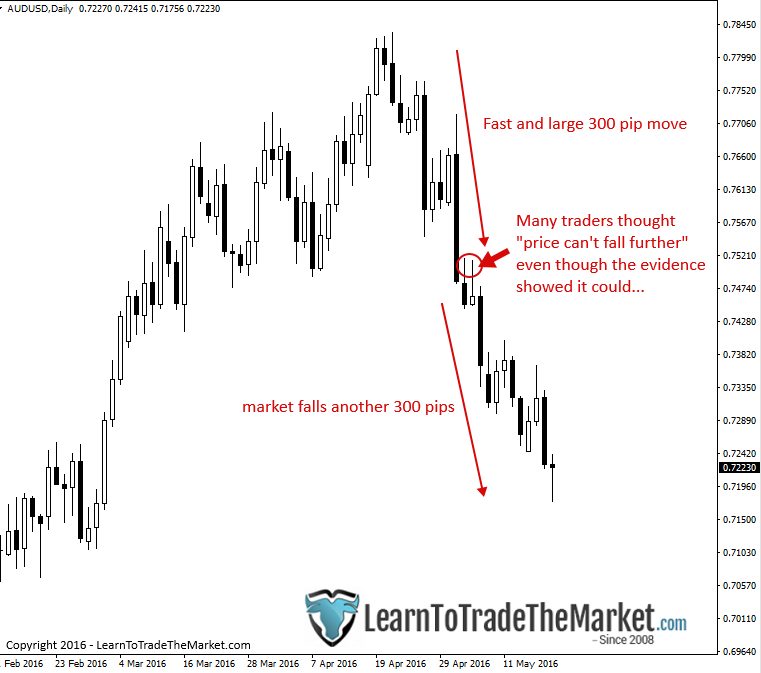 Here's another trade from the same move in the AUDUSD, this one I actually traded myself…
After nearly a 600 pip move to the downside, most people were trying to pick the bottom, they figured it can't fall anymore. Why was this wrong? Well, it's simple; the price action evidence on the chart was still very bearish and there was plenty of room for price to keep falling. These are the types of trades people look at it and think "it can't go any further", but then it does…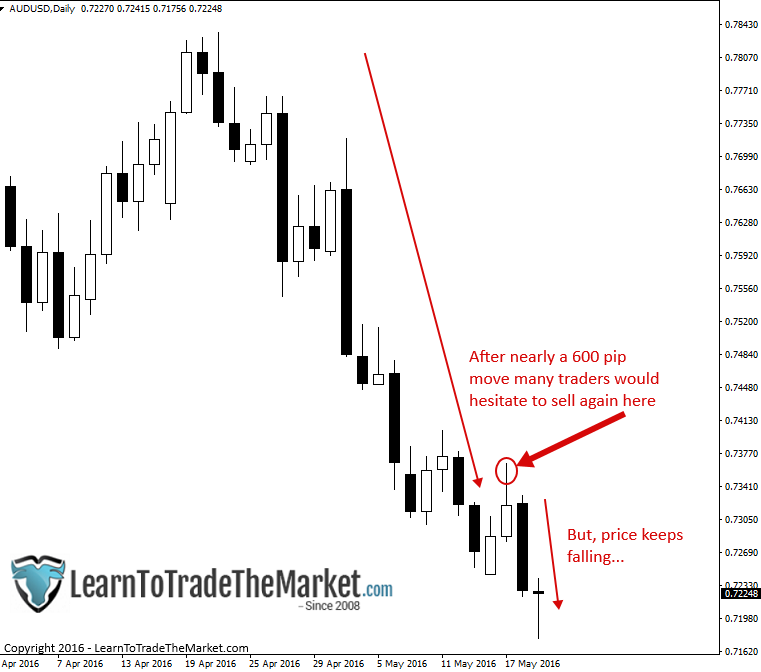 The solutions to the dear in the headlights problem…
Understand trading is a game of probabilities – You need to take every instance of your trading edge and not hesitate. If you hesitate on a perfectly good signal, it will throw off your whole trading mindset and rhythm because if you then take a trade that loses you will start to doubt yourself and your method. You need to always remember that we are trading probabilities, not certainties and that any single trade has essentially a random expectation, it's the overall strategy when traded consistently over time that gives you a high-probability edge.
Next time you see something, act on it – Pretty simple. Not to be crude, but you have to have 'balls' if you want to be a trader. If you're going to hesitate and be afraid to take perfectly good setups, don't try to be a trader. Lowering your risk to a dollar amount that you are OK with losing will also help you to have less fear of a trade losing, which should help you eliminate the hesitation / fear factor.
Markets often move further than we think – Remember, markets often move further than you think they will. So, don't over-think the situation; if you see a strong trend, assume it will keep going until it shows you otherwise…. instead of assuming it will end all the time with no evidence that it will. Don't convince yourself of things without price-based evidence.
Study, know what to look for – Of course, if you haven't learned how to trade properly and you don't know what you're trading edge or entry signal(s) is, you are going to hesitate and be fearful simply because you don't really know what you're doing. Take my trading course, learn how to trade properly, don't let fear rule you; the only solution to fear is knowledge. People are afraid of what they don't understand.
Conclusion
In regards to the two trade examples above, these types of trades may take a few days or even more to work out. Don't sit there checking them all day at work or school or home or wherever. Let the market run its course and don't micro-manage or over-manage your trades by looking at lower time frames than the one you entered on, etc.
This mentality of being disciplined in both when you should trade and when you shouldn't, as well as having discipline to not micro-manage your trades, is the exact mentality that led to my winning a trading competition recently. I saw the signals, I believed in my method and I was aggressive. Had I sat around like a 'deer in headlights', worried about whether "this move will continue or not", I wouldn't have won. I simply had to have discipline, trust my edge and back myself, and that my friends, is the 'formula' for success as a trader.
BLACK FRIDAY SPECIAL:

Save 70% Off Nial Fuller's Pro Trading Course (Ends Nov 30th) - Learn More Here