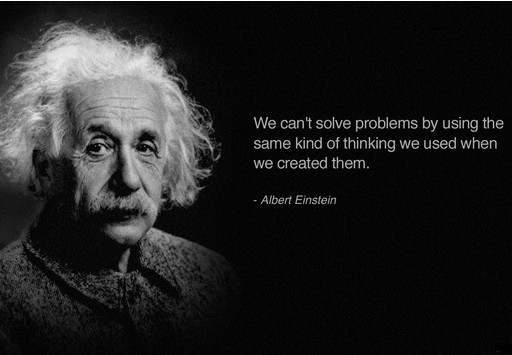 Does it seem relatively easy to get the direction of the market right yet difficult to make money trading it? Today's lesson is the result of not only my decade plus of live account trading experience, but also the numerous emails I get each day from traders asking me things like "why am I not making money trading?". The answer is never extremely simple, but it's often the result of errors in trading psychology that are really pretty easy to fix if you're willing to be honest with yourself and put forth some effort to change.
Some traders jump into the market with little to no training behind them and start trading real money right away and then wonder why they aren't making any money. In this case it's obvious…they need more training. But, what about traders who have been at it for years, and still cannot seem to push their accounts above breakeven?  In this case, the issues are deeper and need more thought and effort to solve.
Reason #1 – You're insane.
Literally, you might be insane in regards to how you trade. According to Einstein's definition of insanity; doing the same thing over and over and expecting different results…you might be an insane trader.
Using the same confusing trading system over and over and trying to "make it work" is something that most traders do at some point in their careers. Some traders even get stuck in a very long cycle of trying to make an ineffective or overly-complicated trading method work. I am not by any means saying that the particular trading method you are using is the main reason you are not making money in the markets, because you all know that I talk extensively about the large role played by trader psychology and money management. But, if you are using a ton of indicators, a mechanical robot trading system, or some other overly-complicated method, you should probably consider a change because these approaches will have a negative effect on your trading mindset and (or) lose effectiveness as market conditions change. A trading method like price action, has no negative effect on your trading psychology and will not become less effective over time.
Traders tend to get stuck in routines of doing the same ineffective things over and over while constantly hoping that they will "somehow" start making money in the markets. Unfortunately, that's not how it works. You have to put some time, effort and energy into trading if you want to become profitable. This means, getting up off your butt and making a trading plan, even if you don't know exactly how to make one, just try. Sit down at your computer or get out a notebook and start writing down everything you think you should include in your trading plan. This trading plan is something you can refine and tweak later on, it doesn't have to be the "perfect" trading plan right out of the gate, they never are.
The point I am trying to get across to you is that you need to TAKE ACTION if you are not making any money trading. You sure as hell aren't going to just "magically" start trading successfully just because you want it to happen. Just wanting to be a successful trader is not enough, but sadly many traders seem to think it is, or they behave as if it is enough. You've got to put time and energy into seeking out the best Forex trading strategy for you and forging a solid trading plan from it. This also goes for having a trading journal, and using it. A large percentage of becoming a successful trader is the result of just consciously making an effort to do the things you know you should do but aren't yet doing for some reason.
Reason #2 – You're addicted to the "Dark Side"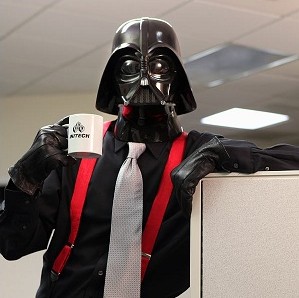 Us men know all too well about how some women like "bad boys"…as humans we tend to enter into self-defeating addictions for ourselves simply because they feel good in the moment, even if logically, emotionally, and even financially they are very bad for us. As traders we are guilty of this too, we get stuck in a cycle of bad habits because they tend to reinforce themselves into our psyche.
There's a good chance that you're not making money in the markets mainly because you have bad trading habits. Long-term consistent trading success is really only possible if you develop and maintain the proper habits as a trader. Essentially, this means the difference between traders versus gamblers. Gamblers tend to have no real trading plan; they are what I call "machine gunners" because they will trade for any reason (over-trading), constantly chasing after that next "big winner" after having hit a few in the past as a result of getting lucky. Traders know they don't need to rely on luck, because they trust in their edge and they understand they need to be consistent and disciplined and let their trading edge play out over a series of trades. Trading in this consistent and disciplined manner might not be as exciting in the moment as being a machine-gun trader, but I can assure you over the long-term it's a lot more exciting because it means profitable trading and calm nerves.
Gambling traders get stuck in a cycle of bad trading habits because they will probably hit a few nice winners here and there just out of pure luck. These winners work to reinforce their bad habits, and they begin to think that what they are doing is working for them, even though they are losing overall. The gambling mentality is that the "next big one" is "just around the corner", whether it's at the slot machine, the roulette wheel, or trading the markets, it's a mentality that you have to eliminate if you want to be a calm, confident, and successful trader. Note: I am not equating trading to gambling, but I AM saying that if you don't take a balanced and logical approach to trading, you can essentially end up gambling your money in the markets.
Just like anything else in life, the more you do something the better at it you become, and the more likely you are to continue doing it. This is true for both positive and negative things. In trading, the more you continue trading with poor habits, the more likely you are to fall deeper into a cycle of self-defeating trading. This means, you do things like trade way too much, risk way too much per trade, trading without a plan, etc. The more you do these things the more likely you are to continue doing them. Eventually, you need to make a conscious decision to change your bad trading habits, or you are just going to continue losing money.
Reason #3 – You're trying too hard
Trading is one of the few professions where trying too hard and putting in increasing amounts of time and energy can work against you. You need to realize this sooner rather than later and develop a trading plan that takes this fact into account. Forget about all the bullshit news reports, indicators, and analyzing the charts all night when you should be sleeping. Instead, why not just take a simple and logical approach and try trading in an end of day manner?
Once you learn your strategy and master it, there's no sense in sitting in front of your computer all night trying to force a trade. Either there's a trade that meets your trading edge specifications, or there's not, it really is as simple as that. When you trade in an end of day manner, you simply analyze the daily charts once or twice a day when it's convenient for you. I still to this day take probably 80% of my trades off the daily charts, and the rest are off the 4 hour. I am not sitting at my computer all day searching for a trade. I quickly check the markets two or three times a day for maybe 10 to 15 minutes each time, and if I don't see a trade I get on with my life…but I don't sit there and try to manifest a signal just because I "want" to trade. You have to reach the point where you really don't care if you go 3 or 4 days or even a week or two without entering one trade, then you will begin to see what trading like a sniper is all about.
Ironically, you could be having a hard time making money in the markets because you feel like you "need" to make money in the markets. Don't confuse this with being a passionate trader, because they really are two different things. Someone who feels a "need" to make money in the markets is probably putting too much pressure on themselves because they are risking money they really can't afford to lose or because they feel like trading is their only way to be happy. You have to eliminate these emotions if you want to make money as a trader.
Feeling a "need' or pressure to make money in the markets is something that puts many traders behind right from the start. The more attached you get to each trade you take the less likely you are to make money. To make money as a trader, you have to cultivate a mindset that is carefree yet cautious as you trade. You should not be too worried about any one trade, but you should not be so worry-free that you risk more money than you are OK with losing per trade.
Reason #4 – You give back your profits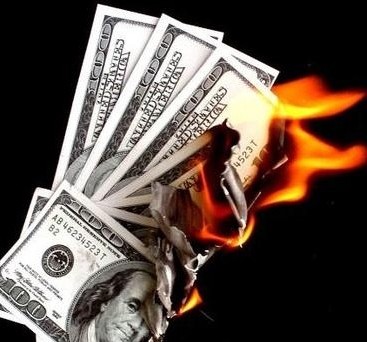 A fact of human psychology as it relates to trading the markets is that people tend to become over-confident after a winning trade or a series of winners. They tend to view the market as less risky than it really is after they win a couple trades and more risky than it really is after they lose a couple. This fact has some profound implications on why you are having a hard time making money in the markets. If you want to read more about this you can checkout a different lesson where I talked more in-depth about over-confidence in trading.
It's good to be confident in your trading strategy and your ability to trade it. But, when we cross the line from confidence into "cockiness", we enter into a world of constantly giving back our profits. I have been guilty of this, and I'm sure you have too. You have a very nice trade that hits your profit target almost exactly, you feel good, the market feels 'easy', you start looking for your next trade right away because you've got a little more money to "throw around" now. Before you know it, you've entered the market on what was not a very good signal and your trade is negative, it continues to go against you turning into a loser. After it's over, you think to yourself, "That was a stupid trade and I knew it, why did I enter it?"
You entered it because you became less risk adverse after your previous winner(s); it's something as humans we have to be aware of when trading the markets. The only sure-fire way to avoid falling into this trap is to physically remove yourself from your trading platform for at least 24 hours after your previous trade, that's what I have l found to be effective.
Reason #5 – You put too much focus on every trade
One of the most important things that will help you make money trading the markets is to simply stop acting like every trade is the end of the world. The first way to do this is to be sure you aren't risking too much per trade, this will remove a lot of the emotional attachment you feel to any one trade.
Next, understand that your trading edge is going to bring a random distribution of winners and losers. What does that mean exactly? It means that you never can know for sure which trade will lose and which trade will win, even if your trading edge is very profitable. Thus, there is absolutely NO logical reason to become emotional or attached to any single trade, because you can't possibly know the outcome of that trade before it's finished. Even if a trade looks "perfect", it can still end up a loser, so don't count your chickens before they hatch, and don't crank up your risk on a trade just because it looks like a sure bet.
Once you begin to take on this mindset, and begin to think more about the "forest" and less about each "tree" (see the forest for the trees), you will begin to understand that trading success is the result consistent execution of positive trading habits, week in and week out. This will allow you to give up the feeling of "needing" to make money on every trade that you might feel now, and this is key to making money in the markets.
If you would like to learn more about the concepts discussed in this lesson, check out my price action trading education course.
Good trading, Nial Fuller
SEPTEMBER SPECIAL:

Save 70% Off Nial Fuller's Pro Trading Course (Ends Sep 30th) - Learn More Here