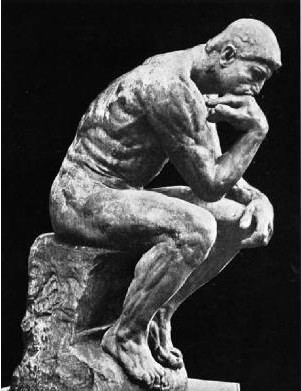 The way that a professional Forex trader thinks about trading the market is quite different from how an amateur trader thinks about it. It is mainly this difference in perspective and psychology that separates winning traders from losers. So, how can you start thinking more like a professional and less like an amateur?…
When you finish reading this lesson, Please Click the Facebook 'Like Button' Below, Make a Comment Below and Post it To Twitter. Thanks for helping share these lessons with your fellow traders.

• Don't make trading more complicated than it really is.
One of the first steps to thinking like a pro trader is to simply remove the clutter from your charts. It never ceases to amaze me how many amateur traders simply will not let go of the Forex indicators or Forex trading robots they are using. These things are unnecessary to become a consistently profitable trader, in fact they will actually induce over-analysis and hesitation, and they will work to create the wrong trading mindset.
Making the process of trading more complicated than it needs to be is one of the most prevalent trading mistakes that amateur traders make. Making consistent money in the markets is not easy, I am not going to lie to you, so don't make it harder than it needs to be by using ineffective and overly-complicated analysis tools like trading robots and tons of indicators. The best analysis tool is, and will always be, simple price action trading strategies, this is because price reflects all market variables and provides us with the most relevant and accurate view of any financial market.
• Stop worrying about the news and fundamentals.
There really is no need to commit too much of your time worrying about or analyzing Forex fundamentals or news. While it is true that these variables are catalysts for price movement, it is also true that it is far more efficient and easier to just learn to read the price action, instead of trying to trade based off news.
Most successful Forex traders are trading very simple technical strategies and are not worried about news events, because they know that any global Forex news event will be reflected via the natural price movement on a plain vanilla price chart. So, if you want to start thinking like a professional Forex trader, spend more time learning to trade based off price action and less time worrying about news events. Price action shows the end result of a news event, and it is this result that matters, not what "might" happen based on something implied by an impending news event.
• Learn to trade higher time frames first.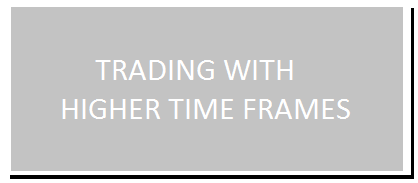 Professional traders know that higher time frames provide a clearer and more useful view of the market. If you want to start thinking like a professional trader, you need to learn from and truly master the higher time frames before you even think about trading lower time frames. Your primary focus should be learning the daily chart first. The weekly chart is a great "helper" chart for longer term trend analysis and market bias, but as a beginning trader it is very important to your psychological development that you learn to trade the daily chart above all else. I still mainly use the daily chart and rarely look at lower time frames other than the 4 hour chart.
Trading higher time frames increases trading success because they work as natural filters; filtering out much of the "random" intra-day price movement that takes place in a market, and providing a much more pertinent view of what is going on. Also, the lower in time frame you go the less reliable and accurate any trade signal becomes, so professional traders take most of their signals off the daily charts because they want to avoid the less accurate trade signals off the lower time frames. This is all part of trading like a "sniper" instead of over-trading like a "machine-gunner"; most amateur traders do the latter instead of the former.

• Avoid becoming emotional.
I have talked about emotional trading mistakes in many of my articles. The truth is that most amateur traders set themselves up to make emotional trading mistakes by doing two basic things wrong. The first thing is that they typically do not manage their money correctly, improper Forex money management typically means you are risking too much, not taking profits when you should, not taking losses when you should, and other similar mistakes. Professional traders realize that they can consciously control their emotions by making sure they properly manage their money. If you do not manage your money properly your emotions are far more likely to get the best of you, so you must make proper money management a habit if you want to avoid becoming an emotional trader.
The next thing that amateurs do wrong which causes them to trade emotionally, is trading way too much. What you need to realize is that trading more is not going to help you achieve your long term trading goals. Most amateur traders are very surprised to learn just how often professional traders actually trade; it is typically a lot less than they think. Most traders go through a process of trying to trade lower time frames and over-trading, then they realize they need to trade less so they go to the higher time frames and still over-trade for a while. It is only after much trial and error that most traders figure out less is more in Forex trading, I am here to tell you that you can avoid most of this trial and error by learning to trade the higher time frames, mastering price action, and being patient.
• Track your trades.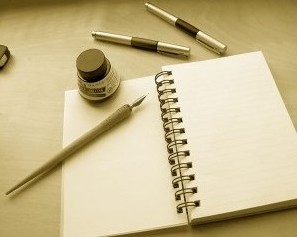 All of the advice in this article will not mean much if you don't follow it; you need some sort of "glue" to keep everything from falling apart every time you open your charts. This "glue" is your Forex trading plan and your Forex trading journal. I will discuss the trading plan in the next section. For now, let's discuss trading journals.
Most traders are not disciplined; this is why they fail, for the most part. You need to create discipline in your trading routine if you want to become a professional trader, this is a prerequisite. After you become consistently profitable your discipline will become a habit and you won't feel as much effort or resistance to discipline as you might early on, but you need to foster it. I have linked you to a very good Forex trading journal; I suggest you start tracking your trades immediately. If you are on a losing streak, start over and begin tracking every trade in that journal while making sure to manage your risk effectively and only trade "sniper-like" price action trade setups. Developing a track record will help keep you accountable and will foster discipline; this will help you to think like a professional Forex trader.

• Develop a routine.
If you don't develop a trading routine you will end up over-analyzing and spending way too much time in front of your computer. Decide before hand that you will learn to trade the daily charts first, then check them each day at around the same time and for the same amount of time. Don't deviate, follow your routine and develop a Forex trading plan around it. Your routine could be to read your trading plan each day just before you check the markets. If there is no valid price action setup, you walk away until the next day. If there is a valid setup, you then go through your trading plan and make sure it meets the criteria. Your trading plan should basically be a series of questions: Is there an obvious and well-defined setup? Is it occurring in a trending or ranging market? Is there confluence? If so what is the confluence? Is a risk: reward of 1:2 realistically attainable? These are the types of questions you should put each potential trade through. Doing this will help you keep your mind in the right place. You will be FAR less likely to get off track and start trading emotionally if you develop a trading routine like this.

• Master an effective trading strategy.
Of course, before you can develop a trading plan and trading routine, you must master an effective trading strategy. The price action strategies that I teach are easy to learn and easy to trade, they are also very effective when used correctly. However, you must REALLY learn to trade them correctly and focus on the daily charts first. Not enough traders do this, and they end up becoming frazzled and emotional. Developing the proper forex trading mindset takes time and work; it is like a garden that needs to be cared for consistently each day, if you stop taking care of it, it will become harder and harder to get it back on track. The clarity and effectiveness that price action trading provides makes it the best trading strategy to develop your Forex trading mindset from and gives you the best opportunity to learn how to think like a professional Forex trader.
BLACK FRIDAY SPECIAL:

Save 70% Off Nial Fuller's Pro Trading Course (Ends Nov 30th) - Learn More Here