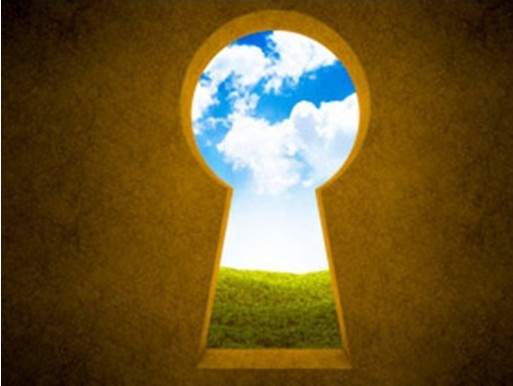 Today's lesson is going to challenge widespread beliefs that most amateur traders have about win percentages in trading and what their relevance is, if anything. You might want to ask for an extra shot of espresso in your coffee before reading today's lesson…
"Winning" and being "right" are typically things that people associate with being profitable and successful. For example, being right a lot at your 9 to 5 job will probably get you a promotion in time, whereas being wrong most of the time probably will not. Thus, given these positive societal connections and beliefs about winning and being right, it's no surprise that most traders associate "winning" and being "right" in the market with being a profitable and successful trader. Conversely, most traders associate "losing" and being "wrong" in the market with losing money and being a "bad" trader. The irony in all of this, is that professional traders have long since figured out that winning, and more specifically their overall win percentage, has almost nothing to do with how profitable or unprofitable they are in the market. If this all sounds confusing or contrary to what you are used to hearing, don't worry, I will clarify these points in the charts and diagrams below. For now, I need you to consider the FACT that it can actually be harmful to your trading psychology and thus to your overall trading performance to focus too much on win percentages and whether or not you were "right" about your last trade(s). Trading is one of the few professions where you can be a net loser and still make a lot of money…thus, winning and losing percentages are almost totally irrelevant in the trading world.
How you can lose money while winning 90% of your trades
I get a lot of emails from traders asking about win rates and what the overall winning percentage is of my price action strategies. My response to these questions is always the same; it varies and it doesn't really matter anyways. I'll admit, if you've gotten this type of response from me you might have been confused as to why I would say that, because surely winning percentage has a direct impact on how profitable we are as traders…or does it? I'd like you to take a look at the spreadsheet below. Upon examining it, you will see that a trader who takes relatively small winners compared to his or her losers can actually still lose money even with a win rate of 90%. Unfortunately, for many traders, the results below are all too familiar; they give back all their smaller winners by letting a couple losers get out of control. In the example image below, we can see that even with a 90% winning percentage, a trader can still lose money if they take losses that are too large relative to their winners: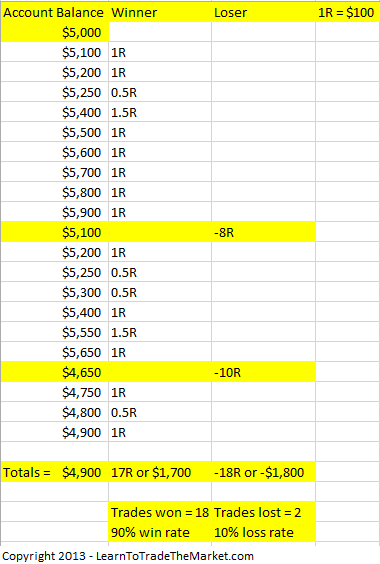 The main takeaway from the spreadsheet above is that a high winning percentage combined with even one or two draw-downs that are much larger than your winners, will kill your trading account, not to mention your trading mindset and overall confidence.
How you can make a lot of money winning just 30% of your trades
Now that you've seen how you can actually lose money by winning most of your trades, let's look at how you can make money by losing most of your trades, to further hammer-home the point that winning percentages are irrelevant. The first thing you should notice in the spreadsheet example below is that the losing trades were all constant at -1R (R = your per-trade dollar risk amount) and the winning trades were all larger than 1R. The next thing you'll notice is that there were a lot more losing trades than winning trades. Finally, you'll notice that even though 70% of the trades were losers and only 30% were winners, the account still made a solid 12% profit over the series ($600 profit is 12% of $5,000 starting balance). In the example image below, we can see that even with a 30% winning percentage, a trader can still make a very good amount of money over a series of trades if they are managing their risk and reward properly: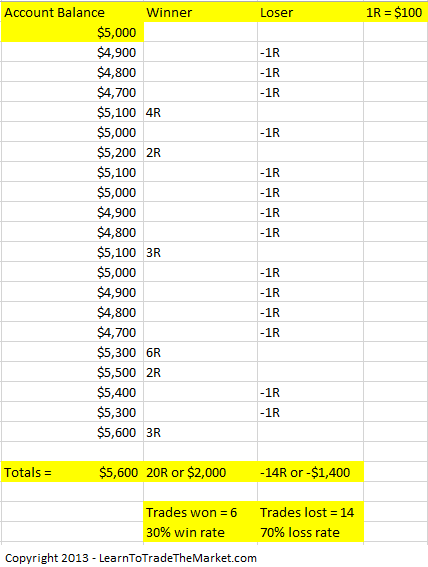 The main takeaway from the spreadsheet above is that a low winning percentage can still make you a significant amount of money if you are managing your losers consistently and manage to make 2 times your risk or more on your winners. Furthermore, a low strike rate (win percentage) can work just fine and is more realistic in the long-run than trying to win a very high percentage of your trades. From the two example spreadsheets above, it's obvious that winning percentage is not very relevant, if at all. The first example showed how you can lose money even on a 90% win rate and the second example showed how you can make money even on a 30% win rate. Hopefully, by studying these examples you will begin to let go of your ego and realize that being "right" on the majority of your trades doesn't really matter, what matters is keeping your losers contained and getting the most out of your winners. You can significantly increase your odds of getting the most out of your winners by trading like a sniper via mastering your trading strategy…this will give you the ability to pick higher-probability trade setups.
Real-world examples of why winning percentage is irrelevant
In order to see how this concept of winning percentages being irrelevant plays out in real-world trading scenarios, let's look at some examples of trades that occurred over the last few months: In the example below, a pin bar signal formed showing rejection of support within the recent GBPJPY uptrend. The market subsequently shot higher providing traders with an easy 4 to 1 or more winner if they entered on a retrace at the pin bar 50% level: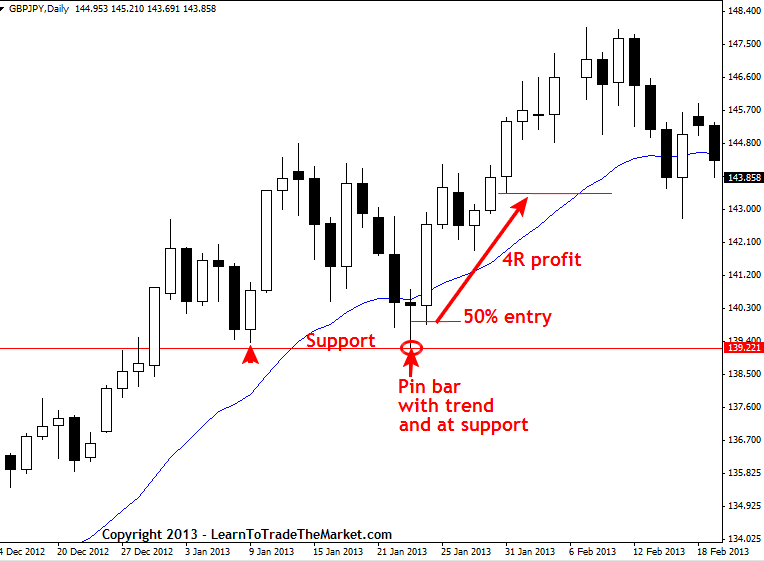 In the example below, we see a counter-trend pin bar setup on the GBPUSD that would have resulted in a 1R loss. It's important to keep all losses contained below a certain dollar amount. So, if you're 1R number is $100 per trade, you make sure you NEVER take a loss greater than $100 per trade. We saw in the example spreadsheets above how easily a couple big losing trades can ruin your trading account…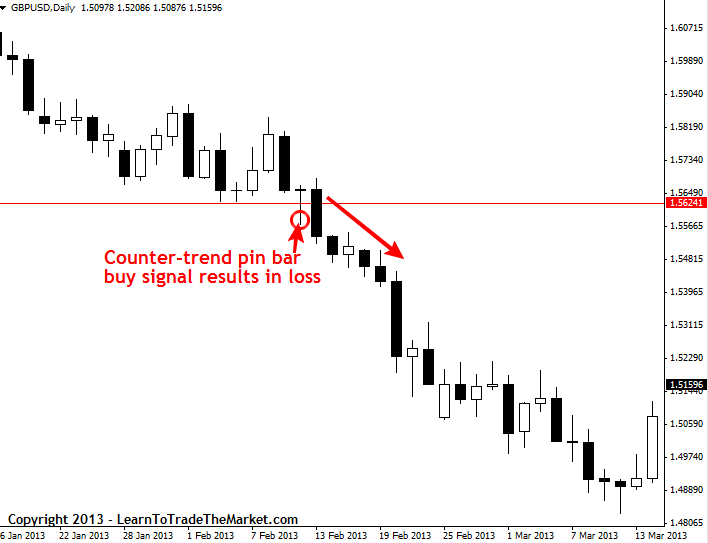 In the example below, we see a pin bar buy signal that formed recently in the EURJPY. This pin bar setup was in-line with the underlying uptrend and showing rejection of an important near-term support level, but the setup still failed. It just goes to show that any setup can fail, and this is why we need to learn to accept losses as part of being a trader and learn to manage and contain them properly: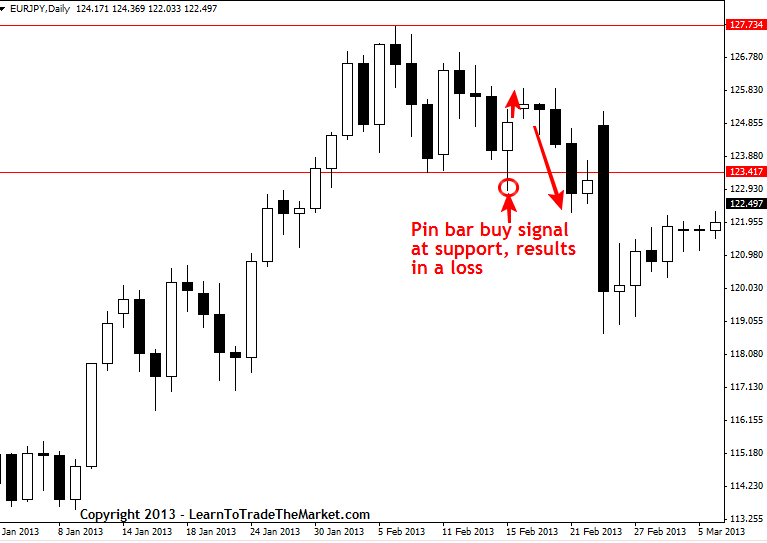 In the example below, we see a fakey pin bar combo trade setup that resulted in a 1R loss.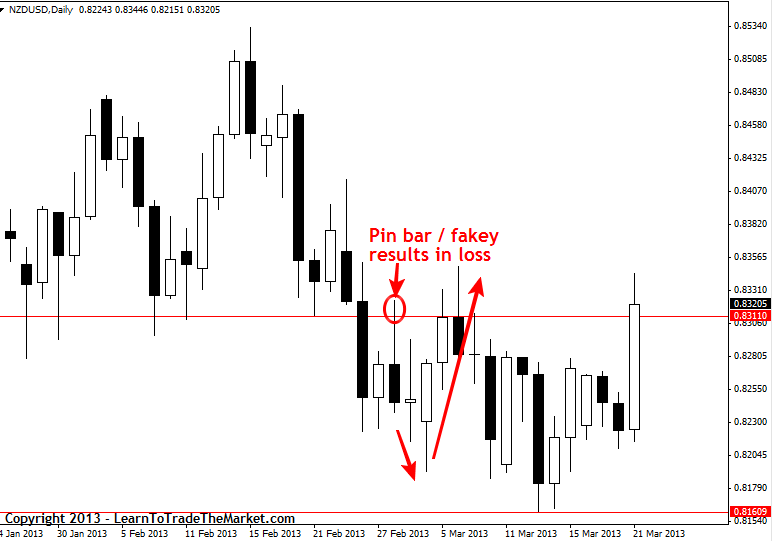 In the example below, we see the recent long-tailed pin bar reversal setup from key support that formed on the daily AUDUSD chart. For those of you who missed it, we've been discussing this setup in our recent AUDUSD commentaries and the market has now provided at least a 2 to 1 winner from that setup. If you placed your stop near the pin bar 50% level, a 3 to 1 or 4 to 1 winner was possible by now. These types of obvious price action setups from key levels are what you need to watch for…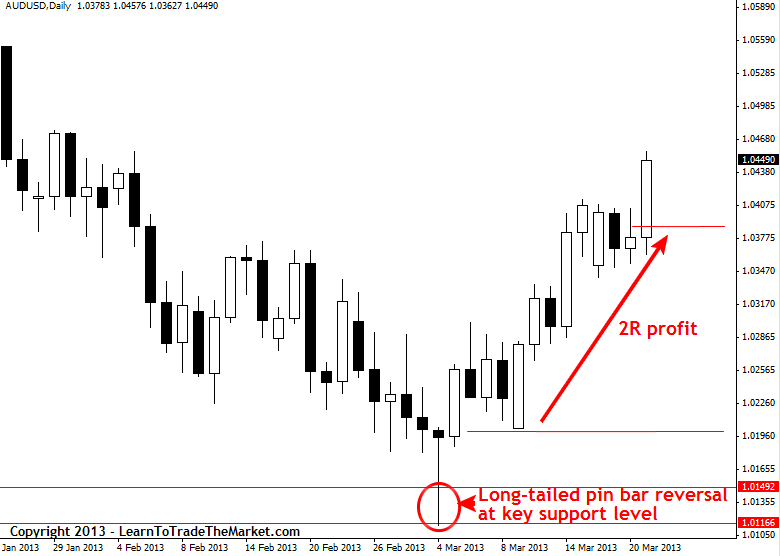 In the example below, we see a 4 hour USDJPY pin bar trade that may have resulted in a 1R loss. Most traders probably would have exited around breakeven before the trade hit their stop loss on this one, but just for the sake of example we will count it as a loss.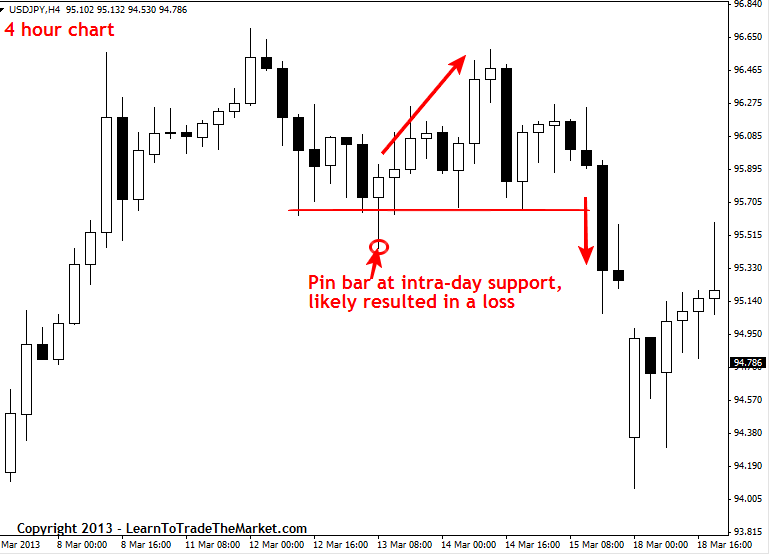 In the example below, we see a recent 4 hour EURUSD pin bar buy signal that resulted in another 1R loss.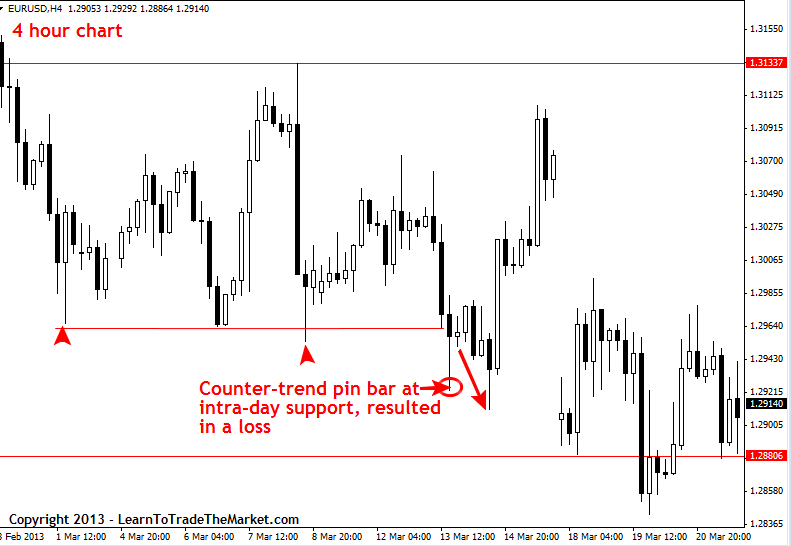 Trading results: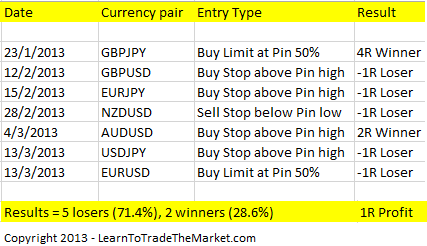 From the results above, we can see that even though we only had a 28.6% winning percentage, we still made a profit. Whilst 1R is not a huge profit..it's only from a series of 7 trades, and over a larger series of trades the profit would obviously be more. Also, these were conservative hypothetical examples, in reality, some of the above trades may have been less than a 1R loser, like the 4 hour USDJPY setup, and the 4R winner in the GBPJPY could have easily been a 5 or 6R winner. Thus, a skilled price action trader who knows what they are doing will make even greater returns if they are really sticking to their edge and not over-trading. The key point to take away is that losing on the majority of your trades does not necessarily mean you will lose money overall.
The mechanics behind profiting while losing the majority of your trades
You saw above that it is possible to make money while losing the majority of your trades, and you should now understand why winning percentages are irrelevant in trading. However, it's important to discuss a little bit about HOW this is all possible. What are the "mechanics" of making money in the markets even while losing a high percentage of your trades?
• Risk reward – Risk reward is the most important money management concept to understand. I've written quite a bit about the power of risk reward, but for those of you who are unfamiliar with it, you should know that understanding it is paramount to proper risk and money management in the markets. Knowing how to determine the best stop loss placement on a trade and how to logically exit a trade, rather than emotionally, is critical to determine the potential risk reward on a trade. Before entering any trade, you need to consider what the potential risk reward of it is, and whether or not it's logically possible given the surrounding market structure and conditions.
• Keeping risk constant – One of the biggest mistakes traders make early-on in their careers is to vary their dollar risk amount on each trade depending on the previous trade's outcome. The reason this is a mistake, is because the next trade's outcome is completely independent of the previous trade's, that is if you are sticking to your trading plan and trading off logic and not emotion. Many traders crank up their risk after each winner or lower it a lot after each loser, this is not the right thing to do. Instead, try keeping your dollar risk per trade constant until you've built up your account significantly. For more on keeping risk constant, read this article on forex money management.
• Position sizing – Position sizing is how you actually keep your dollar risk constant per trade. I get emails almost every day from traders who say they are worried about trading higher time frames because they think wider stop loss distances mean they are risking more money per trade, but this is just not the case. Through position sizing, you can adjust the number of lots you are trading (your position size) up or down so that you maintain roughly the same dollar risk per trade no matter what the stop loss distance is.
Finally, the last piece of the "pie" that will allow you to make money even while losing the majority of your trades, is to truly be a master of your trading strategy. When I look at a chart, I am looking for very specific price action setups formed at confluent levels in the market. There is no "guessing" or doubt in my trading anymore…because I have mastered price action trading. This allows me to truly trade like a "crocodile" by waiting patiently for my setups to appear in the market. When you trade in this manner, combined with proper money management, your winning percentage really doesn't matter. The keys here are being methodical and picky in how you enter the market; don't enter unless your trading strategy is actually telling you to. When you combine this mastery of trading strategy with the money management principles discussed in today's article, it really will only be a matter of time before you make money in the markets. Checkout my trading course and members' community for more information on how to profit in the markets by combining a mastery of price action trading with proper money management.
SEPTEMBER SPECIAL:

Save 70% Off Nial Fuller's Pro Trading Course (Ends Sep 30th) - Learn More Here