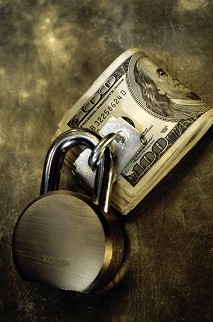 Many traders make the mistake of trading in all market conditions. The truth is that sometimes it's better to just not trade. Sometimes the markets are too choppy and erratic to trade with any accuracy or effectiveness. It is these times when traders tend to give back all their recent profits (and usually more).
I am going to let you guys in on a little 'secret' today; the fastest route to making money in the markets is by capital preservation. You see, most traders do not preserve their trading capital long enough to make any substantial gains in the market. Instead, they trade it all away in a flood of emotional trades that whittle their accounts down to almost nothing (or nothing). Then, they have little to nothing left to trade with when the market conditions change and the trading becomes easier and more lucrative.
As a price action trader, part of your job is to gauge market conditions; you need to not only learn how to spot high-probability price action setups, but to gauge the market context that they form in. Meaning, part of being a price action trader is learning to determine the underlying bias of a market, not just trading any price action setup you see. Your goal is to wait for the 'perfect storm' of a high-probability price action pattern forming at a confluent point in the market, and to make sure that the setup 'makes sense' according to the conditions of the market when the setup forms. We will look at some examples of gauging market conditions in the chart images below. But first, let's discuss the merits of simply being 'flat' the market…
Take a week off –
Seriously, don't trade for a week; don't look at the markets for a week. There are 52 weeks in a year…you don't NEED to trade every one of them. It's fairly safe to say AT LEAST 2 or 3 of those weeks (probably more) will contain very choppy price action that will shred your trading account up if you try to trade it. One of your jobs as a price action trader is to identify when the market is entering into a consolidation phase that is too choppy to trade. I'll admit, this is easier said than done, but once you spend more time analyzing a market's price action, it will become easier for you.
One thing you can do is to simply take some time off after a winning trade. In my article on Low-Frequency vs High-Frequency Trading, I discussed how we are biologically wired to want to trade more after a winning trade or a series of winners. Most of the time, these trades are fueled on emotion and on an over-estimation of our own ability to predict the market. In short, after you hit a few winners, trading seems a lot easier than it really is and we become blinded to the fact that we have the potential to lose money on any trade we take. It's called trading on a feeling of euphoria, and it causes many traders to give back all their gains.
Taking time off from the markets is not a bad thing, especially after a winning trade or when the market is chopping sideways and being 'erratic'. Many traders end up giving back all the money they made when the markets were trending as they move into periods of chop. This tendency is something that cannot be eliminated 100%, because no matter how good of a chart technician you are, it's impossible to know when a period of chop is starting with 100% certainty. However, there are some very obvious price action based clues that we can use to help us identify a choppy market so that we can then stay out of it.
Many traders trade during periods of chop because they feel that 'itch' to be in the markets all the time…they think they'll miss out on opportunities if they don't trade all the time. Don't worry about 'missing out' on opportunities, the market is not going anywhere and it's better to be slow and methodical than fast and impulsive when it comes to trading your hard-earned money in the markets.
What exactly is a 'choppy' or slow market?
First off, in order to know the best times to avoid trading , we need to be able to distinguish between market conditions that are worth trading vs. those not wroth trading. So, this involves having a thorough understanding of how to read a market's price action and how to visually observe this price action and determine whether it's trending, range-bound, or chopping sideways.
Essentially, there are two market conditions worth trading and one not worth trading. The two worth trading are a trending market and a range-bound market that's moving between a defined support and resistance. The one condition that we want to avoid is a 'choppy' market condition which is simply backing and filling in on itself in a very erratic manner with no real boundaries or direction.
First, let's take a look at a chart of a market that's in an obvious uptrend. We would note the higher highs and higher lows which are visible just by observing the raw price action of the chart: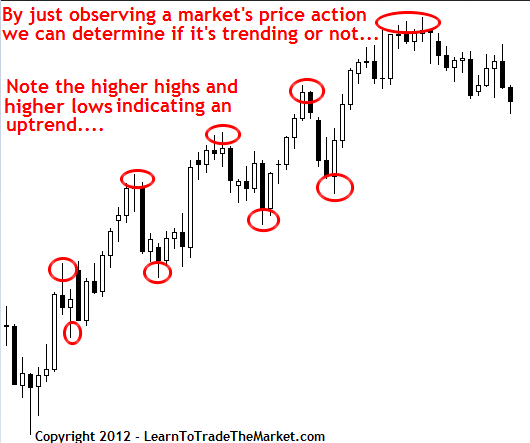 I sometimes will employ the 8 day and 21 day exponential moving averages (EMAs) to assist in determining the daily chart trend and dynamic (moving) support and resistance levels.
Note: I don't use these EMAs "religiously" and they are not necessary…you can trade just fine off the pure price action of a market without any EMA's. However, especially for beginner's, these two EMA's do a good job in helping identify trend on the daily chart and support and resistance levels. We are NOT using them in the traditional moving average "crossover" sense or for some rigid trading system.
In the chart below we can see a clear uptrend took place, followed by a period of sideways consolidation and chop. While the only way to know 'for sure' when a market is moving to a choppy trading condition from a trending one is to wait until after it has happened, we can use the 8 and 21 day EMAs to assist us…
Generally speaking, when the daily chart 8 and 21 EMAs are ascending we have an uptrend, and when they're descending we probably have a downtrend. In very choppy / sideways market conditions, these EMAs will actually turn sideways or 'flat' as the price action backs and fills right around them. So one thing we can do is to look at the slope of the daily chart 8 and 21 EMAs…when they start moving sideways, it's usually a reflection of consolidation beginning.
Here's an example of when a market turned from trending and worth-trading, to choppy and not-worth-trading. The red line is the 8 day EMA and the blue line is the 21 day EMA: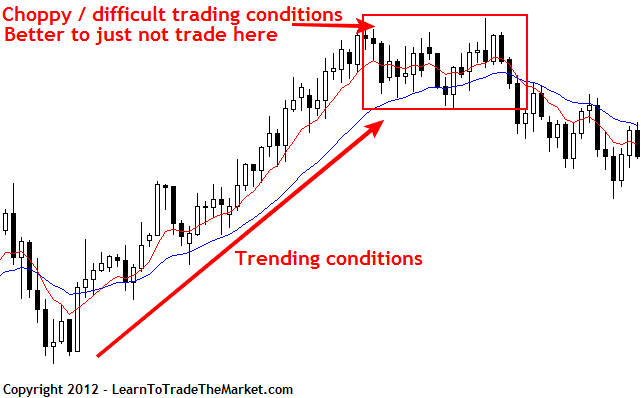 Pay attention to the daily chart 8 and 21 EMAs when they are clearly sloped up or down, because this means it's probably a trending market and you can look for price action trading patterns in the direction of that trend. When the EMAs are flat and generally moving sideways with no obvious up or down slope, the higher-probability play is to sit on the sidelines and preserve your capital until the market conditions become more predictable. In the image above, you will note that the EMAs went from ascending to flat / sideways as the price action moved into the rectangular box and began to chop sideways.

Note: I said "…probably a trending market…" when the 8 / 21 day EMAs are sloped up or down, because sometimes in a wider range-bound market the EMAs will be sloped up or down temporarily but there is no trend. Thus, in a market that is ranging between a defined support and resistance level, the EMAs lose effectiveness.
However, when a market is chopping sideways and 'backing and filling' in a very tight consolidation range, we will see the EMA's turn flat, with little to no slope. In this way, we can use them to help gauge when a market is in 'chop mode' and not worth trading. Once again, refer to the picture above, when the market begins to chop you'll see the daily 8 / 21 EMAs go from up to sideways.
There is a difference between a range-bound market that's worth trading and a choppy market that is just backing and filling and not worth trading. Let's look at the chart below to see this difference: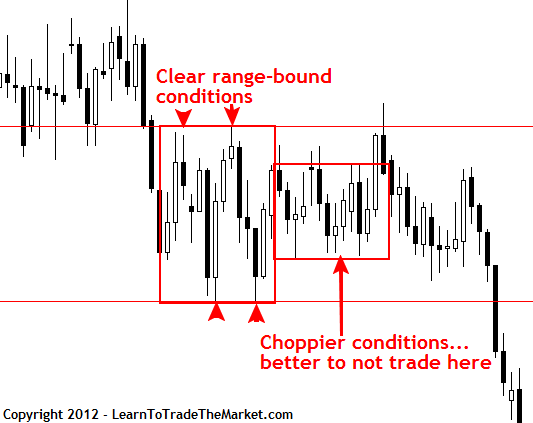 In the chart above, we can see the market was clearly oscillating between a defined resistance and support level, and then it moved into choppier and untradeable market conditions prior to breaking out of the trading range. When a market is range-bound between a key support and resistance level, we can look for price action signals forming near one of these levels, but when the market is simply backing and filling and chopping sideways, it is best to preserve your capital and avoid the markets until that chop has clearly ended.
How you can 'make' money by not trading…
While the point here might be obvious, many traders overlook it or forget about it. The point I am talking about is that by simply not trading you are far ahead from where you would be if you had a losing trade or a string of losing trades. Not trading is a very powerful tool that you need to employ a lot more often than you probably are right now. You see, whilst you don't have the power to control the market, YOU DO have the power to control yourself! This is a very key piece of information that a lot of traders apparently forget about or that they are unaware of.
If you have $5,000 in your trading account at point A and then you take 3 or 4 'stupid' trades that you knew you shouldn't have, and you lost $1,000 as a result, you are now at point B which is $1,000 less valuable than point A. Thus, by simply not trading when the markets are choppy or slow, we are essentially 'making money' by not losing money. This is how you should think of trading at all times…before you enter any trade you need to seriously ask yourself if you think your trading account will be better or worse off after this trade. Always consider the option of just not trading, and remember that preserving your capital is a very valuable thing to do that can pay off down the line when a more obvious / higher-probability price action setup comes along.
Don't put all your eggs in the 'trading basket' (and you'll make money faster)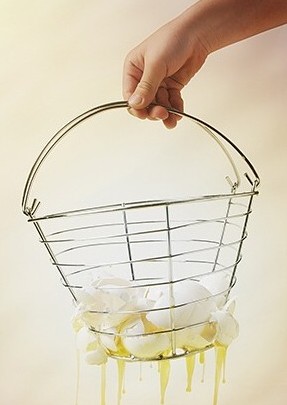 Many traders feel compelled to trade during times when the markets are choppy because they feel 'pressure' to make money in the markets. I get a lot of emails from traders asking me things like "Nial, how long will it take me to finish your course" and "Nial, how soon can I start making money in Forex and how much per month do you think I can expect to make"?
These types of questions reflect a mentality that many traders share; one of feeling like they 'need' to make money in the markets or that they have no other options to be successful. This is really not a mindset that's conducive to making consistent money in the markets however. Traders who feel this urge or need to make money in the markets end up trading at low-probability times when the markets are choppy. Typically, they will then give back all of the gains they may have made on previous trades, and usually they give back even more than the recent gains they made. This type of trading can end up in a blown out trading account, and in fact for many traders it often does.
I'll be frank with you, if you're unemployed or you are banking on become a professional trader with no plan B, you are probably going to trade with too much pressure to make money in the markets. I actually get a lot of emails from people telling me they are planning on becoming pro traders and they want to quit their job or that they are unemployed. Now, there's nothing wrong with wanting to become a pro trader, but approaching the markets with pressure or a 'need' to make money is almost guaranteed to induce you to trade emotionally. Emotional trading usually results in traders trading during choppy market conditions just because they have an 'itch' to be in the markets all the time.
If you really want to succeed as a trader, you've got to shake this 'itch' to be in the markets all the time. The truth of the matter is that some weeks the markets are just not worth trading. I have found that by sitting out when the markets are being erratic and choppy, I come back the next week with a clearer mind and a calmer approach to the markets. This naturally increases your chances of success over the long-term, because trading success relies on the trader having a clear and clean mind that doesn't feel 'pressure' or 'need' to be in the markets every day.
How price action trading can help you avoid choppy markets
I have been trading price action for so long that I can almost just glance at a price chart for 30 seconds and tell whether or not it's worth trading. I don't need to sit there and scratch my head for an hour trying to decipher what 50 different indicators are trying to tell me. When you know how to read the raw price action of a market you can very quickly analyze its current state and decide whether or not it's trending, range-bound, or choppy. If the price action is choppy and is obviously not worth trading, the most lucrative thing for you to do is to just walk away from your charts until tomorrow, or next week.
It is critical for a professional trader to know when the market is choppy and 'not worth trading' versus when the market is trending or otherwise in a state that's 'worth trading'. If you need help reading a market's price action and differentiating between trending price action and choppy price action that's not worth trading, you'll benefit significantly from the concepts I teach in my price action Forex trading course.
SEPTEMBER SPECIAL:

Save 70% Off Nial Fuller's Pro Trading Course (Ends Sep 30th) - Learn More Here