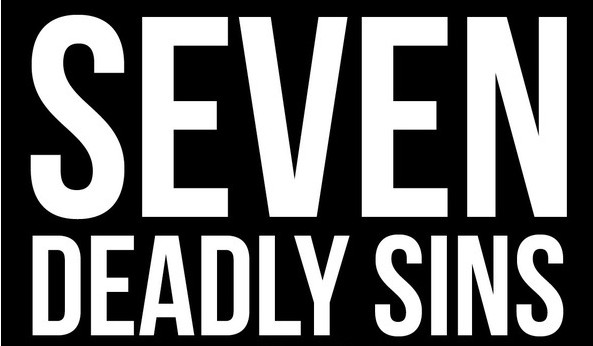 We've been running LTTTM for about 4 years now, and in that time we've literally received thousands of emails, so we thought it would be an entertaining experience to list some of the most common problems that traders write to us about and provide you guys with some insight into how to fix them. We are calling these the "7 Deadly Trading Sins" because they are some of the mistakes that we see traders making over and over again which sabotage their efforts to become successful in the markets.
Note: After you finish reading today's article please leave some feedback and tell me which one of the following 7 Deadly Trading Sins gives you the most problems.
1) Risking 2% of your account (it's ridiculous)
Risking a set percentage of your account is something that many Forex trading websites talk about, and it's something that many Forex traders do; however, the reality is that it's a flawed approach, and it could be keeping you stuck in a cycle of poor trading performance. Let me explain:
The main reason why most traders think risking 2% or some fixed % of their account is a good idea, is because they believe it allows them to increase their position size gradually as they build their accounts, or decrease their position size gradually as they hit losing trades. Whilst the former point might be decent logic, it's the idea of reducing your position size after every losing trade that I have a problem with. Imagine that you lost 50% of your capital (it happens, as you probably know), you now have to make 100% of your account just to get back to breakeven. Obvious you say? I know. Well, what's not obvious to most using the "2% rule" is that when you draw down 50% of your account, that same 2% risk is now going to be a 50% smaller position size!
So, your task is now to make 100% on your account with a position size that's 50% smaller than what you were trading…just to get back to breakeven. If you can't see what I'm trying to say here, it's that the 2% rule keeps you in a rut when you hit a string of losers (and you will hit a string of losers). Yes, it keeps your position size smaller after losing a trade(s)…but why do you want to automatically reduce your position size after every loser? It's like saying that JUST because you lost on 4 trades in a row you think you are going to lose on the next 4 so you better reduce your position size. That flies in the face of the FACT that if you have a randomly distributed trading edge (ALL trading edges are randomly distributed) you never know for sure when you will hit a winner or a loser. So, whilst the 2% rule might be OK for brand new traders who just want to "test the waters" and take it slow, for traders with some experience under their belts and who have mastered their trading edge, it simply does not make any logical sense.
SO, if you're reading this, please do us a favor and don't email us about the "2%" or fixed % risk rule anymore! You have your answer right here! The best way to gauge how much you should risk per trade is simply risking what you feel comfortable with; ask yourself if you can handle 10 losses in a row on your current risk amount per trade, if you can handle that and not become emotional or blow out your account then your risk level is probably OK.  So, forget about risking 2% or whatever % per trade, this is a "deadly sin" because it WILL keep you in a rut once you hit some losers and it flies in the face of the fact that we never know what's going to happen on the next trade. When you blindly reduce risk after every losing trade, this implies that you assume you are going to continue losing, which isn't necessarily true! We want to measure risk in dollars, not pips or percentages.
2) Being a greedy idiot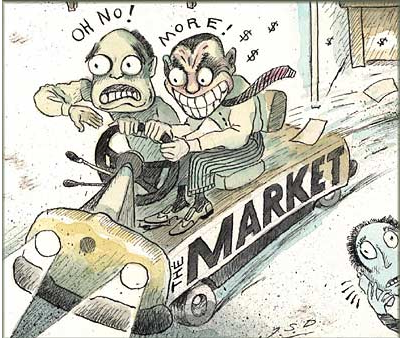 Greed is one of the original "7 Deadly Sins", and it's no surprise that it's a deadly sin in the trading world too, after all it's human nature to become greedy when money or material things are involved. Most traders are no different from gamblers at the casino; they are all just chasing the 'big win'. It's an addictive game that gets in your blood and doesn't get out until you 'snap out of it' somehow, usually from losing a significant amount of money.
It's time to get real here guys, stop chasing the big winner on every trade… because more than likely it's not coming.  If you're making a 1 to 2 or 1 to 3 risk reward on most of your trades, that's great. It's actually 'professional standard', and there's absolutely NOTHING wrong with it! The longer you keep chasing the elusive 'big winner' on every trade, the longer you are going to continue to not take profits when they are staring you in the face, and the longer you are going to remain in your cycle of losing, breaking even, and taking tiny gains as the market comes crashing back against you. So, start being realistic and stop committing the deadly trading sin of being a greedy idiot.
3) Day-trading and scalping
In case you've been living in a bat-cave on some remote island for the last 4 years, you already know we don't day-trade or scalp, in fact it's safe to say we hate high frequency trading. One of the most common questions we get is "can you use price action to day-trade and scalp the markets?" The answer is yes, you certainly can, but you should expect to blow out your account if you do. I'm serious about that, the only people who have any business even attempting day-trading or scalping are people who are ALREADY trading for a living and who have thus fully mastered swing trading on the higher time frame charts.
This one is clearly a deadly sin because when beginning or struggling traders start scalping on a 5 minute or 15 minute chart, it literally is only a matter of time before they blow out their trading accounts. I think this is the sin that no matter how much we preach and tell people not to commit it, they just keep doing it until they have lost so much money that they either finally switch to trading higher time frame charts or give up all together.
4) Combining trading methods
We often get people emailing saying that they are combining a strategy they learned in my course with a "MACD" system or some other fill-in-the-blank indicator system that is really just clouding up their charts. The bottom line is that we do not 'blend' trading methods, it's simply a case of you need to 'let go' of your glorious 4 hour MACD cross over system that you found on Forex Factory and move on to something logical and real. Most people who stick with trading long enough eventually figure out that they aren't helping themselves by plastering indicators on their charts or learning some 'hot' new trading system that's getting a lot of hype on some website. These are gimmicks folks, they sound really good, but in reality they are just wasting your time and masking over the reality of what it takes to trade successfully, and that is why combining complicated and messy trading methods with price action is the a deadly trading sin.
5) Cockiness and arrogance

Our next deadly trading sin is arrogance or cockiness, however you want to put it, many traders fall prey to this sin and it ends up costing them dearly. Time and time again we get people emailing us who are clearly failed traders making all the most common emotional trading mistakes, yet they seem unaware that they are even doing anything wrong and are puzzled as to why they are losing money. In other words, they are blinded by their own arrogance and they are playing some game of pretending they are a pro trader even though their account balance proves otherwise.
The first step to fixing your trading problems and avoiding all these trading 'sins', is to simply admit that you have a problem, and admit that you're not doing the right things to be successful in the markets. Many traders can't even reach this point because they simply cannot swallow their pride and their egos; they don't want to face up to the fact that they are behaving like a gambler in the market, even though they know it in the back of their minds.
You have to be willing to 'wipe the slate clean', and be willing to stop pretending that what you're doing is working and simply start over fresh. Being humble will go a long way in trading, as men this can be a problem because we tend to have a 'need' to be right all the time. This deadly trading sin of arrogance and cockiness is definitely more widespread amongst male traders than female traders. So, once again guys, it's time to take a play from the ladies here and check your ego at the trading room door; it's not doing anything for you but fogging up the reality of your own behavior in the markets.
6) Following exotic currency pairs
OK, I'll admit it, even I'm still guilty of this one sometimes, in fact recently I lost 60 pips on a GBPNZD trade; a pair I basically never trade. So, if someone who's been doing this for 10 plus years can commit a sin, you can too, hopefully I can be 'forgiven' of this one guys ;). I don't care what you hear or what you think, the major Forex pairs are the best forex pairs to trade. There really is no reason to get caught up in analyzing 30 different currency pairs, because the major Forex pairs as well as gold, silver and maybe the Dow cash market, provide you with more than enough opportunities each month. Most traders end up looking at all the crosses and the exotic Forex pairs because they think it's going to give them 'more opportunities' when in reality all it does is cause confusion, over-analysis, and over-trading.
7) Thinking too much (it's bad for you)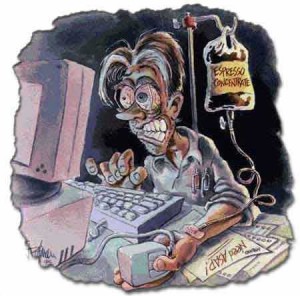 This is the last of the 7 deadly trading sins and it's perhaps the most widespread and the most damaging as well. Many traders love to over-analyze, over-trade, over-leverage, and generally just be over-involved in everything when it comes to their trading. Thinking too much and being over-involved in their trading gives most traders a sense of 'control' over the market that makes them feel better. That really is what it all boils down to. The problem with this is that you cannot be in control of the market, you can only be in control of yourself, AND how you feel has nothing to do with the outcome of your trades. The market does not give a crap about how you feel, your money problems, or that you're trading with money you really can't afford to lose. So, keep that in mind when you are sitting in front of your charts for 5 hours when you should be sleeping, ask yourself "Am I really doing valid and needed market analysis now or am I just being over-involved and thinking too much?"
Another problem that traders have with thinking too much is being afraid to trade or having problems with pulling the trigger on their trades. Whether it's being afraid to enter a perfectly valid trade setup or being afraid to close a trade out, many traders experience 'analysis-paralysis' in the markets. This means they end up thinking in circles and ultimately end up taking no action because they flood their head with so many thoughts they literally become mentally paralyzed. Once you realize that you should be operating off of a trading plan that you have developed while not in the markets and while you were being objective and logical, things will get easier for you. The most important thing to realize is that you should not be thinking too much about your trades; have a plan of attack and follow it, don't sit there and change your mind on every tick for or against your position.
These "7 Deadly Trading Sins" provided you with a look into some of the most common email questions that we get from traders, I hope that you gained some insight from today's lesson and also realize that you're not alone in experiencing frustration and losses in your trading. It primarily takes a simple adjustment of your attitude and expectations about trading to put an end to these 7 deadly trading sins and any others you might be making. If you want help in putting an end to these trading sins, and more in-depth training on the strategies and philosophy that I use to trade the markets with, check out my Forex trading course and members' community, you will find it's an invaluable tool to help get you on the track to successful trading, especially if you want to simplify and streamline your approach to trading the markets.
Good trading everyone, Nial
BLACK FRIDAY SPECIAL:

Save 70% Off Nial Fuller's Pro Trading Course (Ends Nov 30th) - Learn More Here