The hard, cold reality of trading is that every trade has an uncertain outcome.

– Mark Douglas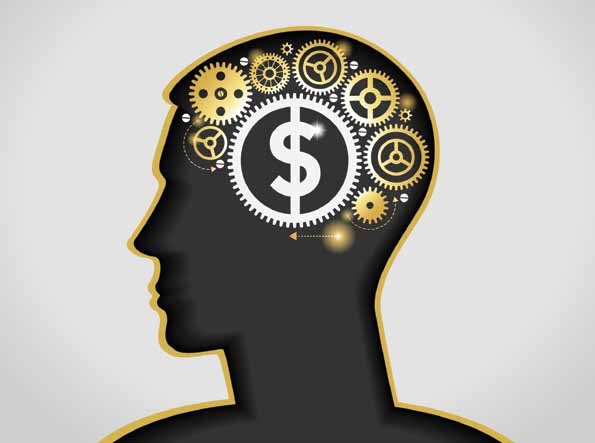 I want you to re-read the above quote by the (unfortunately) recently passed Mark Douglas, who was one of the greatest trading psychology educators ever, if not the best ever. The uncertain outcome of any given trade, or the random outcome, is the reason why it seems so difficult to determine when to take profits on a trade.
The truth is, us humans have an innate desire to control things, situations, and even other people sometimes. So, when that innate desire meets the uncontrollable market, there is bound to be some, shall we say, cognitive dissonance involved. When situations do not unfold how we want or expect them to, it makes us frustrated, angry or sad. When it comes to trading, this is exactly why you cannot expect any particular outcome on any particular trade, because if you do, you are going to jump-start an emotional storm of negative feelings that cause you to commit account destroying trading mistakes if the outcome you expected on a trade isn't the outcome you got.
To avoid making these mistakes, it's critical that you understand the psychology of profit targets…
Every trade has a random outcome
When you achieve complete acceptance of the uncertainty of each edge and the uniqueness of each moment, your frustration with trading will end.

– Mark Douglas
As Mark Douglas discusses in his book Trading in The Zone, every trade you take is totally unconnected and independent of the last trade you took or the next one you will take. This truth is the foundation of understanding profit targets and why they give traders so much trouble. The reason it's the foundation is that most people will believe very strongly that if the last trade they took had a certain outcome, and their current trade setup looked the same (as that last one) upon entry, the same or very similar result should take place. However, this thinking is exactly where the trouble starts because as Mr. Douglas points out over and over in his book, each trade's outome is uncertain and essentially a random event.
It can be difficult to understand how you could make money in the market if every trade has an essentially random outcome because that fact seems to be in conflict with the fact that traders do make money consistently over time and it is possible. The difficulty lies in the fact that you need to hold two different understandings of trading in your mind simultaneously that seem to be in conflict with each other. The first understanding is that you can make money consistently if you execute your trading strategy consistently over time. The second belief is that you cannot control the market and every trade has a random and independent outcome of any other trade you take.
Now, here's the key to making these two beliefs connect; the way you make money from a seemingly random outcome on each trade is by executing your trading strategy or edge consistently over a large enough sample size or series of trades.
The above sentence is how casinos make so much money each year off of seemingly random games. Casinos know that even if their 'edge' is say 5%, then that means over a large enough sample size, they are going to make 5% on every dollar risked in their casino, including any big winners people may take from them. The key is to execute the strategy or edge consistently over a large enough sample size to see it pay off.
It's the ability to believe in the unpredictability of the game at the micro level and simultaneously believe in the predictability of the game at the macro level that makes the casino and the professional gambler effective and successful at what they do.

– Mark Douglas
Expectation is the enemy of trading success
Now, let's dig into the psychology behind why people struggle with profit targets and with trade exits in general, profits or losses.
As I alluded to in the opening, expectations are what give people trouble in the markets. A trader who doesn't believe or maybe isn't aware that every trade has a random outcome that's independent of any other trade, isn't going to be mentally prepared to deal with a trade result that doesn't align with his or her expectations. This is why the foundation of successful trading is built on an understanding of the randomness of every trade. Once you truly understand and accept that every trade has a random outcome, regardless of what happened on your last trade, you shouldn't be disappointed or even excited about the result of your current trade; because you should have no expectations.
When I put on a trade, all I expect is that something will happen.

– Mark Douglas
The only expectation you should have is that IF you follow your trading strategy / trading edge over a large enough sample size, you should come out profitable at the end of that sample size, assuming you are using an effective trading strategy of course.
To further clarify this point of random expectations in the market, think about a car salesman. That car salesman doesn't know which car a person will buy or even if they will buy one; he has a random expectation for every person he deals with. Helping a customer can be seen as the car salesman taking on 'risk' because he is spending his time on them and it may yield nothing, or it may yield a large commission.
The best way to approach profit targets and trade exits
Why do casinos make consistent money on an event that has a random outcome? Because they know that over a series of events, the odds are in their favor. They also know that to realize the benefits of the favorable odds, they have to participate in every event.

– Mark Douglas
You may have read my article on set and forget trading and minimalistic trading, if you have read them, then today's lesson about the psychology behind exiting a trade will help you understand why I take that set and forget / minimalist approach to my trading and why I teach other traders to do the same. Due to the lack of control we have over the market, the only 'trade management' technique that truly gives your trading edge / strategy the best chance to play out and work in your favour over a series of trades, is simply letting the market play out without your interference.
After we enter a particular trade we cannot know how far it will move for or against us, so we need to be aware of this fact and manage trades accordingly. Take a look at the following diagram for a visual representation of random results using the same edge (in this case selling a key resistance level) can produce two very different / random outcomes…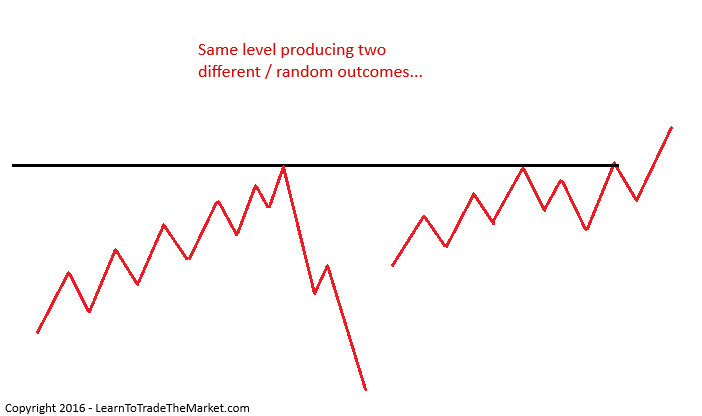 Now, if we look at the above diagram and we imagine a trader who simply trades key support and resistance levels by fading them as price hits them (sells strength and buys weakness), we can get a real-world understanding of the randomness involved in any given trade…
The trader doesn't know how far the market will move away from the level or whether it will rotate (reverse) or start to trend from there. All he knows is that fading key chart levels is his edge and he must execute it over and over to see a profit over time.
This trader is taking on market risk but he or she is also taking an opportunity to make money, this is exactly how a casino or "the house" operates. A professional trader thinks like the house in a casino or even like a bookmaker in terms of odds / probabilities; risking a small amount on a trade can yield huge rewards, but then again, when these huge rewards occur is a random expectation.
There is a random expectation on any given trade which means there's also a random distribution of winners and losers for any given trading edge. You cannot know beforehand whether THIS trade will be profitable or not, all you know is that IF you follow your trading strategy you should be profitable over a series of trades. You have to mentally accept that even if you aim for 200 pips on a trade, it may only go 175 pips, that's something you have to deal with and it's also where the skill of a trader comes in. A skilled trader will use their gut trading feel at times to exit a trade, and there's nothing wrong with doing so, but it does take training, time and experience to develop.
If you check out my article on the market wizards and even if you read the Market Wizards books, you will realize most of those famous traders were not using mechanical entry / exit rules, they used discretion and gut feel often.
In closing, trading is not about 'getting it right' all the time. As Mark Douglas emphasized, it's about probabilities, specifically, learning to think in probabilities. When you combine a high-probability trading edge like my price action trading strategies, with an understanding and acceptance of the random outcome of every trade you take, you put yourself in a position to profit consistently if you trade with discipline over a large enough sample size.
PLEASE LEAVE A COMMENT BELOW – I WOULD LIKE TO HEAR YOUR FEEDBACK :)
QUESTIONS ? – CONTACT ME HERE
BLACK FRIDAY SPECIAL:

Save 70% Off Nial Fuller's Pro Trading Course (Ends Nov 30th) - Learn More Here