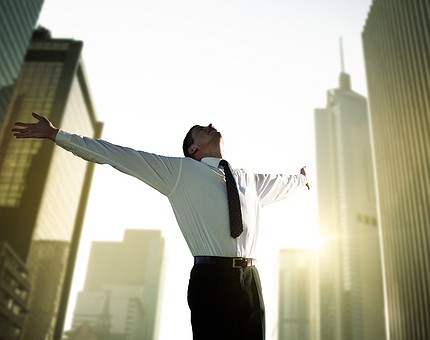 Being a successful trader isn't easy. In addition to sickening discipline, patience and passion, it requires the kinds of habits that most people simply don't possess. Whilst every pro trader is different, we all have a lot in common, because there are certain behaviours that all successful traders must have to make consistent money in the market.
This is by no means an all-inclusive list, but the following six behaviours or traits, are shared by all 'unstoppable' traders and you'll need to adopt them if you want to become a successful trader yourself…
1. They do not react solely based on one trade's outcome
All kinds of thoughts and feelings can consume you after a trade finishes. You may feel discouraged, distraught, even desperate after a losing trade, conversely, you might feel cocky, super-intelligent, or feel like you're 'on top of the world' after a winning trade.
If there is one roadblock to trading success that you need to get past in order to become an unstoppable trader, it is being affected by the outcome of any one trade and reacting emotionally because of it. Professional traders treat each trade as simply another execution of their trading edge, with little to no emotional attachment to its outcome. This is easily accomplished by remembering the following facts:
* Trading success is not the result of one trade, but is determined over a large series of trades. You must be disciplined enough to execute your trading strategy without emotional reactions over a large enough sample size / series of trades to see it play out in your favour. To learn more about this, click here.
* Maintaining your risk per trade at or below a dollar amount that you have pre-decided you're OK with potentially losing on any one trade, will prime you to not be disappointed or feel other negative emotions when you have a losing trade. It will also keep your emotions in-check after a winning trade. Control your risk via position sizing so that you don't suffer huge losses or have huge ego-expanding wins, as both of these things can lead to emotional trading mistakes.
2. They are confident, but not irrationally so
Confidence is critical to become a successful trader. You have to believe in yourself, in your trading strategy and in your ability to follow it and remain disciplined. Confidence means you behave in-line with the realization that if you stay true to your trading method and stay disciplined, over a large enough sample size of trades you will come out profitable.
Confidence means that when you hit multiple losers in a row, as happens to even the best traders, you don't second-guess yourself or your trading method, but you stick to the plan and keep executing. As I stated above, you cannot become overly-affected by the outcome of any one trade, this means you have to be confident and ignore the impulses to over-trade or load up on risk. You have to be confident that you have the ability to be a 'badass trader' who can outlast all the weak people who give in to their emotions and blow out their accounts. If you don't believe this in your heart, you will give in as well, and fall prey to your own shortcomings.
Confidence also means you know what you're trading strategy is and what you're looking for in the market. You know when a high-quality trade setup worth risking your money on is present. You can only gain this confidence by learning how to trade properly and getting a solid trading education like the one I offer in my price action trading course. Once you learn how to read and trade the price action, you will be off and running. I can provide the 'training wheels' and when you're ready, you can take them off and trade on your own. Only true understanding of price action and market dynamics will make you a confident trader.
Confidence does mean feeling invincible or like you're the 'best trader in the world'. All traders have losses, and the best traders know it and plan for it, even in the midst of a winning streak. They do not become arrogant, but they remain at a steady even-keeled mental state with a happy balance of confidence and respect for the inherent semi-randomness in the market.
3. They do 'nothing' very well
Knowing when not to trade is just as important as knowing when you should trade, they are functions of each other. Successful traders know that they will be out of the market more than they are in it, and they are fine with that. They have mastered the art of patience and have come to realize that patience is profitable. You do not make money by always being in the market, exposing yourself to risk of loss. You make money by taking carefully planned and timed risks that have a good risk reward and a high probability of working in your favour.
This doesn't mean every trade will work out, as even the best looking setups can and will fail sometimes. It means that as a trader, you are playing a game of probabilities, and to put the probabilities in your favour, you shouldn't always be in the market, because if you are, you're just gambling. If you know anything about gambling at the casino, the probabilities are not in your favour, unless you have an edge (like card counting in Black Jack). Trading is no different, if you don't use your trading edge (price action) properly, you will be trading with the odds against you, not in your favour.
In order to trade with the odds in your favour, you have to wait patiently for obvious trade setups to come along, and as they don't come along every day, you will be out of the market, doing nothing, or something else (hobbies, day job, etc.) more than you're in the market. Unstoppable traders don't mind doing nothing for days or even weeks, waiting for that next good setup to take a stab at.
4. They sleep well at night
Sleep is important for everything, trading included. Sleep gives your brain and body the rest they need to be in the best possible condition to trade successfully. Also, if you're trading properly, i.e., not risking too much, not over-trading, following your trading plan with discipline, you will have no problem going to sleep with a live trade on and not worrying about it. If you stay up all night worrying and looking at your trades, you're going to lose valuable sleep and you'll increase your chances of making a stupid trading mistake both as a result of over-thinking the trade and being tired. Go to bed and get some rest, the market will be there tomorrow, let the market do the 'work' while you relax; be a 'lazy trader'.
5. They love trading, but aren't addicted to it
Unstoppable traders are trading 'nerds'. They love talking about the charts and about various markets with other traders (my trader's discussion forum is great for this). But, and this is a big BUT, they are not addicted to trading. These are two different things…
Loving trading means, you love trading properly. Meaning, you love the discipline, the patience, the observation of charts while waiting for a trade if there's no obvious one to take. There's nothing wrong with watching the markets and observing the price action as long as you don't let it influence you to take what I call a 'stupid trade'. The best traders love trading, but they don't let this love become tangled up with being addicted to being in the market, because they know that trading success is the result of discipline and patience, and trading success is what they want.
6. They are constantly learning about trading and themselves
Any seasoned trader will tell you that trading is the ultimate test of one's ability to control themselves. If you decide to take the journey of a trader, you are going to learn not only about the market and price action, but also a lot about yourself. Traders are by nature thinkers and are usually somewhat solitary people, but they must also become masters of self-control and logical / objective thinking, which is very hard for most people to achieve with their hard-earned money on the line.
So, to become an unstoppable trader, you have to know yourself and you have to master yourself in addition to your trading strategy. You will never stop learning about yourself or about the market, as long as you trade. But, you have to start somewhere and you have to build a solid foundation under you to get started properly. If you're committed, you might consider taking my trading course and learn how I trade and what has worked for me over the years… doing so will set you off on your trading journey with the proper tools and knowledge you need to develop into the best trader and version of yourself that you can be.
Please Leave Your Comments & Feedback Below
BLACK FRIDAY SPECIAL:

Save 70% Off Nial Fuller's Pro Trading Course (Ends Nov 30th) - Learn More Here