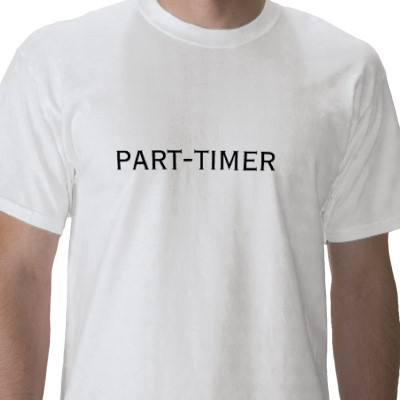 I want you all to understand, that it does not matter if you are employed, a business owner, retired or etc etc ,  my advice will remain the same – Your first goal as a trader must be to become a "Part time trader and student". DO NOT fool yourself and believe that you take up trading and replace your income and become a full time trader quickly.  Earning money fast does NOT happen, and you must understand that trading IS NOT a get rick quick activity, in fact, nothing in life is that easy.  Sure you can make ALOT of money trading, but to get to that point takes time, still and effort.  I built my reputation on honesty and integrity and you all should know by now that ALL of my posts are genuine insights and truths on the topic of trading.  So if your a novice trader,  a struggling trader or if your into trading in any way shape of form, and have the goal to eventually become a pro trader, then this article is for you.
Keeping it Part Time Early in Your Trading Career.
The majority of people that get interested in forex trading do so because they are unhappy with their job or with the current amount of money they are making, or both. They think they will be able to quit their job and become a full-time forex trader in a relatively short period of time, and it is this thinking that actually sets the stage for losing money in the forex market and for making their journey to become a consistently profitable trader extended and difficult. The reason why having an overwhelming desire to become a full-time forex trader can actually be detrimental to your trading success is simply because it makes you feel like you NEED to trade or that you have no other options for happiness in life. To succeed at making money consistently in the forex market, you need to operate from the mindset that you don't really need to trade, this will work to positively affect your trading and will actually make it easier to profit consistently in the market. The Pressures on the mind when the trader feels like he/she  must make a trade in order to make money to pay for the rent /mortgage or other living exspenses will ultimately lead to ongoing failure. That is just one aspect and evidence why new and aspiring traders MUST keep their trading a part time endeavor in the initial stages to escape the mental pressures and emotional roller coaster. The less time you spend trading and thinking of the market the better in my opinion.

• Part time trading; keep your day job
As a beginning forex trader, it is important that you realize early on the significance of not devoting all your energy to just trading. No matter what your current job situation is, you need to maintain it and excel at it, and always work to keep it a priority in your life, if you lose your job or quit your job thinking you can take up full time trading, you will stand no chance at becoming a successful trader. At first, you need to keep trading a part time goal, once you learn the ropes and master the art and skill of successfully reading a price chart, then you can set your sights on becoming a full-time trader. I always say, this is NOT something you can rush.
Keeping your day job and having a secure source of income is crucial to maintaining the proper trading mindset, you don't want to be operating in the market from the point of view that you have no other options, and that your trading has to work out. Trading only part-time will also help to keep you out of the market, this may sound counter-productive at first, but over-trading is probably the biggest cause of failure among forex traders. By taking a part-time approach to the market you can avoid trading addiction easier because you will be forced into a routine of looking at the market at certain intervals each day, rather than being glued to your computer screen.

• Lose the "get rich quick" mentality
Many traders, if not most, come into the forex market thinking they are going to get rich quick, if they don't openly express this sentiment they are certainly thinking it or hoping for it somewhere in their mind. While there certainly is nothing wrong with wanting to make money in the market and believing you can do it, when it becomes an all-consuming thought, and you think it will or should happen really fast, you are setting yourself up for failure. Traders who feel like they are going to get rich quick in the market inevitably end up over-analyzing it, essentially they think by looking at their charts and / or reading as many economic articles as possible, they will somehow gain an "edge" just because they are putting in a full-time effort.
The reality of this "get rich quick" mentality is that it ends up causing you to attempt to control the market, whether you realize it or not, when you stay up all night staring at your charts until your eyes burn you are subconsciously trying to control the uncontrollable, and the more you do this, the more you get caught up in actually believing that the increasing time you are spending watching the market is paying off, or going to pay off. So, in essence, by believing you can "get rich quick" in the forex market, you ultimately end up spending massive amounts of time over-analyzing market variables, this causes indecision and emotional trading, which ultimately causes you to lose money.
It is simply a myth that forex trading is a quick and easy fix for income; it's not possible to make quick and easy money on a consistent basis, unless you are doing something illegal. Traders need to have realistic expectations when coming into the market, by taking a part-time approach to the market you will keep your mind clear and you will trade from a nearly stress-free mindset. The reality of trading the market is that the only thing you can control is yourself, the more control you have over your own actions, the more success you will have in the market. It is easy to fool yourself into thinking you are controlling yourself even as you over-trade and over-leverage your trading account, but when you really step back and think objectively about every action you take in the market, it becomes much clearer as to whether or not your actions are logical or emotional.
The ironic and perhaps metaphorical aspect of forex trading is that taking a part-time approach, or a "less is more" approach will actually make you more money faster, because you will be far less likely to trade emotionally when you accept the fact that you can make money by only trading a few times a week or less. So, to really make consistent money in the forex market, you need to accept the fact that it's not going to happen fast, unless you are risking way too much and get lucky a few times in a row, or if you have a very large sum of money to begin trading with.
• Part-time trading helps keep you accountable

Probably the biggest reason why making money consistently in the forex market is difficult for most people is because there is no one to be accountable to. Unlike your current boss, who will fire you if you lose money for the company or do something else he or she doesn't like, the forex market will not fire you no matter how much money you lose, it doesn't even know you exist or how much money you have or don't have, or anything else. To put it succinctly, you have to figure out a way to make yourself accountable if you want to excel at forex trading.
Being a part-time trader forces you to study and trade higher time frames, if you work a full-time job you are probably going to have to trade off the daily charts. This is actually a blessing in disguise though, despite what many traders think there really is no advantage to trading the lower time frames. Sometimes you can improve your entry by trading the 4 hour or 1 hour chart, but because the market provides daily setups each week for traders to take advantage of, there is no real reason to feel like you NEED to trade any time frame lower than the daily. Essentially, trading part-time forces you to master the higher time frames early on in your career, when it is the most critical to do so, then as your talent and skill begin to show you can start implementing lower time frames to improve your entries or exits. Many traders unfortunately take the reverse course of action; they start out by analyzing the lower time frames, and only after losing tons of money and time to these noise-infused charts, do they finally figure out and accept that trading less frequently on the higher time frames is key to making consistent money in the forex market.
If you want to learn more about improving your forex trading success and how employing a set of price action strategies can help you achieve this, please visit my Price Action Forex Trading Course page here – Good trading as always – Nial Fuller
You may ALSO  be interested in the following  …
BLACK FRIDAY SPECIAL:

Save 70% Off Nial Fuller's Pro Trading Course (Ends Nov 30th) - Learn More Here