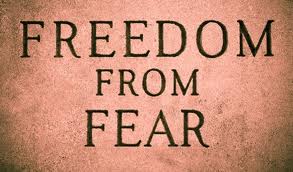 'Many traders become afraid to pull the trigger on a trade even when everything else in their brain is telling them the setup is sound and logical'
One of the most important lessons for you to learn early in your trading career, is that successful trading requires you to not only be able to correctly interpret a forex chart, but once you have indentified a specific trading opportunity, you must completely "believe in your trade". This article will explore in more depth the concepts of overcoming fear and believing in your trade.
The most natural emotional attached to "believing in your trade' is 'overcoming fear', and unless you can learn to overcome this fear associated with your trades, you will never make it in the world of trading. Many traders become afraid to pull the trigger on a trade even when everything else in their brain is telling them the setup is sound and logical. Many of my previous articles have covered the various greed-based trading mistakes that traders give into, like over-trading and over-leveraging one's account. However, this article is all about greed's ugly twin; fear, and how to overcome it, so sit back and relax as we discuss some techniques you can use to stop hesitating as you trade and why fear can be your biggest enemy in the forex market.
• Trust your gut… You are sitting at your computer desk on a Tuesday afternoon, the New York trading session has just closed out, you see a very well-defined pin bar setup that is showing rejection of a confluent level and is also in the direction of the dominant daily trend, all signs point to this being a very high quality setup that you should take. The problem is that as you sit there staring at this setup all you can think about is how you got burned on a very similar looking pin bar 2 weeks ago, you admit that you risked a little bit too much on that last one, and you really don't want to lose that much money again, so you decide not to enter this setup. The next morning you check the market before going to a job that you strongly dislike, you see that the pin bar has come off over 150 pips in the direction you would have entered, time for work… Does this sound familiar? Maybe not exact, but I'll bet a similar scenario has happened to you in the past if you have been trading for any length of time. This is a prime example of not trusting your gut when you see a high probability setup, the fact that you risked too much money on a similar setup and lost on it is influencing you to be afraid to trade whenever you see a similar setup, you naturally feel that big losing trade again, even though the odds are in your favor you give into how you "feel" from a previous trade.
It is very easy to associate a current trade setup to a past setup, especially if we experienced a big loss on the past setup which elicited some very strong emotion. The reason traders give into this fear and end up hesitating and missing good trade setups is because they are not thinking correctly about the market. Instead of simply viewing each price action setup or trade setup as another execution of their trading edge, they are viewing each setup as a "make or break" scenario, they forget that the market is a near never-ending stream of opportunities, in essence they lose their patience. If your trading edge is a pin bar setup with the trend, you must take every high-quality pin bar setup with the trend, if you start becoming fearful because you lost on one or two of them, eventually you are going to miss very lucrative setups, this is going to have a very negative impact on your trading psychology and cause a landslide of emotional trading mistakes.
• Believe in your ability… At this point you might be asking yourself, "How exactly do I trust my gut"? Well, you have to believe in your forex trading ability, if you don't believe in what you are doing you are aren't going to get very far in anything in life, and this holds equally true for forex trading. This self-belief in your trading ability comes from learning an effective method like price action trading, and practicing it until you have mastered it. You have to practice your trading strategy in real-time market conditions; you cannot think that just because you can spot trade setups in hind-sight that you have a commanding knowledge of the trading strategy you are using. After you learn to recognize the opportunities and patterns that your trading strategy presents in real-time market conditions, and you successfully trade them, you will begin to develop the confidence you need to solidify belief in your trading method.
It is very important to practice your trading strategy on a demo account before trading with real money. Often what happens with beginning traders is that they start trading a solid trading strategy with real money, they risk too much, they lose on a few good setups, and as a result they become afraid of these setups in the future. When there is real money on the line it can really hammer home an emotional impact when you lose on a high-quality trade setup. The only way to master this fear is to have traded enough similar setups to the point where you actually believe that it works, and that the few you lost on were just a simple cost of trading the market; that cost is that every good strategy has losing periods. If you let this fear get to you however, it will result in you switching trading strategies, or looking for something "better", when in reality the strategy you were using is just fine.
• Don't hesitate… Indecisiveness and hesitation lead to failure in just about any endeavor, just as they do in forex trading. Think about a military sniper who has his or her target in their scope, all their years of training have come down to this one scenario, are they going to start getting emotional and over-think the situation or are they going to pull the trigger and operate without hesitation? Most likely the latter, but only because they have been trained, they have had years of specialized training and they already knew what they were going to do before they did it. This is EXACTLY how you need to operate to be a successful forex trader; you need to obtain training in a specialized trading strategy that works, and then you need to pre-define all aspects of your trading before you enter the market.
Militaries try to pre-define everything as much as they can before going into battle, because if they don't they will end up operating on emotion, and you don't want to be fighting an enemy who is operating on logic while you are operating emotion. Trading the forex market is no different, think about it; do you think that a professional trader is going to hesitate when he or she sees a good trade setup? No, because they have been trained, and they have practiced so many times that they know what they are going to do before they do it, they don't over-analyze anything. Keep in mind before you begin trading with real money that you are going up against other traders who understand the importance of operating on logic instead of emotion. These traders have thus eliminated fear from their trading, they know they can't afford to hesitate, and they are counting on YOU to hesitate and be fearful or greedy. If you are looking for training in a solid trading strategy that you can practice until you build a solid foundation of self-belief that will eliminate fear from your trading, check out my price action trading strategies, I cannot promise you will become a calm and calculating trader, but I can provide you with simple and effective price action strategies which can be the foundation of a profitable forex trading career. For More Information visit my course page here: forex trading course – Good trading as always – Nial Fuller
Here are some other parts of my site you might like to check out
SEPTEMBER SPECIAL:

Save 70% Off Nial Fuller's Pro Trading Course (Ends Sep 30th) - Learn More Here