Today's article is going to revolve around one simple question:
If someone held a gun to your head and told you that your next trade was a matter of life or death, what would you do?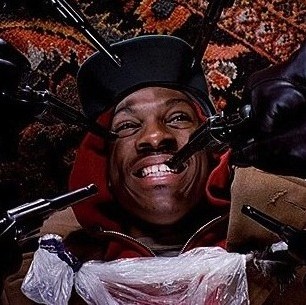 My hope is that today's lesson will make you think a little differently about each trade you take. Many traders get lazy with their trades, and they fail to see the potential risk in each trade they take. Every trade you take will affect your account balance at year's end, and whilst trading success is defined over a long series of trades, each trade you take is a part of that series. The point is that if you are being lazy and careless on a lot of your trades, it's going to affect your overall trading results. By imagining that your life literally depends on every trade you take, you are far less likely to gamble your money in the markets.
Many traders simply get too comfortable with the ease of access of the Forex market; they forget that if they're not disciplined and careful they can lose all of the money in their trading account. Often, traders get into a zombie-like state once they start trading with real money, blinded by the allure of fast money and seemingly ignorant to the fact that they can lose on any trade they take. You need to break these bad habits, and if you take on this 'gun to the head' approach to every trade you take, it just might give you the extra push you need.
'Gun to the head' Forex trading means that you trade as if your life depends on it; perfect analysis and perfect execution of the trade, from start to finish. There is no room for error or doubt in 'gun to the head' Forex trading; you will put your best foot forward and lay all your cards on the table every time you enter the market.
Trade as if your life depends on it…
Your trading account DOES depend on it, and ultimately your life too, if you really want to become a full-time trader. So, why are you still gambling, over-trading, and slinging your money around carelessly in the markets?
Professional traders inherently trade in a 'gun to the head' manner; they don't trade unless there is a damn good reason to do so…AKA unless their trading edge is present. Seems like a very obvious point, but you know as well as I do that it's VERY easy to just enter the market on a whim when your edge is not truly present. This is more like playing Russian roulette with your trading account than trading as if you know FOR SURE the NEXT bullet is THE ONE.
The more I progress in my career as a trader, the more I develop a habit of passing on trades. Meaning, I like to pass on trade setups that don't meet my very stringent criteria. I prefer to wait for something more perfect, more obvious, and thus higher probability. I have no problem doing this because I don't define my trading success over 1 week or 1 month, rather I gauge my success or failure in the markets at year's end. I know that to be profitable at the end of the year I need to be patient and disciplined on every trade I take; I trade like someone is pointing a gun at my head and screaming at me that if I don't make a profitable trade they will squeeze the trigger…this is how YOU SHOULD trade too.
If you had a gun to your head…you'd say "No" to A LOT more trades.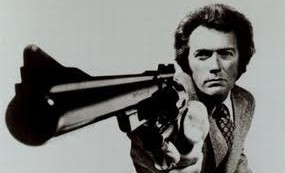 Many traders tend to enter the market out of boredom of waiting for a high-probability setup to come along, or simply because they 'want' to trade. These are mistakes that you probably would not make if some large burly gentleman was actually holding a gun to your head threatening to pull the trigger if you enter a losing trade…
In fact, I am willing to bet that if this 'gentleman' was actually holding a gun to your head on every trade, you would trade with more patience, precision, and discipline then you ever have before. So the question becomes…if you CAN trade this way…why AREN'T YOU? Answer: Your mindset isn't right. You need to obtain a profitable forex trading mindset, and a profitable Forex trading mindset is one that does not easily give into temptation, or trade carelessly, or become lazy. A profitable Forex trading mindset is one that is disciplined and patient, and that does not forget about the risk involved with every trade they take.
Don't mistake the 'gun to the head' Forex trading approach as one that makes you feel pressure to enter a trade. In fact, the idea is to imagine that someone is holding a gun to your head and that they will pull the trigger IF you enter a losing trade. So, essentially, by simply never trading, you would live…AKA not lose any money. That alone is a very profound notion that many losing traders should dwell upon for a moment.
Also, I should point out that even if you are employing 'gun to the head' trading tactics, you can and will lose trades sometimes; it's just part of the game and something you have to learn to not get emotional about.
The 'gun to the head' trading approach means that we don't want to feel pressured or stressed to enter a trade, because the safest route is always to just not enter the market. However, that doesn't mean we should be afraid to enter the market…it just means that if we have any doubt about a setup, we don't trade. If you've mastered a strategy like price action trading, and you've been successful with it on demo, you really shouldn't have any doubts as to when your trading edge is present and when it's not. We just want to develop a routine where we can sit patiently on the sidelines and then 'ambush' the best setups when they arrive. If you really had a gun to the head that was threatening your life if you lost on a trade, you would have no problem saying 'No' to a 'so-so' trade, and you would not forgot that another setup is probably only a day or two away.
Use 'gun to the head' trading tactics to remain a disciplined trader
Most of the time, traders begin their trading journey full of enthusiasm and positive trading habits. Then, slowly but surely they fall off course after a few big losers, and they soon find themselves in a perpetual state of trying to get their trading account back to breakeven. Typically, traders get into this state by making 'dumb' trading decisions like risking more than they know they should on a trade or by taking a low-probability trade setup instead of passing on it. It's fairly safe to say that you would be far less likely to fall into this rut of trying to get back to breakeven if you really traded as if each trade you took could result in life or death. Obviously, you will continue to live if you lose on your next trade, but the point of this article is that you need to avoid getting lazy like most traders do, and make sure you don't forget the importance of staying on top of your trading game. Thus, it may help you to imagine someone is holding a gun to your head on every trade you take so that you don't fall off track and get stuck in an emotional trading cycle.
Here's a 'gun to the head' trading scenario…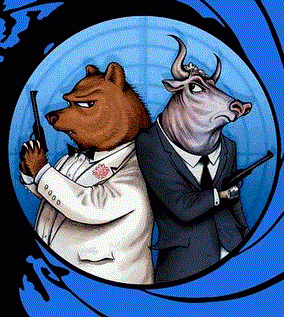 …You start by imagining yourself in a real situation where someone is holding a loaded gun to your head; they are telling you that your life depends on this next trade being a winner. After you get into that state of mind, you should decide if that setup is one you'd be willing to trade, given the consequences of a loss. Thus, if you don't feel totally confident in the trade, and it doesn't meet your trading plan requirements…you simply don't trade, and you 'live' to trade another day.
I suggest you play out a scenario like this in your head before you enter any trade. Disclaimer…do not ever actually use a real gun in this scenario…I know that sounds crazy, I just have to say that for legal reasons. This is all just meant to get you guys thinking…I really want you to take your trading more seriously, after all, there is money on the line here. If you view your money as time, then your life actually is on the line whenever you enter a trade…because you can lose your money / time if you lose a trade. So, you don't want to risk any of your 'life' on a less than high-quality trade setup…it's just not worth it.
The 'gun to the head' Forex trading technique will lead to less mistakes and less trades, but it will also decrease your doubts and fears, and ultimately put you on a faster track to trading success. To trade in a 'gun to the head' fashion, you'll have to overcome your fear of losing and of risking money…because part of the 'gun to the head' trading method, is that you can't hesitate…when you're setup is present you trade it flawlessly, without second guessing yourself.
Many traders cannot even get to the point of being able to trade in a 'gun to the head' manner simply because they don't know exactly when their edge (strategy) is present and when it's not. Using confusing and messy indicators will cause this problem. Thus, the first thing you need to do is make sure you have an effective trading strategy down, only then can you really start to pick and choose your trades like a sniper and trade in a 'gun to the head manner'. By learning the kind of price action trading strategies that I teach my students in my Forex price action trading courses, you'll gain knowledge of an effective yet simple trading method that lends itself well to 'gun to the head' trading. Price action allows you to filter the 'good' trades setups from the 'not so good' trade setups with immense clarity and confidence.
I have found that simply trading less often and passing on a trade setup when I see something I don't like or something that does not look 100% perfect, has kept me out of a lot of bad trades over the years. Ultimately, if you really trade in a 'gun to the head' manner, you will end up passing on a lot more trades than you do now and that will most likely lead to a dramatic increase in your winning % and your overall profits.
SEPTEMBER SPECIAL:

Save 70% Off Nial Fuller's Pro Trading Course (Ends Sep 30th) - Learn More Here