It was early October 2016 when I started to consider the impact the US election might have on the markets and ultimately my portfolio. I am not a US citizen, nor am I a republican or democrat. My interest in what presidential candidate would win the US election was purely financially driven.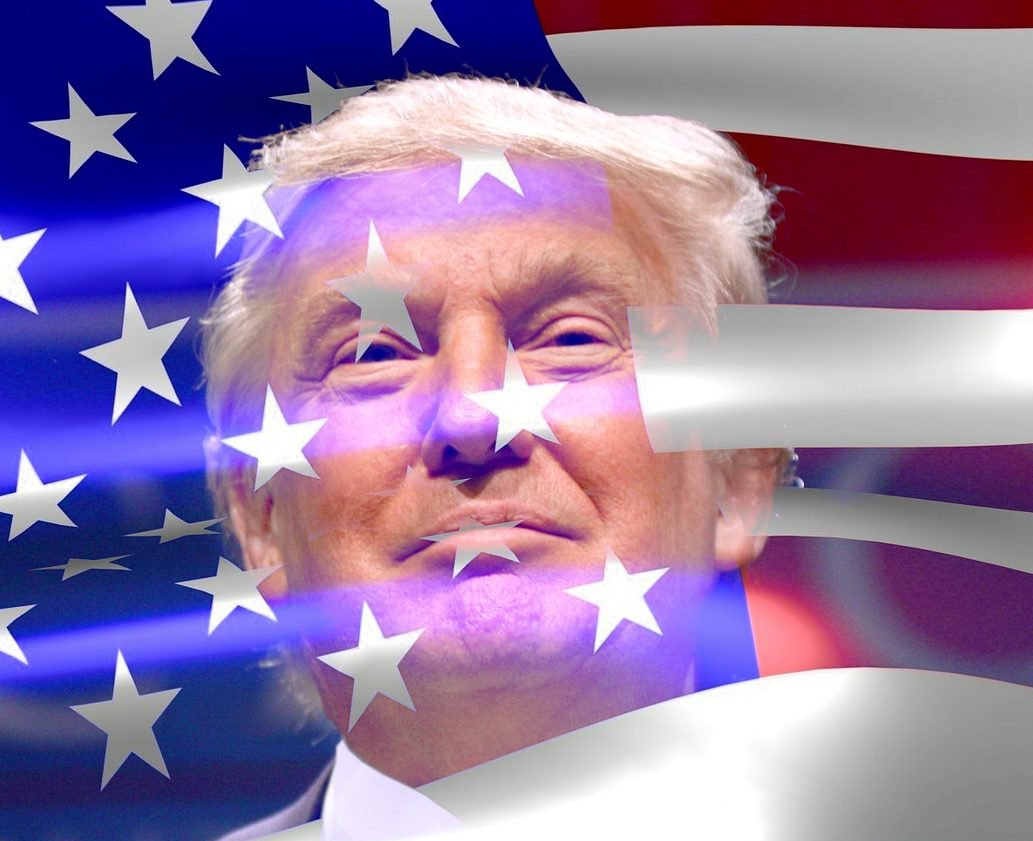 First let me draw your attention to the basic mathematics. We could for all intents and purposes call every US election result a coin toss, a 50/50 probability. The result is often very close and poll forecasters are often wrong. History also shows that there is a very high percentage chance that one party rarely holds office for 2 terms and this suggested the Democrats would give up the presidential office to the Republicans this term. There are many other statistics and facts that quantitative minds put forward prior to this election, several professors had developed highly accurate forecasting models and they all picked Trump to win. However people and the media chose to ignore all of this data and continued bashing Trump's chances.
The book makers and the financial markets had priced Trump a 5.50 to 1 chance at the time I was first considering this opportunity, which represented a less than 20% chance of Trump winning. This was mainly a result of the pre-election polling survey data showing Clinton consistently ahead of Trump and also as result of a lot of the larger bets being placed on Clinton. However, just as with Brexit, book makers had widely reported that most of the volume of actual bets (a tonne of smaller bets) had in fact been placed on Trump. Book makers price odds based on statistics and money flow, so when the polls continued to show Clinton with an 80% edge and the larger size bets continuing to flow in on Clinton, they had no real choice but to keep Trump at long odds, even though many insiders started to see the money flow patterns signalling an upset.
With the polls showing Trump as only a 20% chance of winning, and bookmakers and market makers pricing Trump a 20% chance or 5 to 1 odds, for the typical retail trader or punter, you could not be blamed for thinking he didn't stand a chance. The same scenario applied to Brexit, most people simply didn't believe the Leave campaign had a real chance. William Hill, one of the largest legal bookmakers in the world, warned that the betting patterns of this US election looked exactly like Brexit. Most of the really big bets they had taken were on Clinton. They reported at one stage that 70 percent of the money was on Clinton, BUT 65 percent of the actual volume of bets where on Trump. The little guys had all bet on Trump. Guess who determines the outcome of elections? The little guys! They bet their $5 and $10 on Trump. Just like they did on Brexit.
So here I was looking at a coin flip outcome, a 50/50 chance, paying a whopping 5.5 to 1 risk reward. I immediately took interest and started digging further.
What started out as a few hours on google and Youtube fishing for information and alternative opinions, quickly became a week long research binge as I started to uncover information outside of the main stream media which most had refused to believe or pay attention to. Fortunately for me I lost all confidence in mainstream media and journalism over 12 years ago. I don't trade or invest on news – this strategy has given me an edge over time.
With several weeks to go until the November 8th Election Day and almost every single data point I investigated and most alternative media opinions saw Trump winning this race. The only data that pointed to him losing was the mainstream media poll forecasts showing him several points behind Clinton consistently. These polls had been wildly wrong many times before, so I could not rely on this data to form a bias.
Many polls did show Trump ahead; Rasmussen had Trump up by 43-41 percent. USC/LA Times had Trump up by 1 point. And most importantly, one of the most accurate polls of the 2012 election, IBD/TIPP had Trump up 43 to 41 percent!
Funny how the mainstream media did not actively mention these polls.
The tipping point for me and why I chose to put a substantial wager behind the underdog candidate Trump at 5.5 to 1 odds, was an article I came across which summarised a large list of social data points that simply could not be ignored. The article ' Why I'm Still Betting Big On Donald Trump To Win ' authored by Wayne Allyn Root, a well known conservative national media commentator, brought to light some information which I truly couldn't ignore.
In summary, his article discussed social data points people where not paying enough attention to:
• – Many credible polls did show Trump ahead, the media simply refused to report it.
• – Trump was attracting tens of thousands of crazed fans to his events. Clinton was attracting much smaller and less enthusiastic crowds.
• – Trump had huge levels of online social media engagement and google search queries, he became the definition of Viral content, he had the online audience.
• – Hillary Clinton wrote a new book and hardly anybody bought it. Amazon had her nowhere near the top seller list at the time. This was a brand new book written by one of the most high-profile women in the world. She had an audience of over 60 million watching each of the past three presidential debates. Yet she was not selling significant copies of her book.
• – Campaign signage and branding for Trump was very strong across America. This was simply not the case for Clinton. From the small stuff like shirts and hats, to the big stuff like banners and signs on motorways, the Trump campaign was winning the campaign message awareness war.
• – Cab Driver feedback suggested passengers were going to vote Trump… As Wane Allyn Root said in his article… "Then there's the kind of polls I trust. My friend is a Vegas cab driver. She starts every new ride with this conversation opener, "Welcome to Vegas. Now let's talk about the election. Who are you voting for?" In the privacy of her cab, with no one watching or judging, every single passenger in the past two weeks has whispered "TRUMP." Yes, all of them."
Now convinced Trump had a real chance of winning, I placed a series of large trades and bets with 2 providers, sat tight and watched the chaos unfold. Despite the continuous pessimistic bombardment by Trump naysayers, I didn't deviate from the plan once. I had done my homework and I was always going to take 5.5 to 1 odds on what was in theory a 50/50 outcome. I would have been mad to ignore that kind of opportunity.
As we all now know, Donald Trump officially won the 2016 US election convincingly. The USA got their Brexit and made history by electing a President who had never previously served in any form of political or government office. When it was all said and done I had returned over 500% on my investment in just under 2 weeks.
Transaction Records Provided Below.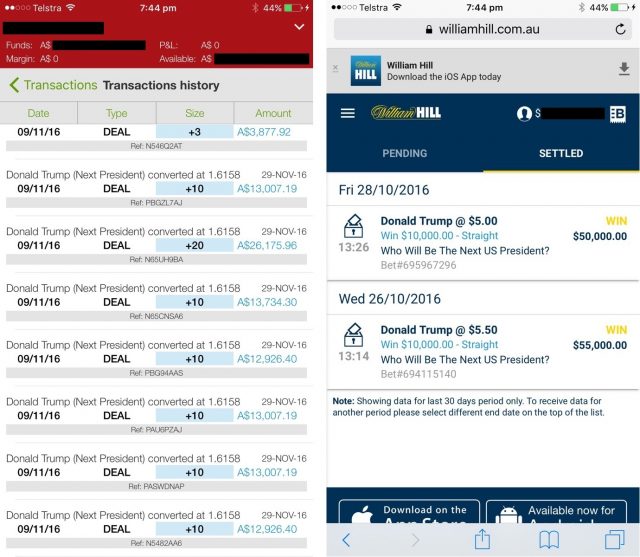 This article was written by Nial Fuller, a highly regarded professional trader and author. He is the founder of Learn To Trade The Market, the worlds foremost trading education resource. To learn more, visit www.LearnToTradeTheMarket.com