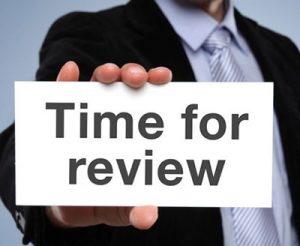 As 2015 draws to a close and we all get ready to carry out our respective holiday traditions, it's a good idea to take some time and review your trading performance for 2015 and take an honest look at what you did right, what you did wrong and most importantly, how you can improve as a trader.
The most frustrating part of trading is not having a losing trade or missing out on a good one, it is the feeling of knowing you did something wrong that you knew was wrong at the time you did it, but you did it anyways. This consistent inability to fix trading mistakes that you know how to fix, is usually the biggest reason most traders struggle and fail to make money. So, as we close out 2015 and begin the new year, it's time to take stock of things you can control in your trading, things you can't control and tweak your trading plan to get and stay on track for the new trading year ahead.
Don't trade over the holidays
It's wise to take some time off from trading around holiday's like Christmas and New Year's. Markets are usually very quiet anyways around these times and liquidity is low, so there can be a lot of gapping or 'strange' / erratic price action. I always steer-clear of the markets a couple days before Christmas and right before New Year's as well.
If you've had a rough trading year, taking a couple of weeks off at the end of the year is usually the best 'medicine' for coming back recharged and clear-headed in the new year. The only way to put an end to a bad run of losses in the market that were caused by emotional trading, is to simply stop trading for a while, and the end of the year around this time is a great opportunity to do that.
It's also a good time to reflect on your 2015 trading performance and develop a plan to improve in 2016, which the following exercises should help you with…
Take stock of what you did right this year
I'm sure 2015 wasn't all bad for you in the market. Take note of the things you did well in your trading this year, don't forget what they were and how you did them.
Make notes of what you did right and pat yourself on the back for those things. Staying disciplined in your trading over the course of a full year is very difficult, and it's a big reason why it seems so hard to make consistent money in the market. So, if you did stay disciplined, even with only certain aspects of your trading approach / plan, make sure you acknowledge that and continue to do it in the new year.
I would suggest putting a check market or a star next to those parts of your trading plan that you feel confident in and that you stayed true to all year in 2015.
Take stock of what you did wrong
Now, here's the key; what did you do wrong in your trading over the course of the last year that you can try to fix in 2016?
A wise old professional trader once told me, "Focus little on your losers and even less on your winners". It wasn't until some years later that I began to understand what he actually meant. What he meant, was that because each moment in the market is unique and no two trades are ever 'exactly' the same, it makes no sense to think about winning trades or get excited about them, because the next time you see that same setup, the result might be different.
With losses, the same thing stands; the next trade may not be a loss, so don't focus excessively on the 'loss', but you may be able to learn something from a loss if it was one that you could have avoided. Read this article to learn the difference between losses you can avoid and those you can't.
So, the point is, the things that you did wrong in your trading over the course of 2015 probably led to losses that you could have avoided. That should be your goal for 2016; correcting emotion-induced trading errors that lead to losses which you could have avoided through proper trading practices.
Traders don't fail from sticking to their trading strategy if they are using a sound trading strategy (like price action), they usually fail from making the same mistakes over and over and not learning from them. I know you know what I'm talking about here, so you have to decide to make the change for the new year. A lot of getting on the right track with trading, is about just making a decision to change; to stop trading based on emotional impulses like greed and fear and stick to that decision over a long period of time.
Formulate a plan to improve
You need to always be moving forward and progressing, not moving backward. Commit to ending those repetitive trading errors that you know you can fix; errors like trading with no signal present, risking more than you know you should, adding to positions just because they are in profit (being greedy), etc. It's these errors of human desire that typically cause traders to fail.
You desire to make money fast, with little effort, yet that simply isn't how the world works, and that includes the markets. The only way to make money trading is by having a trading strategy like my price action method, making a trading plan from it and having the discipline and mental strength to stick to it over a long enough period of time to let your winning trades offset your losers.
However, if you don't stick to your trading plan and you know you've faltered, now (the end of the year) is the best time to take stock of what you did right, wrong and figure out how you can improve, because whatever you do, you don't want to be sitting there in the same position a year from now; wondering where your trading went wrong and why you didn't make any money this year.
SEPTEMBER SPECIAL:

Save 70% Off Nial Fuller's Pro Trading Course (Ends Sep 30th) - Learn More Here