Happy New Year To All Our Members & Followers :)
Weekly Price Action Trading Outlook for December 31st to January 4th 2013
EURUSD – Euro/dollar consolidating sideways
The EURUSD has consolidated over the last six trading days after hitting a high of 1.3307 on December 19th and forming a bearish pin bar after rejecting that level. Price is currently trading between 1.3307 resistance and 1.3155 support in a sideways / choppy manner and we are basically neutral biased on this market for now. We need to see a break below 1.3155 for this market to make a larger move lower and a break above 1.3155 to open the door for another leg higher. Price will likely remain range-bound until after the New Year's holiday however.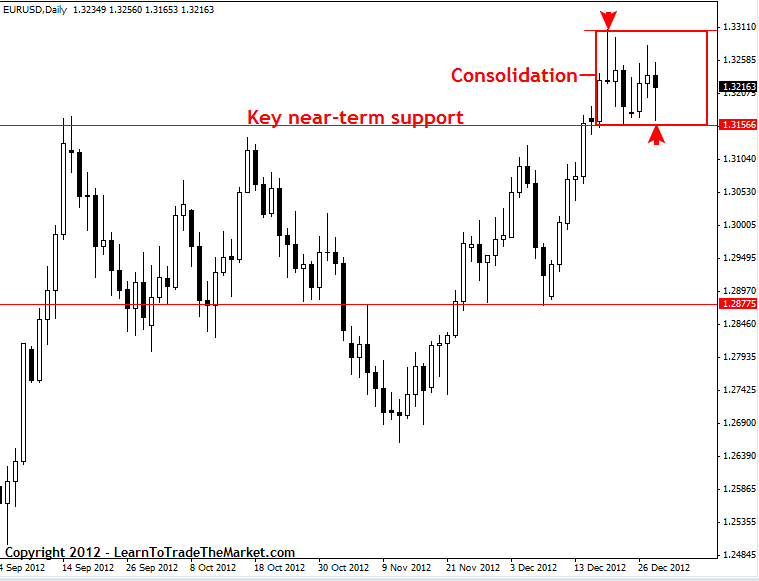 GBPUSD – Sterling/dollar weakness remains whilst below 1.6205
The GBPUSD basically consolidated late last week, ending the week little changed. However, the market has recently moved significantly lower after forming a bearish pin bar reversal from 1.6300 resistance on December 19th. Since then, the market has remain contained under 1.6205 resistance and should continue to see selling pressure whilst under 1.6205 on a closing basis. For this week, we retain our bearish bias on this market and would watch for intra-day or daily chart sell signals from resistance. If price closes above 1.6205 this week we will begin to take a more neutral bias on this market.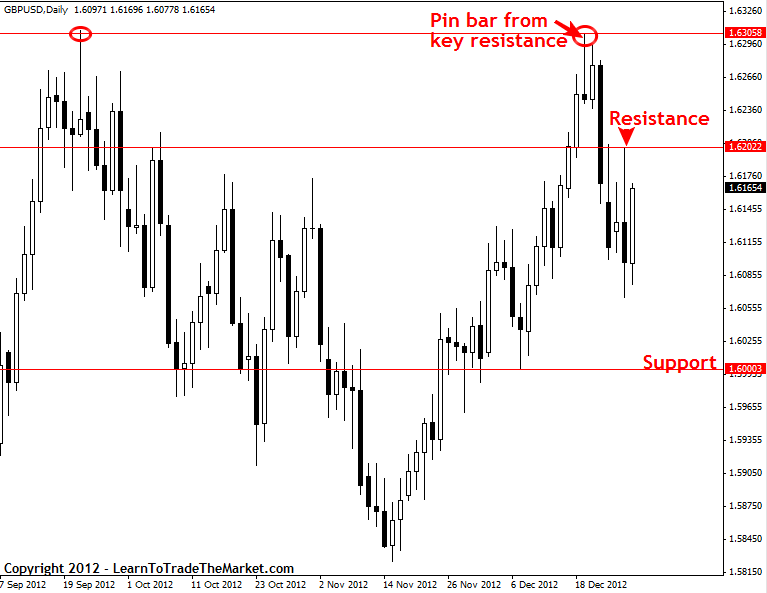 USDJPY – Dollar/yen counter-trend pin bar could see retrace lower
The USDJPY formed a bearish counter-trend pin bar reversal signal last Friday. Normally, we avoid trading counter-trend, but this pin is showing rejection of a longer-term resistance that you can easily see if you zoom out to a weekly chart, and the pin has good definition with a nice bearish close and protruding upper tail. We could see a rotation back down to dynamic EMA support this week or perhaps to the horizontal support near 83.84 before this market moves higher again. Counter-trend trading is inherently riskier than trading with the trend and should only be tried by experienced traders. The more conservative route is to wait for a retrace back to support and then look for a price action trading strategy to get long from that support and trade in-line with the dominant uptrend in this market.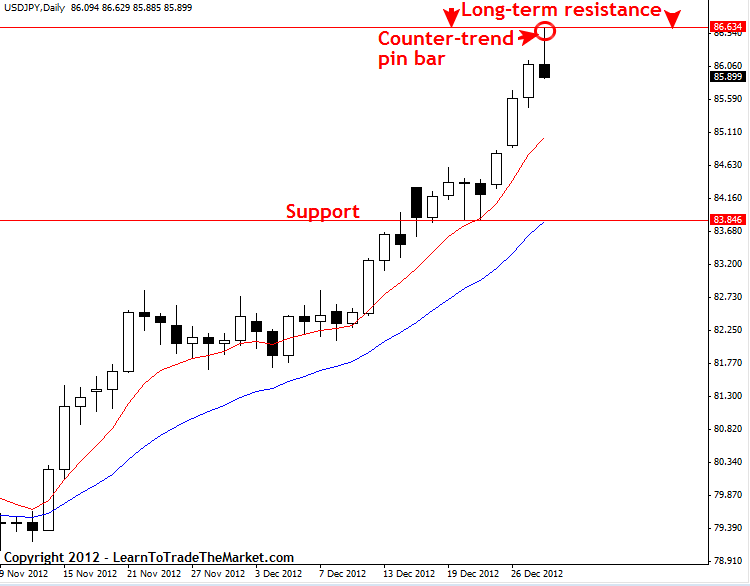 DJ30 – Dow Jones Futures market still very weak
When we last discussed the Dow Jones futures in last week's weekly price action outlook, we were talking about the potential for this market to move lower from resistance near 13,250. We can see since then the market has fallen significantly lower, closing last week at 12,778 and looking like it could fall further. We are bearish on this market still and would look to sell on a retrace back up to resistance if an obvious 4 hour or daily chart price action sell signal forms there this week.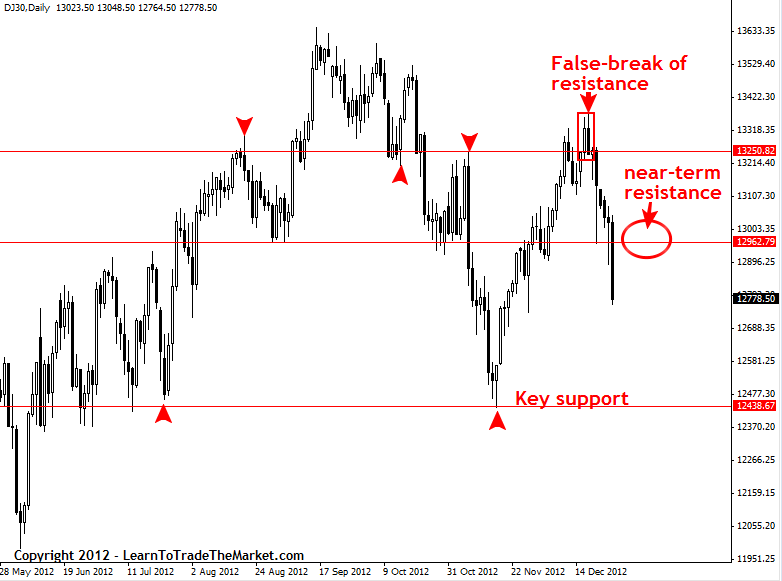 Check out my latest trading lessons:
1. 5 New Years Trading Resolutions For 2013 (just posted)
2. How To Start Profiting With Price Action Trading Strategies
————————————————————————————————————————————————————————–
Christmas Special Promotion- For December I'm offering a Special Discount on Lifetime membership to my Forex Course, Live Trade Setups Forum, Daily Trade Setups Newsletter, Email support line & more. For more info visit the Forex Course Page Here.
————————————————————————————————————————————————————————–
Upcoming important economic announcements (New York time): 12/31/2012
8:00pm EST: China – Manufacturing PMI