Note On Charts: It's imperative to your trading success that you are trading with a broker that offers 'New York Close Forex Charts', (a true 5 day chart that aligns with the New York Close).
Chart Commentary Disclaimer: Nial's views on the Charts is not advice or a recommendation to trade or invest, it is educational and general information only. Don't blindly buy and sell the markets/products discussed in this newsletter, do your own research and be aware of the risks and rewards.
Hang Seng Index (Hong Kong) – Bullish Fakey Setup Triggers Move Higher
Trend: Neutral
Relevant Key Levels: Support: 24815 and 25340 to 25440 area. Resistance: 27380, 27640, 28000, and 29000.
Price Action: The Bullish Fakey Pattern we discussed in our weekly update has triggered this week.
Current Notes: Price appears to be headed back up to fill the large price gap left previously at 27640. The market has started moving sideways above long term support at 24800 after a recent bear market.
Potential Trade Idea: We will continue to consider buying after a price action buy signal (eg: Fakey Setup or Pin Bar signal), whilst price remains contained above the 24800 to 25340 support area. Upside targets 27380 initially, then potentially 27640 (gap-fill target).
NOTE – You can trade HSI via the preferred trading platform we use HERE.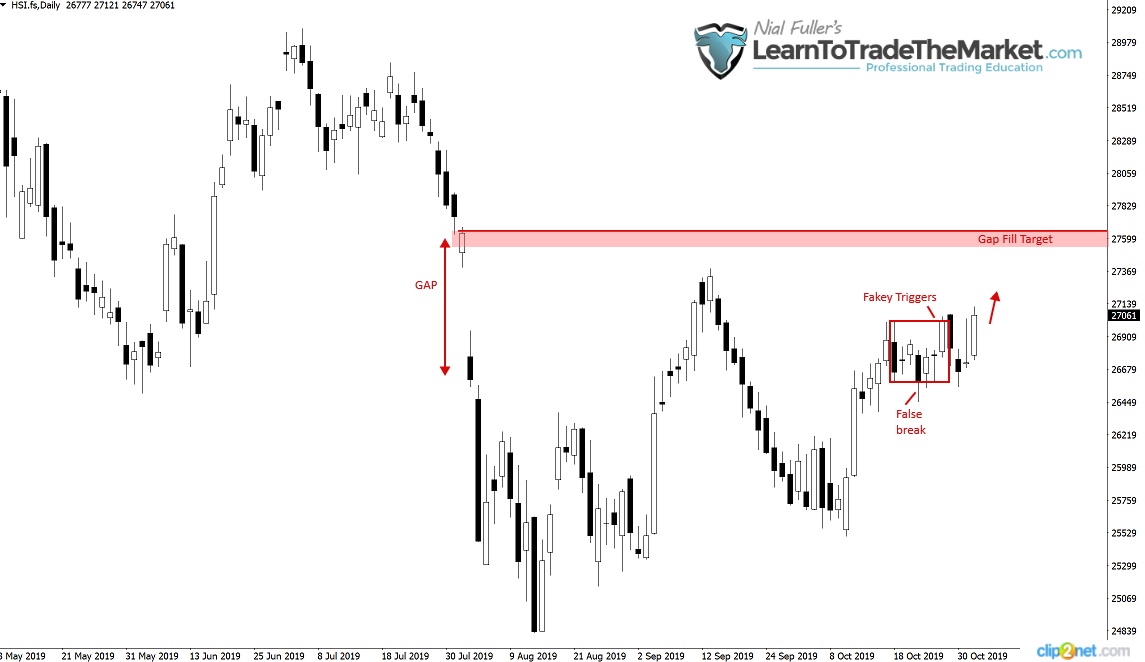 Members Get Daily Trade Ideas & Chart Analysis From Nial Fuller Every Day …
All Members of Nial Fuller's trading courses & members area get access to Nial's daily trade setups ideas newsletter. You will get potential trade ideas and technical chart analysis on Currency Pairs, Commodities, Stock Indices and more. For More Info Visit the Course Membership Page Here.
Note: –  Download a Free Trial of the Broker & Charting Platform We Use HERE.
Please Leave A Comment Below 


Until July 31st, Get 40% Off

Nial Fuller's Price Action Forex Trading Course, Daily Trade Ideas Newsletter & Live Trade Setups Forum - Click Here For More Info.