Forex Trade Setups Commentary: Gold pin bar and AUDJPY inside pin
GOLD pin bar:
Gold formed a large bullish pin bar setup today showing rejection of support near 1210.00-1215.00. With this pin bar having a rather long lower tail it is possible that will price will retrace a portion of the tail's length before / if it ultimately moves higher as a result of this rejection candle.
Should price move higher off this pin bar setup we see resistance coming in near 1260.00-1265.00.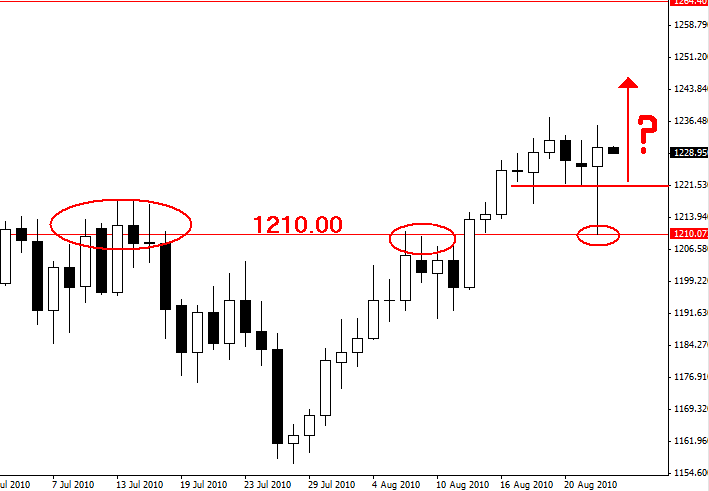 AUDJPY inside pin bar:
Price moved dramatically lower today in the AUDJPY after an inside pin bar combo that formed yesterday in the course of the weakening momentum in this market. Note how price moved down into the next major support near 73.60.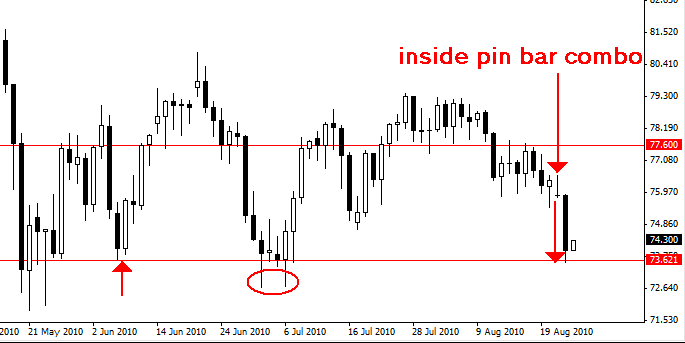 For a more in-depth analysis of the major forex currency pairs and price action analysis, please check out my forex trading course.

Commentary:
Today's big winners in the forex market were the safe haven currencies. The U.S. dollar, Japanese yen, and Swiss franc strengthened as investors looked to liquidate riskier positions on the back of another round of poor U.S. economic data.
The U.S. dollar was mostly stronger today but lost ground to the Japanese yen and Swiss franc. The Japanese yen strengthened across the board with the Swiss franc coming in a close 2nd place.
Gold also strengthened today after an early session move lower, the metal formed a rather convincing bullish pin bar on the daily chart today.
The Dow lost 133.96 points, or 1.32 percent, the S&P 500 dropped 15.49 points, or 1.45 percent, and the Nasdaq lost 35.87 points, or 1.66 percent.


September Special Note: Get 45% Off Life-Time Access To:

Nial Fuller's Price Action Forex Trading Course, Daily Trade Ideas Newsletter & Live Trade Setups Forum - Click Here For More Info.