Trading Setups / Chart in Focus:
GBPUSD – Sterling/dollar pin bar reversal setup from key resistance

Here we are again at 1.6300 on the GBPUSD and today a huge protruding long-tailed pin bar reversal occurred at that level creating a very significant false break of it in the process. Whilst it wouldn't make much sense to go short from current levels as your stop loss would need to be pretty wide, the logical play would be to wait for a retrace back towards 1.6300 resistance and then enter near that 50% level of today's pin bar. With a stop loss just above the pin bar high and an entry near the pin bar 50% level, we would have the potential for a 200 or 250 pip gain and a 1:2 risk reward ratio if this market moves down into 1.6100 – 1.6000 area. Whilst this pin bar today is counter-trend, it really can't be ignored due to it's long-tail and the confluence it shows with the forceful rejection of the key resistance at 1.6300 today.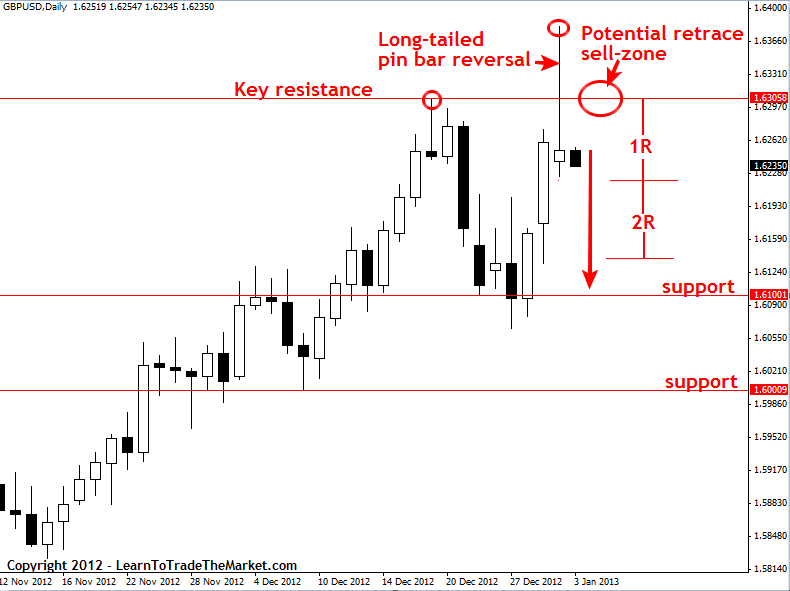 Check out my latest trading lessons:
1. 5 New Years Trading Resolutions For 2013 (just posted)
2. How To Start Profiting With Price Action Trading Strategies
————————————————————————————————————————————————————————–
'New Year' Special Promotion: This month I'm offering a Special Discount on Lifetime Membership to my Forex Courses, Live Trade Setups Forum, Daily Trade Setups Newsletter, Email support line & more. For more information Click Here.
————————————————————————————————————————————————————————–

Forex Commentary:
In the currency markets today, the U.S. dollar lost ground to high-yielding currencies like the Australian dollar, and the Japanese yen lost more ground after lawmakers in the U.S. came up with a last-minute deal to avoid the "fiscal cliff", this worked to increase demand for riskier currencies.
The U.S. dollar did gain slight ground on the euro though after the EURUSD repelled down from an intra-day high of just below $1.3300.
Other Markets:
In the U.S. markets today, stocks gained significant ground on the back of the deal between U.S. policy makers to avoid steep spending cuts and tax hikes.
The Dow added 308.41 points, or 2.4%, the S&P 500 gained 36.23 points, or 2.5%, and the Nasdaq added 92.75 points, or 3.1%.

Upcoming important economic announcements (New York time): 1/3/2013
4:30am EST: Britain – Construction PMI
8:15am EST: United States – ADP Non-Farm Employment Change
8:30am EST: United States – Unemployment Claims
2:00pm EST: United States – FOMC Meeting Minutes