Daily Market Commentary: 11-18-2009
On Wall Street today stocks closed lower after a surprising drop in home construction and a disappointing forecast from technology companies fueled worries that the economic recovery may be slowing.
This slight drop came one day after major stock indicators closed at 13-month highs. The Dow closed down 11 points after rising 9 of the past 11 days. Some market analysts are saying the market has been overdue for a pullback after the unusually fast climb.
Crude oil rose on Wednesday for the third consecutive trading session. Government data showed a surprising drop in U.S. crude inventories which led the dollar lower.
Gold rose to another record high on Wednesday as dollar weakness continued.
In currencies, the dollar fell against most of the majors on Wednesday as traders took profits on the currency's biggest rise in three weeks. New data out today did little to alter the view that U.S. interest rates will remain at record lows well into next year. The U.S. dollar may continue to weaken further, as forex traders feel the dollar is a risky bet right now given the current economic outlook. If today's trend continues the dollar could be in for a bumpy rest of the week as the dollar sell-off may hit full force.
Nial's view:
The daily chart of gbp/jpy is showing coiling inside bars over the last 4 trading days. Typically a tight coil like this results in a violent break out. Note that it could break up or down, the prevailing trend is down so this is the expectation.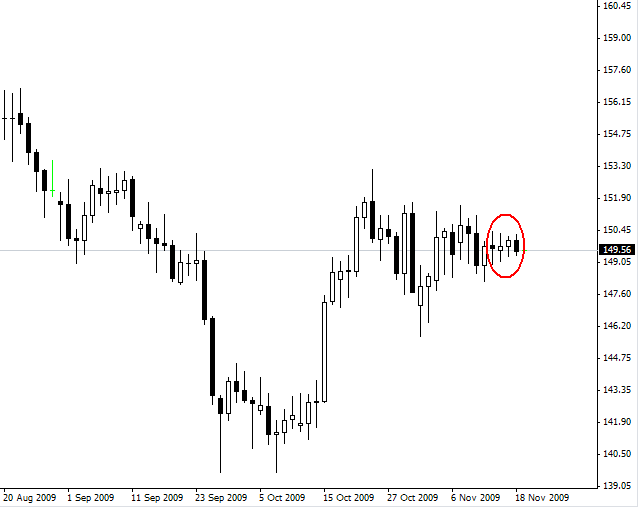 Upcoming Important economic events:
4:30 am EST: British retail sales. This report can lead to volatile market reactions in the forex as retail sales are the primary gauge of consumer spending which accounts for the majority of overall economic activity.
8:30am EST: U.S. Unemployment claims are released. Unemployment numbers are viewed as a broad indicator to over-all economic health. Higher than excepted unemployment is bad for the economy due to an assumed reduction in retail sales. A lower than expected number could add fuel to the current stock market rally, however higher than expected unemployment might weigh on what many analysts are already calling an over-bought market.

Until May 31st, Save 45% Off

Nial Fuller's Price Action Forex Trading Course, Daily Trade Ideas Newsletter & Live Trade Setups Forum - Click Here For More Info.