Forex Trade Setups Commentary:
GOLD bullish price action

The daily Gold chart is exhibiting some rather bullish price action, notice all the bullish pin bars that have formed recently in the context of the current up trend.
Today price pushed lower early in the trading session but then quickly got bid higher after hitting support near 1213.50, which was also the high of the last bullish pin bar from 5/28.
Price action such as what we are seeing in the current Gold chart can act as a light to guide your trading decisions each day.
Check out these videos to learn more: Forex trading videos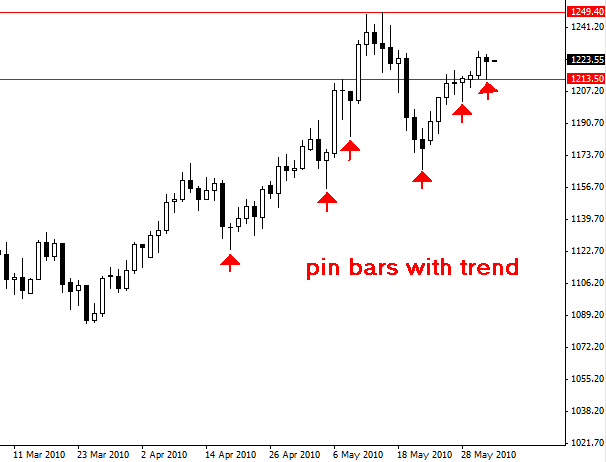 For a more in-depth analysis of the major FX pairs as well as price action training, please check out my forex trading course.
Commentary:
The U.S. dollar was lower today against the other major currencies as risk appetite returned to the equity markets. The greenback lost ground to all major currencies except the Japanese Yen.
The yen was the biggest loser today as investors quickly dumped the safe-haven currency for currencies with higher yielding interest rates.
The euro managed to squeak out a tiny gain against the greenback today even amidst strong gains in equities, indicating the European debt crisis is still weighing heavily on the multi-nation currency.
The Dow rose 225.52 points, or 2.25 percent, the S&P 500 gained 27.67 points, or 2.58 percent, and the Nasdaq gained 58.74 points, or 2.64 percent.

June Special:

Get 35% Off Life-Time Access To Nial Fuller's Price Action Trading Course & Daily Trade Setups Ideas Newsletter (Ends June 30th) - Click Here For More Info.